Yielding innovative startups and attracting established brands, Berlin has risen to prominence as a budding HR tech hub. And while many startups fail within five years after commencing operations, there is a strong bunch with the potential to revolutionize the industry and stay afloat.
By solving specific market problems and introducing clever approaches to inefficient processes, these startups fulfill the prerequisites necessary to grow. But there's one more ingredient responsible for a startup's success—a well-picked technology stack. So let's explore 10 inspiring startups from Berlin along with their tech stacks.
TalentWunder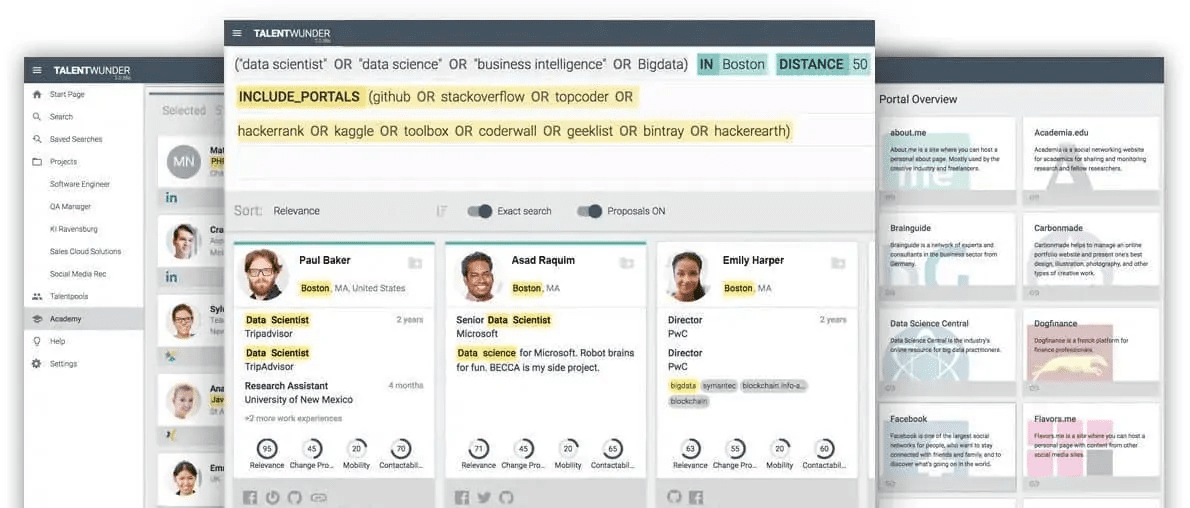 Talentwunder's focused search capabilities. Source: Talentwunder
Talentwunder is an intelligent talent-sourcing search engine, containing over one billion profiles collected from 100+ different networks.
Equipped with a custom AI engine TEA, TalentWunder facilitates the candidate searching process. TEA analyzes big data from various sources to draw insight and suggest recommended keywords and searches that propose matching talent.
TalentWunder is also a platform for storing and managing candidate recruitment processes in a centralized location available across company departments. By being one place for all talent recruitment activities, TalentWunder fosters communication and ensures transparency in the hiring process.
This innovative HR solution has won numerous awards, including the Digital Leader Award 2019, Digital Champions Award 2018, HR Award 2017, and HR Innovation Award 2016.
More info:
Founded: 2014
Founders: Andreas Dittes and Joerg Rech
Notable investors: Plug and Play and Aschendorff NEXT
Website: TalentWunder
Tech stack
Backend: Java, Kotlin
Frontend: React.js, JavaScript, jQuery
Web server: nginx, AWS
Hosting: Blue Ocean, Amazon
Database: MySQL, MongoDB, ElasticSearch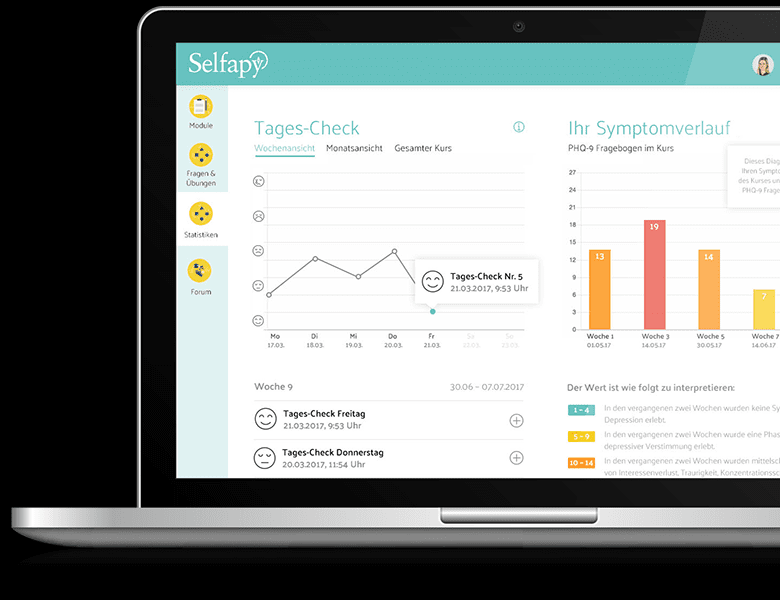 Selfapy self-help platform overview. Source: Selfapy
Selfapy is a self-help platform with scientifically proven online therapy courses targeting a variety of mental illnesses and stressors.
The main idea behind developing Selfapy was to facilitate access to professional mental health care. By implementing advanced technology into the courses, Selfapy can identify negative thought patterns and use the insight to propose new responses to stressors.
Selfapy caters to individuals as well as companies seeking to promote well-being among employees. For companies, Selfapy offers individualized psychological counseling, online courses for employees, and risk assessment of psychological stress. The platform is equipped with an analyzing algorithm that helps further customize the treatment plan.
Selfapy has been awarded the Healthy Hub Award, HR Innovation Award 2017, and Deutschland Land der Ideen. In 2019, Selfapy was among 48 startups chosen by Kickstarter Innovation included in the 2019 edition of Kraftwerk Zurich.
More info:
Founded: 2016
Founders: Farina Schurzfeld, Katrin Bermbach, and Nora Blum
Notable investors: Think.Health and High-Tech Grunderfonds
Website: Selfapy
Tech stack
Backend: Ruby
Frontend: React.js
Web server: nginx
Hosting: CloudfFlare
Database: PostgreSQL
Hrmony (formerly Lunchio)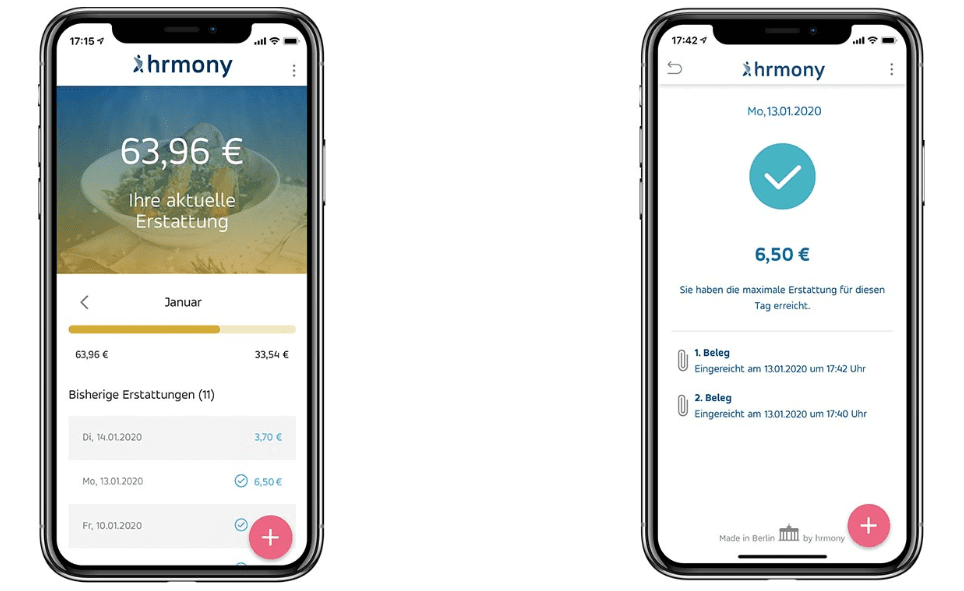 Hrmony digitizes employee meal vouchers. Source: Hrmony
Hrmony is an example of a startup whose success skyrocketed soon after the company launched.
It started as a mobile app for queue-less purchases of food at restaurants to later turn into a full-fledged solution for companies interested in implementing tax-free subsidies for employees.
Upon purchase of goods, employees photograph receipts and send them for processing via a mobile app, Whatsapp bot, or email. The platform analyzes the receipts and aggregates a detailed monthly report to be sent for employer evaluation. The employee monthly balance in the app reflects processed purchases, helping Hrmony users stay in control of their monthly allowance.
Using Hrmony, companies can save money, better manage employee benefits, and increase employee motivation. The solution has been adopted by companies such as WunderFleet, Sigel, Cargolux, and Visual Meta. Hrmony collected $1M in funding for further development.
More info:
Founded: 2015
Founders: Deniz Caglayan, Dennis Ortmann, Jan Christian Saupe, and Sebastian Blautzik
Notable investors: MGO Digital Ventures and IBB Beteiligungsgesellschaft
Website: Hrmony
Tech stack:
Backend: Node.js
Web server: AWS Lambda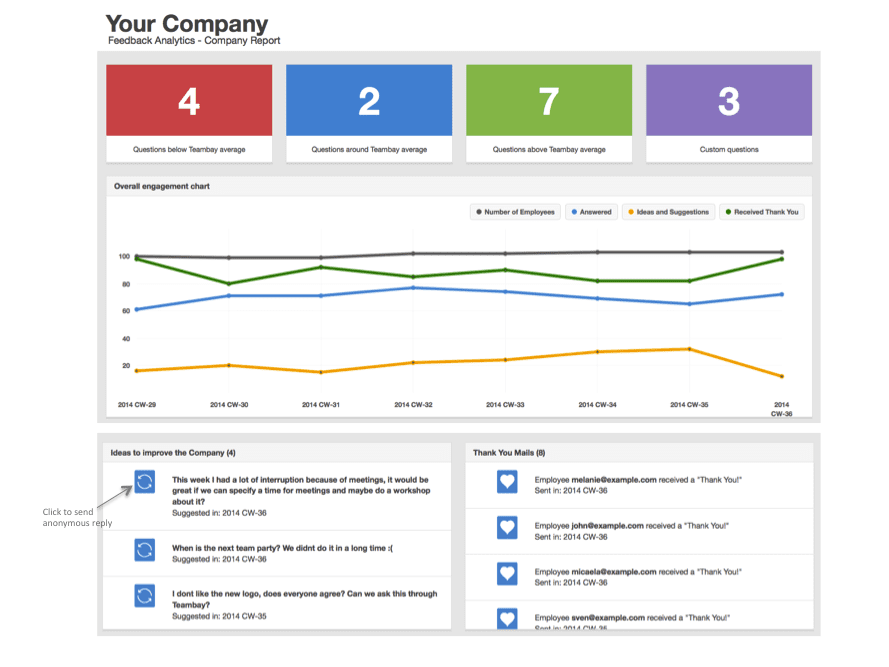 Teambay dashboard. Source: Berlin Valley
Teambay is an advanced employee survey platform designed to increase internal communication and transparency. Teambay offers a variety of employee surveys and response analyses, helping companies employ a healthy feedback culture.
The platform provides a secure feedback environment where employees can answer questions via email or designated app. The communication is encrypted, further ensuring security and anonymity.
Surveys can be composed using custom questions and scientifically-based sets. Teambay analyzes employee responses, facilitating the implementation of feedback-based strategies. With Teambay, managers can monitor survey results in real time and use interactive tools to represent the collected data visually.
Hey car, DB Netze, fluege.de, and Apollo are just a few of the companies which are using Teambay as a dedicated employee engagement tool.
More info:
Founded: 2014
Founders: Adam Moalla, Sarah Kristin Bohlmeier, and Torben Voßgröne
Website: Teambay
Tech stack:
Backend: Java EE
Frontend: JavaScript, jQuery, LESS (JS extension)
Web server: Apache 2.4
Hosting: 1and1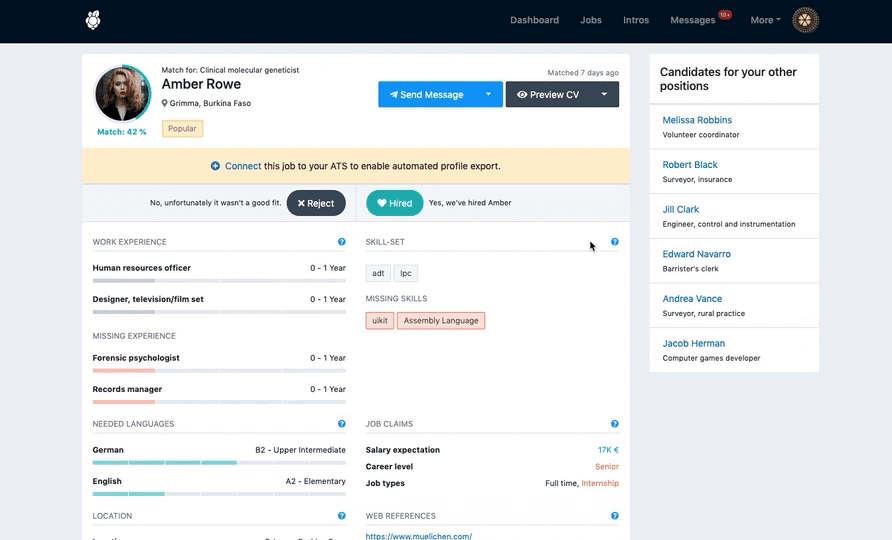 MoBerries—matching candidate, overview. Source: MoBerries
MoBerries is an advanced SaaS platform for hiring through a shared talent pool.
Powered by an AI algorithm, MoBerries matches talent to a fitting job opportunity based on predefined criteria. Feedback collected during the matching process serves as a foundation for refining the algorithm's ability to propose correct future candidate matches.
By partnering with a network of companies and using predictive algorithms, MoBerries can find highly relevant and available talent. Once there's a match, interviews can be scheduled through the platform and employee data can be conveniently stored in a single platform.
MoBerries received a total of €1.8M in funding.
More info:
Founded: 2015
Founders: Andre Zayarni, Mo Moubarak, and Terence Hielscher
Notable investors: Abu Issa Investment and High-Tech Grunderfonds
Website: MoBerries
Tech stack:
Backend: Node.js
Frontend: React.js
Web server: AWS
Hosting: Amazon
Database: MongoDB, PostgreSQL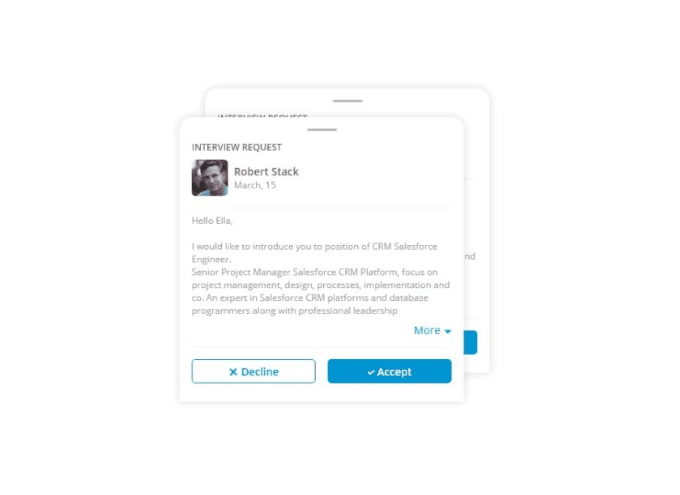 Taledo—interview request. Source: Taledo
Taledo is a recruiting platform that combines technology with hiring professionals focused on connecting candidates with matching job offers.
The candidates available on Taledo are selected based on experience and qualification, which highly improves hiring efficiency and candidate matching. By decreasing hiring time and improving candidate profile accuracy, Taledo helps companies decrease hiring costs.
Companies such as HubSpot, myToys, home24, and Klett have trusted Taledo with their hiring operations.
More info:
Founded: 2015
Founders: Marcel Poelker, Melikshah Ünver, and Mengühan Ünver
Website: Taledo
Tech stack:
Backend: Ruby on Rails, React on Rails
Frontend: React.js
Web server: nginx, Phusion Passenger
Hosting: Cloudflare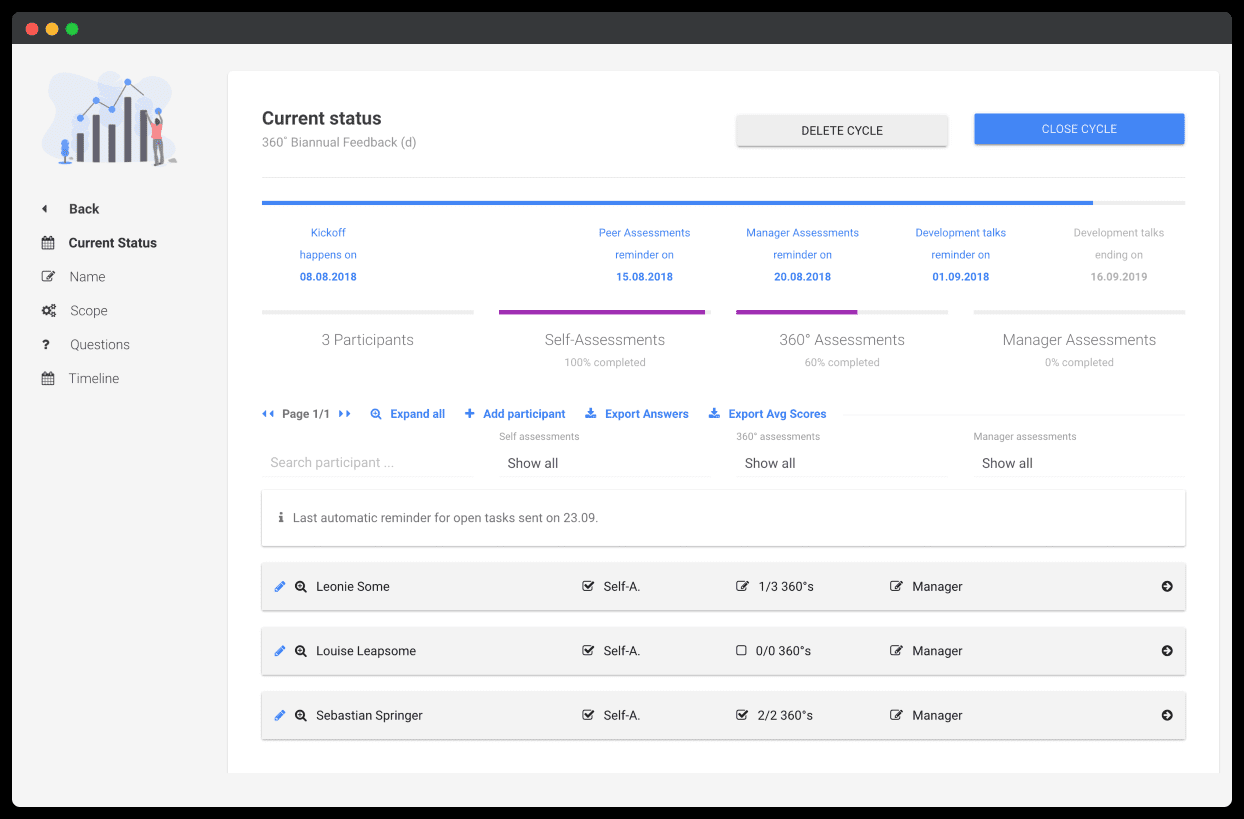 Employee feedback feature in Leapsome. Source: Leapsome
Leapsome is a performance management and employee engagement platform built to enable a sustainable growth environment.
By combining a broad variety of performance-tracking features, Leapsome is a robust tool, boosting productivity and engagement across the whole company. Leapsome provides solutions designed to help employees and managers track and achieve goals.
To facilitate information flow and not disrupt operations, the platform can be integrated with existing tools such as Workday, Okta, GSuite, or Slack.
In 2018, The Hundert listed Leapsome among 100 most innovative startups. Trivago, Spotify, and Mercedes-Benz are just a few companies that use Leapsome.
More info:
Founded: 2016
Founder: Jenny Podewils and Kajetan von Armansperg
Website: Leapsome
Tech stack:
Backend: JavaScript
Frontend: JavaScript
Web server: nginx
Hosting: Amazon
Database: MongoDB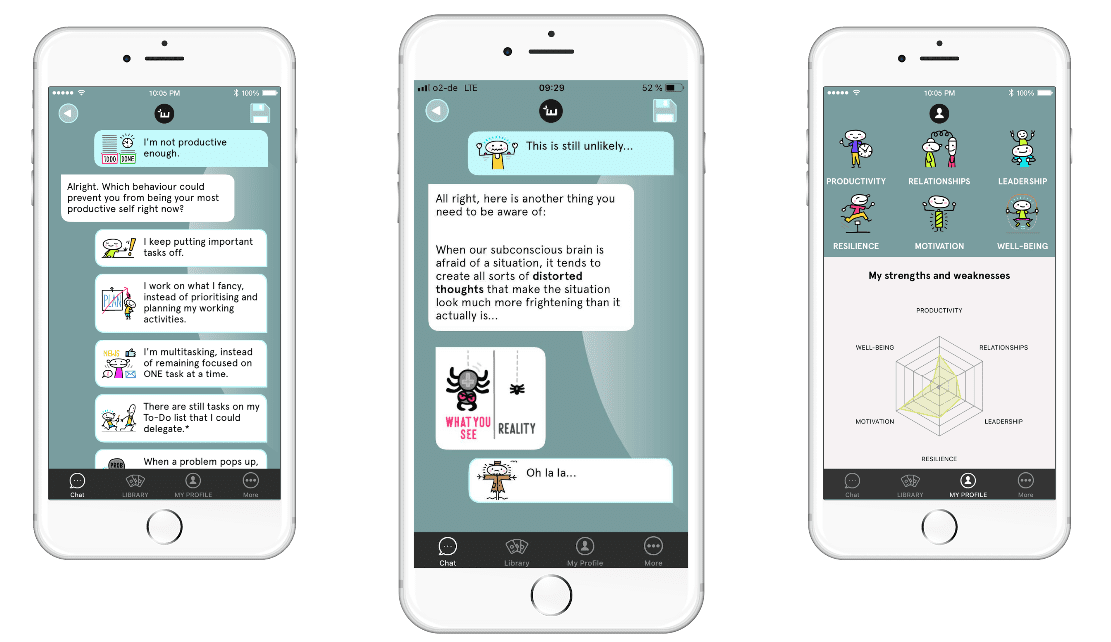 Ellistra's self-help app. Source: Ellistra
Ellistra is a digital coach contained in a mobile app available for iPhone and Android. Ellistra was developed to help employees improve soft skills and create an inclusive and happier workplace.
Drawing on neuroscience, Ellistra assists users in tackling a variety of progress-inhibiting behaviors and dead-end mental avenues. By providing science-backed advice for overcoming inhibiting behaviors, the app can be used to facilitate personal growth for employees.
Ellistra has recently partnered with Siemens for pilot use at the company. The app helps cultivate useful and beneficial habits through a 24/7 AI-powered chatbot and interactive building cards.
More info:
Founded: 2016
Founder: Nellie Garcia, Amandine Faye
Website: Ellistra
Tech stack:
Backend: Express (Node.js)
Frontend: JavaScript
Web server: AWS
Database: PostgreSQL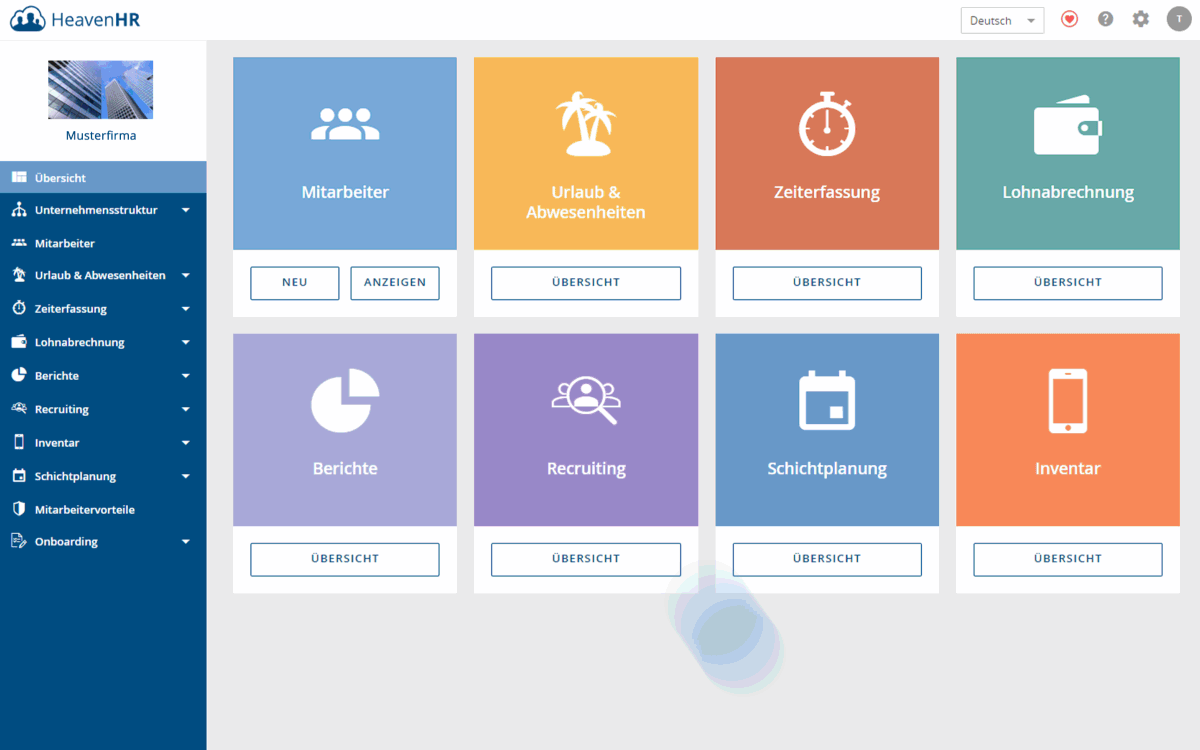 HeavenHR dashboard. Source: HeavenHR
HeavenHR was developed with an idea to give HR departments an all-in-one platform for keeping their HR processes.
HeavenHR is a convenient SaaS solution for payroll, time-tracking, absence management, recruiting, employee database management, and onboarding processes.
The platform was created as a module-based solution, meaning separate features can be added to create a tailored tool that targets specific areas required by a company. The module-based approach makes HeavenHR a highly customizable HR tech tool catering to a variety of company sizes and needs.
HeavenHR is in active use at Kofler Energies, Auto1, Kapten & Son, Jodel. The company received a total of €16M in funding.
More info:
Founded: 2015
Founder: Johannes Roggendorf
Notable investors: Piton Capital, Target Global, and Allianz X
Website: HeavenHR
Tech stack:
Backend: Java
Frontend: JavaScript, React.js
Web server: AWS
Database: PostgreSQL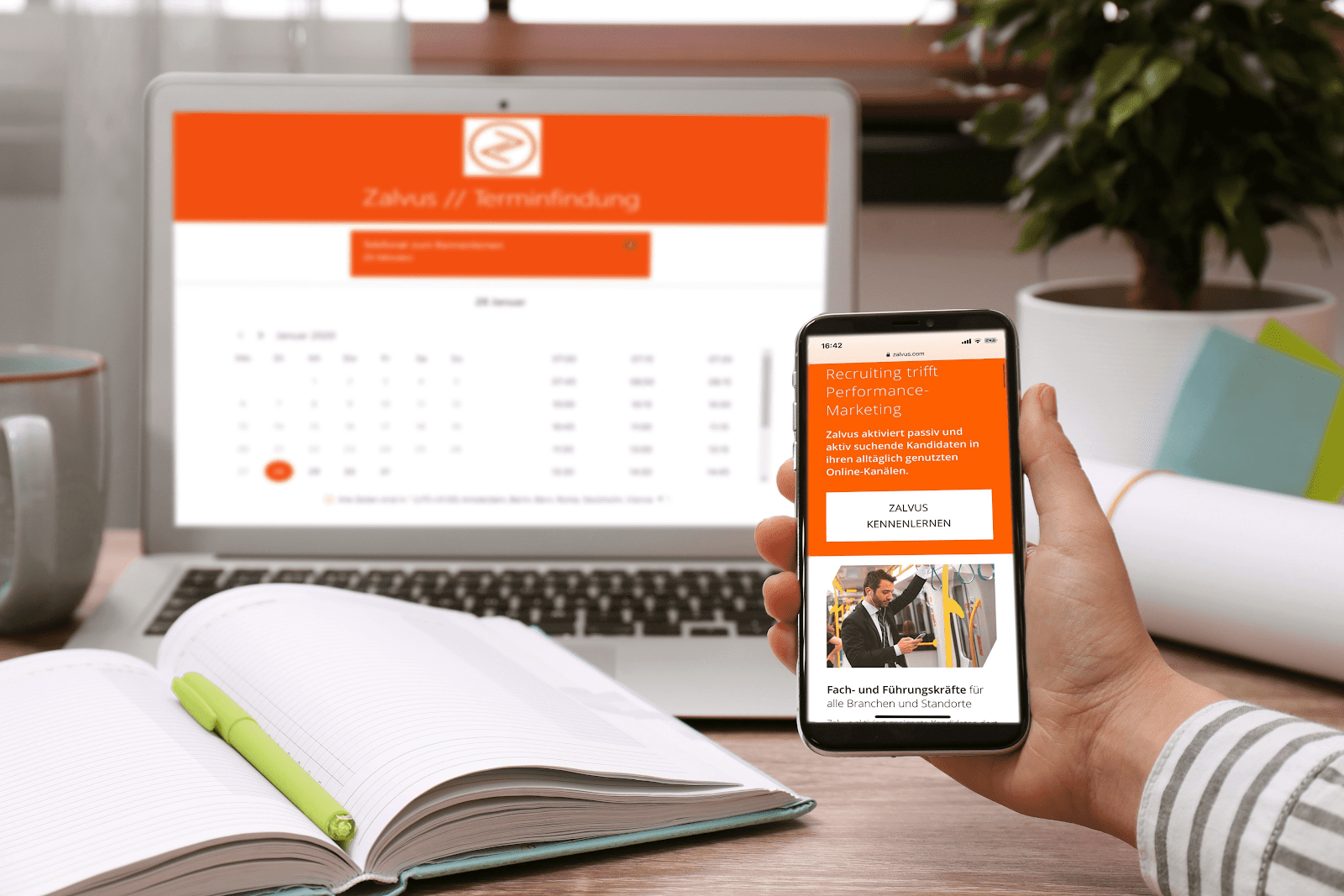 Zalvus—analytics-based digital headhunter. Source: Zalvus
Zalvus is a cloud-based recruitment platform that takes an "e-commerce-like" approach to recruitment. Using digital marketing strategies, Zalvus acts as a digital headhunter, bringing the job offer to the candidate.
Zalvus cooperates with companies interested to hire by optimizing and advertising a job offer through various online channels. By presenting a targeted and personalized job ad, Zalvus incentivizes passive candidates into pursuing vacant positions.
To boost reach and effectiveness, Zalvus uses big data and cloud computing. Big data analysis across a variety of networks lets Zalvus deliver job ads to pre-qualified candidates with a high chance of interest in the position.
Zalvus acquired $68K in funding.
More info:
Founded: 2015
Founder: Florian Burchett-Scherfig, Martin Kolb, Matilda von Gierke, and Sebastian Huber
Notable investors: Axel Springer Plug and Play Accelerator and Plug and Play
Website: Zalvus
Startups Drive Innovation in HR Department
The startup ideas are driven by an eagerness to introduce changes to well-established but often inefficient processes. All startups on this list breathe innovation to human resources, letting this late-bloomer department in tech explore the benefits of technology across various areas. But none of these startups would be equally effective at solving tasked problems if it wasn't for the tech stacks picked for their development.