Do you use emojis? I'm pretty sure you do. Everyone has those in their phones, email apps or on Slack. Each emoji is created by the Unicode Consortium. It's an organization operating in Silicon Valley and is tasked with keeping the universal, international standards of software. When the Unicode Consortium declares that there's a need for a pictogram of a programmer such a symbol is added and gets a unique code. After that, all the manufacturers of phones or software platforms design their own versions of the new emoji. They do it in such a way that users across the world understand that a face with a laptop means the same across different platforms.
At first, Unicode did not specify genders for most of the emoji faces. The pictogram which in most platforms was displayed as a person using a computer was initially called a technologist but was rendered using a male face. Only in 2016 was the neutral version introduced and from then on we have 3 emojis: woman technologist, man technologist and technologist [1].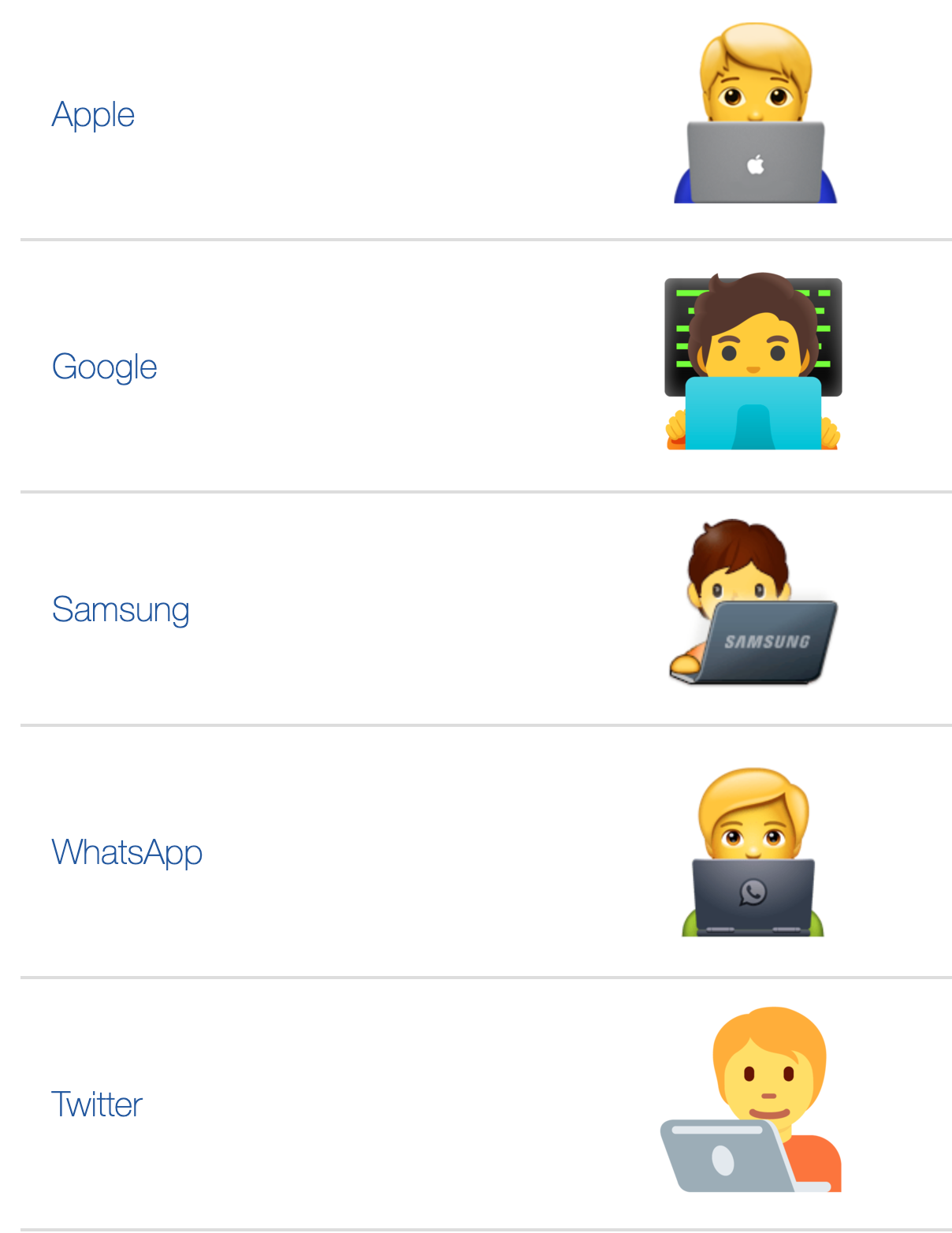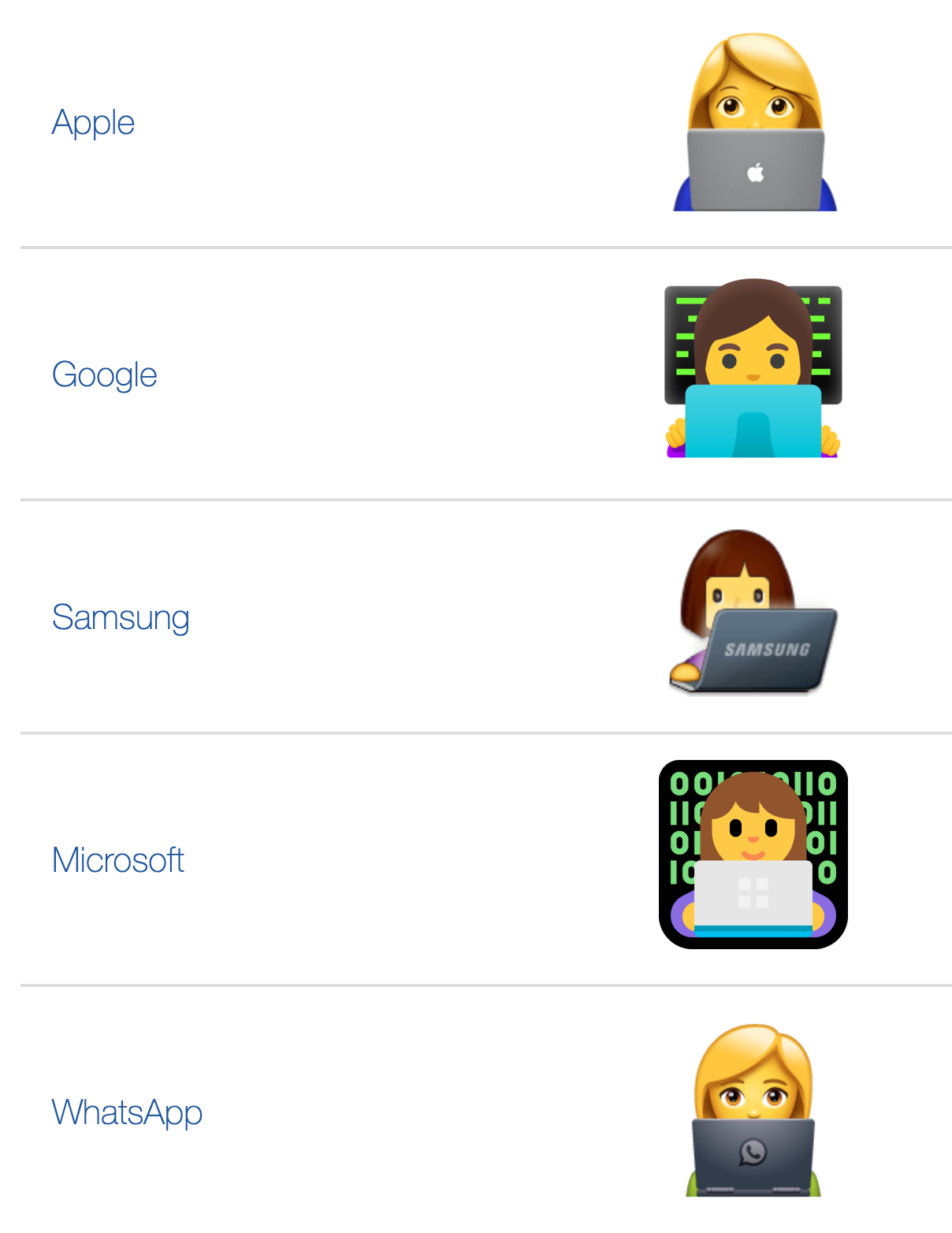 Source: Emojipedia
It's a small, but not insignificant, victory. We can risk a simplification that it means that technology is for women as well and does not default to the opposite gender. It's a small step towards Diversity and Inclusion in the tech industry.
Diversity & Inclusion in Monterail
Various actions and initiatives supporting D&I were taken in Monterail for quite some time. What are we doing to make sure we're moving in the right direction?
We value everyone's experience and perspective, regardless of gender, race, or sexual orientation.
Salary ranges are transparent and the wages are based on merit.
We maintain an equal standard of work responsibility.
We support parenthood.
Leadership paths are open to every specialist.
Diversity activism is encouraged.
We have an ongoing diversity practice.
More what we've already done you can find more on our workplace inclusion practices.
What I love about Monterail is that Diversity & Inclusion aren't just words. For years we've been working towards employing more women, people from other countries or shifting to IT. I'm very happy that I can tell my 19 year old daughter that at Monterail we have great, capable, and ambitious women in every role. 4 Out of 5 designers and 3 Head positions are occupied by phenomenal women. I love working in a company that can set an example.

Paweł Hawrylak

Senior Product
Designer
at Monterail
We don't want to slow down in the current year as we want to continue growing as a diverse and inclusive organization. We've planned upcoming actions which will support us in reaching this goal. For the 2021 we have planned:
Internal education initiatives (discussion panels, workshops, training)
Internal process updates (updating legal matters connected with diversity)
External activity, that is building a socially responsible organization that embraces initiatives that support marginalized groups or promote equal opportunities.
There's quite a bit planned. But considering today's date which is the International Women's Day I would like to dedicate this post to the women in IT and share Monterail's perspective of what we think a Diverse and Inclusive workplace should look like.
Gender Diversity
Programming was initially perceived as a domain of women. The first 'computers' were women. It was they who solved mathematical problems for the military. Even when they were replaced by machines it took years for them to be replaced mostly by men. ENIAC, the first modern fully functional computer was developed in a significant part by 6 women [2]. Did you know about that?
What happened that over the past few decades the IT market was dominated by men?
The IT women pioneer compared programming to making dinner. Programming requires patience and attention to detail. Think long-term, plan everything in such a way that it is " close at hand" when you need it. In short, it wasn't a job for the poorly qualified as previously thought so by employers. This meant that more men should also focus on programming, rather than just developing hardware (which was previously thought to be the most important). Many employers realized that programming required mathematical skills, which boys were more likely to learn at school at the time. This realization meant that the roles were now reversed and more and more men began to program.
So what can we do to make companies that gather IT specialists become inclusive yet again?
The NoFluffJobs report of 2020 states that the IT companies employ about 30% women. Despite many initiatives, IT schools for women and various actions to encourage women to go into tech, IT remains noticeably male and the gender gap* is sadly hard not to notice. This does not mean that these actions should be abolished. While the effects might not be as great as we might hope it's important to educate the public. We hope that in the future they will limit the effects of the gender gap. We feel that each organization can further those efforts if only a bit.
BUT HOW?
The first step is always realising that there is a problem, so I'm glad that we're openly discussing the lack of women in IT. For me, the most important part is educating your teams why this is a problem and that we shall make a change, that we need more diversity in IT and to do that, we must be more inclusive. Do not avoid the topic, do not be afraid to take a stand - sometimes people believe that business is business and it shouldn't get involved in anything that is not strictly business related. This is very short sighted, as everything is connected (business, private life, politics, religions, etc.) and nothing exists in a vacuum. It's always better to be a part of the change and trying to influence the masses to make the positive impact.

Kasia Tatomir-Rebeś

COO
at Monterail
Near the end of 2020 Monterail started cooperating with DareIT - an initiative created by Aleksandra Bis and Natalie Pilling to better prepare women in starting their IT careers. Together with a group of mentors they work with their applicants to grow their skills to allow them to get their first jobs in IT. The founders of DareIT support women based on their own experiences. After all, they were in their shoes some time ago. In cooperation with companies like Monterail they create a lot of projects that facilitate knowledge sharing and open many opportunities for their applicants.
Anna Wójcik and Łukasz Pawłowski from our team had a chance to share their knowledge with future programmers from DareIT. In March they taught them the basics of scrum and what a junior developer can expect from their first scrum meetings. The People Team shared some insights on what a recruitment process looks like and how to prepare for it. We hope that the participants of those sessions will be more likely to apply to Monterail in the future.
Several people working at Monterail are involved in the mentoring program at Dare IT. Kasia Kimel and Klaudyna Szpara also cooperate with this organization. A few words from them why they became mentors and why it is important to them:
I joined the Dare IT mentoring program to try out being a mentor in an organization outside Monterail. I loved the idea to help other young professionals who are just entering the world of IT. Helping them polish their skills and boost motivation is a very satisfying and fulfilling experience. Apart from being able to mentor and guide someone and see them accomplish their goals, I'm amazed by the whole community that Dare IT has built - a Slack space with addictive discussions, valuable materials such as books, webinars, meetups and more! - all of this is very practical and helpful. I'm glad to be a part of it.

Katarzyna Kimel

Project Manager
at Monterail
Participating in DareIT as a mentor reminds me of how I was trying to start my career as a Project Manager. I feel honoured that my experience can help talented and motivated women who want to join IT. There is no doubt that DareIT is one of the most valuable mentoring programmes on the polish market. I believe many amazing women will benefit from it as well as many great IT companies will grow thanks to them.

Klaudyna Szpara

Project Manager
at Monterail
This is only one of the examples of what we do to create a more diversity oriented workplace.
In Monterail we try to analyze more than just the number of women in the organization. We also look at:
What positions are they hired for
Are their salaries the same as the men in the same positions
Do they have access to the same education opportunities (internal and external)
Is the access to the perks and benefits inclusive for both genders
Diversity & Inclusion is not only supporting the women that want to start their work in the industry. It is also actively promoting them as experts.
Our Head of Growth in Monterail, Marta Klimowicz, is also the founder of the BalansPL foundation that supports women in speaking at industry events and conferences as experts to facilitate a balance in the world of business.
The BalansPL foundation was established to support the presence of women in the public debate. Even in industries where there's a majority of women most of the speakers at various conferences are male and it is their voices that are heard when experts are consulted. Our foundation supports both event organizers in reaching women-experts and women-speakers in growing their public speaking expertise. We need to see and hear more women speaking publicly. Without that any significant social change would simply not be possible.

Marta Klimowicz

Head of Growth
at Monterail
Gender Inclusion - Language
While diversity can be achieved by employing different people in the organization, inclusion is a process that involves a change in their mode of thinking in the organization. Including is an organized effort that consists of accepting and treating fairly people and groups from different backgrounds. Those differences might seem obvious, like nationality, age, ethnicity, religion, or gender. They can also be more nuanced and result from education, training, work experience etc.
In Monterail inclusion starts with the language. Gender-neutral language is a general description of language devoid of sexism, a language that is inclusive and promotes equality. The aim of that is to use words that cannot be construed as discriminatory or derogatory or suggest a supremacy of one gender over the other. Using it limits gender stereotypes, promotes social growth, and gender equality.
We try to make our external communication such as job postings, our social media activity, communication with our client was built on respect and did not exclude any potential recipients. Those rules also apply to our internal communication as well. We try to remember to use feminative forms when using Polish and we often ask our new joiners about how they would like to be addressed.
Why is it so important to us?
I've been in the IT services industry for over eight years and also was an IT student, so I have many first-hand experiences of being the only woman not only in the room, but in the whole company. And it always made me feel out of place and different. I felt that I needed to work 3 times harder than my colleagues because I was a girl and I lacked the knowledge that boys gained from playing with computers since they were like 5 years old. Turned out the only thing I lacked was confidence. I'm glad that I stuck to IT, despite the challenges I was facing daily, and managed to work my way up to the COO position. I can see a turn in IT and how it becomes more inclusive for women and that brings me a lot of joy.

Kasia Tatomir-Rebeś

COO
at Monterail
First of all, having more women in your company will help those women who you already are there (and I DO HOPE that you have at least a few!). They will feel more welcome and have this sense of belonging that I sometimes lacked. Secondly, a diverse workplace also helps you with your services and/or products to be simply better. Like with the story about Apple and their Health app - the app is there for a loooong time, but the period tracking part was added only recently. Why? There weren't any women involved in the development of the first versions of the Health app. And women stand for, well, half of the population so it is required to think of their needs and their user habits to include into your products and/or services. The easiest way to achieve that is to have women working within your team and sharing their experience.
Don't be afraid to start a movement!
We know that Diversity & Inclusion is a difficult issue for many companies. Often it's thought of as something extra that will be tackled 'somewhere down the line' or 'when we have more free resources' in the HR department. Sadly a radical change in awareness, education and behavior will not be caused by a single team. That's why we would like to say to you: a manager, leader, colleague:
Don't be afraid, take a stand, educate yourself and your teams on diversity and inclusion. Use inclusive language inside and outside the company, implement anti-discrimination policies, celebrate Women's Day, Men's Day, Mental Health Day, Pride Month and similar occasions to show that life is not only black-and-white, but it's quite colorfull and that makes it great.

Kasia Tatomir-Rebeś

COO
at Monterail
After all, people are the backbone of the company and we should treat everyone the best we can!
*In a significant oversimplification gender gap is a result of a difference in perception and treatment of men and women. It's most commonly seen as various types of underrepresentation. This phenomenon is more broad than simply a difference and salary or the belief of supremacy of one gender over the other. It consists of perceiving attitudes, behaviors, abilities, as based in gender rather than merit. This stereotyping is present both in personal and professional life.