Today, we're happy to announce that we have been recognized by the Women's Faces committee that rewards Polish companies leading in female empowerment practices. The 2nd place award in the category of a "Woman-friendly company" puts us just after Mercedes-Benz, the main title-holder, which we congratulate for being the pioneers of positive change.
For that, we say cheers to all our teammates.
The way a workplace feels depends on the attitude we bring into it. Since starting Monterail 10 years ago, we have strived to create an environment where people truly feel valued. That wouldn't be possible without our community's openness to embrace our male and female employees equally for their character, skills, and difference of opinion. We try our best and we're still looking for ways to improve. As there have been fewer women employed in the software industry than men, we keep introducing improvements that level the gender gap.
So, What Happened?
On the 14th of December, a jury of 15 representatives of the business and education communities of Poland voted for Monterail as the no. 2 most women-friendly workplace in Poland.
The criteria went way beyond a review of hiring practices. Competing companies had to show factual (not "imagined in a strategy") results of their policies to prove the organization provides ongoing support to female professionals. The review considered factors such as training availability, defined career path, promotion opportunities, and the number of women in managerial positions.
Women's Faces called for entries from companies that don't tolerate any form of discrimination.
In 2020, the jury recognized three companies as gender-equality leaders: A2 Clinic, Schneider Electric Polska, Credit Suisse Poland.
Making our diversity commitment real
This award we take in as a vote of confidence in Monterail's diversity activities that all of our employees contribute to every day. And here's exactly what we're doing:
There are 8 women among 26 leaders
Women should be leaders as much as men do. Their experience is invaluable, hence they are welcome to join our management team so that Monterail considers the needs, perspective, and circumstance of both genders as the organization grows.
Employee salaries are transparent and based on merit
Monterail's salary policy remains transparent and unbiased. Employees can review it themselves. Men and women have an equal potential to earn, as we use the exact set of questions in our pay raise conversations grounded in a 360 performance review to eliminate bias.
We maintain an equal standard of work responsibility
With employee duties clearly defined per position, we do our best to require the same effort from each individual (and to recognize them the same way).
Maternity leave is supported beyond legal requirements
We shouldn't worry about work when family life needs extra care. During pregnancy or parental leave, our employees leverage remote work and flexible scheduling while retaining their post under unchanged conditions. If you're out of the office, we stay in touch, as you're welcome to join us for team building, company events, or a fine espresso at the HQ. Upon return, we'll get you ready to roll again through an onboarding period.
Leadership path open to any specialist
If you hope to move into management, we won't leave you guessing how. Monterail assigns an HR partner to guide you through a step-by-step process accessible to all employees. To know what growth options you have, there's a chance to meet fellow senior professionals already during the recruitment.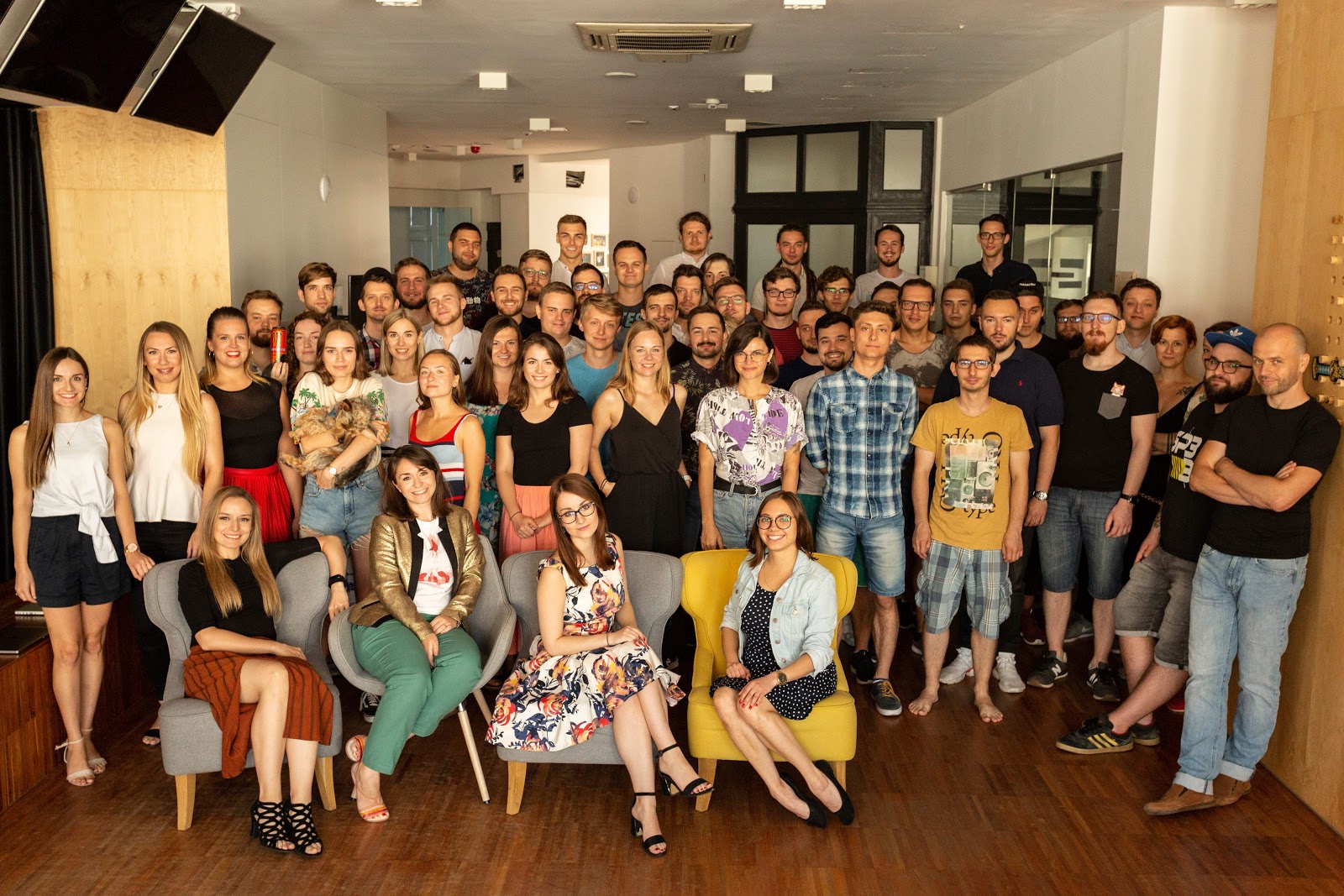 Monterail 2019 team.
Women's activism is encouraged
What women can expect from Monterail isn't limited to internal policy. Our community stays dedicated to social action (campaigns, conferences, meet-ups) promoting gender equality, women's rights, and female career development. Monterail runs Girls in IT events, where our lady-specialists share advice for thriving in tech. On the inside, we hold talks on diversity at the workplace and beyond — recently with specialists from Spotify who opened up about their best-practices, and we had our Senior Product Designer, Paweł Hawrylak, give us an immensely insightful talk about diversity in digital products.
Here, we'd like to hand the mic to Marta Dziergwa, our Head of People, who electrifies many of our efforts:
Diversity remains a core pillar of our company strategy. We talk, act, and learn rather than pretend we do, which is what brings real success. I'm glad that our organization has tremendous support from our co-CEOs, who have been caring for this matter for years by investing in external campaigns (as with Girls in IT), leading the implementation of women-friendly best practices, and voicing their support for women's issues — as when they openly approved of the Women's Strike.
Our contribution to women in the tech industry comes from a framework of a supportive work culture — a culture of feedback, transparency in salary raises or recruitment proceedings. That takes time. As Monterail started years ago, we now have a strong representation from C-level execs to team leaders. Since we focus on longevity in what we do, we plan to evolve and expand our diversity practices, setting even more ambitious goals in next years. We believe that our engagement in diversity approved on all levels makes Monterail a considerate workplace.
Ongoing diversity practice
We understand that our efforts have to be continuous to break the glass ceiling above so many female professionals. We encourage friends to use inclusive language so that everybody feels welcome. Being remote-first is OK. Work time remains flexible to provide space for unplanned errands. If you need to expand your hard skills, Monterail covers 50% of training costs. You can flourish as a public speaker too, with training from one of our experienced coaches, where we cover 100% of logistic costs.
A well-rounded pack of benefits making work enjoyable
Every prominent company has them, but the question is if these benefits meet employee expectations. The package available to our team comes from an open discussion about needs, preferences, and requirements that we hold regularly. Here's what our teammates can currently count on:
Luxmed health care
English and Polish classes
Personal training budget
Opportunity to work 100% remotely
Hi!5: 100% paid monthly leave after 5 years of employment
Self-development time (SDT)
A flat structure — just reach out
Department knowledge-sharing meetings
Cooleaf Peer Recognition: redeem points for prizes as you hit goals
HearMe App: access to anonymous therapy/coaching sessions
Relocation package (since Wrocław is a Polish gem)
Employee referral bonus
Community events
Work hardware that we cover for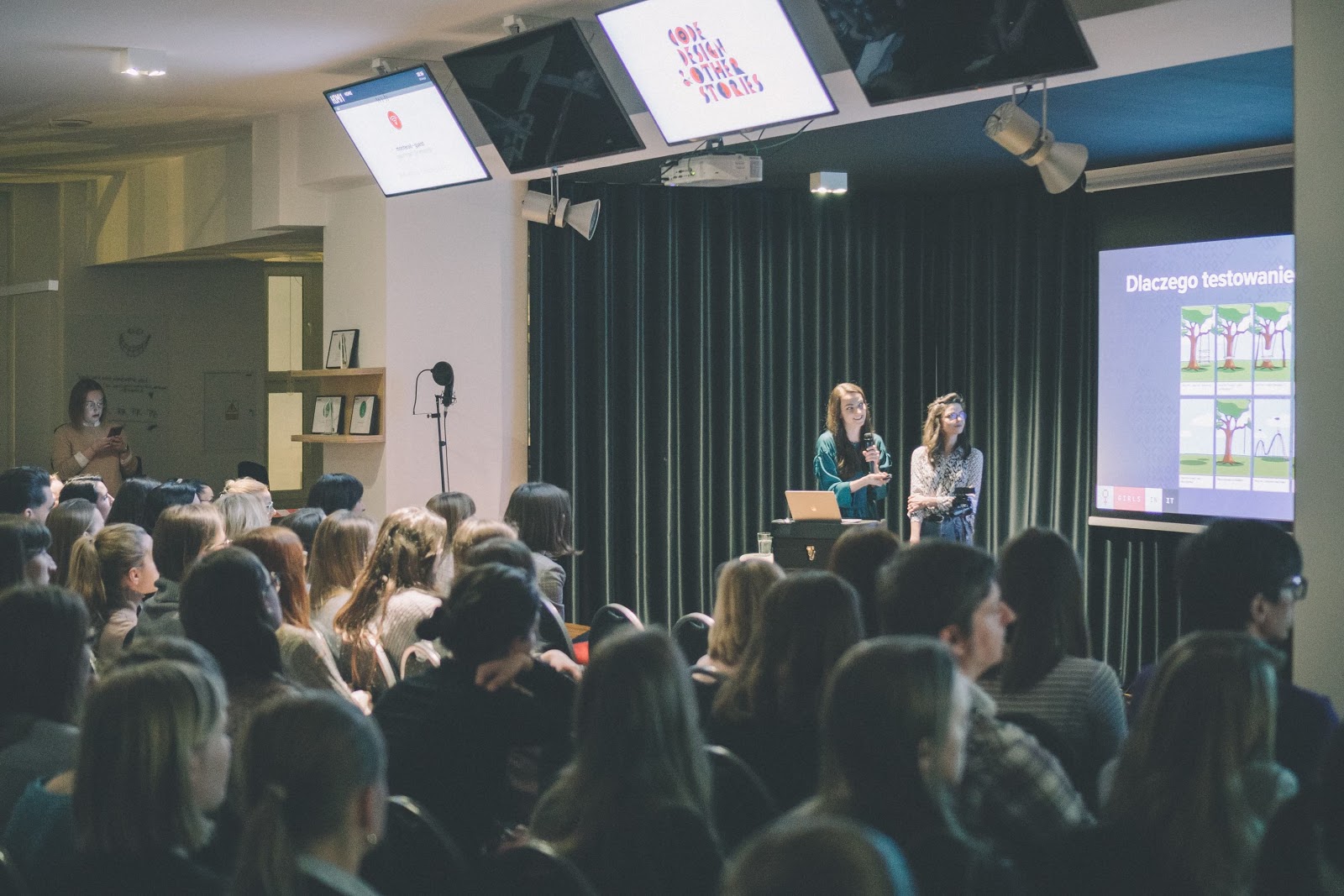 Girls in IT 2018 meetup. Presentation about Quality Assurance.
Keep the conversation active
How do you feel about working at Monterail? Our workplace policy wouldn't get any awards if it wasn't for our open conversations, the values that we hold dear, and the openness to people that help us shape a no-stress, supportive culture. Thanks to your input, we do create this place together.
👉🏻 Share your ideas on how we can improve our diversity, inclusivity, and equality practices by sending us a tip to join@monterail.com or by approaching Marta Dziergwa.
👉🏻 If you know a broad-minded individual that would fuel our team with positivity (maybe it's you, reading this?), let them know our base is wide open to new talent.