Technology is changing just about everything in how we do business and work these days. And when it comes to Human Resources, the change is not just about automating repetitive processes like payroll, but also – or maybe most of all – about developing new tools to help you find the right talent, building effective, engaged teams, increasing their productivity, and retaining valuable employees for longer.
It's not easy to keep up with all those new solutions, trends predicted to be the next "The Future of Work" and latest start-ups. If you work in HR or tech, a good way to stay up to date is to visit a renowned HR tech conference from time to time.
Here's where you can meet other professionals in the field, learn about the coming trends and tools you can use in your company as well as get inspired by how business leaders from all over the world transform HR departments and build innovative companies.
If you're based in Central Europe, you're quite lucky. As it happens, Germany, France, and CEE countries are leaders of the HR tech sector and the density of related events is impressive.
There's no better place to immerse into HR tech easier than in Berlin. Concerning a strong HR community presence, there's a meeting or event dedicated to this subject almost every day. Also, huge conferences shape the state of Berlin's ecosystem. Here's a roundup of those most exciting and valuable conferences coming up later this year. You still have a chance to participate!
WHEN: 25-26 June
WHERE: bcc Berlin Congress Center, Alexanderstrasse 11, 10178 Berlin
TICKETS: 1.590 EUR
WHO FOR: HR Managers

ABOUT THE EVENT:
Not strictly an HR tech event, but the largest Human Resources conference in Berlin, combining traditional HR with technology and latest trends. The 2-day event is designed for HR professionals who want to keep up with how the HR industry is changing. Every year, the Personal Management Kongress attracts around 1 500 professionals from startups and corporations. Organized by the Federation of Personnel Managers (BPM), Germany's leading professional body for HR managers.
Apart from expert keynotes, the event includes formats like:
Method Mall focused on active testing of innovative and proven work methods,
Circle Training – meetings with coaches to work on soft skills,
Meetups and roundtables,
HR Startup Awards where startups pitch their innovative HR tools and services,
40+ real-life case studies from HR professionals.
SPEAKERS:
100+ experts from companies like Google, Dentsu Aegis Network, Porsche or German Railways, German Federal Minister of Labor and Social Affairs, and more.
WHY GO: For a 360 look on HR and the role of technology, plus the opportunity to learn from experienced HR practitioners and real-life case studies.
MORE INFO: Personal Management Kongress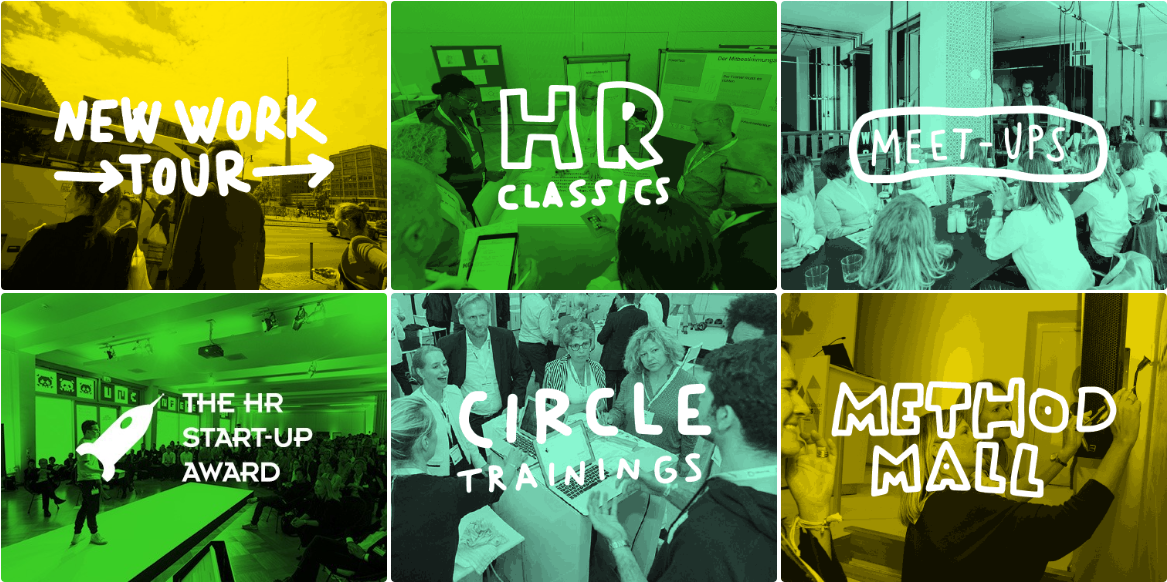 The scope of Personal Management Kongress activities, Source: Personal Management Kongress
June - HR Tech Roundtable: Emotional and Artificial Intelligence in Team Performance Software
WHEN: 24 June
WHERE: Spielfeld Digital Hub, Skalitzer Straße 85/86, 10997 Berlin
TICKETS: free
WHO FOR: Head of People, CEOs, COOs, innovative HR tech companies, Business Development Managers
ABOUT THE EVENT:
Monterail has been involved in building several HR Tech products, including both HR administration software, as well as recruitment platforms. Our priority is to deliver state-of-art solutions, and the only way to do it is by thoroughly understanding the business needs of users and providers of such solutions.
That's why we are now organising a series of roundtable events, touching upon various aspects of corporate innovations. Our first event of the series Digital Transformation Through Meaningful Software is titled HR Tech: Emotional and Artificial Intelligence in Team Performance Software. It aims to boost conversation between providers and consumers for better understanding of the business needs that HR Tech can solve, and to learn about current state-of-art standards in specific case studies. It's organized to empower leaders within HR, operations and finance departments.

SPEAKERS:
HR Tech solutions representative and experts such as Emma Tracey (Co-founder at Honeypot), Julian Tesche (Head of Market Development at Peakon), Anthony Reo (Co-founder&Product at Bunch), Charles Ahmadzadeh (Co-founder& Engineering at Bunch), Sohraab Joshi (Founder&CEO at MindMatch), Christian Vetter (Founder and CEO at HRForecast).
WHY GO:
To meet other services providers and most importantly - innovating users, as there will be both HR executives and team performance-oriented managers to share their experiences, expectations and hopes concerning HR Tech.
MORE INFO: Eventbrite
WHEN: 4 July
WHERE: young targets GmbH, Schönhauser Allee 74a, Berlin
TICKETS: Free (part of the Tech Open Air event)
WHO FOR: HR managers and professionals interested in innovative tools and services for HR
ABOUT THE EVENT:
The HR-Tech Slam is a part of the TOA Tech Open Air, Europe's leading technology festival taking place in Berlin on 2-5 July. As the name suggests, the HR-Tech Slam is specifically designed for startups and young companies working on tools and services within the HR tech field. During the meetup, they'll present their ideas to inspire HR managers. Apart from learning about new tools and technologies, it's a great opportunity to network and interact thanks to the laid-back formula of the event.
The innovations will be presented in the form inspired by Pecha Kucha speeches – 10 slides of 20 seconds each.
SPEAKERS: To be announced.
WHY GO:
To hear about the latest innovative ideas for HR tech products and services presented by startup founders.
MORE INFO: Eventbrite
WHEN: 19 September
WHERE: Festsaal Kreuzberg, Berlin
TICKETS: Start at 269.00 EUR
WHO FOR: HR Leaders, Technical Hiring Managers, CTOs and VPs of Engineering
ABOUT THE EVENT:
HiveConf'19 is a one-day conference for professionals within the HR and tech industries, focused on all aspects of building and scaling engineering teams. The event includes keynotes, case studies, and workshops from both sides of the hiring process. CTOs, Technical Executives, and Engineering Leaders will talk about how data can supercharge your people processes to increase employee engagement, improve retention, and create scalable teams.
SPEAKERS:
Speakers include professionals from Intercom, IT Adidas, Giant Swarm, GetYourGuide, Honeypot, and more.
WHY GO: To hear about how global companies build and grow IT teams – and keep them.
MORE INFO: Eventbrite
WHEN: 21 November
WHERE: Villa Elisabeth, Invalidenstraße 3, 10115 Berlin
TICKETS: 249.95 € – 349 €
WHO FOR: HR Professionals
ABOUT THE EVENT:
Work Awesome was founded in 2015 in New York City by German journalists Lars Gaede and Felix Zeltner and New York tech pioneer Amol Sarva. The event is focused on disruptive technologies and business models, new forms of work organization and work culture, as well as the tools, skills, and strategies that can help companies compete in today's markets. You can expect:
30+ senior speakers
450+ experts, executives, founders, and talents
interactive formats like workshops, discussions, and lots of opportunities to network
live music and performances to unwind
SPEAKERS:
Senior HR Professionals from companies like Porsche Digital Lab, Axel Springer, Leapsome, Procrastination.com, and more.
WHY GO: To learn all about the future of work and cutting edge HR technology in an inspiring atmosphere
MORE INFO: Workawesome
WHEN: 28-29 November 2019
WHERE: Maritim proARTE Berlin, Friedrichstraße 151, 10117 Berlin
TICKETS: Start at 1.495 EUR
WHO FOR: Chief HR Officers, Heads of HR Process Management, HR Controlling, Change Management, Talent Management
ABOUT THE EVENT:
The Rethink! HR Tech Europe is the leading HR tech summit and an international knowledge and project exchange platform, designed to bring together more than 150 Heads of HR and HR decision makers from renowned European and US companies across multiple industries. They share their experiences, forecast trends and technologies, present the latest original research and solutions, and discuss the development in their recent projects.
The event is heavily focused on real-life case studies, best practices, and round table discussions on HR strategy optimization and new technologies. You can expect:
more than 20 end-user best practice presentations
16 workshops and roundtables
one-to-one partnering sessions
networking with leading companies
SPEAKERS:
30+ industry leaders from companies like Siemens, SAP, T-mobile, Ericsson, Mastercard, Adidas and more.
WHY GO: To listen to experts from the world's leading enterprises at Europe's largest HR tech event.
MORE INFO: Rethink HR tech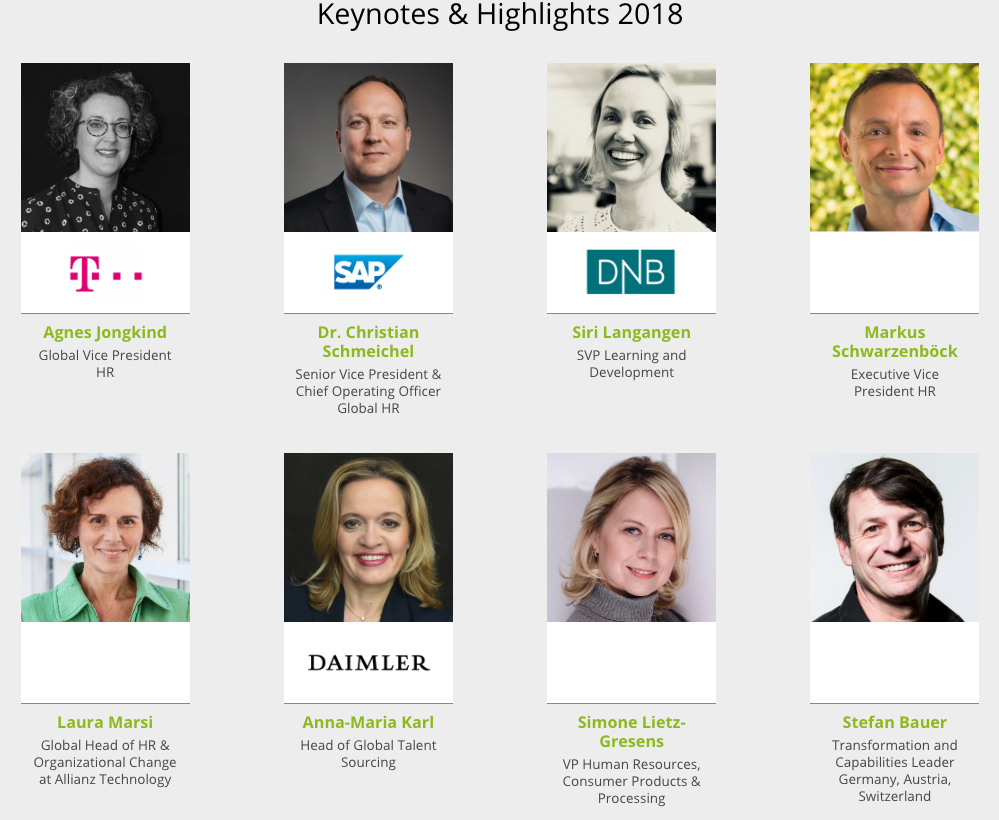 Keynotes&Highlights during Rethink HR tech in 2018, Source: Rethink HR tech
WHEN: 28-29 November 2019
WHERE: Maritim proARTE Berlin, Friedrichstraße 151, 10117 Berlin (co-located with Rethink!)
TICKETS: start at 2.695 EUR
WHO FOR: Experts in tech recruiting, talent acquisition, employer branding, sourcing and talent analytics from enterprises, startups & tech companies
ABOUT THE EVENT:
Europe's leading practitioner-driven tech recruitment event coinciding with the Rethink! conference. Focused on finding, hiring, and keeping the best tech talents. 90% of attendants come from leading enterprises, tech giants, and inspiring startups. The event is built around a multi-touchpoint formula, including many interactive formats that complement standard expert keynotes and sessions. You can also expect more than 30 hours of networking in a relaxed setting.
SPEAKERS:
Top industry influencers and early adopters from companies like L'OREAL, Daimler, Amazon Alexa, ING, The Daily Mail, and more.
WHY GO: To learn the tricks of the trade in tech recruitment (and visit two major conferences at the price of one ticket).
MORE INFO: Technology Recruitment