You use them every day. Whether you work in a global enterprise or a disruptive start-up, they surround you and are quite indispensable at work. It's them (and the accountant) who make sure everybody gets their payroll on time, let you communicate with your colleagues easily or take care of everyone's well-being.
The range of areas they are used in and their positive impact on work is undeniable. Already got an idea of what I have in mind? I'm talking about HR tech apps. Because they make employees' and employers' lives a little better and they created a place in which Human Resources and Technology not only meet, but also enter a fruitful and mutually beneficial relationship.
If you're thinking that maybe connecting these apparently distant fields is unnecessary or impossible, I'm hurrying to tell you — it's already happening in full bloom. The HR tech is a complementary element to HR departments' activities and a must for most enterprises. The global market is projected to reach US$ 48.85 Billion by 2027, exhibiting at a CAGR of 9.2% during 2022-2027. What drives this market and why is this area worth exploring?
Going through this article not only will you find answers to the above questions, but you will also learn the origins of HR tech and its growth. You'll also be able to identify what makes an app fall into this category. You'll be surprised how many HR tech apps are actually within your daily reach and use. Ready for a ride into the HR landscape?
HR Tech or Not?
Before I delve into the matter of HR tech, I find it crucial to clarify what we're going to talk about. Human Resources Technology. But what exactly does it mean? Flooded with fancy names and impressive buzzwords, even the most experienced HR Manager might get misled or lose track of what classifies as HR Technology and what doesn't. I wouldn't be surprised if you had trouble cracking the acronym or doubt the measurable benefits that each app is supposed to bring.
The succinct definition below seems to explain it all:
HR tech app, by definition, is a software that automates the human resources function in companies.
Based on a number of lists created by HR experts circulating the Internet, I prepared this classification of HR companies providing software and divided it into 3 categories. Each of them corresponds to the stage in which an employee is, and the processes in play. It should shed some light on this subject:
Pre-employment software
During employment software
After employment software
However, there's a different way of dividing this category in the HR Technology Market Report 2023 report, where you can see how much there is to hiring, managing, paying, and developing people nowadays. Here are the main twelve categories.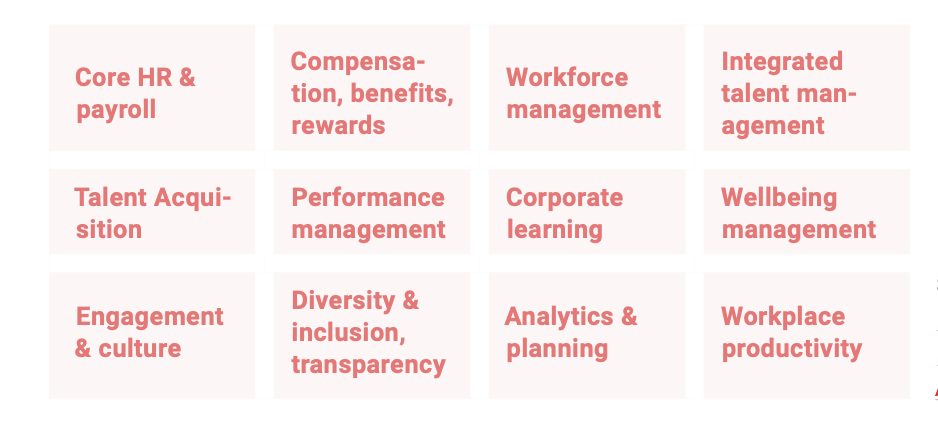 New HR tech categories. Source: HR Technology Market: Disruption Ahead
HR Tech Now and Then
Although it seems that HR tools have been around for ages, the era of "modern" HR technology dates back to the 90s. That's when talent management apps and online job boards took root in most companies. With hindsight, we can say their main goal was simply to enable HR people to do their job. Their functions boiled down to applicant tracking systems, payroll and benefits applications along with moving from paper to digital.
But these platforms were far from a user-friendly interface, nor could they be easily implemented or maintained. They also lacked a human touch and unique details that make people actually want to use them. So, when migration to the Cloud began in the 00s, the journey with HR apps became less bumpy and it laid the groundwork for the modern apps we use today.
The HR tech market of today operates on many more levels than just administrative issues. Whether you deal with resumes, track working time, or keep your eyes on your subordinates' well-being — there's an app for that. In 2019, the range of HR tech companies creating apps is virtually ungraspable.
You can quickly find 630 different apps yourself and who knows how many more have been built for companies' internal purposes. If I tried to list HR tech start-ups popping up every year, I would spend a few days just embracing them all (and I will as it's my next subject to cover!).
However, the biggest shift in the HR tech ecosystem is visible in how HR tech apps are used. It's no longer a tool designed exclusively for HR Managers. Many apps serve as tools used by all parties involved in the HR process, i.e. employees, employers, and job candidates. A modern HR tech app should cater to the needs of people in four areas:
Systems of Record
Talent Management Systems
Systems of Engagement
Systems of Productivity
Besides, concerning the barrage of applications available, each and every new app must be not only business-oriented but also fun to use, UX/UI friendly, and designed with the aim of improving our productivity at work.
Do Slack or HackerOne ring a bell?
HR Tech Companies on the Rise
The HR technology is an enormous part of today's business. Globally, this landscape is valued at $400B and $250B in the US alone. 77% of companies in 2023 respond to inflation pressure.
HRtech has also become attractive to the biggest players on the market such as Facebook, Google, and Salesforce.
Have you seen the Workplace introduced in 2018 by Facebook? This social media platform decided to invest their time, money, and effort in becoming part of the HR tech landscape. Organizations around the globe are already using Workplace, with more than 100,000 active groups, according to Facebook. Seeing these brands entering the space, no one should think that HR tech is just a fad.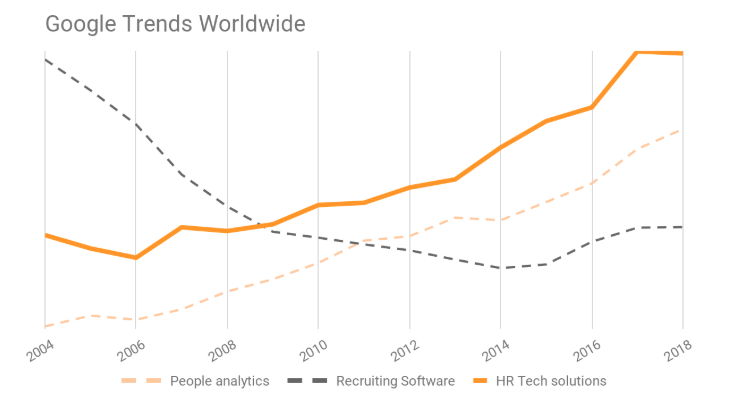 Google trends graph for recruiting software, Source: Medium.com/@delphine_a
Fueled by fast growth, it has become a point of investors' interest. Private equity and venture capital firms are pouring huge amounts of money into this sector. According to the global HR tech VC update for Q1 2023, there's a visible rise in investing in HR-related apps. :
Global HR tech VC investments soared to new heights during Q1 2023, resulting in more dollars invested this quarter than any quarter since HRWins started tracking it. We found $2.2 Billion across 80 investments.
HR tech hooked not only huge investors but also companies worldwide. Spendings on HR tools and technology continue to grow. Large companies spend almost 10% of their HR budget, which drives huge growth in cloud-based HR technologies. What's more, further growth is anticipated:
Core HR software is projected to expand at a CAGR of 9.4% from 2017 to 2025, owing to extensive application in managing employees across the globe.
According to the ISG HR Technology and Service Delivery report published in April 2023, companies can obtain significant gains from adopting digital HR solutions.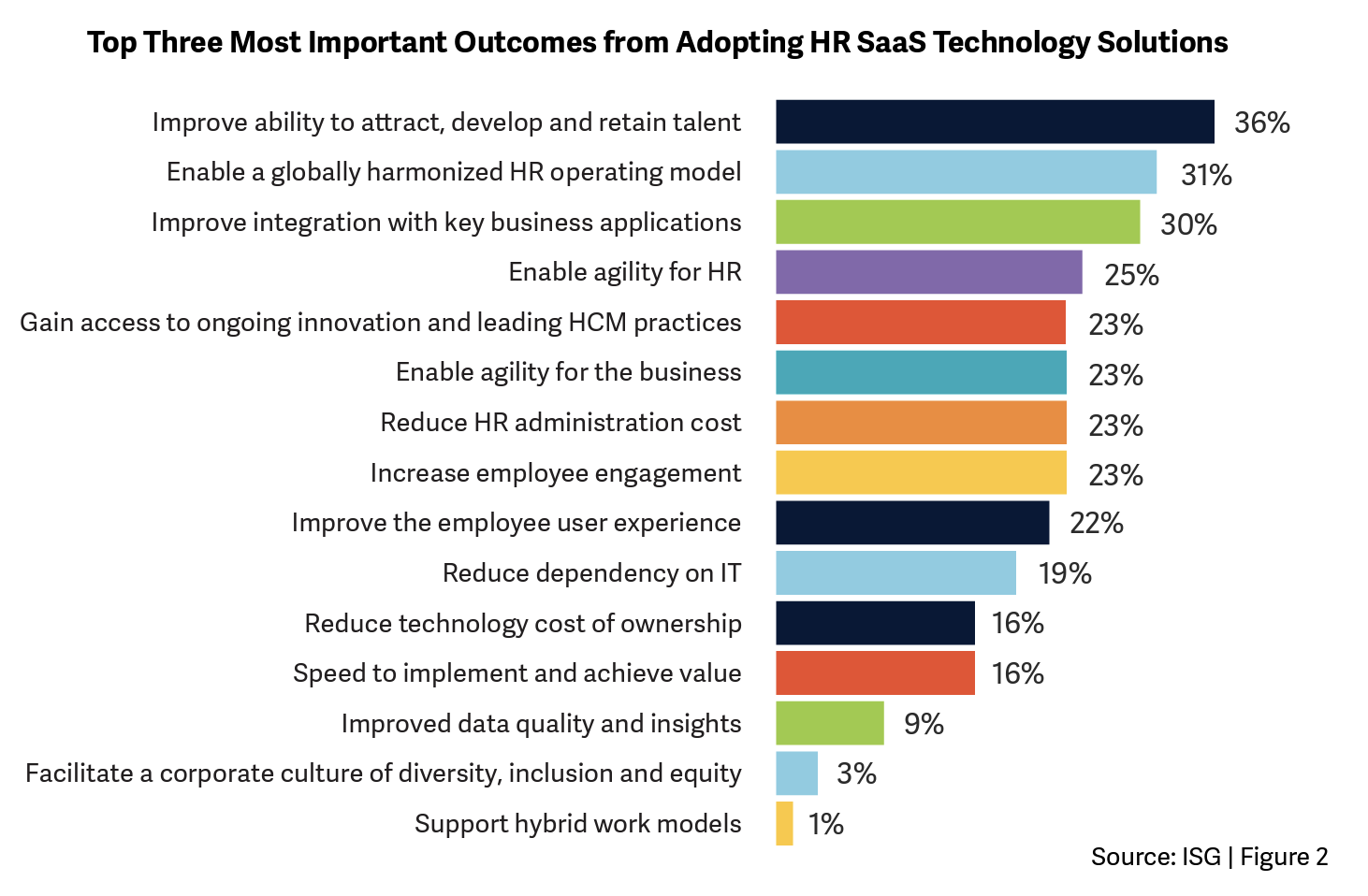 Source: ISG HR Technology and Service Delivery Report - April 2023
'People' are top of mind for organization leaders. In 2022, 52% of leaders want to become bolder when it comes to implementing HR technology.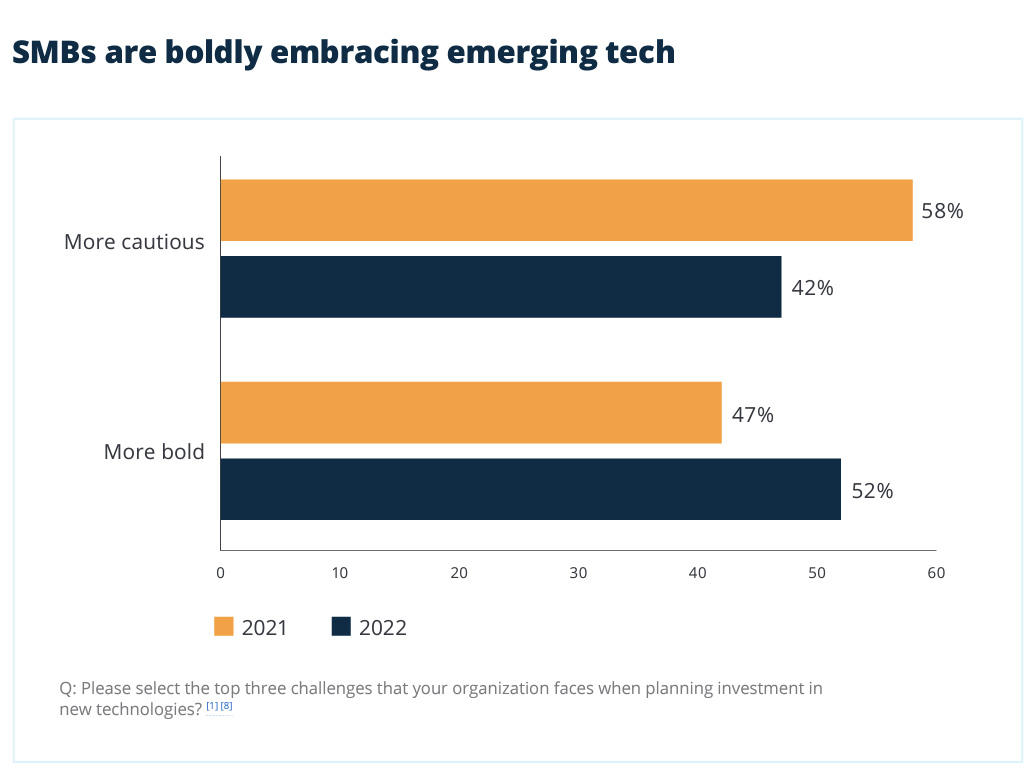 Let's have a look at the drivers of HR tech growth and the reasons why it's becoming more prevalent among businesses.
Why Is HR Tech Growing?
Workforce shift
Did you know that - according to World Bank data - 46% of the workforce is comprised of remote employees, contractors, or freelancers? Both in the US and EU, this number is expected to rise even more by 2025. In this situation, there's a need for investment in relevant software to handle taxes, communication, and administrative issues.
Dynamic development of technologies
Companies are replacing outdated HR systems with modern dedicated or cloud-based solutions capable of keeping up with employees' expectations as well as HR departments' needs. But features and visuals aren't everything. Old systems simply lack Candidate Experience which is a relatively new term but at the same time one of the main drivers of change for organizations. Users of any HR tech app need a more compelling, consumer-like experience.
Too many systems in one company
Companies that started the HR tech revolution some time ago are now finding it difficult to maintain the abundance of systems in one company. Having an app for everything is a blessing in disguise. An average company uses four to five HR systems, which makes information workflow and controlling it a lot harder and more time-consuming. There's a real demand for "one-stop-shop" platforms built individually for business needs.
HR-related issues
The most important reason why companies are splashing out on HR tools is simple: employers are constantly advertising, sourcing, recruiting, interviewing, assessing, and onboarding new hires. And they need support in doing that. They search for ways to transform their workforce and solve their daily problems. The most burning issue that companies encounter nowadays is the struggle with recruitment.
According to the Deloitte Gen Z and Millennial Survey 2023, 59% of respondents found a reimagination of how their companies are organized - a 2x increase from the pre-pandemic levels.
Secondly, modern employees are also rethinking the role their work plays in their life. While 49% of Gen Zs and 62% of millennials still see work as a central part of their identity, these generations strive for more balance between their professional and personal activities. This will also cause companies to think differently about how workplaces should be designed and built.
Prospects for HR Tech Sector
Although the HR tech market might seem to be saturated and flooded with all types of apps, there's still room for improvement and room for business ideas to come true, especially in the AI sector.
In 2023, Slack challenged itself to investigate employees' engagement and productivity. They asked 1,400 U.S. employees and found out that in the area of effectiveness at work,
77% of workers say being able to automate their routine tasks would "greatly improve" their productivity. 27% are already using AI tools, with 90% of this group reporting higher productivity levels.
All forecasts for this market's further development are inclined to say that it's going to further consolidate and expand, primarily due to increased adoption in the SMB markets, where buyers are constantly becoming more demanding and looking for sophisticated AI solutions. On the other hand, HR apps and platforms will further specialize in niches defined by characteristics such as geography, market segment, industry focus, job or skill type, or any combination of the above.
HR tech should definitely be the focus of investors and company owners as it bridges the gap between human resources and technology smoothly, making it one of the most powerful tools in modern organizations.