Every year brings its share of new industry conferences. So, in order to cut down the sheer number of events to something more manageable, we sat down with the whole Monterail design team to identify the ones we think are worth paying a visit to in 2020.
Narrowing the list, we focused on events taking place relatively close to Poland, which essentially means across all of Europe. In terms of themes or topics, while we focused primarily on UX and design, our final list also includes a handful of prominent and more general IT-oriented conferences. So make yourself some coffee, crack open your notebook and a map, and start planning your conference agenda for this year.
Naturally, we will mark those events that we plan on attending ourselves. This post will also be regularly updated, so don't forget to subscribe to our newsletter to receive prompt notifications about newly added events.
The list is sorted chronologically, so we will begin with those events that are right around the corner and proceed to events scheduled to begin almost a year from now, in December of 2020. Enjoy the read and (hopefully) see you soon!
February
February 2–7, 2020 (3–6 days, depending on the workshops, etc.)
Milano, Italy
Interaction 20 is the Milan edition of Interaction Week, one of the largest events dedicated to design and its consequences. Take a glimpse with us into the evolution of design, exploring the cutting-edge.
Eighty talks on the agenda and Milano. That's it. Wait, did I mention eighty talks?!
February 18, 2020 (1 day)
Istanbul, Turkey
This one-day user experience and usability conference is the first international event of its kind to take place in the Turkey region, and will gather UX and usability professionals from the world's leading companies in Istanbul to share their experiences. While the conference is focused on a specific region, attendees from Facebook, Google, HSBC, and Media Markt will definitely make the event worth your while. The roster also features a speaker from Volvo Group Poland, Piotr Zrolka, whom we met last year at the World Usability Days in Krakow and Wrocław.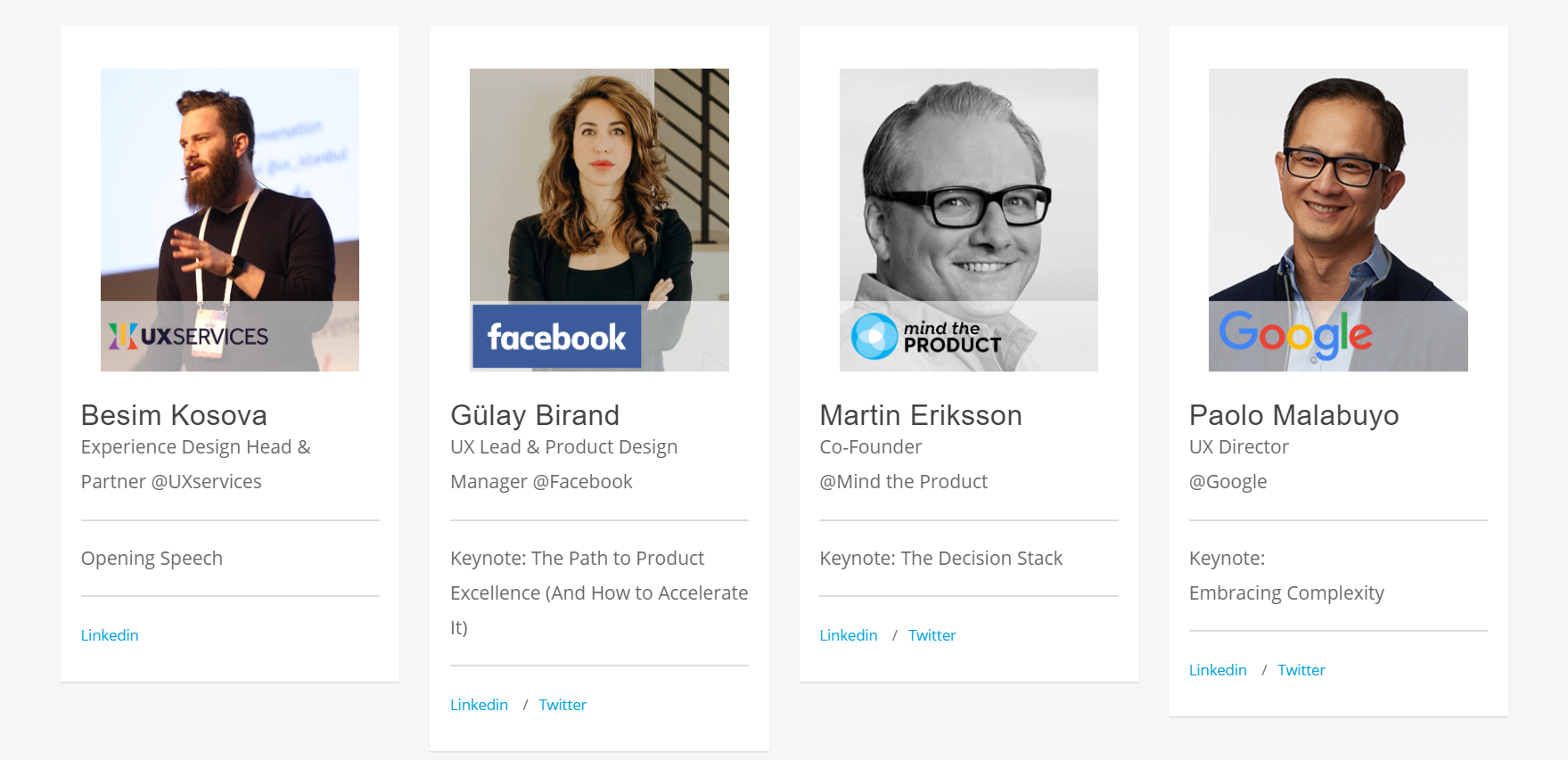 Some of the speakers attending UX Istanbul 2020.
February 19–20, 2020 (2 days)
Amsterdam, the Netherlands
Frankly, this event needs no introduction. People from Awwwards plus amazing speakers like Chris Do, Andy Budd, Peter Smart, Vitaly Friedman… the list goes on and on. Attendees will also include a handful of creative directors from my beloved agencies like Dog Studio and Rally Interactive. If you're on February 19–20, and have around €500 on, you should definitely think about getting yourself a ticket. We highly recommend checking this event out. Amazingly enough, it's one of the least expensive entries on our list.
March
March 1–2, 2020 (2 days)
London, UK
The theme of this March conference is collaboration between UX, UI, and content designers. The lineup features speakers from Abstract, TfL, OpenTable, Dyson, The Paciello Group, Nike, Shopify, 1Password, Government Digital Service, Airbnb, InVision, and many others.
Monterail tip: there's an option for streaming- or video-only access for just 145 PLN, making it a good choice if you can't go you but still want to have access to conference deliverables.
March 3–4, 2020 (2 days)
Copenhagen, Denmark
What does exactly influence mean in UX? This is the subject that the organizers instructed their 2020 speakers to focus on and ponder: "Influence & Designing for Good." If you're interested in two days filled with superb content from 20+ speakers, hands-on workshops, inspiration, networking, new knowledge, and new insights, consider attending.
April
April 4–6, 2020 (3 days)
Breda, the Netherlands
This year's theme focuses on the creative part of UX research. In our increasingly fast and agile working environments, we need to be even more creative to deliver solid research. The conference features a great lineup, with people from companies like Shopify, LinkedIn, twig+fish, Spotify, Philips, and Google. We strongly recommended this conference to people looking for UX-heavy events.
April 23–25, 2020 (3 days)
Barcelona, Spain
OFFF is a community open to all those eager to learn, participate, and get inspired du three-day journey of conferences, workshops, activities, and performances. OFFF is known for being a little more 'artsy' design conference. Or should I say event? Probably, in this instance. If you're more interested in the nitty-gritty digital product design, you could probably pass up on OFFF this year. Still, it's a widely esteemed event, great for people who prefer the more traditional face of art/design.

With this line-up, you can be sure to upskill your artistic side of design.
May
May 8, 2020 (1 day)
Stockholm, Sweden
From Business to Buttons (FBTB) is Scandinavia's premier user experience and service design conference, held every year in Stockholm, Sweden. It's the meeting place for everyone who wants inspiration and hands-on advice on how to generate business value by creating great experiences. What about the speakers? Jake Knapp (inventor of the Product Design Sprint), Brad Frost (author of Atomic Design), Mike Monteiro from Mule, etc. The roster suggests a meeting of UX-focused writers and methodological rockstars. If one-day conferences are your jam, definitely consider attending this one.
May 10–11, 2020 (2 days)
Tel Aviv, Israel
Learn from and get inspired by the world's most influential speakers, designers, and creative minds at the UX Salon 2020. UX Salon is a group dedicated to the professional practice and theoretical mastery of the art of user experience design. Join us in Tel Aviv for two days of networking and great talks from design professionals and industry leaders. Don't tell anyone, but I'm working hard to convince design fellows to attend this one. Great speakers (Google, Waze, Fundbox, Smashing Magazine, Uber), great location, decently priced tickets. What's not to love?
May 13, 2020 (1 day)
Manchester, UK
Camp Digital is an inspiring conference bringing together the digital, design, and UX communities for a series of seminars exploring the latest thinking in the industry. Camp Digital feels a little too regional, so that's a "no" for/from me, but if you live in the UK, then it's worth considering.
May 15–16, 2020 (2 days)
Wrocław, Poland
The main purpose of User Conf is to facilitate the exchange of knowledge about designing solutions in terms of user needs between attendees. We combine the world of UX designers, service designers and product designers with business. Like the event above, however, it's mostly a regional affair, with mostly local speakers, so it's great choice for folks from Poland.
May 19–22, 2020 (4 days)
Lisbon, Portugal
Over 80 hours of intensive workshops and inspirational talks that you can immediately carry over into your daily work. This was a tough one to describe. The agenda looks very promising, but the speaker roster doesn't exactly feature well-known names. Plus it's quite expensive. The Awwwards are 25% cheaper and have many superstar names on board, so the choice kinda makes itself.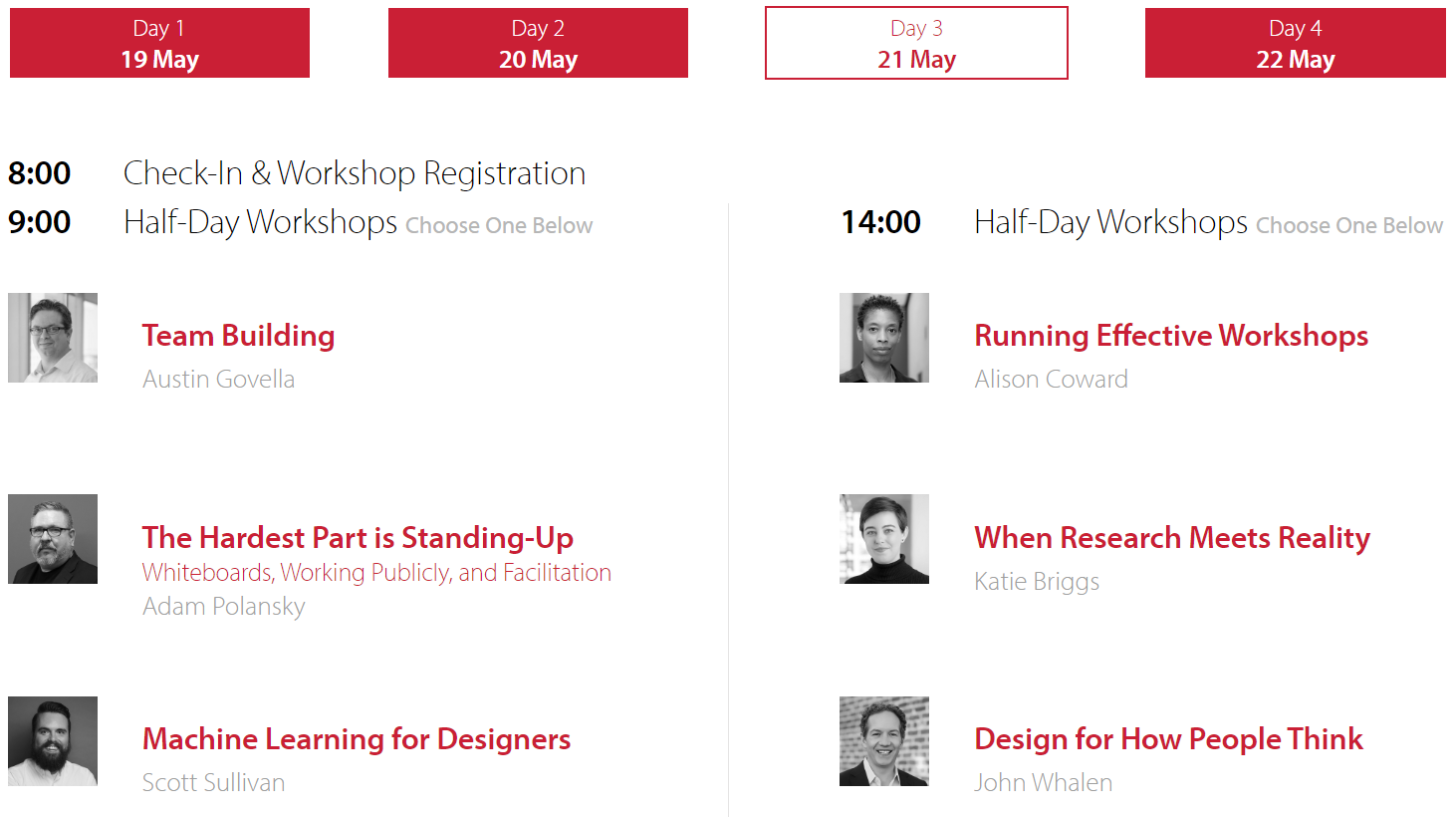 You'll have to decide if the workshops will bring value to your current work.
May 20–21, 2020 (2 days)
Krakow, Poland
ACE! is the largest regional conference of its kind in Central Europe, attracting people from all over the region. ACE! 2020 combines two tracks: Agile Software Development and Product Design & Management. This one is 100% Agile, so if you're looking to gain some knowledge on product management or Scrum stuff, this one might be a good choice. Although it's in Poland, the line-up is looking very promising and international. I'm not exactly looking for two days of listening about Agile, but if you're up for that, it's a no-brainer. Tickers are reasonably priced (€300) and Krakow itself is a beautiful city, with really delicious food, with traditional cuisine spots and pizzerias (I recommend Pizza Garden) being particularly good.
May 20–24, 2020 (5 days)
Berlin, Germany
webinale is a conference for product owners, Web designers, and frontend coders. It combines user experience with code and offers a variety of topics that are important for digital professionals nowadays. webinale is a kind of a huge event, with four or even more specific tracks. All of these tracks, however, have one thing in common—all circle back to digital in one way or another: there's a UX path, a Web design & frontend development path, an online marketing path, plus nearly a thousand of presentations/talks/workshops.
May 27–28, 2020 (2 days)
London, UK
UX London 2020, marking a return to beautiful Trinity Laban, Greenwich, is scheduled to take place Wednesday–Friday, May 27 to May 29. The website and schedule are still in progress, but the roster already features a couple of names from Airbnb, Intercom, Microsoft. Lookin' good!
May 30–31, 2020 (2 days)
Berlin, Germany
The 2020 edition of the largest unconference for UX professionals in Europe. No speakers announced yet, so not much to talk about for now.
June
June 1–2, 2020 (2 days)
Bydgoszcz, Poland
The POLISHOPA Design Thinking Conference offers a unique opportunity to grow your expertise in field such as as design thinking, service design, and innovation. During their presentations, specialists will discuss their experiences as well as the challenges perspectives of working within design thinking. Like in the case of UXCamp Europe, it's still too early to talk about any specific details. Stay tuned.
June 6–7, 2020 (2 days)
Bratislava, Slovakia
By Design is a Bratislava-based conference exploring design and business issues. A lot of professors featured in the lineup give the event a particularly academic vibe, but if you're a logotype fanatic, I have two words for you that might help you decide whether to attend Lance Wyman. Start packing!
June 10–12, 2020 (3 days)
Edinburg, Scotland
UX Scotland is an international conference for UX, service design, and digital communities, organized in… you guessed it, Scotland. We're still missing a lot of necessary info, so… We'll keep you posted.
June 18–19, 2020 (2 days)
Amsterdam, the Netherlands
"An incredible lineup of speakers and the setup and production of the conference was mind-blowing. I even paused mid-talk to applaud them because this event was off the charts," says Gary Vaynerchuk.
June 24–26, 2020 (2 days)
Barcelona, Spain
A single-track international conference for iOS & Android developers and UX/UI designers held in Barcelona, Spain. We're currently waiting for more info about the event to become available.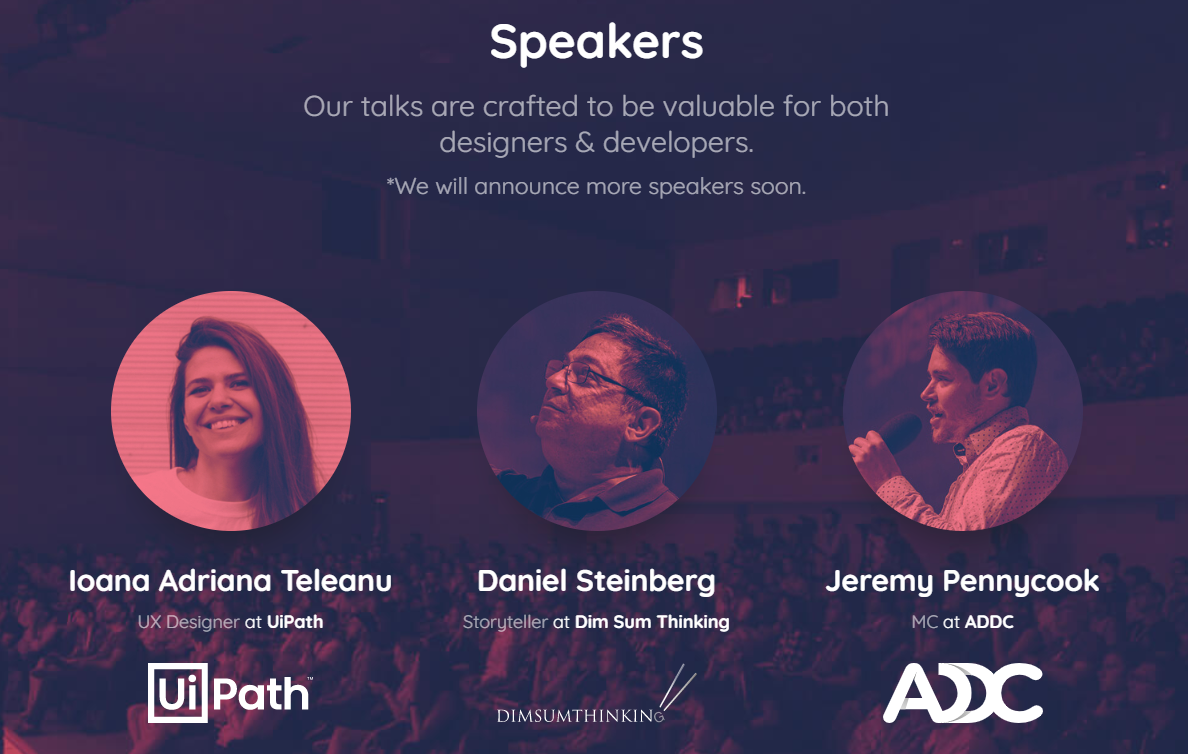 As of January 2020 - the line-up is looking good.
June 29–July 1, 2020 (3 days)
Amsterdam, the Netherland
UX STRAT brings together design leaders, strategists, user researchers, design-focused data scientists, product managers, and experienced design professionals from many corners of the globe for presentations and workshops about the latest trends at the intersection of business strategy, user experience, product design, and service design.
September
September 2-4, 2020 (3 days)
Online
ProductCamp 2020 Online is a 3-day digital event for product people: Product Managers, UX Designers, Researchers and Growth Hackers.
The Barcamp Day is free. You can choose from over 50 talks from Digital Product, UX & Research professionals such as Zalando, Free Now, OLX, Booking.com, Oracle, Accenture.
The conference line up consists of inspirational talks and practical case studies run by world-class product leaders such as Laura Klein, Marty Cagan and other great speakers from companies like Atlassian, BMW and Flixbus.
September 7–8, 2020 (2 days)
Freiburg, Germany
One track, two days, thirteen speakers, and 260 attendees, so expect actionable insights from the get-go, delivered right on the edge of the magical Black Forest. To be honest, I'm not all that amazed by this year's lineup, but Smashing itself is a well-known brand, so this event should be a blast for all UX-focused folks.
September 23–24, 2020 (2 days)
Copenhagen, Denmark
It's more than just a conference, so prepare for the full Copenhagen experience alongside 1,000 designers from all over the world! It's like OFFF, but a little more expensive, and in Copenhagen.
September 25–26, 2020 (2 days)
Labin, Croatia
An inspiring two-day conference exploring the present and the future of the digital industry.
Monterail tip: We'll be there, so if you need any trip advisors or guidance on how to spend free time between individual events, hit us up.
October
October 10, 2020 (2 days)
Dublin, Ireland
A conference that bridges the gap between UX, UI, Dev and Product.
October 10–11, 2020 (2 days)
Graz, Austria
The World Usability Congress is the premier international user experience design conference. Over the course of two days, conference presentations and talks will provide practical skills to immediately implement in your work, inspire your future efforts, grow your knowledge, and show you how others tackled problems just like the ones you're currently dealing with. This one is as "IT" and scholarly as it gets. So If you're a fan of these more academically-oriented conferences, this one is right up your alley. Also, even the title carries its own considerable measure of prestige, doesn't it? Not a conference or an event—it's a congres.
November
November 20-23, 2020 (2 days)
Kyiv, Ukraine
We don't know much about this year's Krupa, but the 2019 edition was a blast. One of the strongest lineups in the industry, with Don Norman from Nielsen-Norman Group, people from Google, Adobe, Wix, and Soundcloud, plus a ton of workshops—it set the bar really high. Subscribe to our newsletter to receive updates about this and other events that we think you should consider attending this year.
Stay tuned
Did I miss anything? If so, comment down below, and I'll try to update the list as soon as possible. Maybe you're organizing an event like that and would love to be featured on this list? Same thing. Drop me a line.