Poland has been a hot spot for Israeli technology companies for quite some time now, attracting firms from the cybersecurity, homeland security, and fintech sectors. Companies of all ages and sizes, including start-ups, mature firms, and even major international behemoths, have turned to this market to find the perfect match from a plethora of Polish business partners.
However, entering new, foreign markets is often a troublesome endeavour. What's the best way to approach Polish partners and how do you operate on an area five times bigger without a local expert on hand?
That's where the Economic and Trade Mission to Poland at the Israeli Embassy in Poland comes to the rescue. Thanks to its comprehensive, systemic support for businesses hailing from the Middle Eastern economic powerhouse can take full advantage of the variety of opportunities offered by Polish market.
Today, I'm speaking with Katarzyna Dzidt, Business Development Director at the Embassy of Israel, whose extensive expertise covers all the ins and outs of the Polish market, the typical problems plaguing Israeli companies, and ways to help them build successful relationships. She shared with me why Poland is the go-to-market for Israeli technology, how these companies can enter the Polish market smoothly, and why Israeli entrepreneurs should pay attention to Poland.
Joanna Staromiejska: How did you start your journey with the Israeli Embassy in Poland?
Katarzyna Dzidt: It all happened in a rather unusual way, given that it's an embassy position—through networking and social media. Although in my previous jobs I handled PR and marketing duties, two rather crucial areas for a Business Developer Manager, the area of responsibility in this case was way different. Be that as it may, this new career path turned out to be a pretty engaging one—it's been seven years since I joined the Foreign Trade Administration at the Israeli Ministry of Economy and Industry to support Israeli businesses.
JS: What kind of support can Israeli businesses get from you?
KD: By reaching out to representatives of the Israeli Ministry of Economy in Poland, Israeli companies can get help making direct contact with a variety of Poland-based firms. That's possible through various B2B events such as conferences, delegations, or talks. My responsibilities include helping Israeli companies establish themselves on the Polish market as smoothly as possible by providing favorable conditions for all involved parties.
The matchmaking part is crucial. The offers of Israeli firms are connected with demands and rights of the Polish partners. This is a gateway to the Polish market for Israeli companies and for Polish firms interested in collaborating with Israeli business.
JS: What does this matchmaking entail? What problems did Israeli firms encounter?
KD: Due to the small size of the country, the Israeli market became saturated a long time ago. Currently, when a start-up is launched, its founders are usually export-minded and plan on developing their companies outside the country's borders. Export is perceived as the primary direction of business development and a natural way of supporting the Israeli economy. It shouldn't come as a surprise, given that the country doesn't have much in the way of natural resources. So technology became the Israeli "natural resource."
Creating trade departments, such as the one in Warsaw, in countries that the Israeli government considers promising from an economic perspective, is essentially a strategic move. It guarantees space for the continued flow of exports.
The second reason is the language barrier. When Israeli firms come across a website, even a state-affiliated one, available only in Polish, the chance of making contact drops to zero. When you don't speak Polish, doors are pretty much closed for your business. And that's a missed chance for both parties. Local authorities on the voivodship level are allowed to decide their own budgets and expenditures and are eager to spend money on development and Israeli tech. So our matchmaking effort is supposed to connect a particular need with an appropriate solution.
JS: How has the Israeli market changed over the past seven years?
KD: Israel's venture capital industry was born in the mid-1980s and has been rapidly developing since. The foundations for its current shape were laid down by the governmental VC fund Yozma in 1993. I would say that Israeli market growth is very consistent and, frankly, unstoppable. It's developing more or less in the same direction it has in the past, ever since Israel began steadily exporting more and more developed technologies.The only difference nowadays is that Israeli companies became more aware of how the Polish market and businesses operate which, in turn, deepened the collaboration between the two economies.
JS: What direction is the Israeli tech ecosystem developing in?
KD: Israeli start-ups and technological companies create solutions for every area of our life—from farming, utilities, transportation, medicine, through smart cities, the energy industry (including the renewables sector), and up to homeland security and cybersecurity. Israel is seen as a world leader in the latter two industries, right next to the USA.
Please note that I mentioned only the most important and popular branches of industry that Israeli tech has had an impact on—the truth is that there is basically no area or industry for which Israeli firms haven't developed some sort of technological breakthrough. Israel isn't called "the Start-up Nation" for naught—with over 4,000 emerging business nationwide, the size of its tech market more or less equals Poland's despite the country being a couple of times smaller.
JS: Which Israeli technologies and companies should we be paying attention to?
KD: In the homeland security, cybersecurity and fintech sectors, all of which fall within my area of responsibility in the department, we've seen countless new arrivals developing breakthrough technologies in their respective areas. The hottest companies in the HLS sector right now include Anyvision, an advanced facial recognition technology provider, and SensoGuard, offering a variety of perimeter protection systems.
In cybersecurity, we have companies that have already made a name for themselves in Poland, like Checkpoint or Cyberark, and a couple of lesser known ones offering high-grade IT and OT network security solutions, including Cyberbit, Indegy, automated threat detection platform provider SecBi or PCYSYS, offering a fully automated, self-learning penetration testing system.
The fintech sector, on the other hand, focuses primarily on companies working with machine learning, artificial intelligence, and the blockchain... Although they remain buzzwords in many international markets, they have become a reality in Israel and are used daily in many areas of its business ecosystem. You'll be able to meet representatives from these companies at the 5th HLS&Cyber Conference taking place in Tel Aviv in on November 12–15, 2018.
JS: What makes Poland and Warsaw such an attractive location for Israeli entrepreneurs?
KD: The size of the country and Polish market is one thing, but its image and the condition of its economy are at least equally important.
Poland has been the only EU country to escape the ravages of the recession following the 2008 global financial crisis. We are stable and reliable partners.
Besides, the Polish market is still far from saturated and remains open to trying new things and companies taking their first steps in their respective industries. Over the past couple of years, we have also observed a number of changes in the market's approach to business and technologies.
To give you a better picture—not that long ago, EU funds were spent only on developing infrastructure to support a solution. Now, the perspective shifted and a good amount of money is spent on developing the solution itself, which in turn opens doors to innovative Israeli ideas. Moreover, in some areas, Poland is more developed than Israel, creating more common ground and potential for merging ideas and technologies.
For example, Poland has Israel clearly outstripped in the financial technology services sector—from the number of people using mobile banking services, which is over ten million, through modern payment and customer service systems, up to the ubiquity of contactless payment platforms. Poland has pretty much taken a quantum leap in fintech development by completely ignoring legacy payment systems, such as cheques, which both Israel and the US use extensively to this very day.
It's become this fintech-friendly sanctuary, where you can safely take your technologies out for a spin in an innovative and open environment, and prepare them for future deployment across Western markets.
JS: What kind of companies usually reach out to the Embassy for support?
KD: The breadth of applicants perfectly illustrates how diverse the Israeli economy is. On the one hand we have these big, mature companies, major international players in some cases, especially in the cybersecurity sector. On the other hand we have start-ups that Israel, true to its moniker, has lots and lots of. Generally, it's small- and medium-size enterprises that reach out for advice and help. But the interesting fact is that the matchmaking process also includes bringing Israeli companies together with vendors, system distributors, and integrators.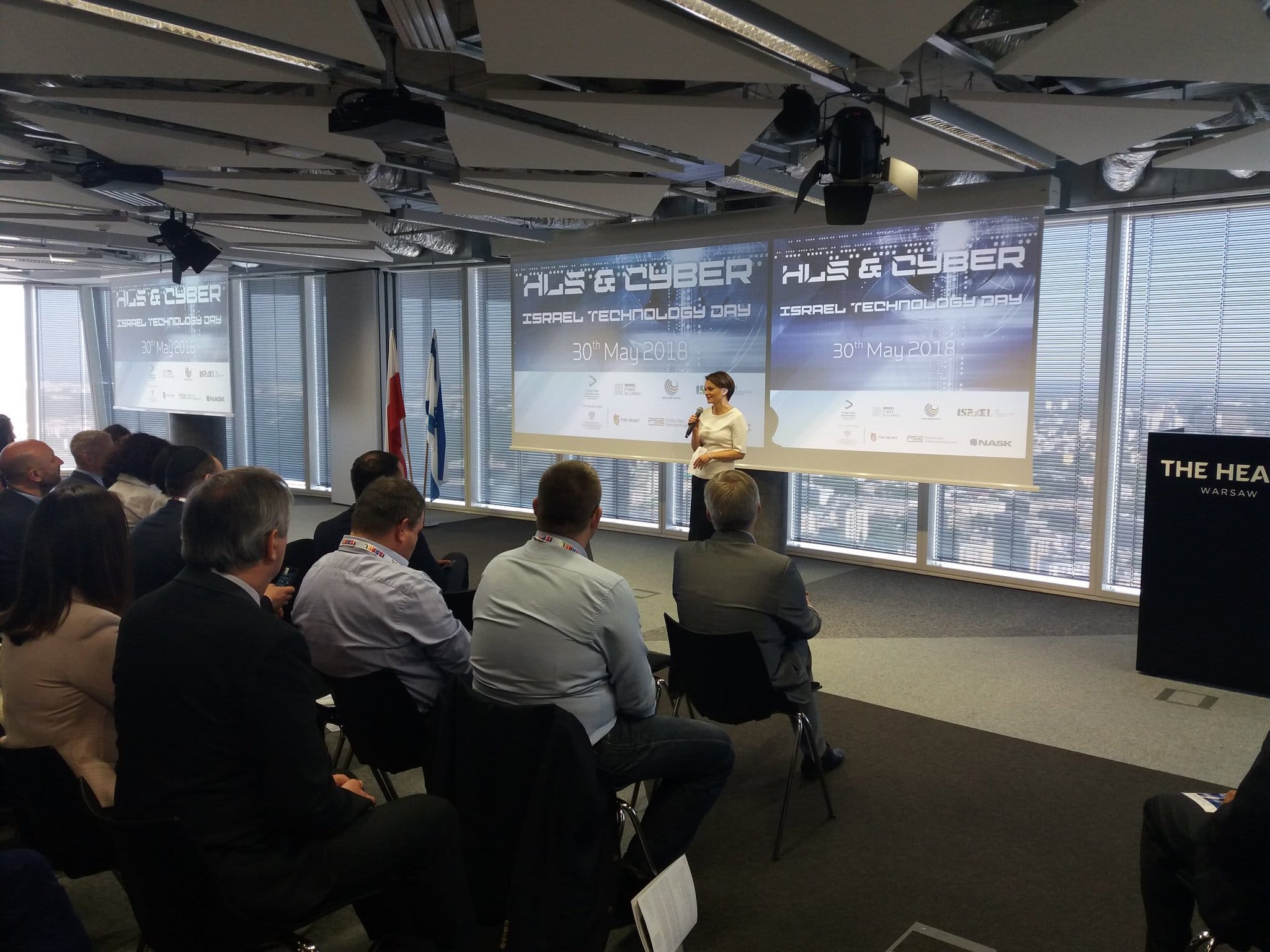 The example of support for Israeli companies - HLS&Cyber Security Israeli Technology Day organized in Warsaw on 30th May 2018 Source: https://twitter.com/@MPiT_GOV_PL
JS: What are the biggest benefits this arrangement brings Israeli partners?
KD: I'd emphasize two key benefits. The first is access to knowledge and know-how accumulated in the Polish market and its business ecosystem. The specialization of available expertise is an even more unique proposition-when we operate in a given sector, we usually know it to its very core. Our first-hand experience and knowledge of Polish realities are simply much broader and detailed than anything an Israeli company could research and compile on their own.
Besides, we facilitate access to well-developed professional networks and serve as cultural interpreter, smoothing out any kinks that may arise due to differences in both partners' culturally-ingrained approach to business, a service which often turns out to be of invaluable help.
JS: Are there any Israeli companies that have already succeeded on the Polish market?
KD: Too many of them to name here, but some names are especially worth sharing— like the Tel Aviv-based start-up PayKey, whose social banking solution has been implemented by ING Bank Śląski in July, 2018.
It's a smartphone keyboard that lets bank customers access financial services without having to log into a banking app. PayKey enables banks to offer their customers the ability to use a range of financial services, including P2P payments, chatbot engagement, balance checks, cardless withdrawal, and many others, within any mobile application without having to open the bank's dedicated app. It offers a cross-platform banking button on the smartphone's keyboard that boosts the bank's brand engagement while making the banking experience quick, contextual, and simple for users.
The "start-up," the term being used in the Israeli sense, already employs eighteen people and has raised over $26.4M in funding since its launch in 2015.
Latest success by Israeli start-up PayKey—implementation in ING Bank Śląski. Source: www.paykey.com
JS: What does the future of Polish-Israeli cooperation look like?
KD: We're becoming more open to Israel, but at the same time the Polish market has been seeing a steady increase in the number of homegrown solutions, too. I believe the future will revolve more around the exchange of expertise and experiences, rather than one-way sales.
Enter the Polish market smoothly
Poland is a technology sanctuary, where you can safely take your ideas out for a spin in an innovative and open environment. We'll create a common ground for merging your ideas with our expertise.