The Monterail Growth team has been working with a CRM system for many years now, and to great success. But as the team began expanding, growing along with the company, certain strategic changes had to be made.
Why? Because Monterail's growth ultimately meant more business enquiries, more clients, a broader knowledge of their needs that had to be shared between individual team members, and, ideally, flowing smoothly alongside remaining internal processes. We decided to look for a tool that would enable us to better manage the growth of our company.
Reasons for change
Before Pipedrive, we used a tool that offered a free CRM system for small businesses, employing it in both our sales and marketing processes, and we were pretty satisfied with it.
After a while of using it in sales, however, certain frustrations began to appear, both in terms of individual features as well as general poor usability.
The inability to add a list of recurring activities or see separate tasks on the Pipeline view of the Kanban board often either required us to perform extra clicking (particularly by those of us willing to do the extra manual work) or led us to miss tasks. All in all, it proved rather unintuitive, and its poor UX often resulted in a correspondingly poor organization of tasks.
Feeling that their tool was far from perfect, the Sales team decided that we needed to find something better to help them seal the sales funnel and improve their lead and task management.
Our needs and expectations
We were looking for a tool that would: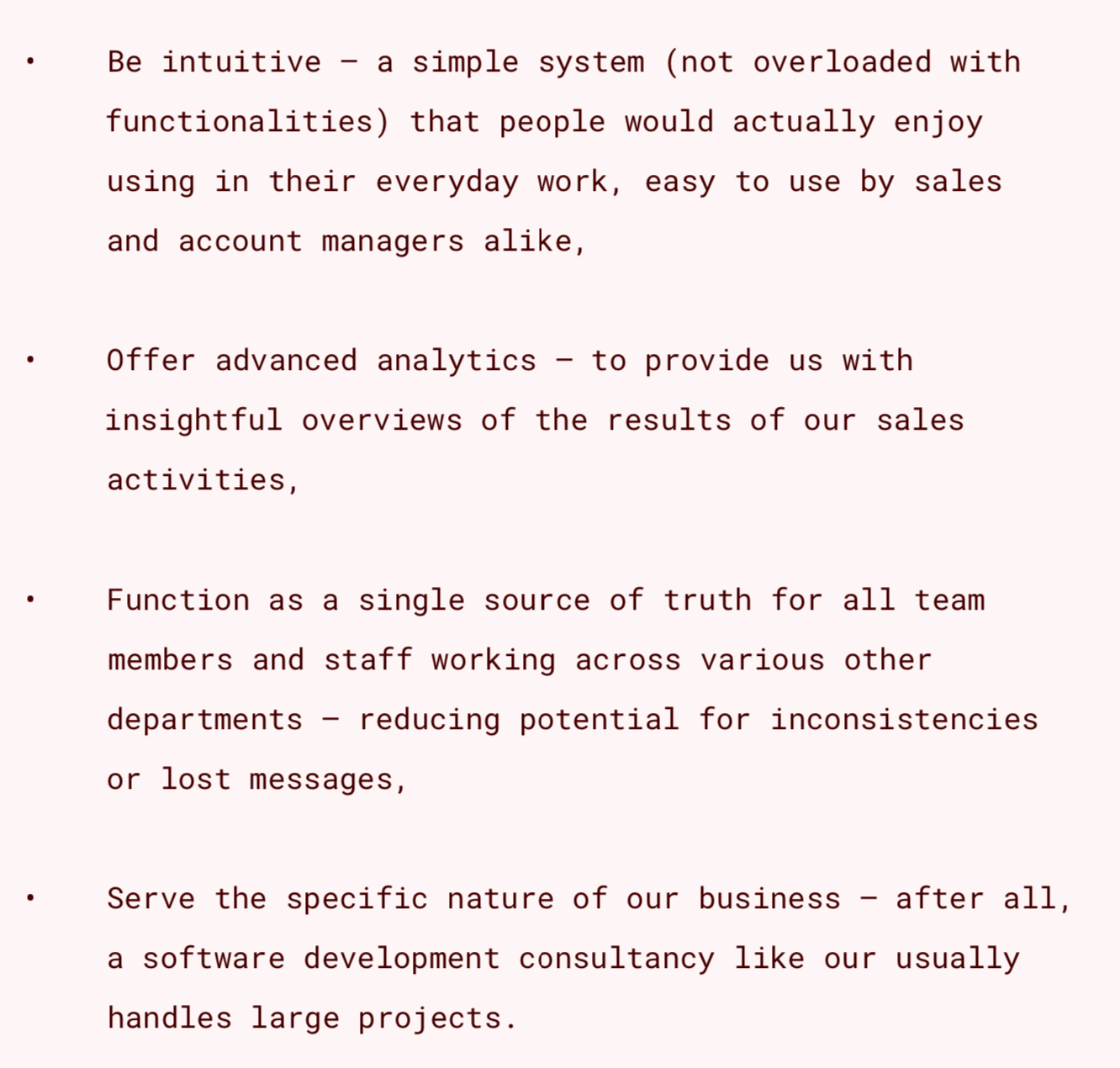 After we wrote down the list of our requirements, the Sales Team, which has been using a different tool at the time, soon expanded it by listing a decent number of their own "nice-to-haves" stemming from their own particular frustrations. Keeping in mind the needs of interested teams, we began researching and comparing options available on the market.
What Pipedrive offered
Truth be told, Pipedrive first lured us in with their key tagline: "CRM that salespeople love." But it soon became apparent that it also ticked all of our "must-have" boxes and nearly all of the "nice-to-haves," too.
So we gave it a try.
After completing the initial setup, we were ready to transfer all our contacts and link other important apps we use in the sales process to the new system. All of it was relatively easy to accomplish due to an open API.
Easy and extensive integration with leading industry tools makes our life easier on so many levels. Pipedrive boasts integrations with over 100 apps & add-ons, the most important being Gmail, Zapier, Trello, Slack, and Mail Chimp.
Additional highlights that we really liked:
Excellent visibility of activities and deals, including statuses (e.g. due, in progress, overdue). This helps us greatly during our team's weekly check-ins, because we can quickly see the stages our particular client projects are in on one dashboard. It can't get any clearer than that.
Workflow automation works really well and is easy to set up. It lets us easily gather the knowledge about customers, based on gathering data about customers and a company's business contacts. Gathering quality know-how helps with operations. Filling in for other, temporarily absent employees is much easier when you have access to all of their contacts together with notes and relevant emails attached.
It promotes activity-based selling, enables setting up recurring processes and prompts you to create another activity once you mark your current one as "done." This way you have everything set up like in a calendar and don't have to wonder what to tackle next. Additionally, you will never forget to reply to a client again, and their query will never get lost in the noise. With Pipedrive reminders, you no longer have to rely on your memory or your notes.
It was important for our Marketing Team to work with a system that would send them notifications about lead stages and facilitate marketing feedback. This integration was very important to us, because we work as one Growth team. The marketing people need updates from the sales folks about what happens with the marketing leads acquired. This way, SQLs will not receive any unwanted communication, while MQLs will get all the necessary attention. The same happens with synchronization of personas and marketing notes.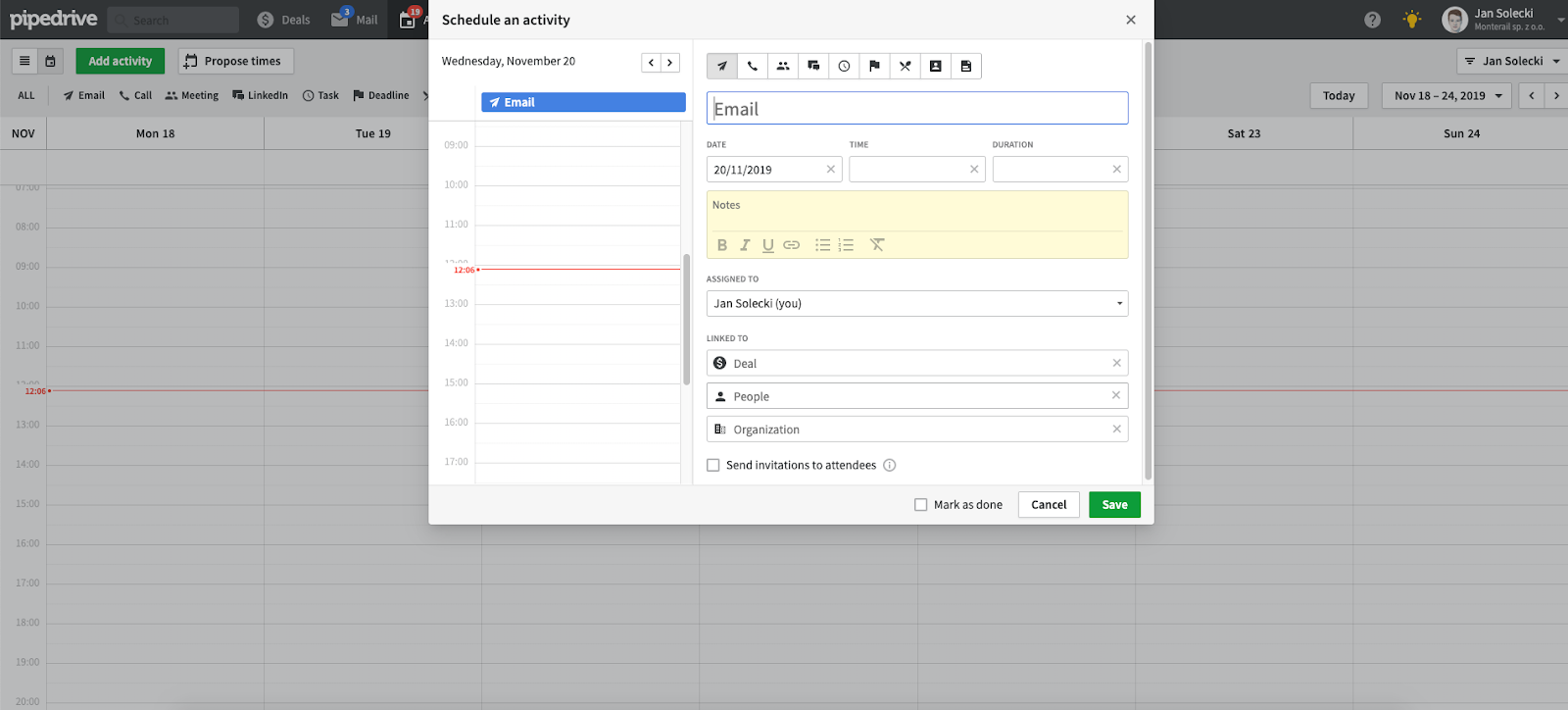 Scheduling an activity in Pipedrive.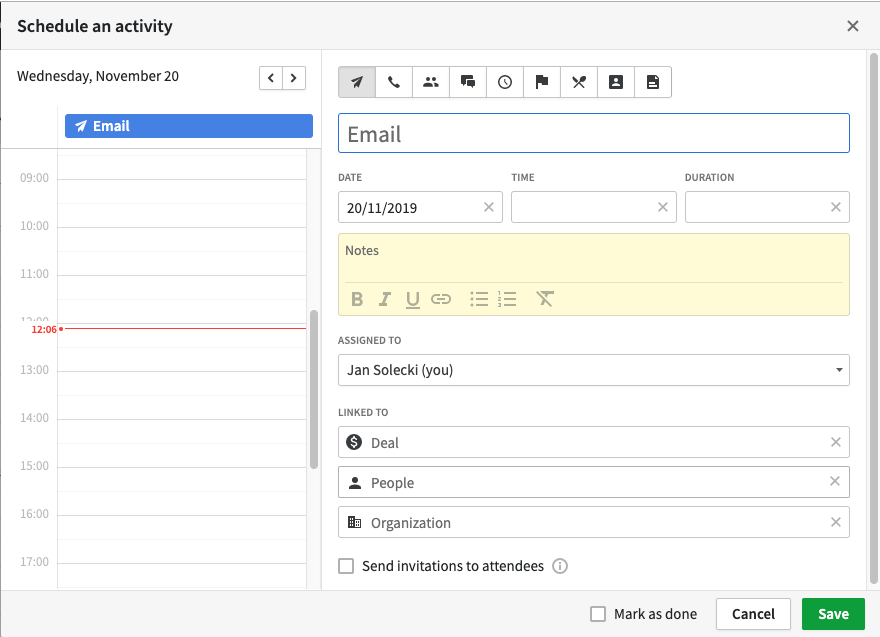 Scheduling an activity in Pipedrive.

It doesn't really matter which tool you use, because there are tons of sales tools to choose from. They all compete with one another through different functionalities or capabilities.At the end of the day, however, if a tool isn't nice, especially in terms of user experience and functionality, it won't matter that you have the best CRM on the market.

Jan Solecki

Account Executive
at Monterail
The promise
The Sales Team was happy with the above-listed features and believed it would make their everyday life much, much easier. But Pipedrive offered something more:
Pipedrive users close an average of 28% more deals after their first year - said Pipedrive's claim
We decided to put this claim to the test and, well, it held true for us!
The outcome
Today, we can safely say that our sales people are more than happy with their everyday Pipedrive usage. They enjoy the broad feature set as well as the fact that they have everything in one place and all the information is easy to find.
The simplicity of the system allows us to service more leads in a shorter time frame. We can perform more tasks in one day, because everything is well organized and we know what needs to be done next without switching to other software. We don't lose sight of our tasks and Pipedrive helps us keep track of all the necessary information.
Pipedrive organizes my work in such a useful way that I spend most of my workday inside it. This, in turn, gives me a lot of comfort at work, because I don't have to waste time thinking about what stage my projects are on or what the next steps will be. Pipedrive sets the pace of my day.

Jan Solecki

Account Executive
at Monterail
You may ask, however, whether the comfort of salespeople and their work speed actually translates directly into business outcomes, namely increased revenues for the company.
Well, the answer lies in the numbers below:

Conclusion
Once you find yourself in a situation where handling multiple leads becomes troublesome to your sales team, you should consider investing in a more reliable tool to help streamline their efforts.
Investing in Pipedrive turned out to be a good choice for Monterail. We believe that providing comfortable working conditions and offering the right tools to our team members can actually translate into better services for our customers. Above all that, the numbers also prove that this was the right choice!
Work with a team you can trust
Working with us guarantees shared knowledge of 110+ experts and starting your software development in weeks—not months. .