Cross-Platform Mobile App Development
Develop your application for multiple platforms at once: Android, iOS, web, and even desktop.
What is cross-platform mobile app development?
Cross-platform mobile application development is building applications with a single, shared codebase that can then be delivered to multiple platforms at once, including Android and iOS. The application can be then made available for web and desktop.
This way, the final product is easier to maintain and develop further, and you don't need two or more teams to do that. Reach your users anywhere, any time.
What are the benefits of this approach?
Save money
One team that works in the same technology which means smaller costs and improved team scalability.
Launch faster
Faster time to market: you can build and launch multiple versions of your product at the same time.
Customize your product
Apps share the source code and the UI, so you can code and design your product once, and then enjoy the quality on two or more platforms.
Native vs. web vs. cross-platform development
Feature
Native development
Web-only and PWA
Cross-platform development
Device access to features such as camera, microphone, Bluetooth, push notifications, and localization
Full
Limited
Full (with plugins)
Development language
Swift/Objective for iOS and Kotlin/Java for Android
HTML, CSS, Javascript
Dart - Flutter Javascript (React) - React Native
HTML, CSS, Javascript - Hybrid development
Time to market
Slow if you target both iOS and Android
Fast
Medium to fast - you can develop three or more platform-specific applications
Code reuse
No
Yes
Yes, up to 100% of your code can be shared between platform-specific versions of your application
Maintenance costs
High
Low
Low to medium
React Native
React Native was introduced in 2015 by Facebook. It combines native development with business logic in React.
It provides great responsiveness and performance for both iOS and Android, and has a huge developer community, with a wide range of ready-made features and libraries.
It is a tried and trusted framework that offers support for web thanks to React Native Web.
Performance and speed
React Native is a highly performant framework with a single codebase used for developing platform-specific components. They can be then merged with existing code, with changes implemented instantly.
All eyes on UI
With its focus on delivering flawless UI, React Native renders Native UI for both iOS and Android. This results in applications loading swiftly, with no visible differences between different platforms with native patterns in place.
Best used for
When you need to build a complex, engaging application that uses a lot of device's resources but stays perfectly performant or want to add a web application in the same codebase, React Native will be the best option.
Flutter
Flutter was built and is maintained by Google, and allows you to develop highly-performant applications that work on any screen, with adaptive designs and multi-platform approach in its DNA. The technology is now used by large companies such BMW, Crédit Agricole, and Alibaba Group.
Compatibility
The framework uses its own widgets, so you won't have to overcome compatibility issues between different iOS and Android versions.
Lightning speed
By design, Flutter handles multiple animations and visualizations, all that while keeping the motion silky smooth with 60-90 frames per second.
Best used for
Flutter allows you to keep your product performing flawlessly, regardless of the platform and device type. This framework also supports web and desktop by default.
Ionic with Capacitor
Ionic is another software development kit that we use at Monterail when working with our clients.
Paired with Capacitor, it's a powerful tool for building applications quickly and securely, with accessible user interfaces and seamless user experience. It's also ideal for connecting it with your existing web application.
Rapid prototyping
Ionic mimics the look and feel of native applications. With ready-made components and libraries, it's enough if you know your way around web development to put together and test a mobile prototype.
Frontend-agnostic
Angular, Vue, or React - Ionic can be used with any type of frontend framework. You can also code in JavaScript, resigning from using a frontend technology altogether.
Best used for
Ionic is perfect if you already have a working web environment, and you want to bring existing libraries, components, and user flows into a mobile environment. That's why this technology is a favorite of brands with a significant online presence and a large user base.
See what you can expect from working with us
Download this document to see how we helped our clients succeed, how we can help you, and what process we'll use to achieve this.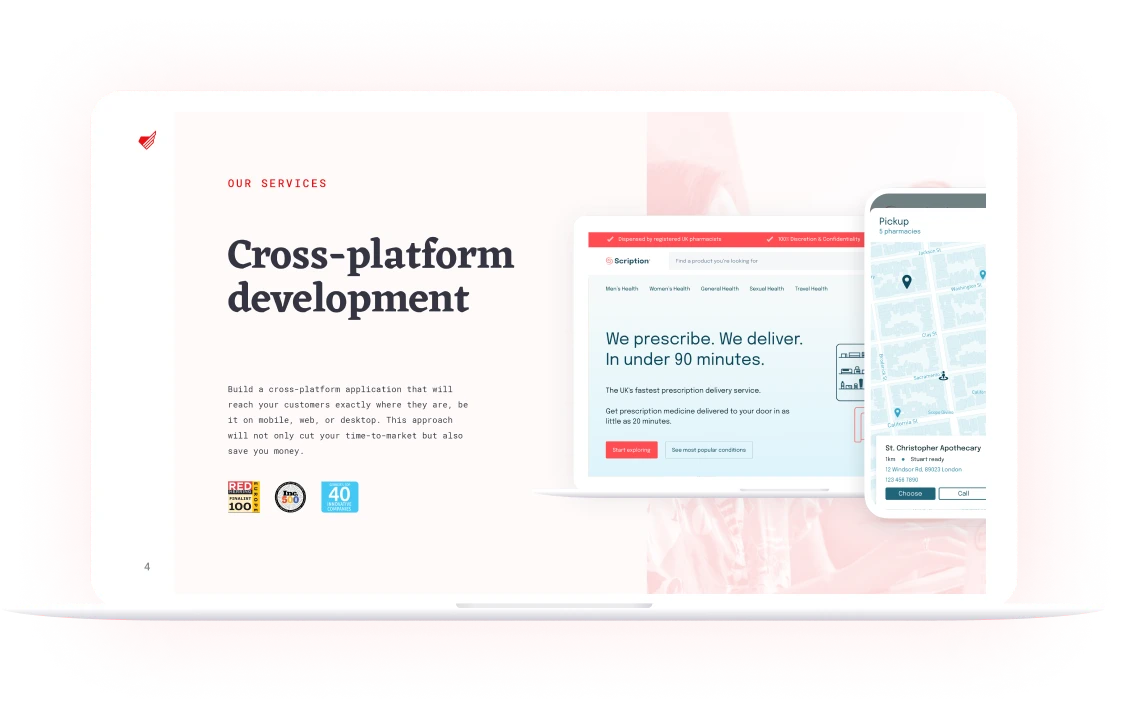 We offer end-to-end software development services
Read some of our clients' success stories
See how our clients created great apps with our help.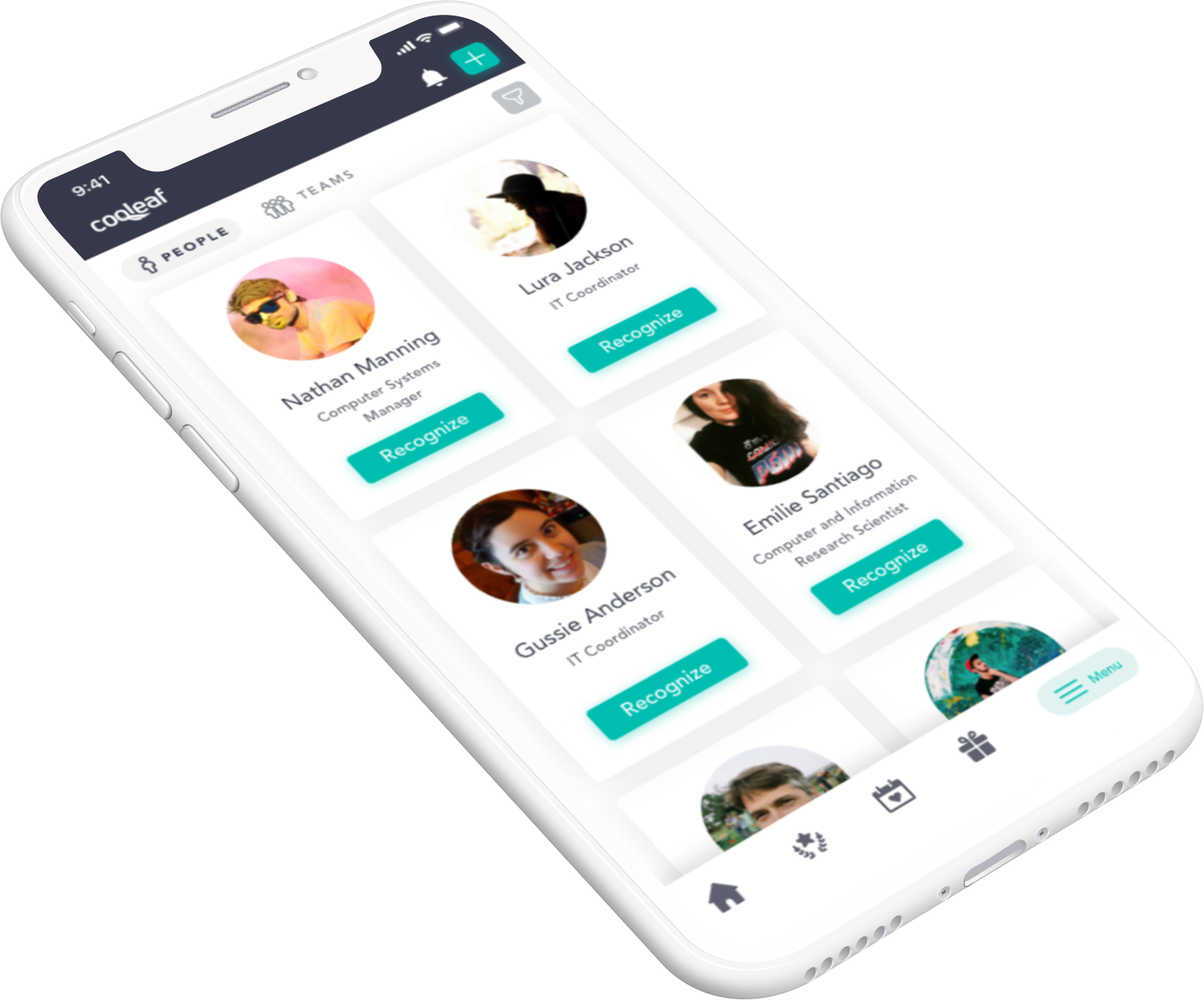 From startup to stable business with an award-winning app
To deliver an innovative user experience, and appeal to corporations, we started an intense and thorough planning: 120 hours of design workshops and in-depth analysis of the product. The PM was a consultant and translator for the technical and business stakeholders. In just 2 months we delivered an MVP with a novel idea and new features for the product.
20% monthly increase in the app's usage
The app was first released to beta testers in July 2018 and four months later we released the app to app stores with all the features we planned at the first release. The Guild team kicked off this year with a bang, raising $1.2M (£880.000) in seed funding for further development and growing sales. Since then, Guild has been recognized by Red Herring's 2019 Top 100 European Startups.
Working with us, you'll get
Responsive UX
Intuitive interfaces will make using your app easier. Our designers focus on your target audience and the app's purpose, creating unique, clear, efficient, and responsive user interfaces.
Stable and secure cross-platform apps
React Native, Flutter, and Ionic are solid frameworks which help you build robust, cross-platform mobile apps available for iOS, Android, web, and desktop. They have great support and many ready-made components.
Happy users
Your users value clear and easy-to-use applications and making them delighted and engaged improves their retention. Interface design is particularly important in the process of app development due to the specificity of the apps' usage.
Do you want to know more about our cross-platform development services? Discuss this and more with an expert at Monterail. Hubert Białęcki is a Principal Mobile Engineer ready to help you overcome any obstacles on your product development journey.
Let's discuss your software needs
We will find out how to turn your idea into a product that users love
What clients love about working with us
professional and beautiful design

It took Monterail six weeks to deliver us a beautifully designed app for iOS and Android. I didn't even know it was possible! Each stage of the development was conducted professionally and in a timely manner: from the concept, through the implementation to final steps.

John Duisberg

Co-founder at Cooleaf

Consistency over time

We launched on time and have continued to show a great velocity in shipping new features. We release an update to the app every week. Usage of app has grown at least 20% every month.

Ashley Friedlein

Co-Founder and CEO at Guild

Engagement and enthusiasm

I'm very satisfied with the cooperation with Monterail. We've been very lucky to get a team that just clicked and jelled. We've had the same core team for over two years and everybody who worked on the project learned really quickly and contributed to our growth vastly. It was a great experience to see this young team showcasing a lot of experience and quality of work while enjoying themselves.

Devon Beynon

COO at Admyt
Read more about mobile development
Here are a couple of blog posts that will allow you to dive deeper into the subject. And if you have any questions - just ask us!