Some time ago we mentioned on our blog that according to Clutch, Monterail was ranked as a market leader in Polish development companies, Ruby on Rails developers, and software companies in general. With more testimonials published on our profile, we've climbed even higher and managed to become #1 in Ruby on Rails category.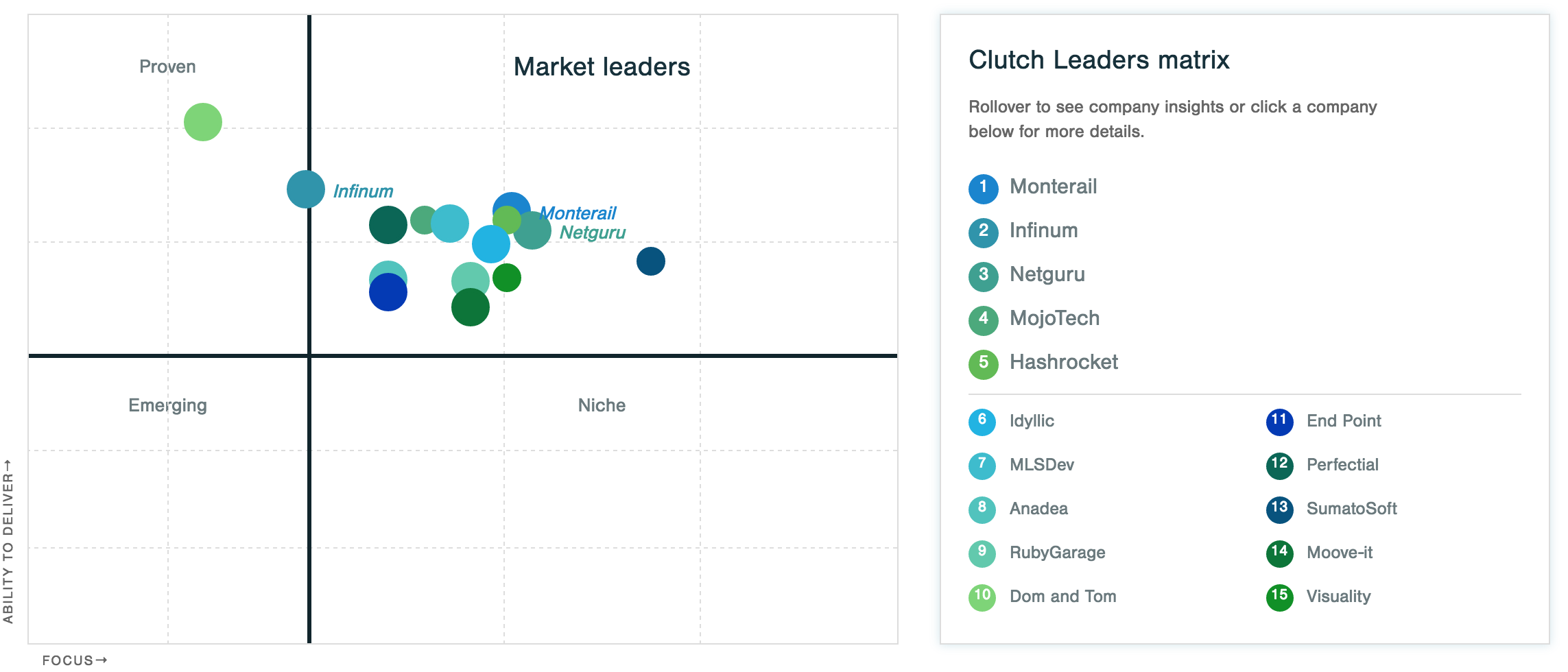 To be specific, number one in Ruby on Rails category in the world.
It feels amazing because the ranking is being created based on clients' feedback and their satisfaction level of our services. We could read some really uplifting words giving us confidence in our work, but also some opinions on how we can get better in the future.
As a company, we've been doing Ruby on Rails for 7 years now. We've worked on 90+ projects and built a team from zero to over 70 experts. What we're really proud of is that sustain pace of our growth let us work on more amazing projects and upgrade the quality of our services at the same time. Such a highlight confirms that we're doing a great job and evolve as a company and a team. 
What's the most important here, we want to say THANK YOU to all Monterail clients, for your trust, partnership, and mutual support. We're proud to collaborate with people like you. Monterailers love their job because we work on great products in which success we truly believe in. Cheers from the Team!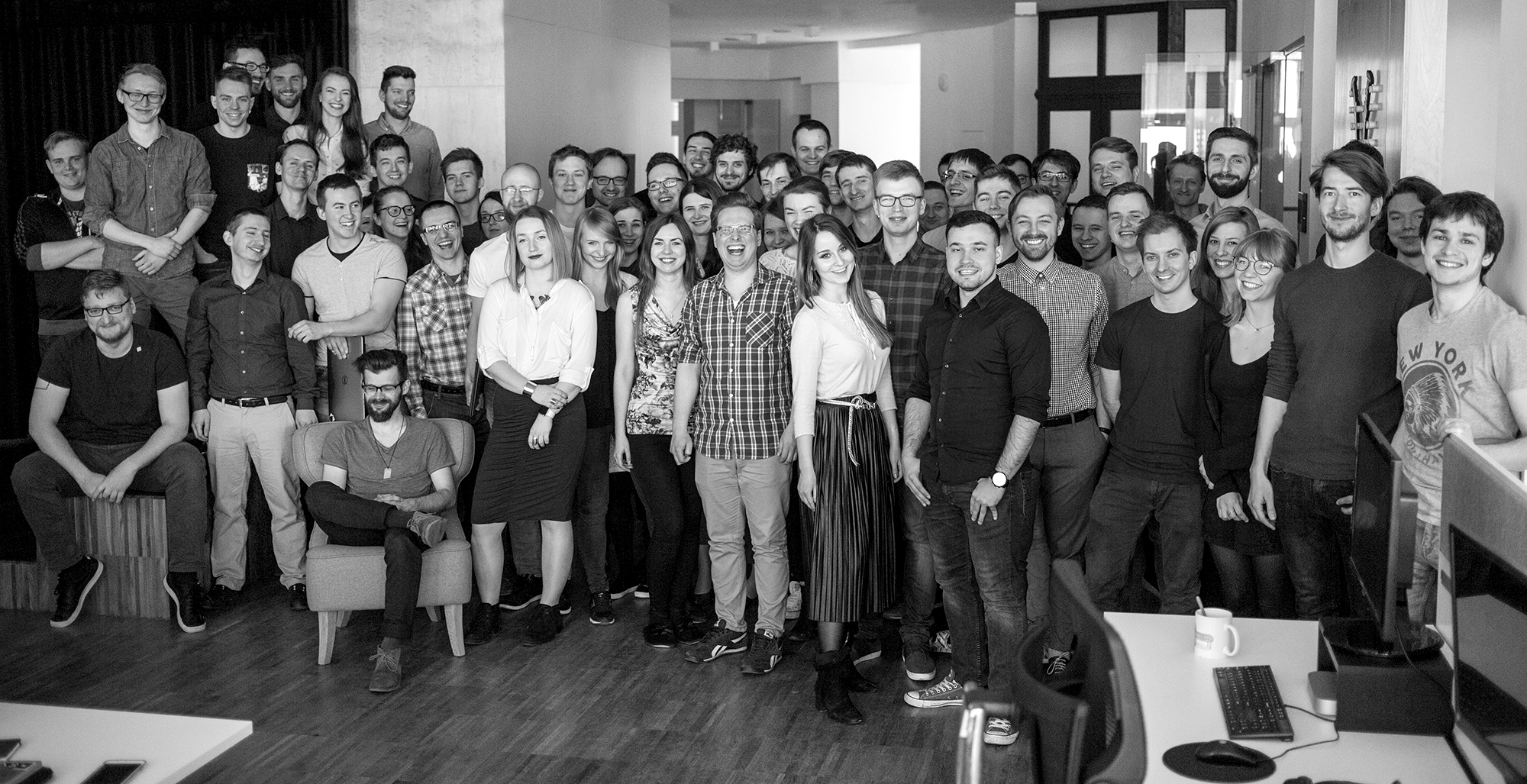 As some of our clients wrote us a few kind words about this recognition, we decided to write how the collaboration looks like from our perspective. You can read all of that below!
Merck
Monterail about Merck:
"Having their ambitious mission of bringing health awareness to African countries, Merck has been our partner for almost 3 years now. They remind us that our work can actually influence the world and "make it a better place". Pleasure to work with you!" - Tetiana Drozdenko, Project Manager
Merck about Monterail:
"I am very happy for Monterail. You're great people and developers, and you deserve all the recognition!" - Alexander Hoffman, former Head of Digitization Africa, Merck

Yalty
Monterail about Yalty:
"Working with Yalty made us feel like being part of their startup, sharing their vision and experiencing both the hardships and successes. Their frequent visits also help us take active part in pushing their dream forward especially since they value our input and suggestions. All of this makes Yalty feel less like a team and more like a family." - Jan Potoczek, Key Account Manager
Yalty about Monterail:
"Never have I worked with a software agency like Monterail. Their unique culture and partnership approach should state a role model for similar companies. Congratulations on your achievement! Well deserved." - Nadine Cuany, CEO&Co-founder at Yalty
Cooleaf
Monterail about Cooleaf:
"What's amazing, for Cooleaf we're not hired guns, but the partner of choice from the very beginning. They came up with a product that brings new value in the field of employee engagement and their client's list reflects that. They are always reliable and very professional." - Kasia Tatomir, Head of Operations
Cooleaf about Monterail:
"We're huge fans of yours and look forward to a continued strategic partnership that started 6 years ago."- John Duisberg, Co-founder at Cooleaf

World's Finest Club
Monterail about World's Finest Clubs:
"WFC had some great technical knowledge, clear vision of what they want to achieve, but still remain open to our suggestions. Their project specification - mind blowing. We're always happy to support them anytime they need additional features!" - Anna Szoszkiewicz, Project Manager
World's Finest Clubs about Monterail:
"This highlight only confirms our experience of what makes you unique compared with other developers we have worked with: You were always broad-minded and honest, open to a joint planning and always reliable, despite the time pressure we had. You have a great team and we are delighted to continue working with you." - Daniel Klein, Member of the Board of Directors at World's Finest Clubs
Xchanging
Monterail about Xchanging:
It's been most exciting 5 years. From MVP, through complex software platform architecture to an enterprise-level agile development process. All that topped with product design challenges. We were given a chance to create a beautiful procurement platform that automates business processes on many levels. We've learned a lot from this relationship." - Grzegorz Hajdukiewicz, Head of Project Management
Xchanging about Monterail:
"Very well deserved. After years of fruitful collaboration, I must agree that Monterail has very talented developers who also have a great product feeling." - Alan Buxton, CTO Procurement at Xchanging
We know that all companies call themselves professional, cutting-edge, and skilled. This is how we think about Monterail either. However, without the confirmation from our clients, these words would be simply meaningless.
Meet Ruby on Rails experts
Work with a company, which services quality and technical expertise are confirmed by actual clients. Thanks to over eight years of expertise in Ruby on Rails projects we can offer input when it comes strategic direction, tech stack, design.