By introducing technology into standard everyday operations, HR departments can speed up a number of the processes and operational aspects that they customarily handle, including recruitment, performance evaluations, or payroll. When appropriately selected and implemented, HR software increases productivity and improves results, freeing up HR staff to focus on cultivating workplace bonds and growing employee engagement. Today, we're going to look at how business owners can bring technology into their HR departments.
What Is HR Technology?
HR technology describes software that aids HR departments in various tasks, such as HR data storage, analysis, and maintenance; staff recruitment and retention; payroll and salary; and administrative support. HR tech optimizes these processes by, for example, automating uniformly recognizable patterns of behavior and performing them for the employee. HR technology should have the capacity to carry out many of these functions and be accessible to all members tied to an organization: stakeholders, managers, employees, and, of course, HR personnel.
The adoption of HR tech is accelerating—by 2020, as much as 30% of middle to large enterprises "will have invested in a cloud-deployed human capital management (HCM) suite for administrative HR and talent management," as we can read in the Gartner whitepaper.
But, despite the seemingly steady growth rate, the adoption has proven a bumpy road. To enjoy expected results, companies first have to recognize areas in HR that technology could enhance, and then overcome the specific challenges brought on by the introduction of HR tech into an organization.
How to Start Implementing HR Technology
Given current capabilities of HR tech, including AI-infused solutions, most of the tasks HR staff is saddled with could be easily automated and reconfigured to generate better results.
A large portion of administrative HR tasks, such as health insurance questions and inquiries, leave requests and approvals, or onboarding processes, are repetitive—and as such could be well-handled by HR software, for example,
In the past, HR departments were slow to adopt innovation, but now HR tech is widely recognized as being able to reduce expenses, help acquire and develop employee skills, and facilitate employee engagement through technologies that can be easily used by everyone in the company.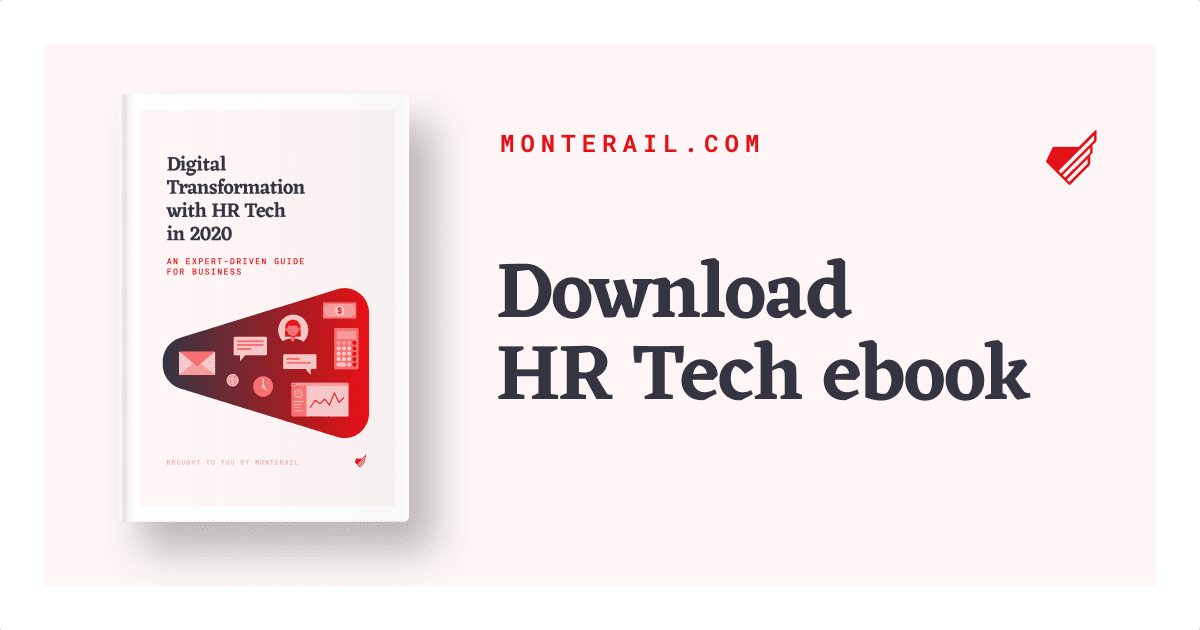 If your company is interested in introducing HR tech into the organization, first of all—assess your needs closely and check them against the costs, time, and effort a proper implementation would take. Such an analysis will most likely reveal that the introduction of at least one type of HR-focused technology solution will outweigh the challenges presented by the prospective adoption. This is due to the fact that HR is increasingly in need of technology to:
Use effective talent acquisition to gain a competitive edge
Streamline HR operations and reduce low-value administrative workload
Cut compliance and HR administration costs
Deliver data-based insights on workforce performance
Streamline data access and management across the company
Some companies may find their needs are met by only a fraction of what many HR technology solutions offer, and thus only need limited, function-specific software. Investing in sophisticated HR suites that are too cumbersome to use and pack features the organization simply doesn't need will be an unnecessary waste of time and resources.
For the adoption to be successful, work with your HR staff to get a clear understanding of why a piece of technology is being introduced, as well as the problem the solution is designed to solve. Identify areas in HR which can and should be automated, and where that automation will aid the execution and delivery of HR operations and services.
Anna Ott, a Berlin-based HR tech expert, shared some great tips on what to be aware of when digitalizing your HR departments.
Start with the basics and get the basics right. Start with the core of HR (ATS)—anything that automates your recruiting pipeline, because that's the groundwork. There are a lot of apps for that, so you will need to check them out yourself to pick the best one for you.

Second, find tools to help you build a talent pool you can draw on down the line. Engage with people already in touch with you instead of pitching strangers on Linkedin. Tackling these two will have the most pronounced impact on your HR strategy.
Recognize and Solve Adoption Challenges
Although the digitization of HR departments and their functions is necessary to improve operational performance, the challenges such a shift entails usually delay its adoption.
The challenges of adopting HR tech aren't that much different from those presented by any other new technology; however, in the case of HR departments, one of the biggest fears seems to be the potential risk of deteriorating relationships between employees and HR staff. After all, the HR department should be accessible to all employees and inclusive in its efforts—adding another degree of separation between the two realms seems counterintuitive. This fear, however, seems ultimately unfounded, because studies show the reality is quite different: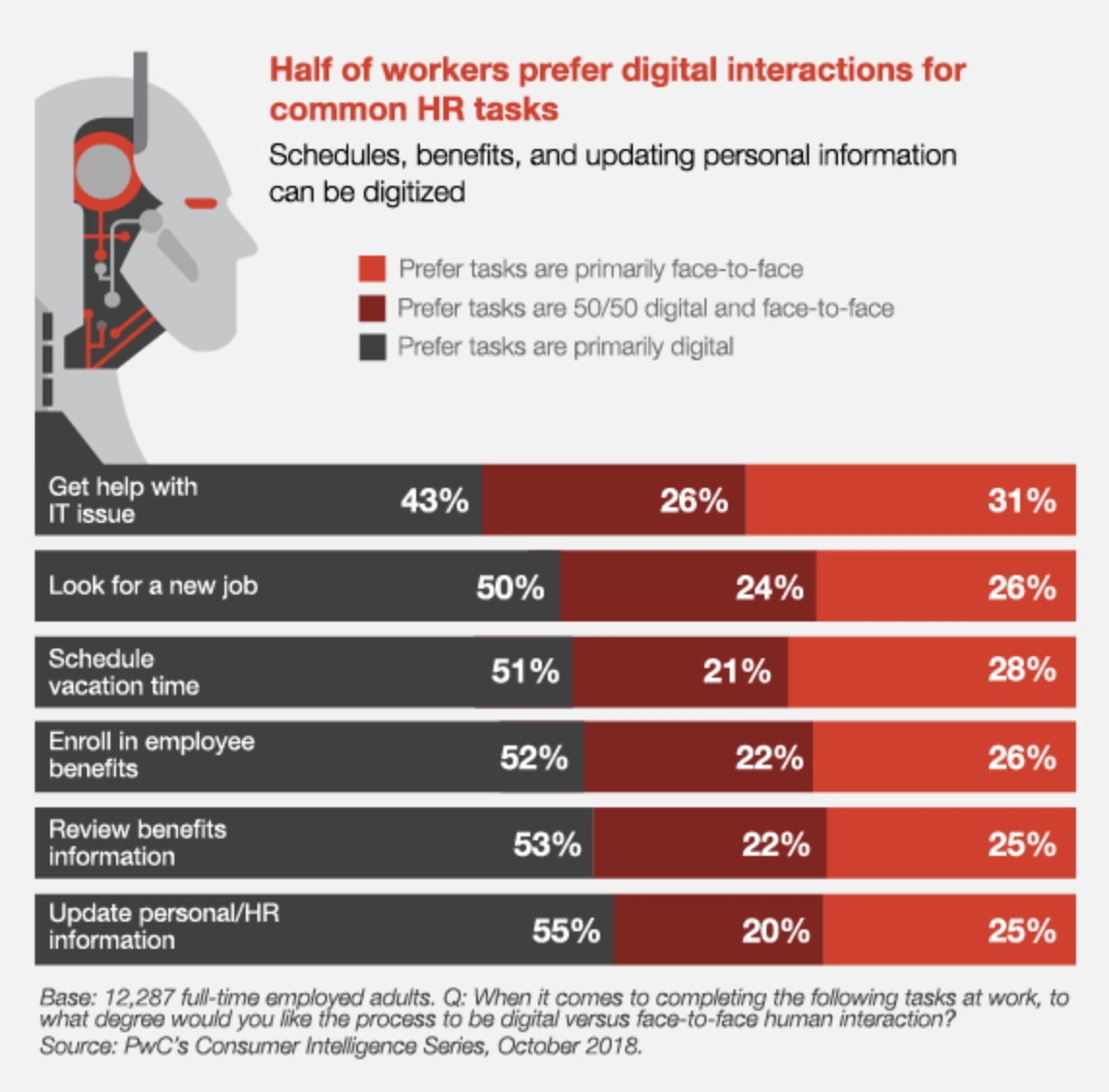 Connection preference with HR in various tasks. Source: PwC
In order to alleviate employee concerns, show them why HR software can be of great value to the company and to them, personally.
1. Motivate Employees to Use HR Technologies
HR staff can be reluctant to accept new technologies simply because they might feel threatened (if the company seeks to automate certain tasks, some employees may assume that staffing cuts could soon follow). That's why it's important to clearly explain the reasons driving the adoption and to incentivize HR personnel to use it.
Some incentivization examples include possible career advancement, improved efficiency, or a better work environment.

Incentives promoting the adoption of new technologies. Source: PwC
2. Work Together with the HR Team
Begin the implementation of HR tech into the organization by rounding up the most time-consuming tasks the HR staff is saddled with. For example, if your recruitment pipeline is in turmoil and is likely to stay that way due to heavy company growth, you might want to consider implementing talent acquisition software to take over those tasks in the process that can be automated.
3. Select the Tools Wisely
Since HR tech tools come in a variety of sizes and use cases, not every solution will be applicable industry-wide. It's thus important to analyze both company and department needs. At the end of the day, HR tech should facilitate and support the work of HR personnel and other employees in the organization.
It's also essential to recognize that there are areas and tasks in HR where automation, or any form of delegation to software, will be inappropriate. For example, employee conflicts and complaints should always be handled personally.
So, let's take a dive into all the possibilities HR software has to offer, and a closer look at how each of them can help you in your organization.
Essential vs. Optional HR Tech Tools
Whether we're talking about HRIS (Human Resource Information System), HCM (Human Capital Management), HRMS (Human Resource Management System), or even small function-specific apps, there's a tool able to perform and boost almost every HR function.
New HR tech categories. Source: HR Technology Market 2019: Disruption Ahead
Given the growing needs of HR departments and the abundance of HR solutions, there is no single, definite answer as to which tool is essential and which only optional—it all depends on unique company needs and goals.
That said, talent acquisition software seems to be a must-have tool for most middle-to-large organizations.
Talent acquisition solutions streamline the hiring process. From posting job ads to scheduling interviews and even suggesting the best candidates for a particular position, software like this gives organizations an opportunity to transform talent acquisition into a competitive advantage. When seeking specialized talent, manually sifting through large volumes of potential candidates might decrease the chances of finding that talent before the competition does.
Small companies, however, might find the AI-powered recruiting software too fancy and costly for their needs and thus be better off with a much cheaper and simpler alternative.
Employee Engagement Tools
While they can be a real HR asset—boosting engagement and reducing talent attrition—they don't always have to be expensive and sophisticated solutions. For example, to gauge employee outlooks on certain company matters, HR staff can simply turn to Google Forms or a similar free solution.
Since employee engagement is currently a key metric for many executives, investing in software designed to collect and track employee feedback, reward achievements, and produce insights for organizational decision-making might be a sensible choice.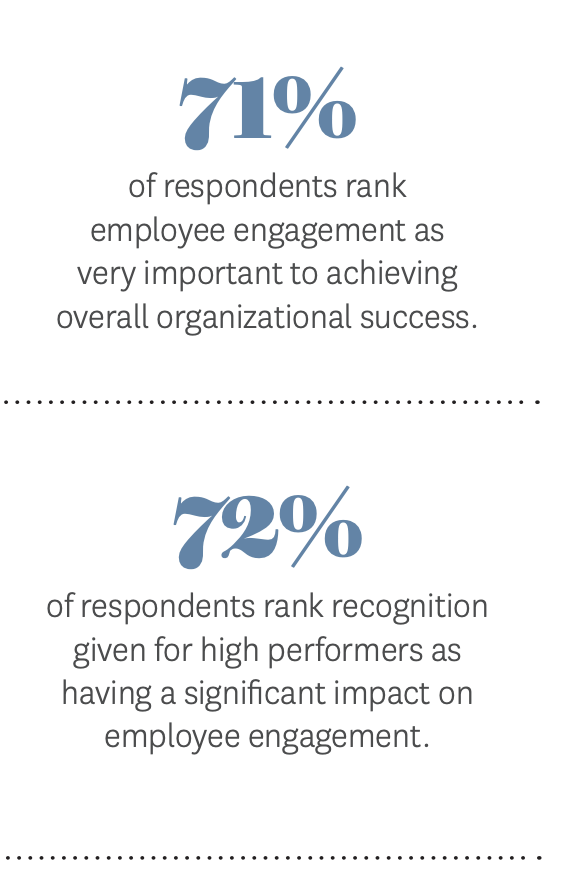 Employee engagement highlights. Source: HBR
Calculating payroll is taxing and time-consuming. A dedicated payroll system or an HRMS (Human Resource Management System) suite with a payroll feature can help companies keep track of paychecks, paid time off, and payroll taxes.
Making HR Tech Worth the Investment
With a proper HR tech stack, HR professionals can outperform their counterparts in companies where HR tech is either in its nascent stages or altogether absent, producing a competitive edge which can then directly translate into heightened employee engagement and more effective talent acquisition. HR staff should also consider the cost-optimizing capabilities of HR technology—particularly in terms of reducing administrative and compliance costs.
Anna Ott's advice is to "choose wisely and choose open-style, modular platforms that you can experiment with. And then add layers to it."
Don't bulk buy a lot of apps, but try to outline your biggest pain points. Always make sure you know where to measure the return on investment. It doesn't make sense to deploy chatbots when you don't know what you're measuring their performance against. Why? If you don't know what to measure, what to compare your performance results against, you won't be able to say whether you're solving any problems or simply producing new ones. Also, it will be hard to obtain budget for it because in order to obtain tech budget you need to make a business case out of these decisions. Do the math. Become a business-minded HR person that deals with analytics.
The main reason for the integration of HR tech to an organization should be to eliminate low-value, repeatable, time-consuming tasks via automation, and instead using the reclaimed time to address other important matters.
But, as is the case with every new technology introduced into an organization, make sure your employees are thoroughly trained in using it. The solutions themselves should also lean toward the more intuitive, in order to let HR staffers generate satisfactory results faster and more eagerly.
Want to build HR tech software?
Meet your organization individual needs with tailor-made HR tech software and unlock its full potential. Work with development experts who will combine HR with technology to get the best out of both worlds.