Companies outsource software development to improve various areas of business operations—for example, reduce operating costs, free up internal resources, or speed up time-to-market. Less obviously, outsourcing development gives you access to a global talent pool of experienced developers and UX/UI designers, available at your fingertips. All right—truth be told, bringing your project to fruition entails a couple more steps than that, but nevertheless outsourcing software development to Poland is definitely a wise choice for the future of your Web application.
Here's a rundown of everything you need to know about outsourcing application development to a Polish company and the reasons that make it a good choice for your business.
#1. Costs
Since many business owners look to outsource for financial reasons, let's start with estimating how much outsourcing software app development costs across the world.
A few assumptions for the calculation:
To calculate the costs, we first have to determine time to market (TTM). TTM depends on the level of complexity of the Web application. To make things easier, we'll separate the Web apps featured in this analysis into small, medium, and large.
The more complex the application, the more time and people it takes to build it.
Typically, a project team consists of a project manager, developer, and designer. The actual number of the latter two depends on the size of the project.
Hourly rates are sourced from Clutch. The rate range used for the calculation is the one declared by the largest number of companies in a particular country.
Freelancer hourly rates are pulled from Codementor.
In the calculations below, we assume that a month has 173 hours and there's one programmer working on the application. Naturally, with two or three devs on board time to market would be different. The amounts outlined below are just sample numbers as, obviously, every project needs to be estimated individually.
India: <$25 (freelancer: $46)
Czech Republic: $25 to $49 (freelancer: $43)
Ukraine: $25 to $49 (freelancer: $44)
Poland: $25 to $99 (freelancer: $43)
Brazil: $25 to $49 (freelancer: $51)
US: $100 to $149 (freelancer: $70)
UK: $150 to $199 (freelancer: $65)
Small app: an information-based website. It can include a handful of landing pages with some interactivity added in.
TTM (time to market): 2–3 months (346 or 519 hours)
Cost:
India, 1 developer: $8,650–$12,975*
Poland, 1 developer: $8,650–$51,381
US, 1 developer: $34,600–$77,331
Medium app: a more complex Web app, with in-app purchases, an admin panel, login screens, and more interactivity.
TTM: 3–6 months (519 to 1020 hours)
Cost:
India, 1 developer: $12,975–$25,500*
Poland, 1 developer: $12,975–$100,980
US, 1 developer: $51,900–$151,980
Large app: built-in analytics, custom features, third-party integrations.
TTM: 6+ months (over 1,000 hours)
Cost:
India, 1 developer: <$25,000
Poland, 1 developer: $25,000–$99,000
US, 1 developer: $100,000–$149,000
The calculated outsourced development costs are approximations drawn up to give you an idea of how software development costs can vary between countries. The actual cost will depend on the number of people involved in your project.
Freelancer rates are for reference only. A freelancer may or may not be able to write the whole application single-handedly within a reasonable timeframe. Again, everything depends on the size and complexity of the project.
*It's the highest possible price for that country, so you can often expect to see lower rates.
#2. Quality of Deliverables and Dev Skills
By solving various coding challenges in a timely manner, Polish developers score high in international programming contests. Critical thinking and a knack for problem-solving that local Polish devs are renowned for directly translate into the quality of deliverables.
HackerRank posts coding challenges covering a number of different disciplines, such as algorithms, data structures, artificial intelligence, or Python. Poland ranked third across all HackerRank riddles, with results based on accuracy and speed in completing the challenges.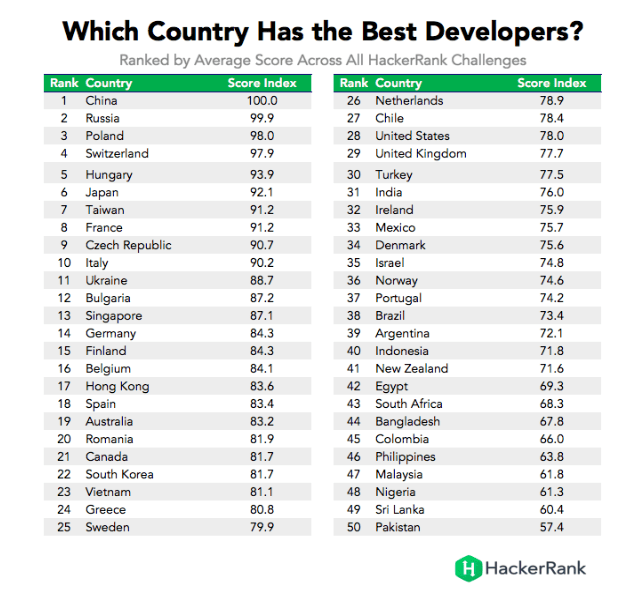 Source: HackerRank

International Olympiad in Informatics, Source: ioi
With a total of 109 medals, Poland currently holds second place in the International Olympiad in Informatics. The Olympiad is for secondary school students, so Poland's high position means the country has a large pool of young, skilled programmers with understanding of business a bright future in the IT world ahead of them.
It shouldn't come as a surprise, then, that Polish developers account for a quarter of the 1M professionals working in software development in the CEE region and are appreciated around the world.
According to a recent resource "Devskiller Global Technical Hiring & Skills Report 2019", Polish specialists became a top recruitment target for the major source of international technical hiring - the United States.
Here's 5 countries that recruit developers from Poland:
The US
The UK
France
Austria
The Netherlands
#3. High Standard of Education in Poland
As many as three Polish universities are currently ranked among the top 15 universities in Eastern Europe and Central Asia. Higher education in Poland is free, encouraging students to pursue intellectual careers and acquire new skills. Various private and state universities offer BSc, MSc, and postgraduate courses in computer science, most of which have pretty demanding curriculums.
That doesn't mean, however, that we've forgotten that Steve Jobs dropped out of college and that it was his, shall we say, unstructured pursuit of knowledge that drove Apple's success. Or that Bill Gates left Harvard to found Microsoft.
#4. Conferences, Meetups, Hackathons, and Developer Culture in Poland
Vibrant and enthusiastic, the developer community in Poland is thriving. Each year, ever new IT-related events that aim to promote best practices and drive innovation keep popping up all over Poland.
Poland is already host to a number of internationally acclaimed conferences, such as InfoShare or Frontend Con, that bring together hundreds of developers to network, build expertise, discuss use cases, and share experiences.
#5. Communication
The potential of communication-related problems is often the biggest worry of companies looking to outsource software development. While this is by no means an unjustified fear, dedicated teams of Polish developers are usually well-prepared to talk over the details of a project in English.
If you fear communication might be an issue when outsourcing development to Poland, one with a gut-wrenching plot twist and a complete misunderstanding of your ideas and concepts, worry not.
Most Web developer job postings in Poland require candidates to have at least a B2-level grasp of English. But Poland is one of the biggest outsourcing hubs in all of Europe, and a great majority of Web developers already have experience working with English-speaking clients from all over the world.
In the EF English Proficiency Index, Poland scored 62.45 points and ranked 13th in the international survey, earning a high proficiency badge. With 88 countries participating in the survey, the result gives a pretty accurate reflection of the English skills of Polish developers.
#6. Cultural Differences and Similarities
Culture-wise, Poland is similar to countries in the European Union, Australia, or North America, so there shouldn't be any mishaps when conducting core business conversations with your Polish partners.
When looking at cultural differences while considering outsourcing, it's necessary to keep a broad perspective on the matter. Being open-minded and respectful is the fastest way to build long-term business partnerships. It's how exceptional B2B bonds are forged and businesses can almost feel like the developers they hired are an "in-house team".
#7. Location and Economy
One of the most important aspects of outsourcing software development, and actually any kind of outsourcing, is the political stability of the country to which you plan to outsource the development of your app.
Poland is considered a safe country to conduct business with. As an EU member, Poland abides by the rule of law and is considered a prosperous society. The likelihood of a nationwide strike causing major disruptions to operations is very low.
Economically, the country has been growing steadily for the past 20 years, with promising GDP projections for the future. In 2018, the Polish GDP grew by 4.7%. That's why many companies choose to outsource their software development to a Polish software company.
#8. Time Zone Differences
The most commonly raised concern about outsourcing, especially offshoring, is the time difference between countries. However, agreeing on what to communicate with your partners and how to do it most effectively when that time difference is significant will help prevent and solve any possible problems.
The time difference will have the biggest impact on quick fixes to the code, but those shouldn't be affected if you and your contractor figure out the most efficient means of communication for a variety of scenarios.
Poland operates on CET throughout the country, which is UTC+1. Noon in Poland means 6am in New York, 11am in London, noon in Berlin, or 10pm in Sydney. To check what UTC+1 translates to for you, use this handy time-zone converter.
NOTE: Some projects require face-to-face meetings with your international partners to fully convey the idea behind them. But long-distance travel is sometimes too costly an obstacle, especially when we consider having more than one such meeting. To ensure your project is going the way you want it to, ask your outsourcing company of choice about tools facilitating project management and communication.
#9. Intellectual Property
Companies in Poland are bound by EU intellectual property laws and various patent-related treaties facilitating the legal aspects of outsourcing. Poland also abides by US data security and IP protection standards.
Why Outsource Software Development to Poland
Poland has a large pool of talented and skilled developers and relatively low software development costs compared to the US or UK. Microsoft, IBM, Google, Oracle, and ABB have long recognized Poland as an excellent development outsourcing hub and even moved to set up their R&D centers here.
Polish software developers are very dedicated and strike a good balance between handling the technical aspects of the code and creating visually appealing, user-friendly designs. By outsourcing of software development to Poland, you're almost sure to find a reliable team at almost half the cost compared to the UK for example. Lower rates don't come at the expense of quality, however—when outsourcing software development to Poland, you can often expect a Web application that generates excellent user experiences and tangible business results.