You probably already know this: the first step to learning something in any subject is acknowledging that you don't necessarily know it all inside out. The second step is a bit easier, though, as it does not include any inner struggle: find someone with a similar set of strengths and skills you want to emulate. It doesn't matter whether you're a rookie or a rocket scientist—there's always someone who know something you don't.
In the world of technology, it's easier than anywhere else. We've got access to genuine experts you can reach using social media or email, or simply chat up at meetups and conferences. Missing such an opportunity might put you at a disadvantage as a developer.
As we truly love Vue.js, together with my friend and Vue.js core team member, Damian Dulisz, we've written down twelve people you should follow as a Vue.js developer in 2019. Not only do they share useful tips, tricks, and updates on the framework, but also offer invaluable insights on Vue and development in general.
I probably don't have to introduce the man, but for clarity's sake: Evan You is THE creator of Vue.js, regular conference speaker, and code hero for many developers, to name just a few of his customary titles. He has been working on Vue full-time, arm in arm with other members of the core team, for a while now.
If you want to be up to date on everything Vue-related, add him to your social media watchlists. Evan also runs the official Vue.js Twitter account.
You can meet her at one of many different conferences all around the world where she speaks about Vue, animation, and other great stuff. One thing is certain—when Sarah speaks, everyone else listens. Sarah is also a confirmed ally for all women in tech and a hilarious human being!
Follow her for tips and tricks for animations in Vue and occasional cute Sudo the dog pictures.
When I was interviewing people on what they think is awesome about Vue, I'm pretty sure all of them said: "Documentation" (I almost see you nodding right now). Chris is the reason for its awesomeness. He's a core team member and consultant.
Follow him for great insights on development, team building, and first-hand news from the Vue core team.
The first Vue.js evangelist at Monterail and a devoted and ardent advocate of the framework outside work. A Vue core team member, author of a couple of Vue libraries, and independent consultant. I feel lucky to have had an opportunity to work with Damian on VueConf and State of Vue.js last year!
Follow him to stay up to date with all other great stuff he's cooking up.
In March 2017 Anthony kicked off the Vue.js Developers blog with a mission to help developers up their skill and knowledge of Vue.js. Writer, online instructor, and founder of the Vue.js Developers Facebook group, with over 11k members on board.
Follow him for fantastic articles, tutorials, and tips.
Co-author of one of the first books on Vue, The Majesty of Vue.js, core team member, author of Vue.js Feed, and Vue School founder. A genuine Vue and Laravel evangelist. He does an amazing job contributing to both technologies.
Follow Alex for tutorials, news, and updates on his projects.
Also known as the Nuxt brothers. Creators of one of the most popular Vue frameworks—Nuxt.js—which currently has over 8.5k stars on GitHub. Devoted to building projects that are simple to use (that's very Vue.js-style thinking, isn't it?).
Follow them for updates on Nuxt and server-side rendering in Vue.
No one can be really sure whether he's human or machine. Author of over 500 (!) open source libraries, components, and tools. Does an amazing job for Node.js, Vue, and frontend technologies in general.
Follow for a regular stream of new JS/Vue.js libs!
Although not focused on Vue exclusively, Sean's contributions to the Vue.js community cannot be overestimated. You can see him speak at various conferences and totally steal the show every time (like he did during his VueConf talk on code splitting patterns in Vue).
Sean is someone to follow if you want to build better Vue apps with Webpack.
The driving force behind Vue-test-utils, Vue.js core team member, Manning author, and unquestionable expert on testing. Although not a Twitter power user, you can find some of his articles here and he's also quite active on GitHub.
Follow him for great Vue and testing stuff.
Author of several popular Vue.js libraries and Vue.js core team member. Mostly maintains Vue-related projects such as Vue.js itself, vue-router, and vuefire. Ed does a great job of building new libs and supporting the Vue community in Paris (and wherever he happens to deliver his extremely educational talks).
Follow him for news from Paris Vue.js community and updates on Vue.js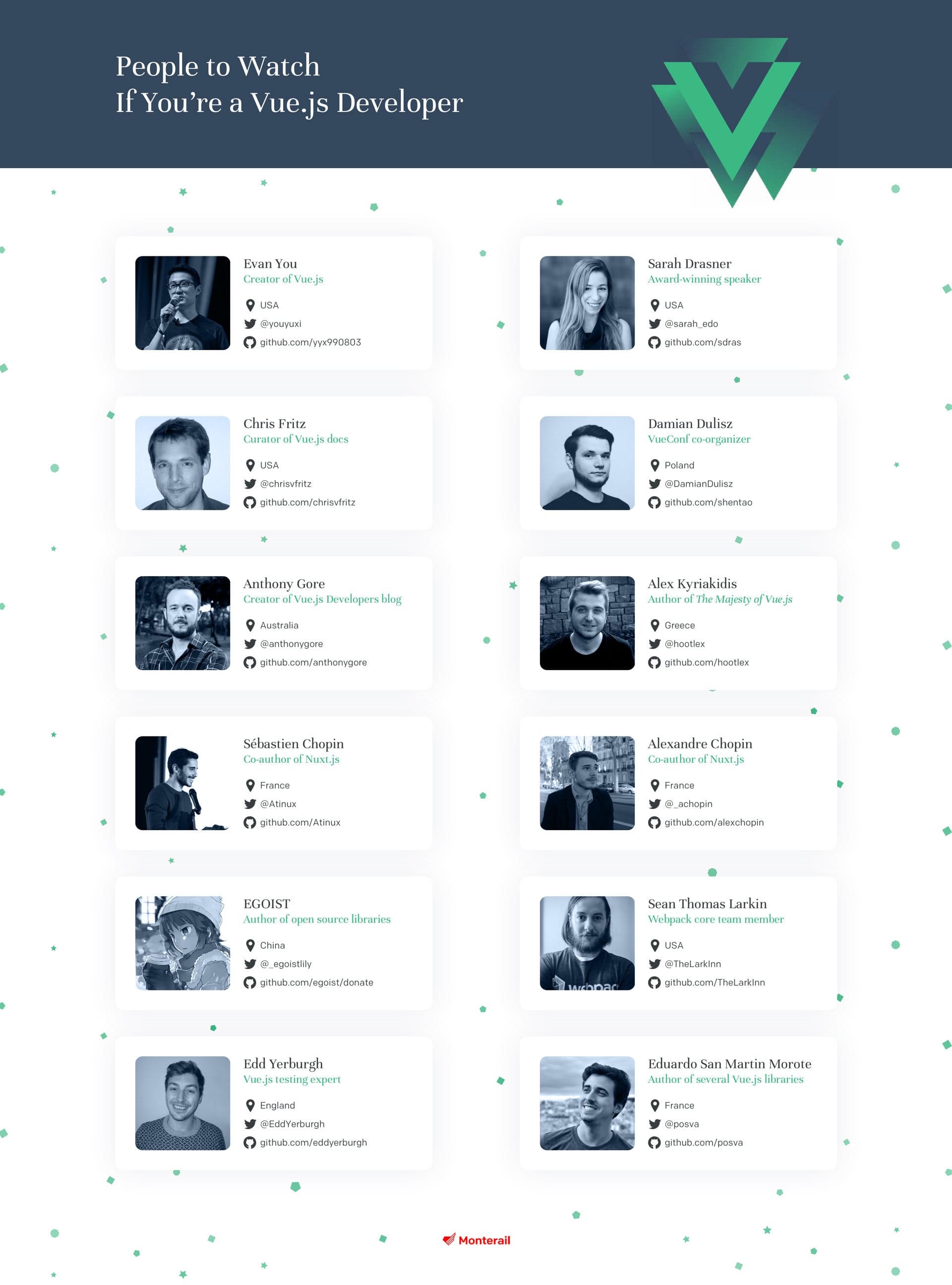 If you follow everyone from this list, you can be absolutely sure that you're up to date on all matters Vue. But the list of Vue contributors, partners, and supporters is much, much longer. The core team itself includes 22 great people (and I mentioned just eight of them) who made Vue.js one of the most lovable JavaScript frameworks ever. Kudos to all of them: Alan Song, Linusborg, Phan An, Blake Newman, Jinjiang, Andrew Tomaka, Gebilaoxiong, Kazuya Kawaguchi, Wenlu Wang, Guillaume Chau, Denis Karabaza, Katashin, Defcc, Rahul Kadyan, and everyone I already mentioned above.
The whole Monterail team is excited to see what's yet to come in 2019!
Is Vue.js the pick for your next app?
Work with the Monterail team—unquestionably the best Vue experts on the market. We've delivered over 15 Vue projects, authored open source libraries, organized the first VueConf, and authored State of Vue.js report. Let's take your app from ok to exceptional.