Imagine you're running a leading restaurant in the country or even a small bistro in the city center, and suddenly due to higher power, you need to close your business.
No one knows for how long. And of course, hosting and serving clients is the core of your activity, it's a "be or not to be". Does it sound familiar? Unfortunately, many business segments share this fate right now. The global pandemic of Covid-19 triggered many serious governmental decisions—closing schools, shopping centers, borders of countries, pubs, cinemas etc. It forced many businesses to adapt quickly. One of the segments that will be rather more severely than lightly touched by this, is restaurants.
Unfortunately, one of our clients, Pizza Hut Poland, faces this danger. Having worked with them since August 2019, we managed to release a new front-end for the Polish website which significantly increased the conversion rate. Since then, we've worked at a steady pace. But the last situation in the project required more than a steady pace.
As we are putting extra effort to provide security to our employees and clients' projects during the pandemic, we willingly agreed to help Pizza Hut introduce a business-critical issue—on Saturday, in less than a few hours. It's the story of adaptability and swift deployment under dynamic circumstances. While staying safe.

The Challenge
Who doesn't know Pizza Hut? It's an American restaurant chain and international franchise founded in 1958. With 156 sites, it's a leading restaurant serving pizza in Poland.
The client reached us on Friday 13th March and asked us to introduce a new business-critical feature to their web and mobile apps—contact-free delivery on a doormat. Pizza Hut has always offered delivery services but now they wanted to take a step ahead and apply precautionary measures for their carriers and customers. Contact-free delivery seemed a must and was made a priority. We were to implement an informative pop-up for the website visitors and apply changes at the checkout stage which was a bit more complicated.
The whole task was really time-sensitive—Pizza Hut opens restaurants at 11—and they wanted to be prepared for the new type of delivery since the early hours of Saturday. The tough part was also the lack of ready-to-use materials and specific requirements.
The key challenges included:
Meeting a tight deadline of a business-critical feature release
Lack of specific materials and requirements for the scope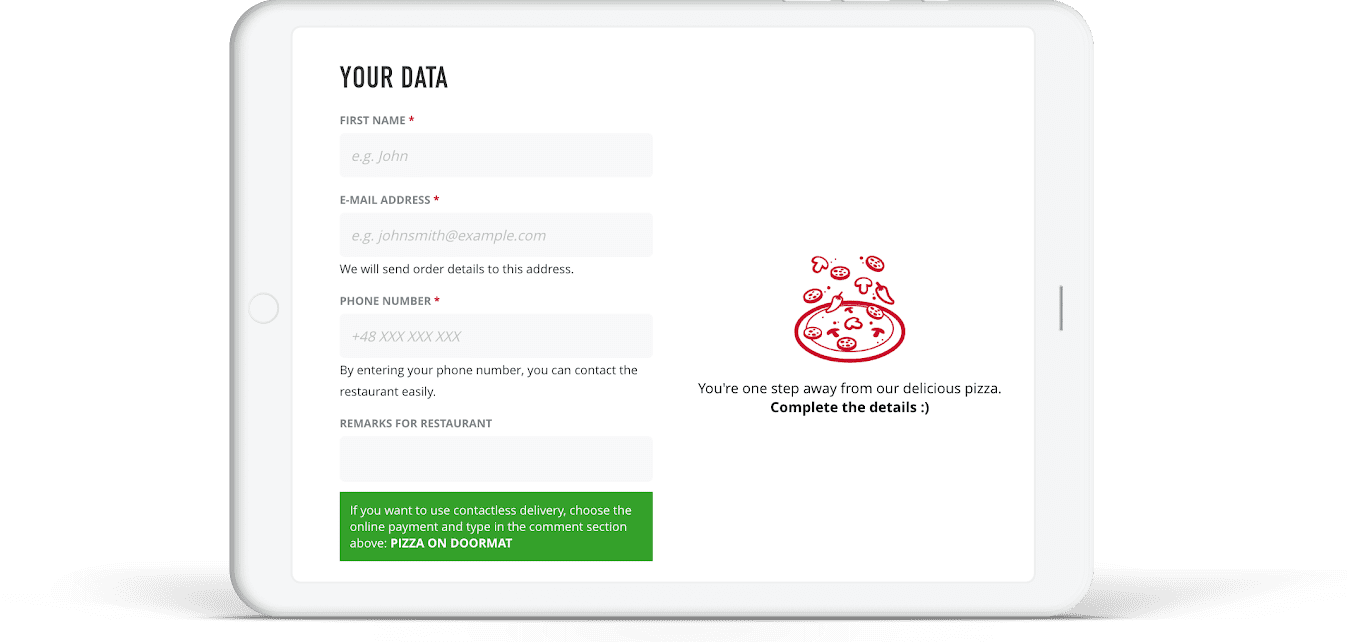 Pizza Hut's customers can now choose "Pizza on doormat" option at the checkout
"I was impressed with the Monterail's speed of work and ability to work under time constraints. They managed to deliver a business-critical feature for us keeping the high quality, paid attention to detail and showed great responsiveness during the process. Monterail proved to be a partner to rely on under all circumstances."



Magda Mazur-Milewska Project Owner
at Pizza Hut

The Process
We started our work from gathering as much information as possible, preparing a detailed scope and tasks by the Project Manager.
Then, the team including a designer, a front-end developer and a QA specialist started working on their parts. We were in constant communication with Pizza Hut's Product Owner who was very reactive and made sure there are no blockers to our tasks. There was no need for any iterations as our suggestions and graphics met the client's needs immediately.
The Outcome
Our "war cabinet" successfully delivered changes on the website informing users about a new approach. Everyone making an order from Pizza Hut, whether through a mobile or web application, is aware of the contact-free delivery and can choose it during the checkout process.
Due to quick strategic decisions and huge flexibility on both sides, Pizza Hut ensures the continuity of their deliveries and emphasizes this aspect of their business even more. A doormat delivery became a huge support to the functioning of their restaurants.
The success of this project hinged on the following factors:
Delivering a business-critical feature in less than 5 hours
Cooperating closely with the Product Owner at Pizza Hut
Going an extra mile to help the client in implementing strategic changes on their platform
"At first, I didn't think it would be possible to deliver the feature so quickly but the whole team reacted very enthusiastically to the necessity of working extra hours as the whole situation with the pandemic requires extra solutions as well. It's amazing to be helping businesses transform digitally and survive on the market in these unfavorable conditions."

Anna Wójcik

Project Manager of Pizza Hut
at Monterail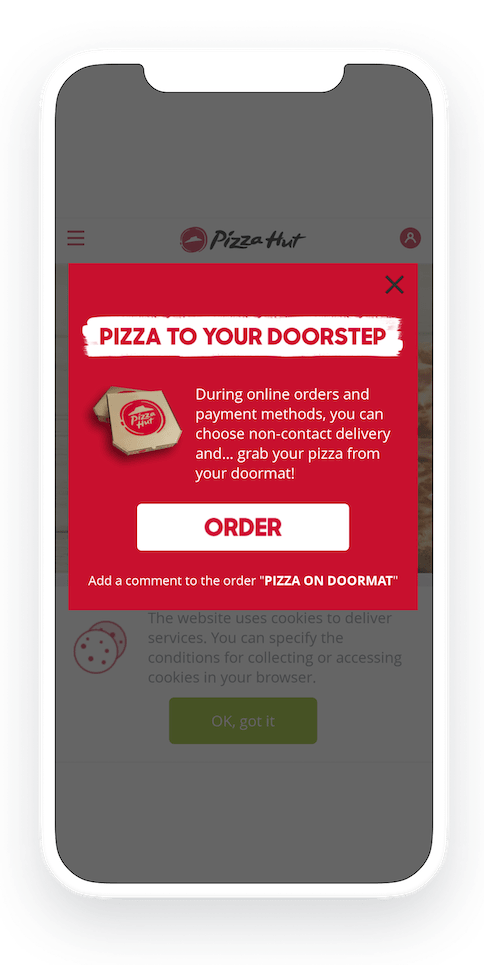 Contact-free delivery is also available on mobile apps