Building a digital product with a customer-centric approach looks nothing like a production line. Clients' needs are in constant motion, nothing is set in stone once and for all, and iterations and updates can go on forever. Gathering feedback about the existing features is one thing but how would you know what users are missing in your product? Here's where tools for web app feedback come in handy.
In this blog post, we will present six recommended tools, explain how they work, and show how to integrate them into your product development process.
Why Should You Collect Feedback From Your App?
It would be nice if, after the product launch, marketers and designers could give each other high fives and go home, but unfortunately, that never happened. The designing product may be over, but molding it to make it aligned with the client's needs has just started, which means re-designing, revamping, re-modeling, and so on. Long story short, the journey is far from the end. To make it smoother though, you should collect feedback from real users.
The key word is "real." Of course, before launch, the feedback was already gathered, testing, and assumptions - evaluated. However, it was still insufficient as there were no REAL products that might be touched, seen, and used.
There is a different story with an existing product: users can take it or leave it, and given the investment already made, the second option is highly undesirable. The stake is too high from a business perspective, so there is a burning need to adjust the product to what customers want constantly.
And yes, Facebook Pixel, Google Tag Manager, Google Analytics, HotJar, and other analytical tools are extremely helpful. They provide insights into how the user navigates and interacts with the application, how much time they spend scanning it, and where there decide to leave.
Yet, they can't tell us what is missing or how users would like to use the application. And these are the answers that are crucial to running further integration, as raw numeric metrics are not enough to define a specific product development plan.
Benefits of Collecting Feedback
The benefits of gathering customer feedback can be summarized in one sentence: it simply allows us to create products that matter to them. In practice, it will enable us to make product decisions based on what we KNOW, not ASSUME. But that is not all.
Active listening to the users about what they are missing from their application, and making them app co-creators, increase their loyalty and engagement. In the case of SaaS apps, when there is always a risk of canceling a subscription, it is crucial to keep the product's lifecycle vibrant.
Customer feedback is also crucial for teams looking for external financing. Investors are not interested in financing ideas detached from the market, and before reaching for their wallets, they need to be sure that the product will find recipients.
Benefits for the client:
Clear information from users about what they are missing from their application

In the case of a client who obtains financing, a ready list of things that its users need, therefore for the investor is a real investment in a product that will find recipients

Possibility of greater interaction with users

Easier to construct a roadmap
Benefits for the end-user:
Influence on the development of the application that he or she wants to use

Possibility to report an application error

Clear information on what to expect from the product in the future (maybe thanks to this, he or she will not change it to another with similar characteristics)
How to Collect User Feedback? Six Best Tools
Canny
Canny is one of the most recognizable customer feedback tools. The number of articles starting with "The best alternatives for Canny..." on the top of search results only proves its premium position. At Monterail, we can't argue with that; indeed, Canny is not the cheapest tool, but it has many great features, making it worth the money. Proofs?
Canny.io support forum lets you record, process, and evaluate feature requests from your customers.
A voting mechanism (similar to HackerNews or Reddit) makes it possible to see which features the users really want.
Canny allows displaying a public roadmap so features can be discussed openly with customers.
The changelog feature lets users see each update's category and click on them to view more details.
Canny offers three price tiers:
Free - requires no fee, but - of course - is heavily cut with features and probably would work for the team that has just started to struggle with collecting product feedback.
Growth - its cost is 400 $ monthly. The team provides a demo that allows us to check the ratio of the quality of the offered functions to the high price.
Custom - Canny doesn't limit itself to predefined features and - in the highest tier - offers a tailor-made version of its product. The cost depends on the extent of the enhancements desired.
Canny + ClickUp
One of the most impressive examples of using Canny is ClickUp - a productivity and task management platform. Since they serve thousands of users worldwide, they needed a place to gather feedback from them and keep it all organized. As you can see, the users are pretty engaged leaving lots of suggestions, feature requests and spotting bugs that later on make it to the backlog for developers on the ClickUp team.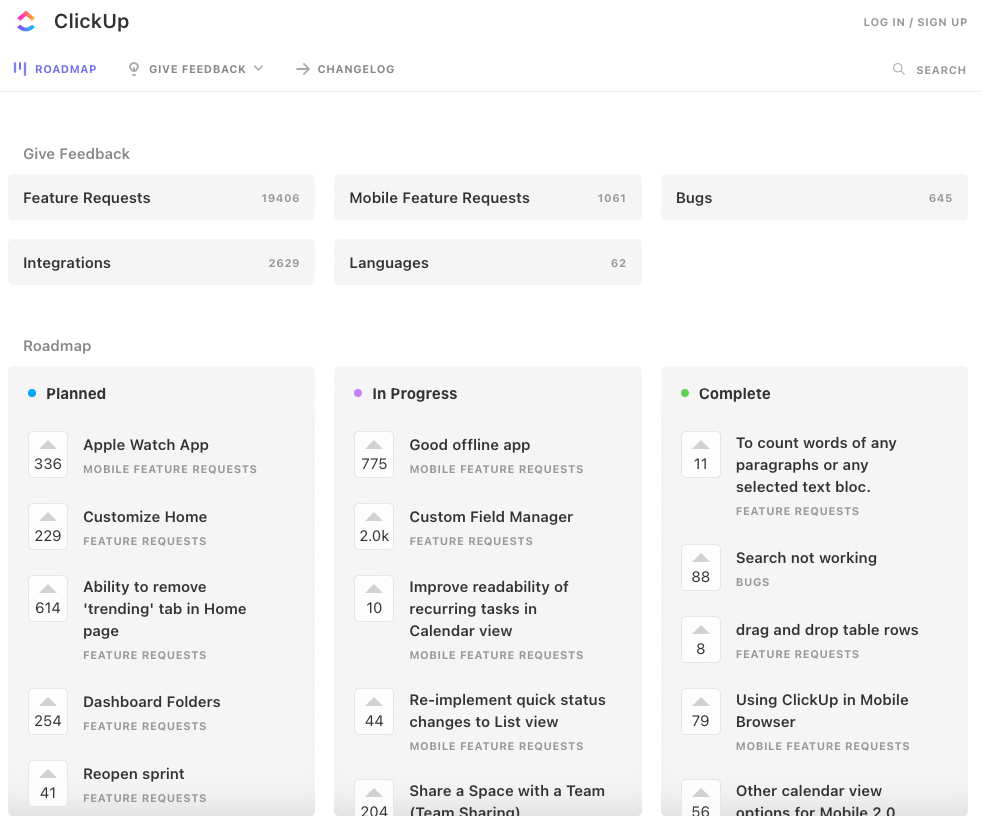 Canny + Monterail
As a part of the Monterail development process, we always suggest clients use one of the tools for web application feedback. Below you'll find an example of what you can get expect from integrating with Canny tool and how the process looked for one of our clients.
Some details about the project:
Product: Mobile application that allows you to exchange items with other people.

Project phase: The MVP version of an application is available in app markets.

Release date: 1st of June 2021

Number of users: +/- 500

How feedback is gathered: along with the release of the application, we have provided users with a platform that allows them to leave feedback, report errors/bugs, propose changes and direct contact with the client and development teams.
That's how the backlog and roadmap looked, based on specific user requirements: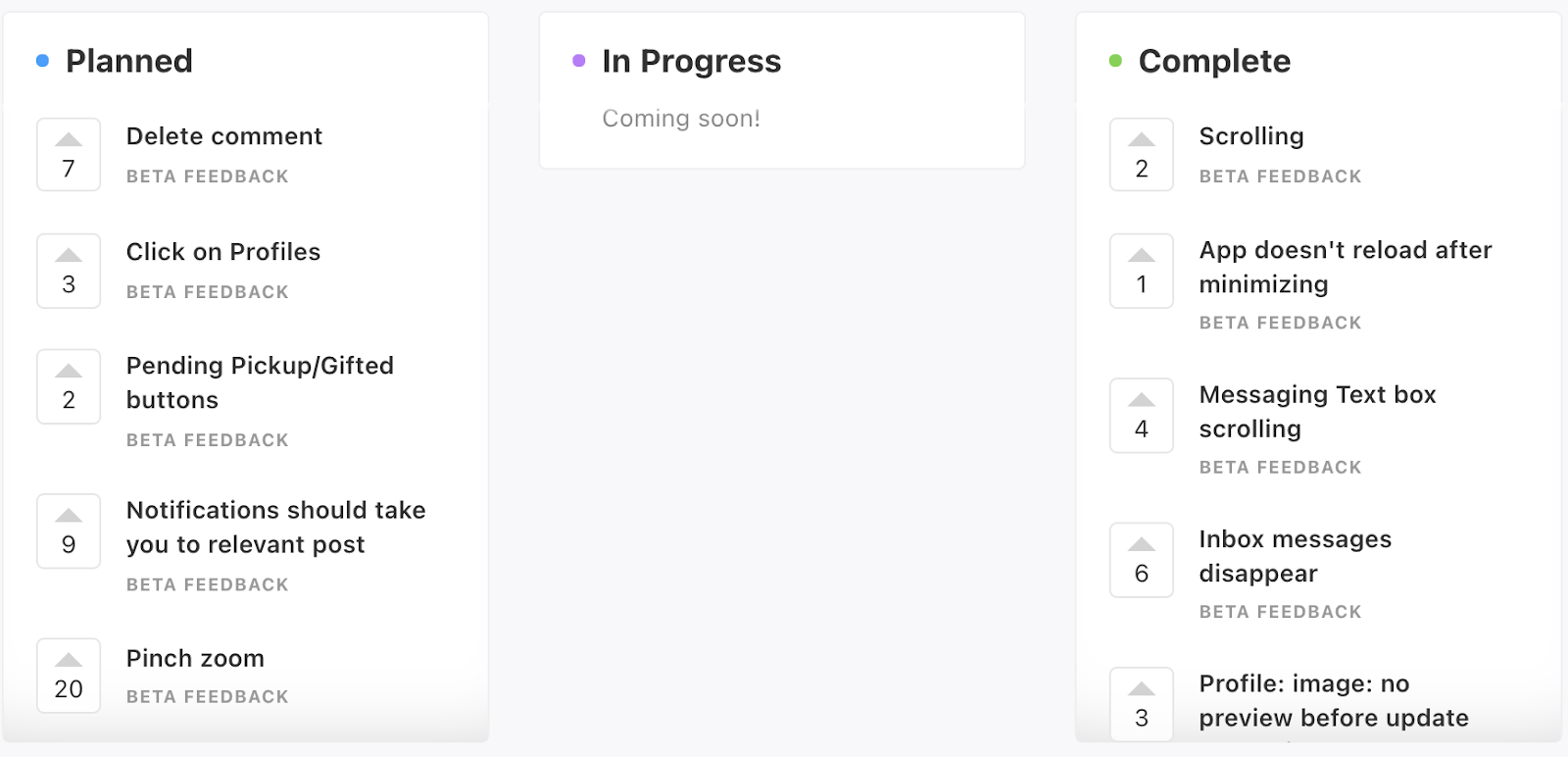 The client continues using Canny until this day and listens to his users closely. Thanks to that, we are able to precisely build the roadmap with new features that are real needs of the users.
Sleekplan
Sleekplan is one of the best-known alternatives to Canny.io. Its functionalities cover your customers' track suggestions, ideas, and bugs, prioritization and development of features, keeping a changelog, sharing a roadmap, and customer notifications.
What about pricing? We have options.
Indie - a free one, enable to kickstart the feedback loop with changelog.
Starter costs $15 monthly, provides basic features, and is limited to 3 team sets.
Business, which provides advanced features & tools for $45 per month. It is limited to 10 team sets.
Both of them can be checked through a 30-day trial.
Custom - the last tier, checkable by demo, has no limitation for team sets
Acute
Acute positions itself as a tool aiming to cover entire customer feedback from users, prospects, team members, etc. It allows putting that feedback into context, selecting the features that support your product strategy and goals, prioritizing the high-impact features, and keeping the community informed about the status of each feedback. And yes, that sounds pretty basic, but Acute also names a few specific features, such as an in-app widget and prioritization system based on the RICE framework.
Acute's pricing is divided into four levels. The first one, Free, is available just for one member and is limited to 20 suggestions. In the next ones, Growth and Business, the limit of team members grows, suggestions are growing, and - at Enterprise - both are unlimited.
Convas
Convas is another feedback tool worth considering. It provides businesses with capabilities of managing a customer feedback loop that is divided into four steps: collecting customer feedback via the feedback page or in-app widget, analyzing gathered insights in an organized manner and prioritizing them with the voting system, planning and sharing the roadmap that shows current customer state of work, keeping the customers in the loop with automatically send emails.
Convas is available in a free version, enabling tracking 25 users, but in "Growth" (started with $15 monthly), there is an exciting thing - it can be extended per additional tracked users. Then the price grows for every hundred new users.
Savio
Savio bets on centralization and categorization of product feedback, looking for a way to make gathering feature requests as comfortable as possible for SaaS teams. Their positioning is based on:
centralization - product feedback can be gathered without leaving your support tool or CRM
prioritization - MRR, Plan, and more can segment feature requests.
automatization - status is automatically updated as features move through the tools such as JIRA.
Savio's pricing looks simple: three tiers, each available in a 14-day trial, starting with $49 for 3 team members.
Productboard
Productboard, last but not least, provides features quite similar to the tools mentioned above. That means, we've got a productboard with the full capacity to build a comprehensive roadmap. There are features that enable you to collect feedback in one place, set priorities for feature requests, and validate the ideas. Moreover, the product board can be integrated with other systems like Zendesk, Slack, and Jira via open APIs.
Productboard is available in two plans, divided into two tiers. In the first plan, there are "Essential" and "Pro" and their costs - $20 and $80 respectively - are known from the upfront; in the second plan, there are two custom options. They can be checked via demo.
The key takeaway from this blog post should be that no matter which tool you decide to use, it's more important who wields it. Choosing the right development partner will help you build a digital product that suits the needs of your users and matters.