We met with Loyco over three years ago, when they launched Yalty, an HR app our team had been working on. Since then, we've been following the company closely as it offers a great example of what running a business looks like when it's about something more than profits. And now we'd like to share their story with you.
Back in 2013, they started their journey and successfully developed their app portfolio, becoming one of the unquestionable leaders in HR services in Switzerland. Loyco (the name is an abbreviation of "loyalty company") demonstrates a rare approach to management and entrepreneurship—unique on a global scale. They value their employees' satisfaction and pleasure derived from work over strict working hours.
Loyco provides expert outsourcing services in areas such as insurance, HR, accounting, tax services and risk management, relying on recognized specialists and innovative IT solutions. Their services are used by about 700 companies. Their clients praise their refreshing approach to business—strong values, networking and long-term partnerships in place of direct sales and marketing.
To get a more in-depth look into how they handle business, I spoke with Christophe Jodry, Global Operations Coordinator, who shared some insights on Loyco's reality. Read on to learn how they achieved country-wide success by focusing almost exclusively on... happiness.

Christophe Jodry

Global Operations Coordinator at Loyco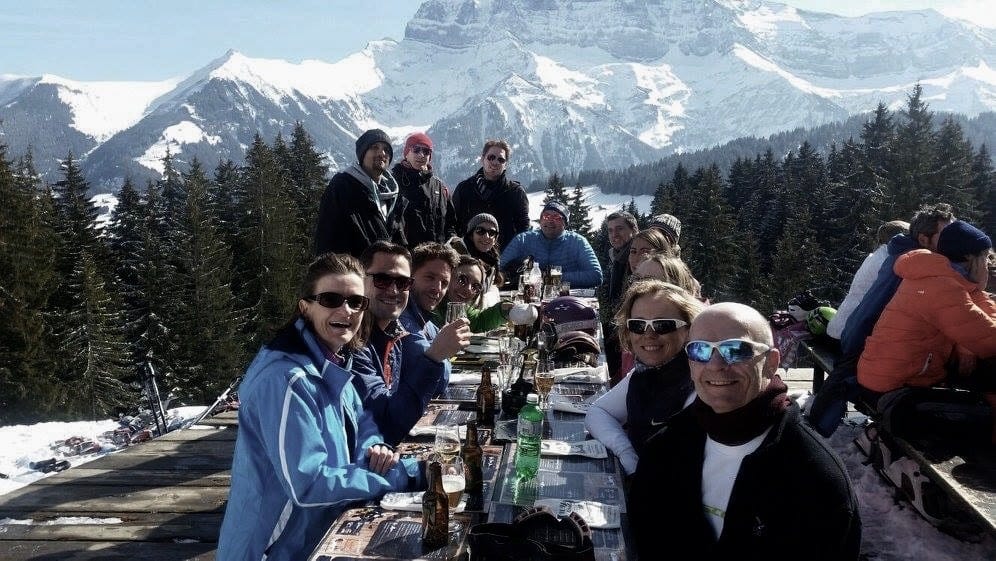 Loyco team enjoying themselves during company retreat in Morgins, Switzerland
Joanna Staromiejska: Can you explain the idea behind Loyco?
Christophe Jodry: We launched it to offer companies a one-stop shop for delegating all sorts of HR and administrative tasks. We take care of insurances, absence management, payroll, accounting, taxes, etc. all within a single point of contact.
JS: What does your typical client look like?
CJ: We have two types of clients. One type includes smaller companies with up to 50 employees who want Loyco to be their global provider for all admin-related activities. The other type includes enterprise-level organizations who usually seek expertise in two or three fields we specialize in.
JS: Since 2013, Loyco has enjoyed strong growth. How has it changed your business?
CJ: Loyco began as a small team, and now we have ninety-five employees across four offices in Switzerland, so we've expanded a great deal over the last five years. We started with only a handful of clients and now we serve about 700 Swiss companies, from small SMEs to large multinationals.
JS: How did you learn there was market demand for a product like yours?
CJ: Our business idea evolved over time. We started as an insurance broker, but clients kept asking for additional services as well. And given that we already had access to much information, expanding the offer seemed reasonable and feasible. The decision to develop additional products for our offer was a big move for our strategic growth.
JS: How do you measure the success of your business?
CJ: Naturally, revenue is the basic metric—last year, we pulled in around 12M CHF in profits. Client turnover, however, remains a much more crucial indicator for me and I believe the fact that we've lost only 5-10 clients so far speaks for itself. We enjoy a very high level of retention, mostly due to our focus on a broad scope of services offered which, in turn, boost client loyalty.
JS: What does your new business acquisition strategy look like?
CJ: It's quite unusual, because we don't have a dedicated sales person internally, nor do we contract our sales out to an external organization. We prefer connecting clients with a specialist who's able to explain what we do. The Swiss market is highly competitive and each company sells the same way and says the same thing: "We're the best." So our idea was to make ourselves stand out by using our unique selling attitude and communicating a clear message: "We're different."
JS: What does "We're different" look like in everyday life?
CJ: Five years ago, we created a company around a very novel and refreshing approach to business. We employ numerous millennials as we believe in investing in the youth and want them to be able to progress internally. We're a very open, flexible company, and have no strict rules nor schedules. We can work from wherever we want. If you want to work on a gloomy Sunday and go canoeing on sunny Monday, go for it.
Moreover, we've been moving towards a flat structure called Loycocracy. The company is organized into seven teams, with leaders who operate without having to secure their superiors' approval. We don't believe in the concept of a Head or a C-level manager covering all the competencies. Every team member has a specific role, e.g handling finances, HR, logistics, sales, etc. and has the full authority to make decisions which concern his role.
JS: Loyco has precisely defined brand values—it's pleasure, plasticity, collective intelligence, and inspiration. What's the history behind them and what do they mean for you?
CJ: We brainstormed them, just like we did the name of the company, "Loyco" being an abbreviation of the phrase "loyalty company." Inspiration is crucial for Loyco and we decided to make important investment on technologies. That's why we started this innovative project Yalty with Monterail. We're convinced that it's our responsibility to inspire a client in any way possible.
Plasticity is our way to define the kind of relationship we would like to have with all our stakeholders. We try to be as much flexible as we can and to continuously adapt to our environments. That's probably why we have a very high level of satisfaction of our clients.
We defined an organization to fertilize collective intelligence, which is driven by 5 important pillars: shared values, safe and benevolent environment, ultimate transparency, giving everybody the ability to take decisions and share the profit all together.
Last but not least, we are very convinced that pleasure is a driver of performance. It is true for employees but also for our other stakeholders, as clients and vendors.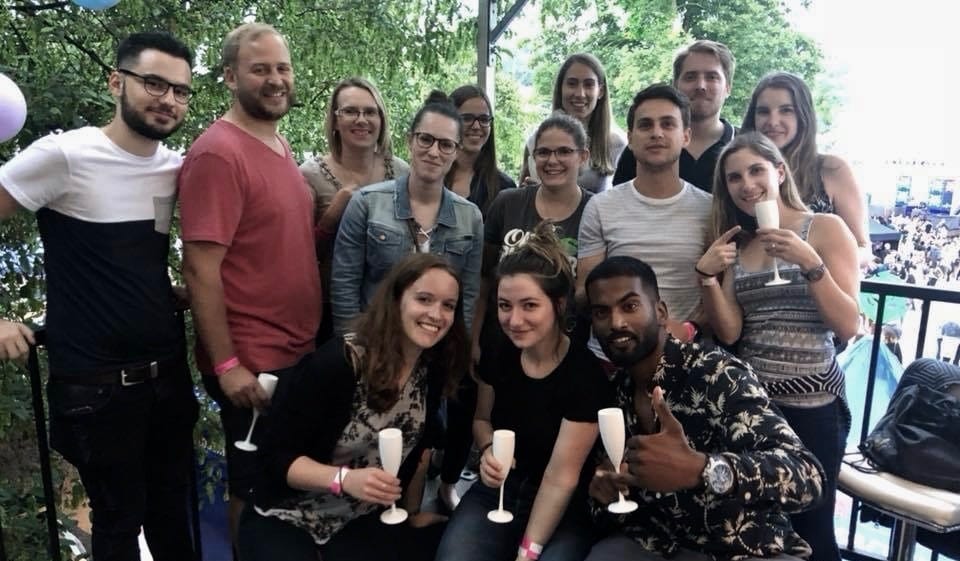 Celebrations during the Caribana Festival in Nyon
JS: How do your brand values impact the choice of your business partners?
CJ: We try to select our partners. Loyco is a certified B Corporation, meaning a company which meets the highest standard on social and environmental performance. We look for other B Corp companies first but the community is still quite small. So, we're open to other companies as well. With some, we might not share B Corp's membership, but we share approach and mindset—like with Monterail.
JS: What do you consider your biggest success so far?
CJ: Our biggest success is growing to ninety-five employees who enjoy working at Loyco. We're proud to give them the possibility to work in a safe and transparent environment. We offer them full insight into our brand vision, strategy, and finances and a stake in all three. Besides, we managed to secure a relationship with most of our clients and vendors. Their trust is a reward in and of itself.
JS: Loyco organizes a lot of big events every year, the last example being the company's fifth birthday party with over 300 guests in attendance. What's the idea behind it?
CJ: Events are definitely a part of our strategy because we focus much on the experience of all our stakeholders. And don't forget, pleasure is one of our core values!
JS: Due to strict legal regulations, data security is critical for Swiss companies. What other challenges do you face when working with enterprise-level organizations?
CJ: Quality and cost efficiency are the main challenges. In order to be competitive, you need to be cheaper than the client's internal resources. For SMBs, security's more critical than the costs because if one of their employees is on sick leave or vacation, that means a break in some areas. It's the responsibility of a provider to secure continuity and reduce the risks carried by such situations.
JS: What are your short- and long-term plans for Loyco?
CJ: I can't really tell you, because we don't really make plans. We didn't even have a business plan when we started the company. Instead, we try to identify opportunities on the go. One thing is sure, however—we want to continue to develop Loycocracy for the next two years, and focus on IT projects like Yalty, and latest technology like AI. We're very flexible and can't wait to see what the future brings.
Want to build an HR app?
Our devs are so communicative and diligent you'll feel they are your in-house team. Work with development experts who will push hard to understand your business and meet certain deadlines.