As HR tech gains momentum, the amount of online information covering the topic seems to grow exponentially. Sifting through the noise to find valuable insights might be tricky.
Is there any way to make the process a little easier?
Actually, yes—you can follow the online output HR Tech influencers, who have been prolifically evangelizing the field throughout their careers. If you're looking for a great source of inspirational content, go ahead and follow the opinion leaders included in this list.
For your convenience, we've split this list into influencers from Europe and the rest of the world. Let's get to it!

Europe
As the co-founder and CEO of workshape.io, a platform matching employees to jobs based on task distribution, Hung Lee strives to popularize a more clever and efficient approach to employment in tech.
Hung publishes a weekly newsletter at Recruiting Brainfood, compiling plenty of insights about various aspects of recruitment—from workflow automation to the future of work and remote working, Hung Lee keeps his finger on the pulse, providing the latest HR tech news with detailed resources. The newsletter reaches over 16,000 subscribers.
Always on the lookout for more effective ways of bringing talent and fitting jobs together, Hung has over 15 years of experience in the Human Resources field as a recruiter, manager, and trainer.
With over nineteen years of experience, Anna has extensive knowledge about talent acquisition and HR tech solutions. She's actively helping companies design talent strategies as well as advising on tools that facilitate employment. Anna also helps HR tech startups develop unique products, grow, and engage customers.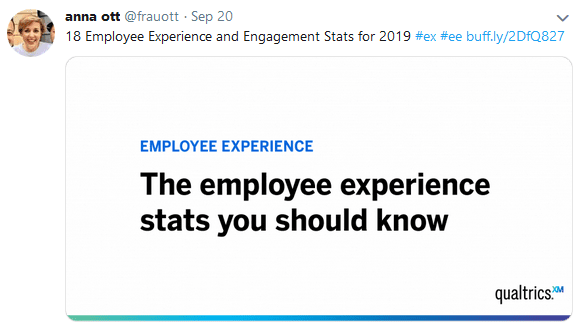 Anna Ott's tweet on employee experience statistics. Source: Twitter
An avid speaker and creative thinker, Anna often shares her insights at various HR-related events around the globe. Recognizing the role of HR tech in recruitment, Anna knows how to use innovative tools to build compatible teams.
She offers consulting services at calibr8.work, advising companies on how to shape the employee journey to create positive employee and candidate experiences.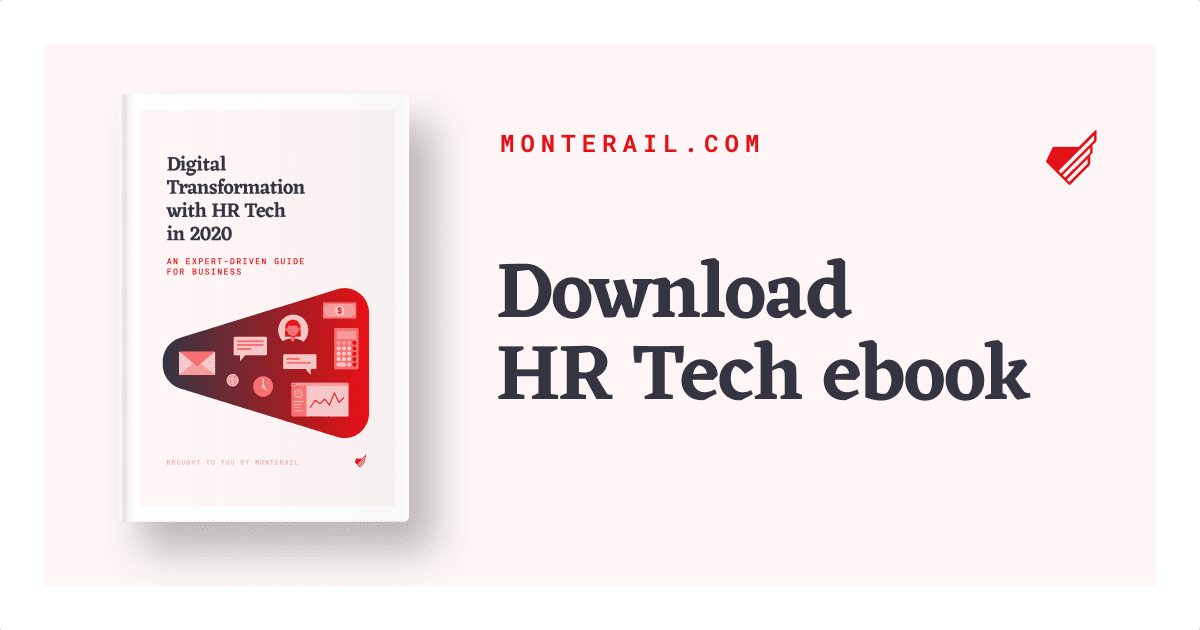 Alexandre is a driven HR expert with a knack for creating cutting-edge solutions in talent management. He's one of the founders behind Talentsoft, a comprehensive set of tools for talent management, including recruitment, employee analytics, learning, and social media. He approaches employee analytics with careful consideration, always aiming at fulfilling employee needs and ambitions.
As a speaker and influencer, Alexandre shares his knowledge in many of his publications. In his newest book, Unique(s), Alexandre examines the influence of AI on the future of humanity. His twenty years of experience in the field of HR make him a trustworthy expert.
David is the go-to source for curated news on creating an exquisite employee experience, people analytics, and the future of work. He advises companies on designing positive employee experiences based on in-depth data analysis. David is an executive director at Insight222, board advisor at TrustSphere, and CEO of Zandel, his own consulting company.
David is an HR tech expert who loves to write about the industry. He also publishes a monthly review of the best articles on HR written by other influencers. You can catch most of his writing on his LinkedIn page or through the newsletter available on his website. As one of the most active influencers in HR tech, David attends multiple conferences every year, so there's always a chance to listen to him live.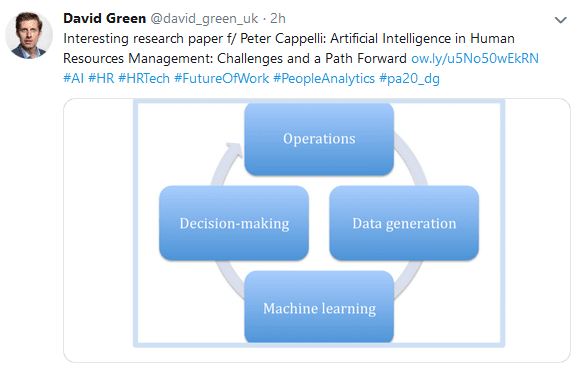 David Green's tweet with content recommendation. Source: Twitter
Building on his skills as a consultant, analyst, speaker, and author, Volker delivers data-driven insights about employee experience. Granular decomposition of all the elements making up this metric allows Volker to come up with strategies that organizations as a whole should implement to increase employee experience and satisfaction.
Backed by years of experience as an executive, Volker launched his own company TI People in 2016. TI People helps companies with digitization of HR processes, specifically people management. By analyzing employee experience to produce insights and solutions, TI People gives companies the information necessary to transform their people management systems and create an employee-friendly and result-driven workplace.
Beyond Europe
The founder of Hacking HR and co-founder of Cotopaxi, Enrique Rubio is an expert in HR and technology. In his work, Enrique explores the topic of digitization of HR—he's been working in the industry for over eighteen years, combining his experience as an engineer with plenty of passion for the HR field.
Hacking HR organizes inspiring forums in cities around the world. The community, made up of forward-thinking HR professionals, looks at HR tech and the future of work, often provoking transforming ideas and thoughtful discussions. Enrique's other venture, Cotopaxi, is an AI-based recruitment platform catering to the Latin American audience.
On his Twitter account, you can find the most recent HR tech news and valuable resources which he eagerly shares.
Pip's expertise, backed by twenty years of professional experience, is a sought-after combo that makes her one of the top HR tech influencers. She advises companies on their HR strategies and practices to facilitate growth and efficiency through the workforce of the future.
Pip is the CEO and co-founder of People Collider, an experiential learning solution designed for HR teams interested in acquiring specialist skills. People Collider looks to inspire HR professionals through courses and events that spark the drive for innovation.
You can find Pip speaking at the biggest HR tech conferences around the world.
Bill is the driving force behind the HR Technology Conference, arguably the biggest event devoted to HR tech around the world. He's a leading expert and influencer in recruiting, talent management, AI, analytics, employee experience, and a number of other areas.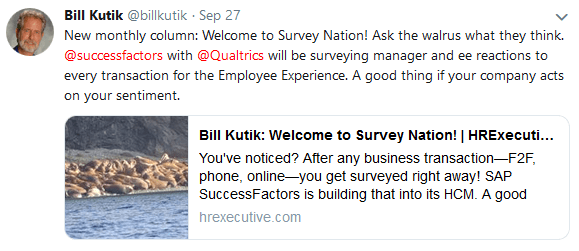 Bill Kutik's snapshot of his monthly HR-related column for HR Executive. Source: Twitter
Bill hosts his own YouTube video series "Firing Line with Bill Kutik," where he talks with industry leaders about the current state of HR, technology in HR, and the future of work. He also has a regular column in HR Executive and other media outlets. In total, he's published over 200 columns, gave almost 200 radio talks, and appeared on over 157 panels and public interviews.
You've already met the father of the HR Technology Conference, now it's time to meet its current co-chair, Steve.
Steve shares lots of interesting insight on his Twitter account. He's also the technology editor and writer for HR Executive, and can be trusted with delivering curated, thought-provoking content. One of the top influencers in the field, Steve also co-hosts a weekly podcast "HR Happy Hour Show and Podcast," covering a wide range of HR-related topics from talent management to recruiting and workplace technology.
He gained much of his vast experience while working at Oracle on innovative enterprise HCM solutions. Steve is the CEO and co-founder of H3 HR Advisors, where he provides advisory services to HCM executives.
Using her solid background in neuroscience, Frida co-founded the people recommendation engine Pymetrics. Pymetrics is based on AI algorithms, leveraging gamification in talent management and position assignment. The platform aims to remove bias from the hiring process, so that applicable skills and experience determine successful recruitment.
Companies such as Accenture, Infosys, LinkedIn, Unilever, and McDonald's have already implemented Pymetrics into their talent acquisition processes. With the software, organizations can build new strategies to maintain diversity and efficiency in the workplace.
Frida Polli is a frequent speaker at various HR tech conferences around the world where she shares her unique, neuroscience-inflected perspective on recruitment.
A renowned HR tech evangelist and advisor to HR technology startups, Karen Azulai is a frequent keynote speaker at conferences across Europe. Karen is the co-founder of HRTechnation, where she shares news and analyses of topics related to the HR industry and technology.
HRTechnation is a remarkably meticulous source of information for HR professionals as well as executives interested in learning more about the field. On her blog, Karen investigates the influence of technology on the recruitment process and ponders what could still be done to make it more effective and human-friendly.
She co-leads the Israeli HR Tech founder's community and eagerly shares her expertise, inspiring innovative ideas and encouraging debate.
We close out our list with Kieran Snyder. Recently named one of the leading female disruptors in the industry, Kieran is the CEO and co-founder of Textio, a revolutionary augmented writing platform launched in 2014. Textio analyzes thousands of job postings from around the world to find patterns that determine the success of a job ad. Using the collected data, Textio gives real-time suggestions as to how a job posting should be improved to increase the response rate within a targeted talent pool.
Kieran has a background in linguistics (she has a PhD in the field) and data science—skills she further developed during her time withMicrosoft and Amazon.
Kieran is active on social media and has written numerous articles for business news outlets such as Fortune, Fast Company, Forbes, The Washington Post, or Slate.
Adding Curated Content to Your Feed
Following the HR tech influencers on this list will help you refine your feed and seek out more valuable content about HR. The list above is far from complete—if you're still looking for more opinion leaders to follow, check out the speaker lineups for some of the biggest HR tech conferences. HR tech thrives mainly thanks to all the creative people who continue to revolutionize human resources every day. If you know other influencers bringing fresh perspectives to the industry, feel free to let us know who they are in the comment section!
Discover HR Tech trends for 2020!
HR Tech is a rapidly growing field that brings real innovation to the world of human resource management.
Read about the HR Tech trends that will influence businesses in 2020.