The HR technology market is thriving, delivering a bevy of innovative approaches to a field notorious for its slow adoption of tech-based solutions.
With the introduction of AI-powered HR tools and sophisticated applications addressing the whole spectrum of the needs of the HR industry, digital transformation is entering the HR realm. And there's not a better way to stay up to date with changes than following experts during conferences.
Although the global pandemic revolutionized how we organize events (hello Zoom!), one thing remained the same–there's a need for knowledge sharing, insights gathering and networking. Let's look at the biggest HR tech conferences slated for 2023 that HR leaders and everyone interested in the industry should definitely attend.
HR Technology Conference
Arguably the biggest HR tech conference in the world, touted by some as "the industry's annual meeting," the HR Technology Conference attracts experts, and innovators and is packed full of workshops, lectures, and networking opportunities.
Covering a broad range of HR tech topics, the conference features demos from companies such as Oracle, Workday, Cornerstone, and many more, insights from thought leaders, and presentations of emerging HR tech trends. Throughout the year, attendees could listen to lectures on subjects like the importance of metrics in HR, AI in HR, and top talent acquisition software.
Although the years 2020 and 2021 were highly influenced by the pandemic, the organizers managed to reimagine their world-famous event and adjust to reality. They organized successful virtual events and decided to continue with them even now.
So in 2023, there will be two unique events—the HR Tech Virtual conference will now be held each year, and the annual in-person fall events.

Partners of HR Technology Conference, Source: HR Technology Conference
One glance at the speaker roster and the turnout from global leaders, industry experts and forward-thinking HR executives is enough to realize why the HR Tech Conference is a must-stop destination when it comes to international HR conferences.
Where: Online and Mandalay Bay, Las Vegas, US
When: October 10-13, 2023 (in-person) and February 27–29, 2024 (online)
SHRM23
The SHRM22 is the annual Conference&Expo and one of the biggest events dedicated to a full range of HR education. The 2023 edition will explore 11 areas including Global HR, Diversity&Inclusion matters, Employment Law and Regulations, Leadership and Personal Growth, Talent Management, HR Technology&Analytics, and more.
It will cover pretty much every aspect of the HR world that professionals and companies might be looking for.
The 2023 edition of the SHRMtech conference offers a variety of session formats to fit each type of learning style. This main stage experience is led by expert thought leaders and practitioners. You can join concurrent sessions with experts featuring best practices or rapid-stage presentations online.
Where: Las Vegas, US
Conference: June 11-14, 2023
HR Core Lab Summit
HR Core Lab Summit aims to revolutionize the investigation of Next-Gen HR and it does it through a three-day conference. The main theme of HR Core Lab is the promotion of digital transformation across HR departments, facilitation of tech skill-building, retaining top talent, and swift navigation in the increasingly tech-reliant HR environment.
The 2023 edition will be examining three different areas of tech in HR:
Recruitment
HR Agility
People Analytics
During the event, participants will have an unparalleled opportunity to listen to 80+ world-class speakers from 40+ countries, meet over 500 HR executives online, and hear 40+ case studies. The event will take place online and participants can obtain full access to the virtual event platform and all the content during the event for free by reserving a ticket.
Where: Barcelona, Spain
When: March 20–21, 2023
HR Tech MENA
Now in its eighth year, the HR Tech MENA conference is known for its rich agenda of expert lectures and networking opportunities. The 2023 edition will highlight a new era of HR tech insights with a primary focus on driving business agility, resilience & success through people and technology.
Although the agenda has not been revealed to the public (only for registered guests), based on previous experiences, you can expect inspiring talks in the three main areas: Learning&Development Tech, Employee Experience&Wellbeing, and Digital Transformation.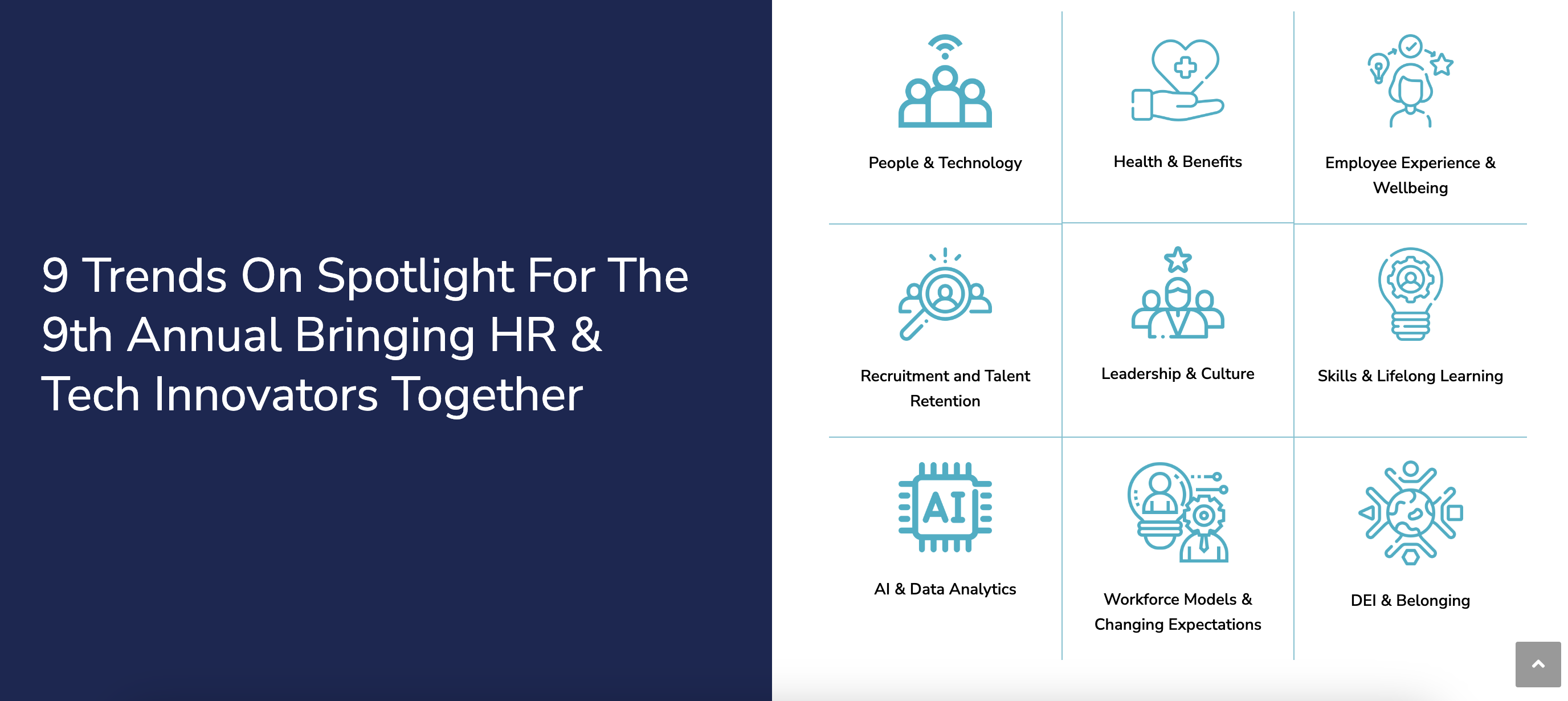 The elements of the HR Tech MENA conference 2023, Source: HR Tech MENA
The sessions will cover a plethora of topics related strictly to HR Tech, including the evolution of AI, predictive analysis, datafication and digitization, intelligent apps, and personalized learning—all that with over 70 speakers and 400 qualified HR and IT leaders, topped with a total of 20 hours of networking opportunities.
Where: Dubai, UAE
When: March 13–14, 2023
HR Tech Montreal
Even though HR Tech Montreal conference has been operating since 2018, the event has already managed to become a magnet for professionals interested in discovering the novelties in HR technology–the first event attracted over 700 professionals.
Bringing together key market leaders to present HR tech solutions and ideas, the conference was aimed at analyzing trends in HR, talent management, and payroll tech.
From emerging HR technologies to innovative startups, HR Tech Montreal covers a full range of topics, with an emphasis on speeding up digital transformation to leverage the power of HR technology in streamlining business operations.
The two-day event features a large vendor fair, best practices conferences, technology demonstration workshops, and plenary sessions.
Where: Palais des Congrès de Montréal, Montreal, Canada
When: 2024 - exact dates to be announced
HR Core Nordic
HR Core Nordic is the European version of the popular Teneo event examining the impending technological disruption in the world of HR tech. The conference welcomes participants from organizations of all sizes, from large enterprises to mid- and small-size startups and businesses. HR Core Nordic offers new perspectives on HR Agility, Recruitment, Employee Experience, Diversity&Inclusion, and much more.
The 2023 edition will bring together 30+ expert speakers and over 250 HR professionals to discuss the future of work influenced by technology in HR.
The event will feature technology lectures, interactive workshops, panel discussions, a demo stage, and multiple opportunities to network with like-minded HR professionals. During these two days, companies such as Nordea, Oracle, Kahoot!, Microsoft, and many more will present case studies on how they managed to shape the Future of Work.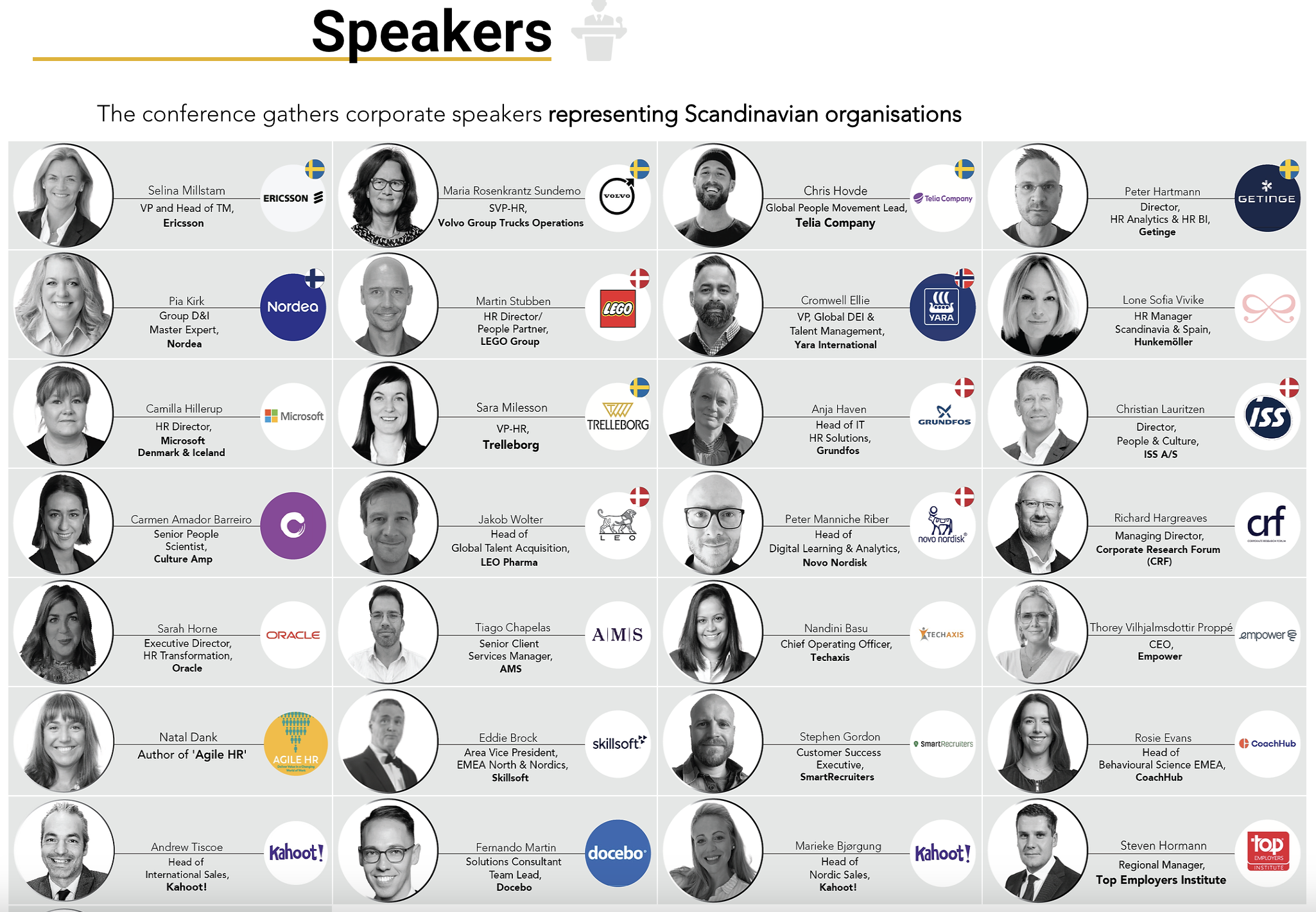 A sneak peek of the speakers, Source: HR Core Nordic
Where: Online and Copenhagen
When: May 24–26, 2023
Indeed Interactive
Indeed is an international employment search engine. As one of the biggest recruitment platforms worldwide, Indeed hosts its own conference devoted to cutting-edge HR technology—Indeed Interactive.
It's a great chance to network and build valuable relationships in an industry where technological innovation is booming. At the conference, the participants have the opportunity to see demos of innovative HR Tech solutions and share ideas on improving employee engagement.
The 2023 edition will be geared toward reimagining recruiting in this new world of work. The details and the agenda will be announced very soon.
Where: Online and Atlanta
When: September 20-21, 2023
HR Transform
At HR Transform, experts from all over the world share their insight into the future of work influenced by emerging tech.
Visionary leaders speaking at the conference will explain how organizations can prepare to embrace HR tech in a timely and efficient way and use it to optimize their work and talent acquisition processes. Aside from discussing HR tech trends, HR Transform goes beyond what's commonly associated with HR, even focusing on topics such as gamification in HR.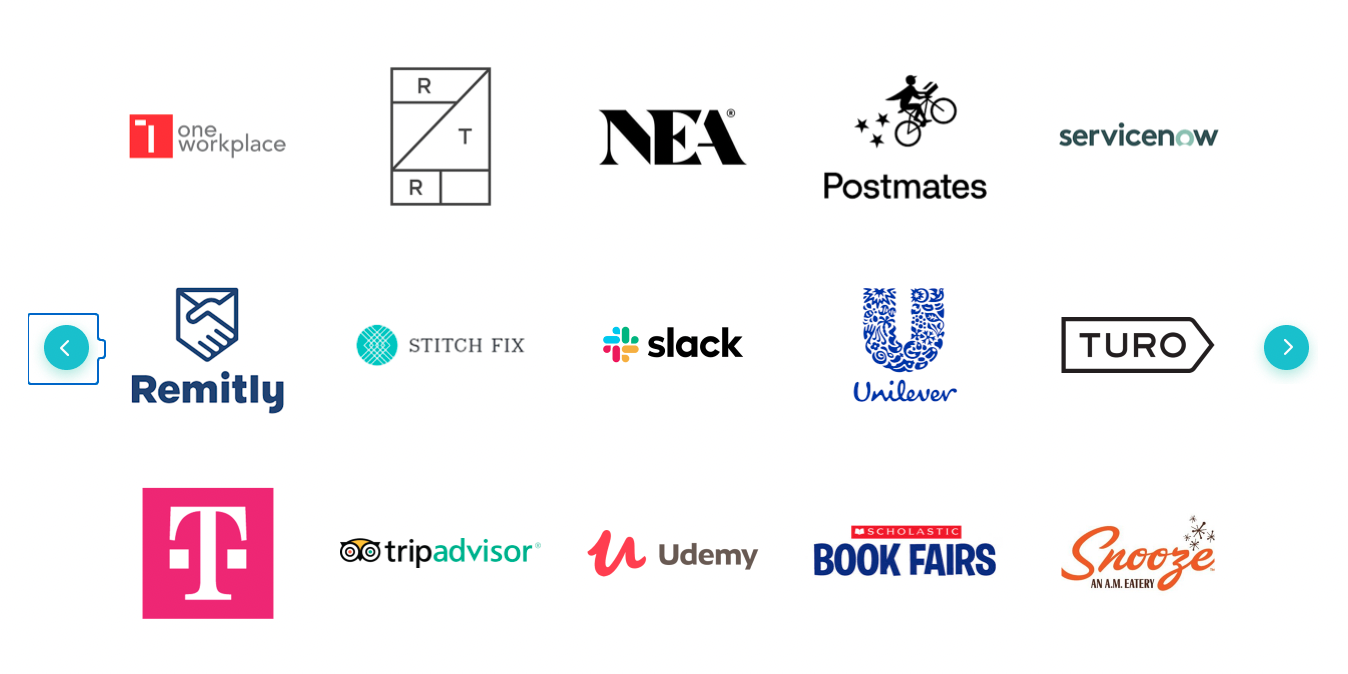 The list of attendees of HR Transform. Source: HR Transform
The main idea behind the event, however, is to offer new perspectives on the HR industry and emerging technologies that shape it. HR Transform is an excellent opportunity to learn from industry experts and get new ideas on how to adapt organizations to embrace a future where work is highly dependent on technology.
Where: Las Vegas, US
When: March 27, 2023
But Wait, There's More!
The conferences mentioned above are only a fraction of HR tech-oriented events happening every year all around the world, with each one offering valuable insight into various areas of the industry. Because of that, listing every single one that's worth attending would be difficult, to say the least. Furthermore, we're on the cusp of entering Q1 2023 and many big organizations still haven't posted any updates on upcoming events.
We'll be updating the list as more information on events becomes available.
Have you attended a worthwhile HR tech conference that we haven't included on the list? Or maybe you attended some of the ones we listed above? We'd love to hear your opinions and key takeaways in the comment section below.