Read on to discover how these 13 high-performing PWA apps brought renewed business success for the companies that adopted them.


Think of a responsive website and add native app functionalities to it. That's what defines progressive web apps. They're developed with lightweight web technologies of HTML, CSS, and JavaScript as speed is essential for conversions.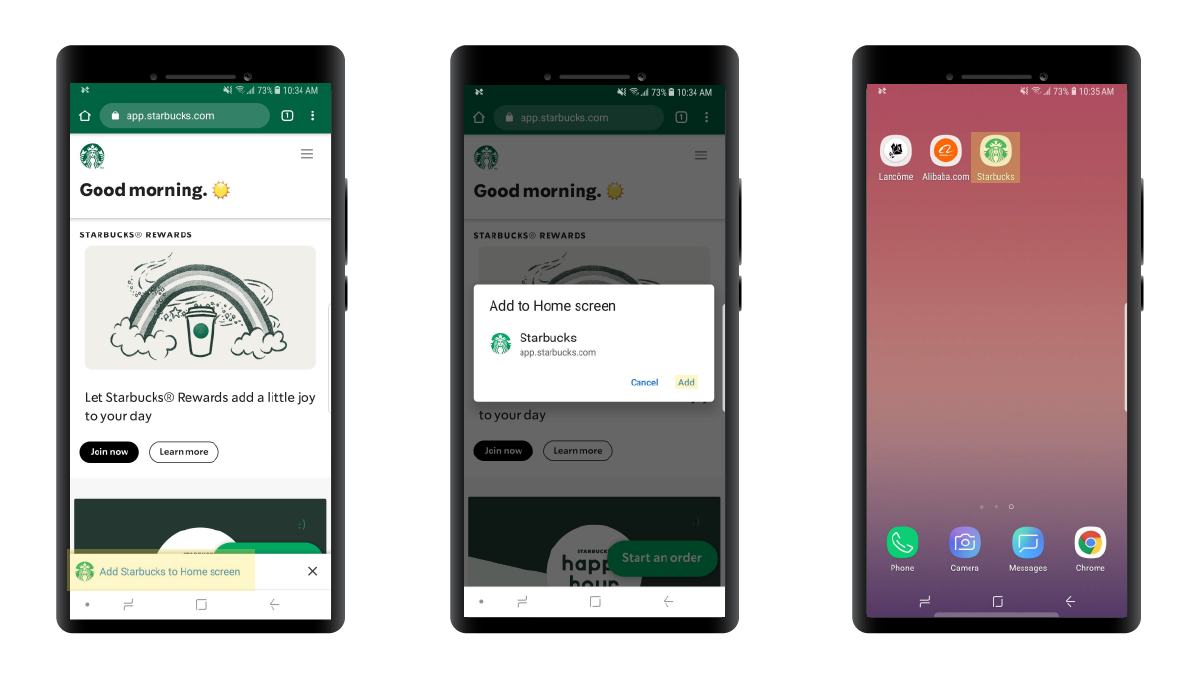 A two-click PWA app installation process encourages downloads. Source: Medium (Tigren)
When used for desktops on a laptop, PWAs mimic websites. On mobile phones, they're faster and lighter than native apps with similar functions. No app store installation is needed.
Open a PWA website in Chrome, Firefox, or Opera mobile browser, add a desktop shortcut, and you can use the same website as an app. PWAs can also deliver the following functionalities:
Media capturing through the camera
User contact access
Geolocation access
Push notifications
Bluetooth connectivity
AR/VR object projection
Speech recognition
Background updates
Offline and low connectivity modes
You can also see what the PWAs offer in our article on their possibilities with more examples:
"Should I Consider PWA?" Possibilities of Progressive Web Apps with Examples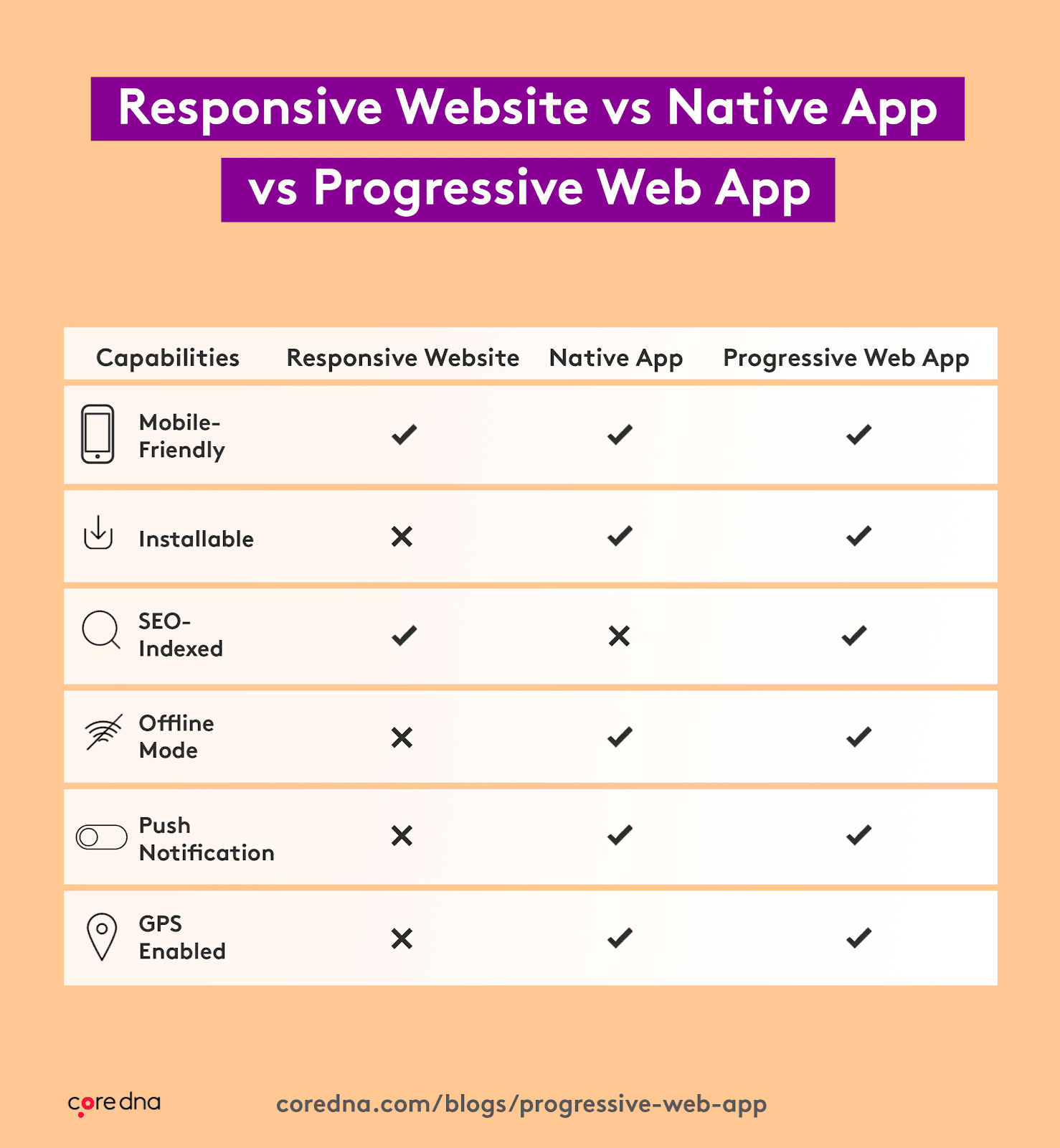 Source: coredna
According to the latest data from 2023, we're glued to our phones for an average of 3 hours and 46 minutes per day, so all these features are necessary to maximize user interaction during that window. But responsive websites can't deliver them. Native apps can, but development costs are higher, and a finished product can be too complex to perform stable enough (thanks, Java!). The publisher has to go through an app store to get any traction for the software, and often people are too impatient to spend 10 minutes installing it. That leads to weaker adoption.
A PWA offers enough to substitute for a native app as a budget-friendly option that can be deployed in a matter of days, months, or years, depending on its complexity.
Top PWA Examples That Drive Results in 2023
PWA technology stands as competition to native frameworks because users don't want to invest their time or storage space for an app installation. They will still use the mobile-friendly website if it works well. The following case studies show that progressive web apps can drive more results than their native counterparts:
1. Spotify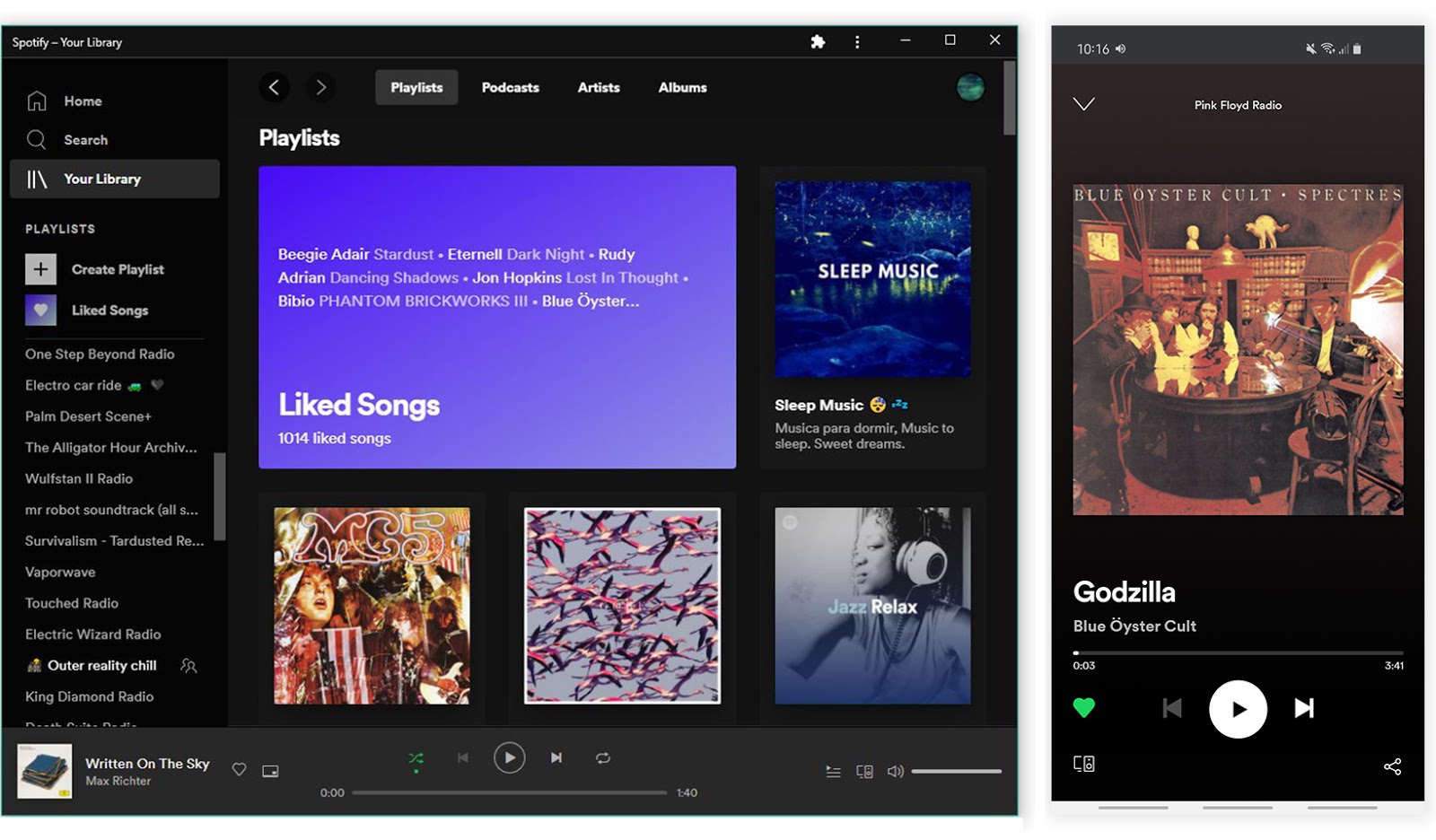 Spotify's desktop (left) and mobile (right) PWA. Source: Spotify
The goal for this PWA launch was to register new users for the free version who will update premium after witnessing Spotify's incredible product experience. They didn't even have to look for the link as the buzz for the redesigned app grew around the option to send or embed an interactive playlist.
After the deployment, Spotify's free-to-paid conversion allegedly went from 26.6% in 2015 to an industry record of 46% in 2019 and then jumped to a whopping 58.4% in 2021.
After Spotify's PWA launch in 2019:
There were +30% of monthly active users
The number of desktop users rose by 45%
+40% average listening hours per month
2. Telegram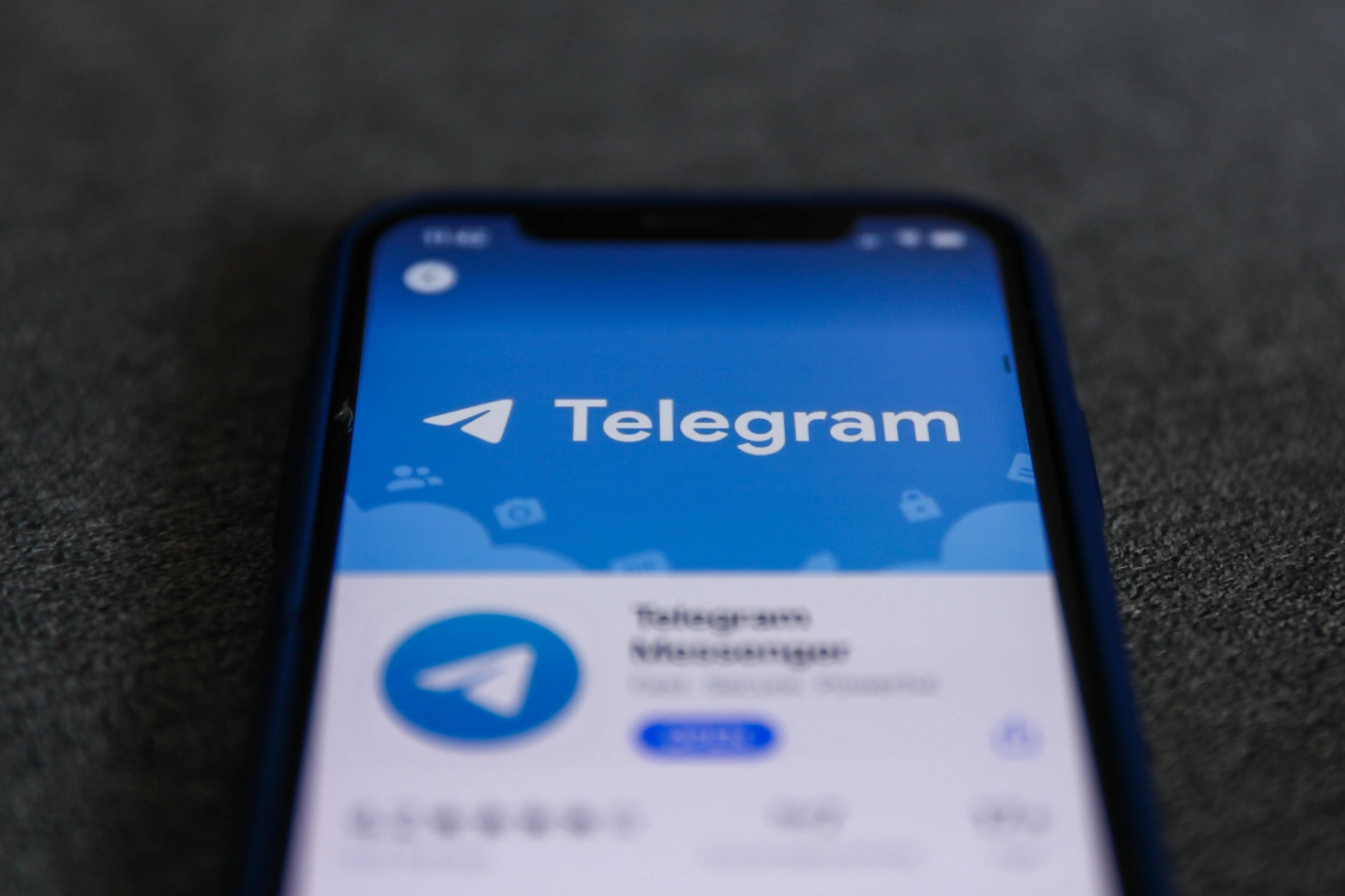 Source: TechCrunch
Telegram is a cross-platform instant messaging platform launched in 2013. According to BusinessofApps, Telegram is expected to reach 1.068 billion active users in 2023, an increase of 337.87 million users or 46.22% from last year's estimated number of users.
Thanks to its PWA version, the platform can be used across different devices, and users can access their accounts on mobile and desktop simultaneously.
After the PWA launch:
The retention rate grew by 50%
40% year-on-year user base growth
+175% increase in monthly active users since 2018
+50% sessions per user
3. AliExpress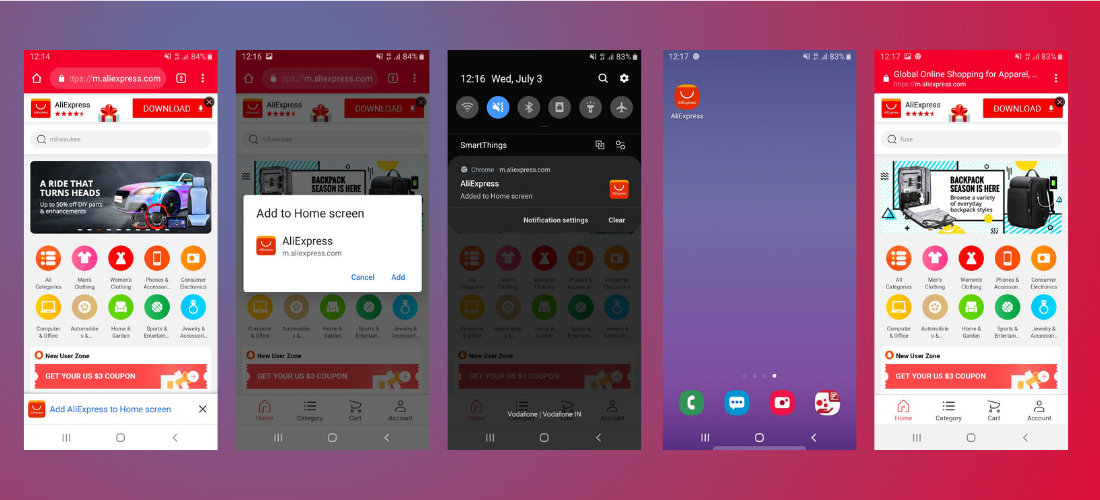 Source: SEMrush
Amazon's biggest eastern competitor couldn't secure enough native app downloads. The store's new progressive web app helped with market adaptation in over 230 countries by providing an installation-free experience that felt the same on desktop and mobile. Afterward, the number of AliExpress' cross-border buyers rose by 132% in March 2020.
After the PWA launch:
Sign-ups grew by 104%
Session time bumped up by 74% across all browsers
Users visited 2x more pages per session
4. The Washington Post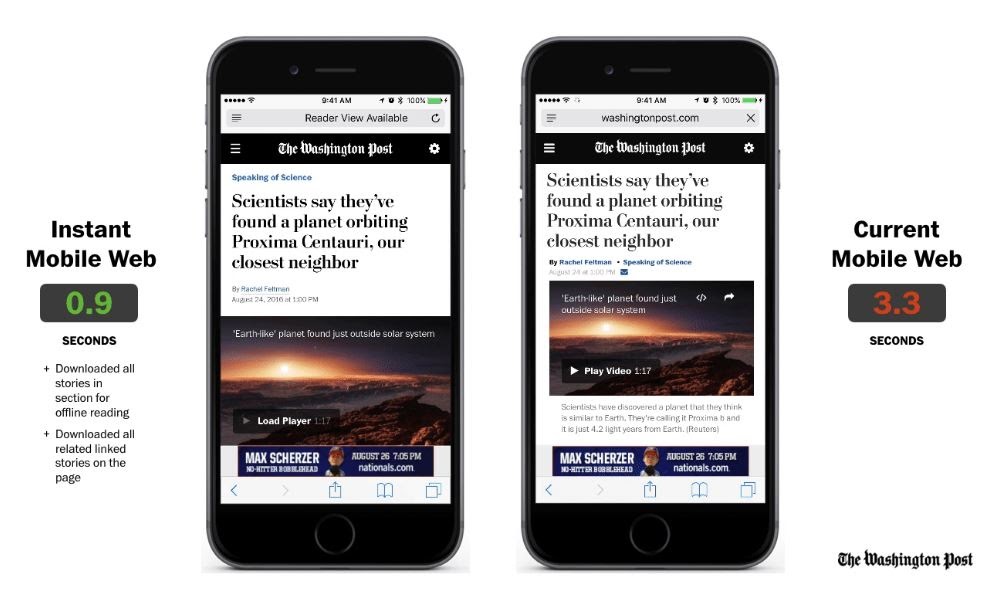 Source: The Washington Post
As one of the U.S. greatest publishers, The Post races to deliver breaking news to a base of 61 million unique visitors as of April 2022. 83.2% of readers on mobile devices use a PWA to increase retention for the channel. The medium's progressive web app leverages the AMP framework for near-instant page loading. When a user opens an article, all related links displayed on the page load in the background to encourage further reading.
After launching the PWA in 2016:
Page loading time increased by 90%
AMP content loaded 88% faster in PWA as compared to a responsive website
23% of mobile readers returned in 7 days
5. Stance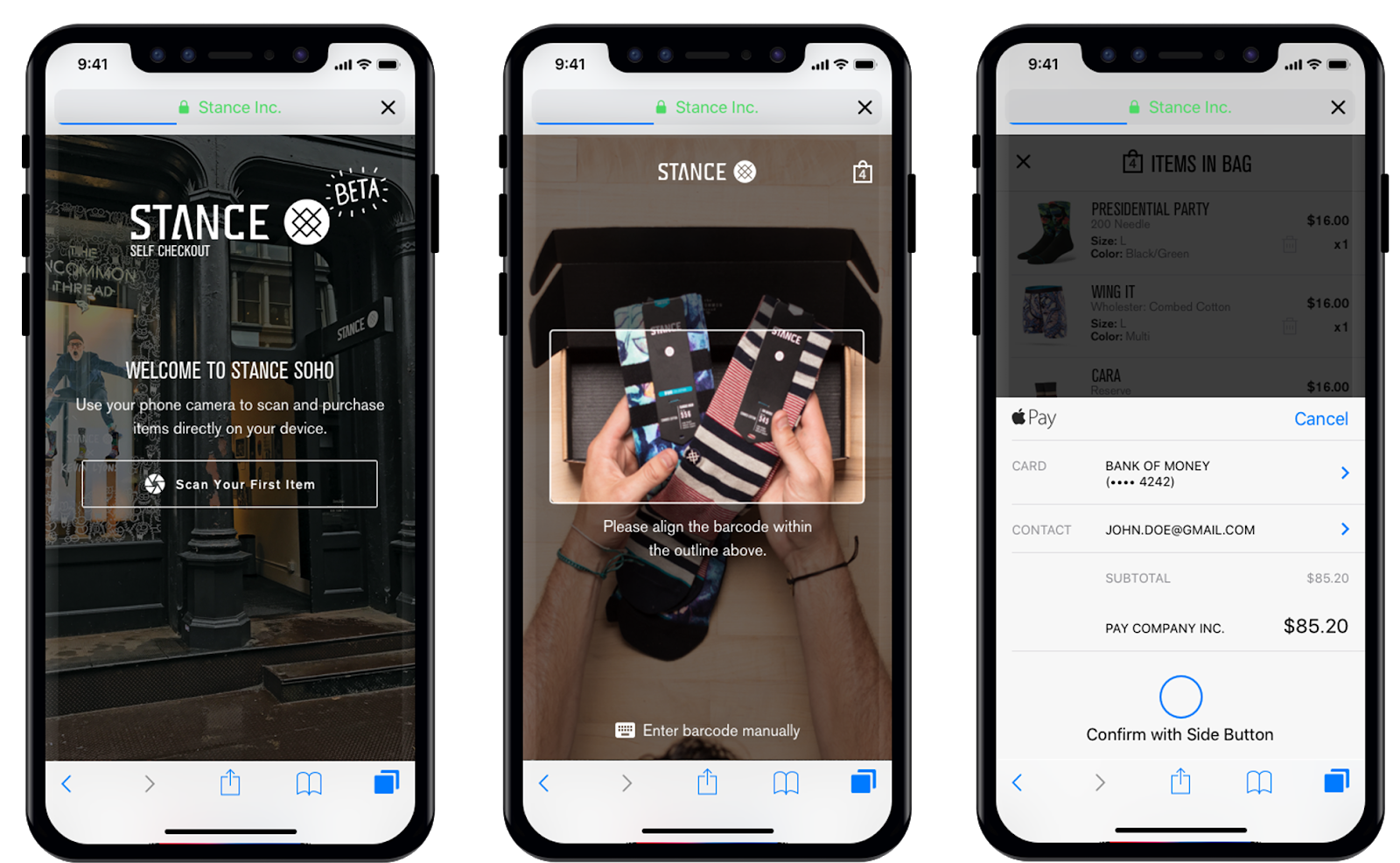 Source: Stance
PWA technology helps retailers. Stance — a young accessory brand — wanted to increase in-store purchases by adopting self-checkout technology for their 18 U.S. stores without spending a fortune on equipment. Now, shoppers access the checkout page through a link, scan products with their camera, and pay with a credit card or through Google or Apple Pay. Receipts are provided through email, which helps the brand with retargeting.
After PWA launch:
Stance registered 91% of emails from all app transactions
The app covered 30% of transactions in a pilot store
6. BMW

Source: studentshow.com
BMW's progressive web app was built to deliver tons of articles, podcasts, and stories through a webpage with a classy design that reflects the automaker's style.
On a mobile phone, the user can swipe through immersive content delivered in 'loops' where it seems the selection never really ends. Thanks to a well-planned PWA reading experience, more car shoppers became interested in browsing for their future BWM.
After the PWA launch:
New users increased by 50%
Pages loaded 4x faster on average
4x more people visited BMW sales pages
New SEO optimization raised site visits by 49%


7. Adidas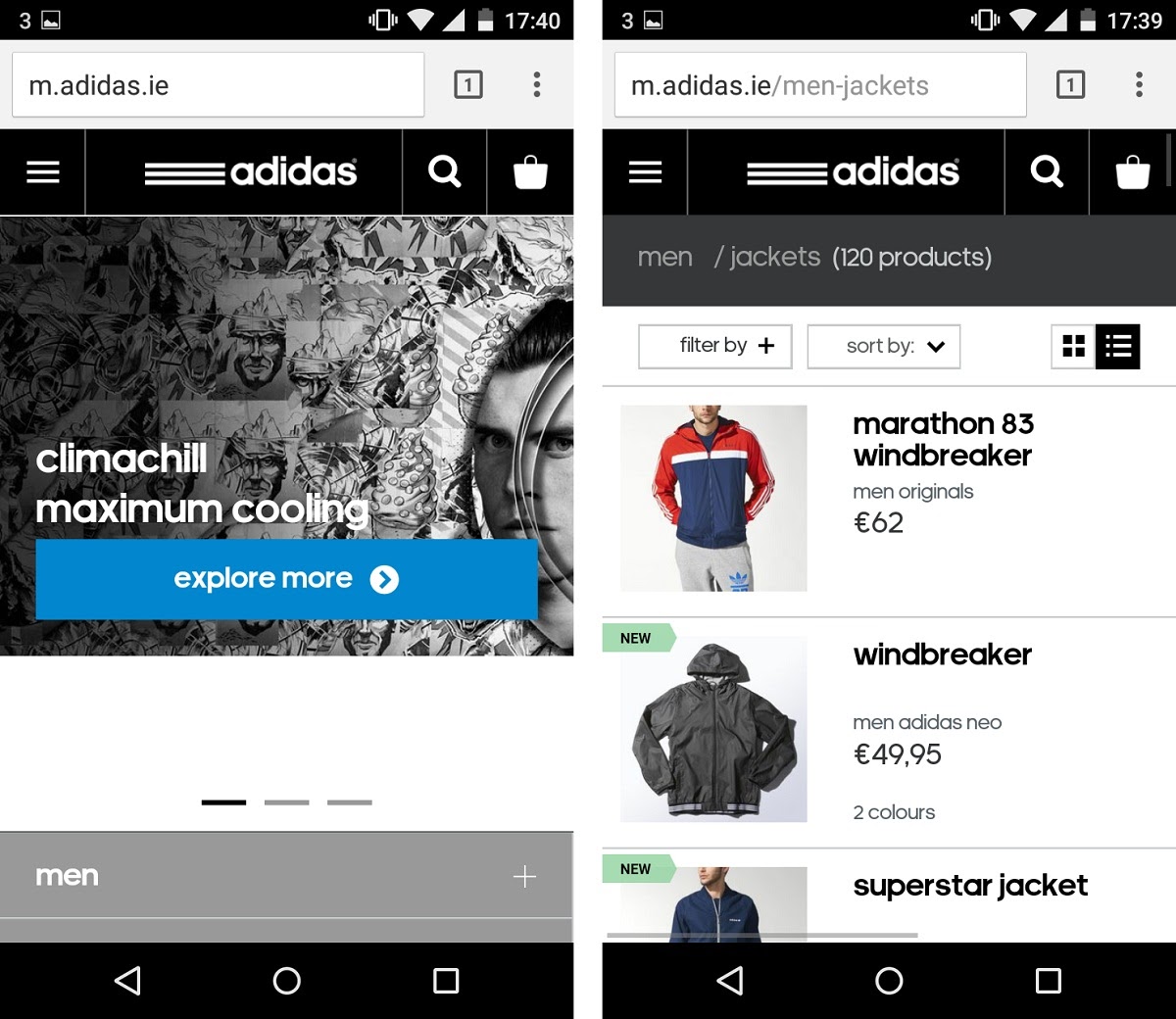 Source: DeviceAtlas
In a 2018 research of the Top 1000 websites in the UK, Adidas' store was crossed out as underperforming. The same year, the brand introduced a PWA front to tap into mobile users who don't have their app. Their new digital strategy emphasized faster user registration through the use of pop-ups in the early stage of the purchasing process. The launch year was one of the most successful ones for Adidas in recent times.
After PWA launch:
36% global revenue increased in 2018 - the PWA launch year

First Contentful Paint decreased to just 2.1 seconds

Net income for continuing operations grew by 223% (year on year) in 2021
First Contentful Paint (FCP) is a performance metric that measures the time it takes for a user's browser to render the first piece of content on a web page. It marks the point in time when users start seeing a visual response from the page they have requested. The content can be anything visible to the user, such as text, images, or background colors.
8. Trivago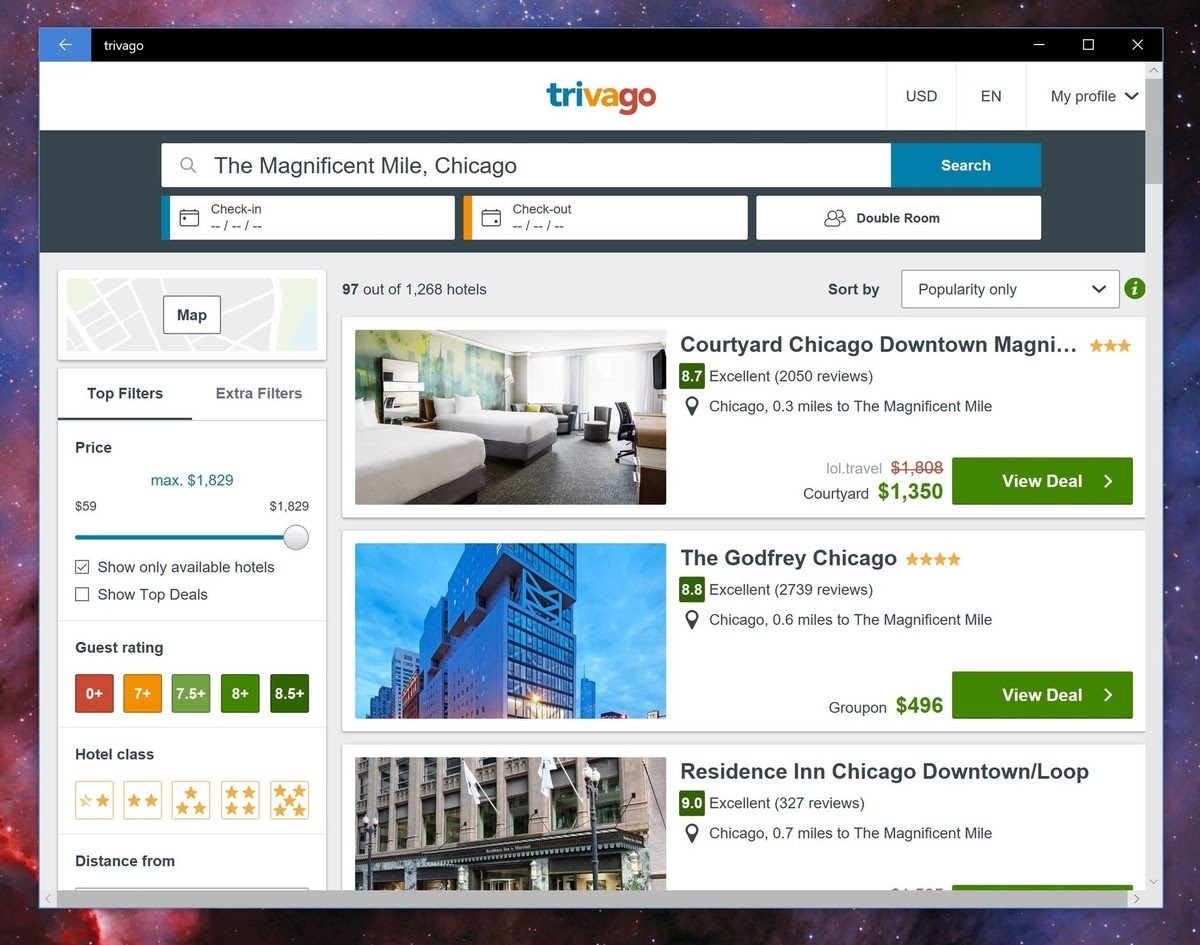 Trivago's app can also be installed through the Microsoft Store. Source: Windows Central
Booing platforms have a hard time with subscriptions, as people are most interested in cross-checking hotel prices in a finger snap. This behavior blocked Trivago's mobile growth.
The brand decided to develop a progressive web application believing user engagement would rise if the platform worked under minimal data usage. But the deployment went step-by-step, with offline functionality rolled out first, followed by push notifications and an "add to home screen" function. Only when their team saw promising results, Trivago delivered a complete PWA.
After PWA launch:
97% increase in clicks from hotel results to offer pages
150% more user engagement
67% of disconnected users continue browsing after coming back online
9. Eleganza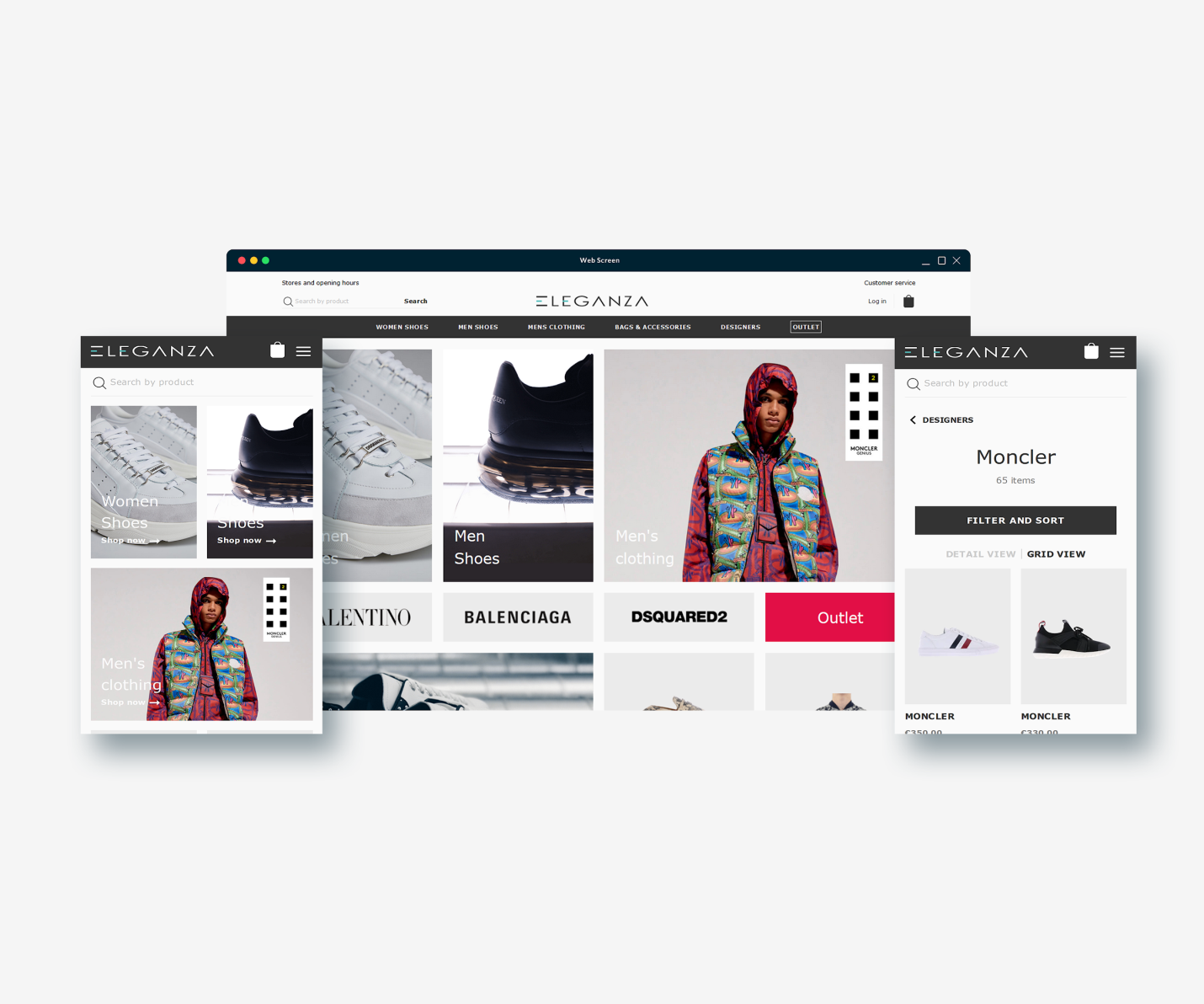 Source: Magenticians
Eleganza clothing store needed to transition to a newer version of their Magento e-commerce engine, but the owners wished to decrease loading times and potential server crashes. Eleganza implemented a hardened Magento 2 framework in a PWA model in three months. As the page's resources are mostly loaded on the client side, the store gained uptime stability, and the brand also managed to cut down on server costs.
After the PWA launch:
Server response speed jumped to 372%
On average, pages loaded 23% faster
Page visits per session grew by 76%
10. Pinterest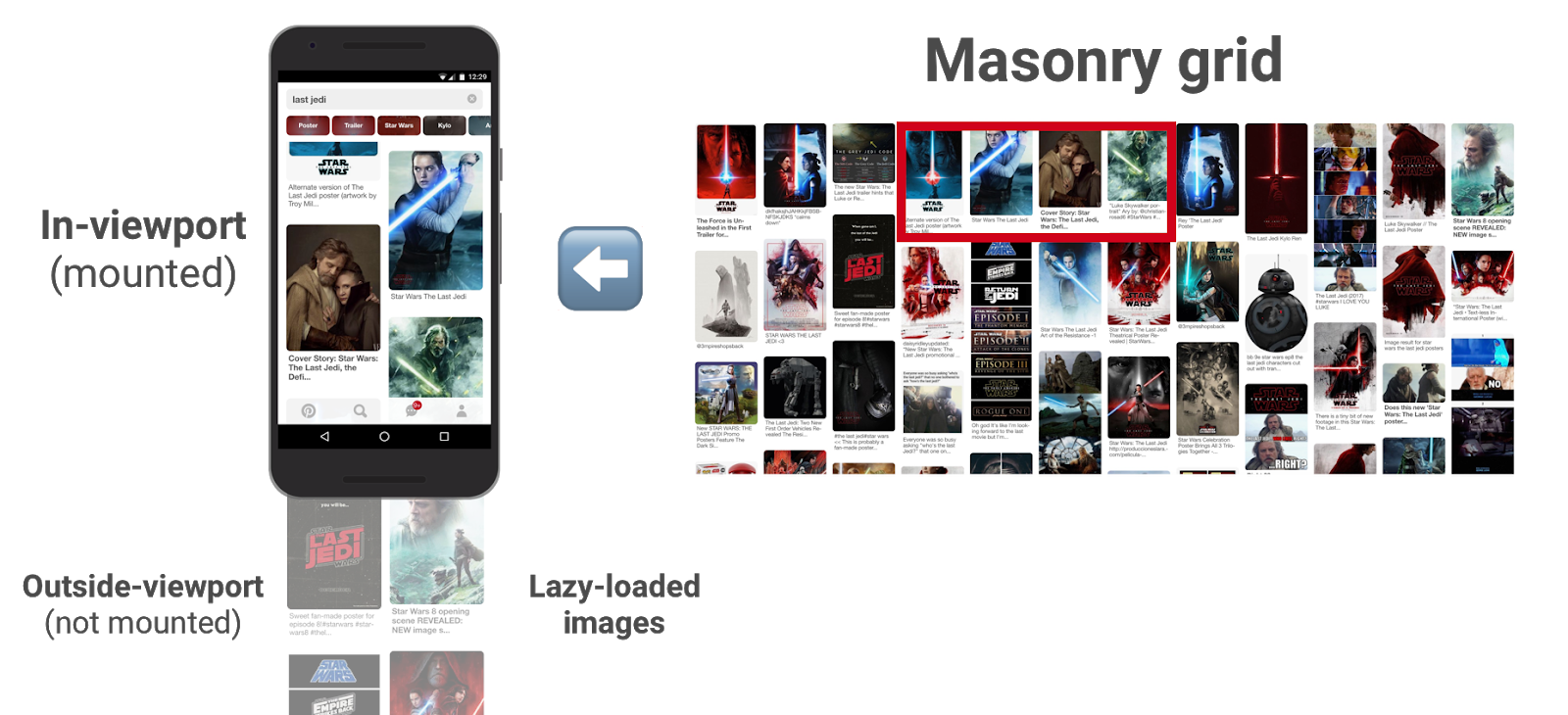 Source: Medium (Addy Osmani)
Pinterest's fans despised the first native Android and iOS apps so much that the engineering team rebuilt them from zero. Only 1% of mobile users converted as the user experience was too clunky in comparison to the desktop version cherished by millions.
On the grounds of 7 years of data, Pinterest Engineering designed a PWA that provides core functions in a bundle of only 150kb. The app relies on image lazy-loading that downloads just enough for the user to continue scrolling as the content renders to full quality in the seconds that follow.
After the PWA launch:
843% of new users signed up throughout the release year
44% increase in user-generated ad revenue
Logins increased by 370%
11. Flipboard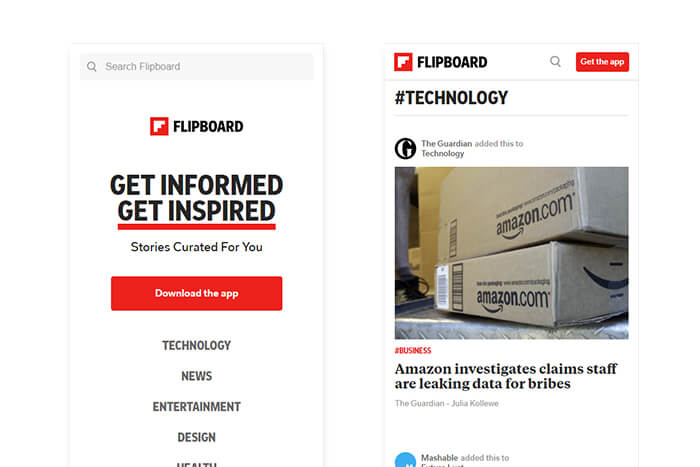 Source: Simicart
Flipboard is a social platform that allows users to create 'magazines' (collections of news about certain topics) and then share them with others to read and follow. By using PWA, the company offered a slick and streamlined experience, regardless of the device user views the platform on. Prior to introducing this technology, Flipboard had a mobile app only, which limited the number of users that could join the platform.

After PWA launch:
Flipboard has become the largest local news source in U.S. and Canada
Users spend, on average, 9 - 12 minutes reading the news on Flipboard
The number of magazines created jumped from 11,000 in 2018 to 28 million in 2022.
12. Uber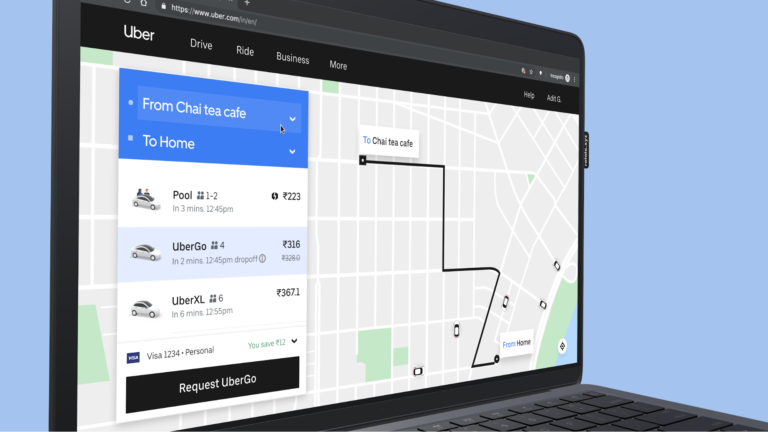 Source: Uber Engineering blog
Uber has been serious about delivering an outstanding user experience across different platforms right from its beginning in 2010, with its progressive web application introduced in 2017, and then updated in 2019. In a blog post reaffirming the company's commitment to building a reliable and polished PWA (no longer public), its then Senior Product Manager, Madhur Chadha explained it this way:
While the updated web booking flow continues to serve riders on older and unsupported devices, we found that new users were particularly interested in using the web flow for their first-ever Uber trips.
After the PWA launch:
Core content takes only 2 seconds to load
30% of users order Uber cars exclusively using a web app
The vendor bundle size went from 280 kB to just 17 kB, so the app can now be used even when the user has a slow mobile data package
13. Yummly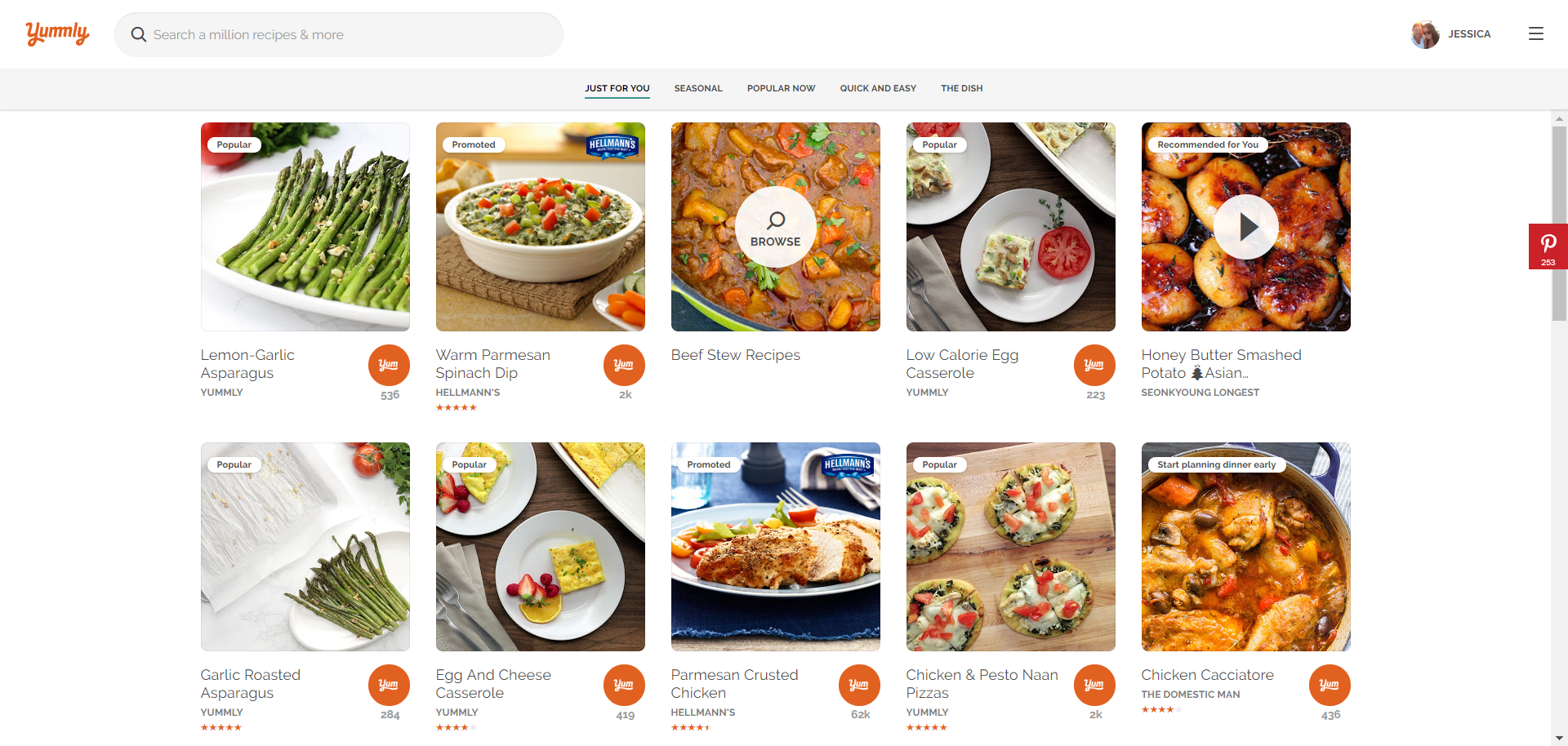 Source: Yummly
Yummly's progressive web application was created in 2018, with the goal of creating a seamless experience for its users who are looking for cooking tutorials and recipes based on their taste preferences, skill levels, and nutritional needs. Introducing PWA as technology allowed the users to browse a few different recipes at once and filter them through by i.a. ingredient, preparation time, diet, allergy requirements, and price.

After the PWA launch:
Embracing the tablet-first approach improves the real-life cooking experience for users and makes the PWA really easy to use
83% of users access Yummly on mobile devices
Should You Invest in PWA Development?
Do you remember the lean startup approach that was introduced by Eric Ries back in 2011? Choosing a progressive web app as a mobile touchpoint can give your team flexibility to test conversions before a native app project eats up a year's worth of resources. As proved by the case studies you've read, users just want the functionalities the software offers without the time-wasting installation. From our experience, clients who decide to invest in a PWA:
Want to use their established SEO position to acquire users
Don't need advanced native app functionalities
Will move heaven and earth to avoid 30% app store commissions
Have limited mobile development budgets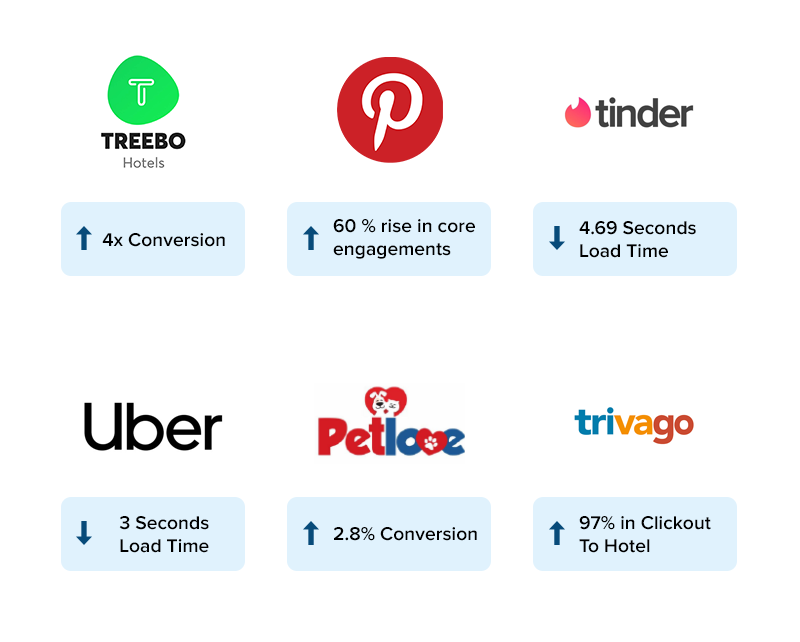 Progressive Web Apps deliver results in many industries. Source: Appinventiv
PWA development can drain a lot of resources without the right game plan. But with a reputable software house as a partner, project success is one step closer.
In the past 13 years, we've helped 235+ clients with meaningful digital projects. If you need your own PWA, email us about your concept, and we'll happily help you plan for the launch of a well-performing app.