The HR tech market is growing rapidly and we're seeing more and more amazing tools that promise to revolutionize the world of business and technology emerging on the market—
and many of them were showcased to the public at the HR Innovation Awards, an annual competition that selects the most groundbreaking projects in the world of HR tech.
The winners, selected by a jury comprising business professionals, academics, and media representatives, were announced at the "HR:MOTION meets HR-NIGHT" event held at the Zukunft Personal Europe 2019 conference in Cologne.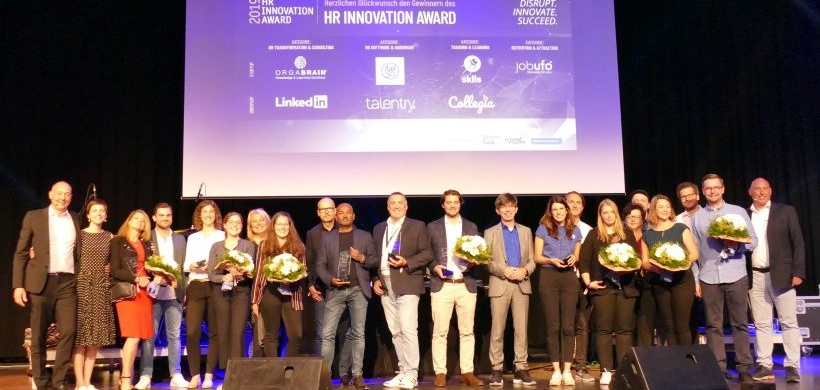 Picture of the winners of the HR Innovation Awards in 2019, source: www.haufe.de
Every year, the event gives top HR tech companies the opportunity to compete in four categories:
HR and Consulting
HR Software & Hardware
Training and Learning
Recruiting and Attraction
For each category, two winners were drawn—one from Startups, the market newcomers, and one from Grownups, the more established players.
As there's no better way to stay up-to-date with everything that's going than attending industry conferences or at least keeping up with the news trickling out afterwards, we've examined this year's finalists to give you a cheat sheet on what to look out for when choosing the next HR tech tool for your business
Let's get to it!
HR Software & Hardware
Startup
Fuel50—the features of this AI-driven employee engagement platform include: intelligent career pathing and skill forecasting that motivates your employees by helping them map a clear and transparent career path they can expect along their journey with your company.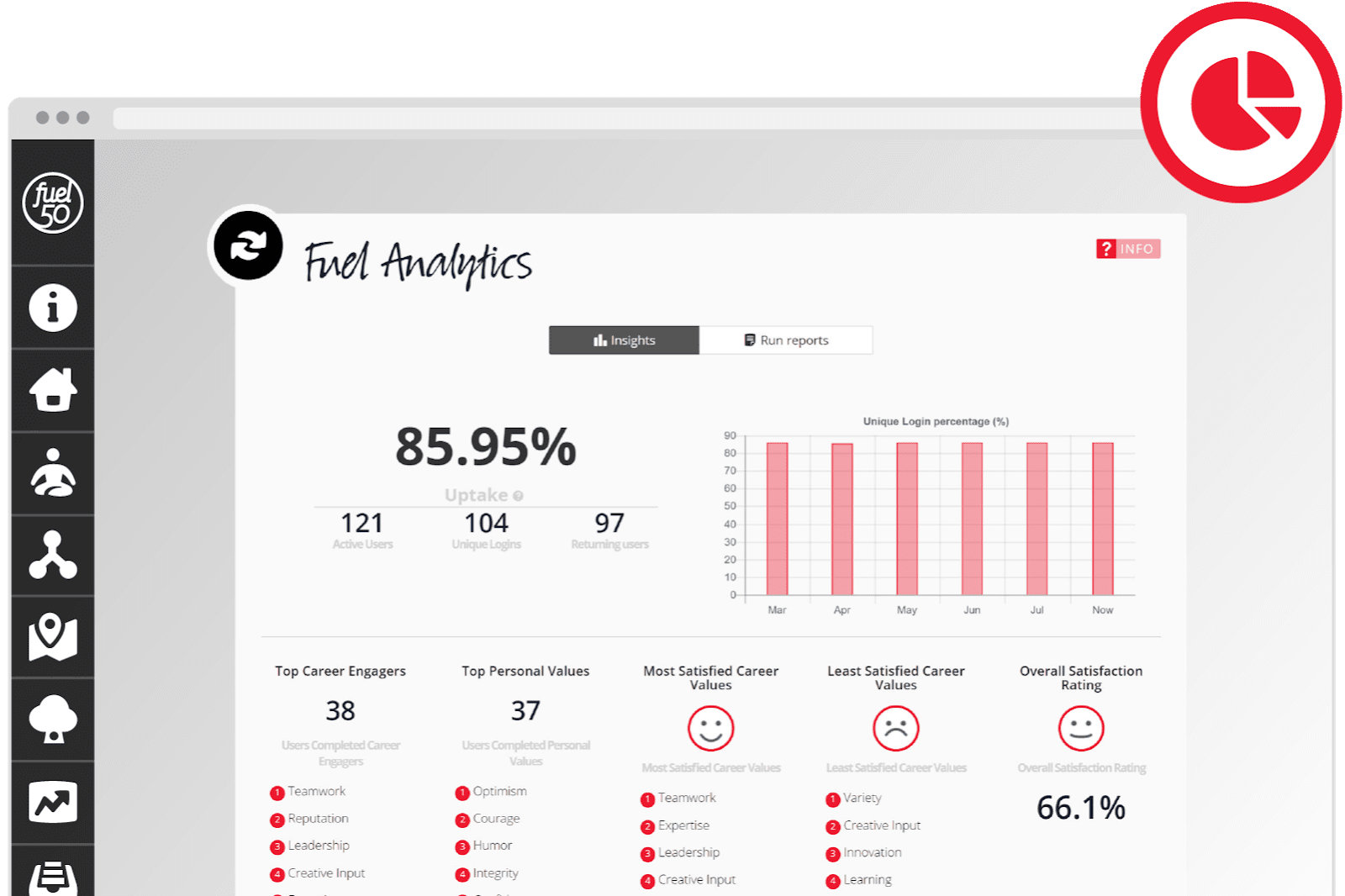 source: www.fuel50.com
Fuel50 uses AI to match the employees with internal job opportunities to maximize their potential, enables peer-to-peer feedback and connects employees with mentors and coaches, proudly claiming to be "an Uber for your career."
Key benefits for you: Fuel50 helps retain talent by empowering people to truly take charge of their own careers and giving them a clear view of their career path, thus motivating them to grow.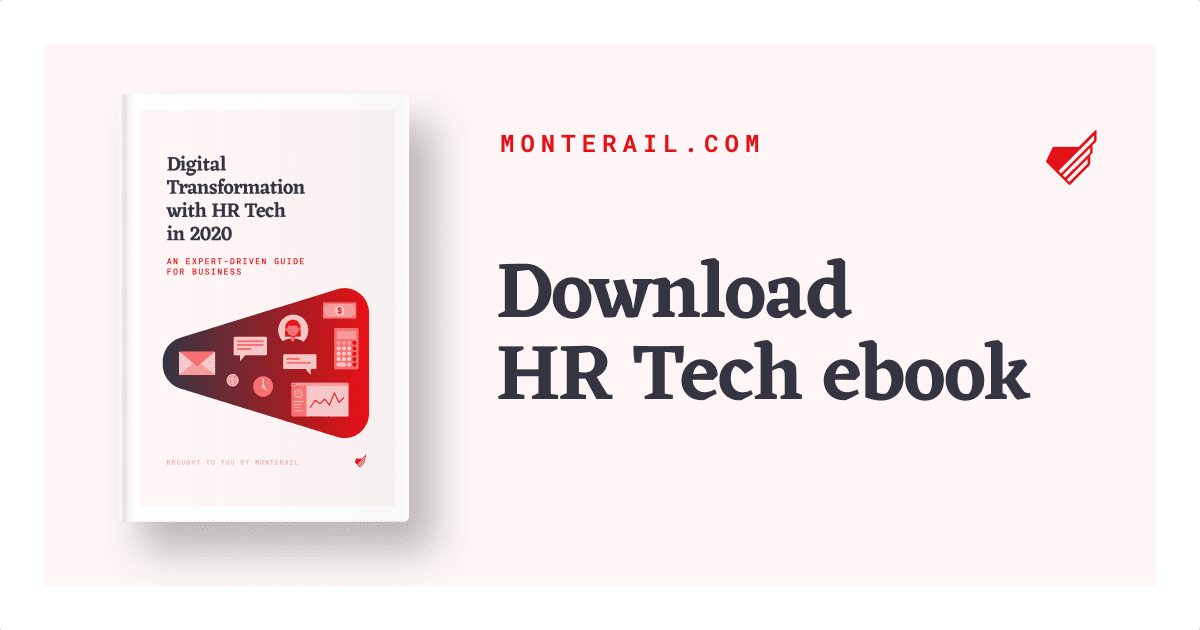 Grownup
Talentry—an innovative platform that goes beyond being a mere talent acquisition tool, creating a holistic candidate relationship management hub. Talentry makes it easy for HR professionals to develop and nurture relationships with thousands of talent leads, organize potential candidates into various pools, and launch recruitment campaigns to get them interested in the company. It integrates well with platforms such as LinkedIn, making it easier to reach out to interesting candidates. Furthermore, the digital Employee Referral platform helps turn employees into brand ambassadors and enables them to participate in recruitment processes!

source: www.talentry.com
Key benefits for you: Talentry reduces cost and time-to-hire, and creates and organizes current and future talent into pools, thus boosting your company's digital employee referral program.
Recruiting & Attraction
Startup
Jobufo—a tool that lets candidates promote themselves to companies in different ways than just sending a CV and a cover letter. After finding a suitable job, you can apply by sending a short video, a voice message or a direct conversation. The videos and voice messages are then reviewed by the Jobufo team to make sure they're up to required standards.
Key benefits for you and the candidate: You can get to know a candidate from a more personal side, get a glimpse of whether they would be a good fit for your company. At the same time, it allows candidates to make a good first impression and stand out from the rest of the applicants.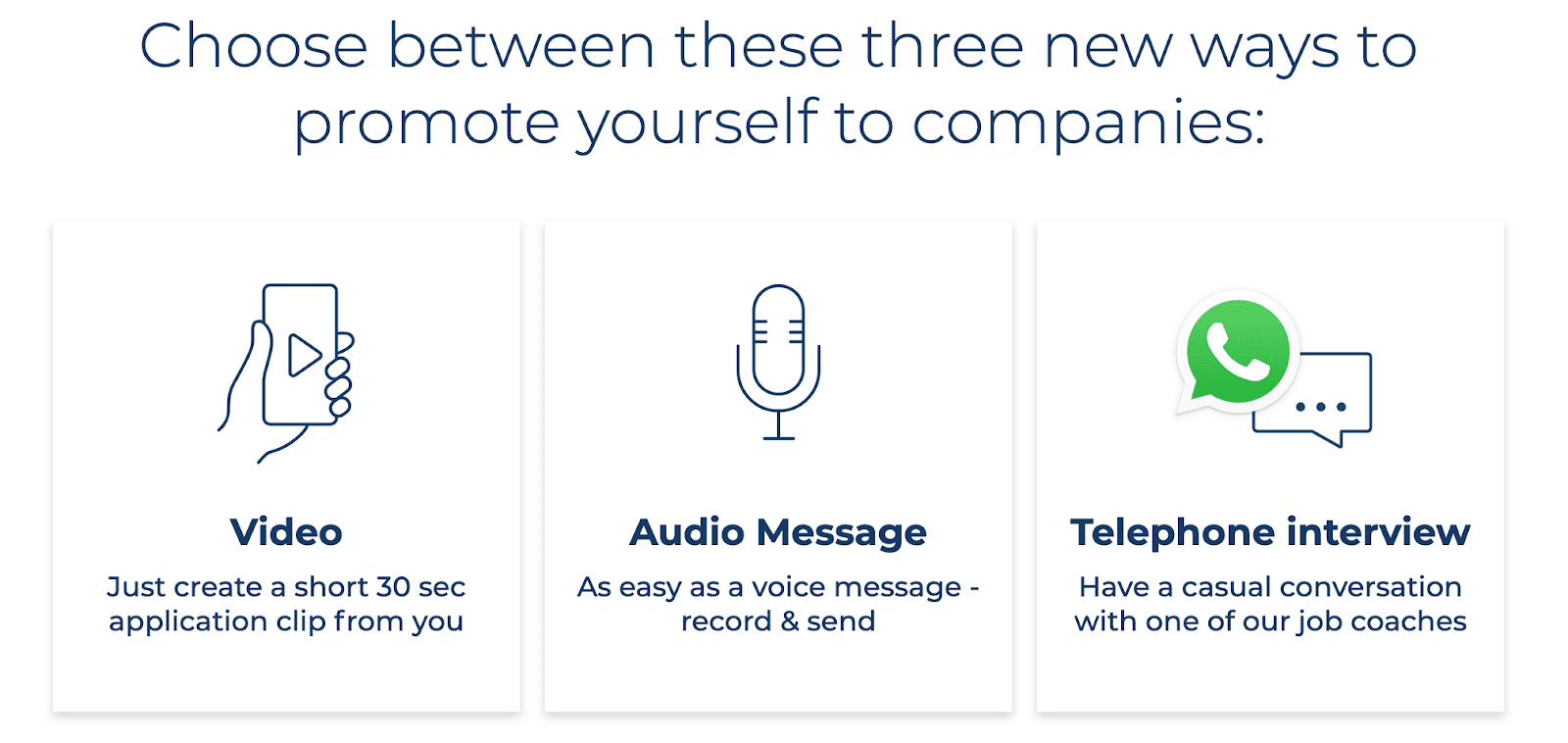 source: www.jobufo.com
Training & Learning
Startup
Sklls—a tool lets you conduct impactful and interactive job interviews and simplify the onboarding process by providing new hires with a digital development assistant. The purpose of the platform is to make the hiring process less stressful. To make that happen, Sklls uses interviewing techniques hailing from psychotherapy and coaching, as well as concepts pulled from different fields of psychology, to help provide a better recruitment experience, an approach appreciated especially by talent from the generations Y and Z.
Key benefits for you: Sklls satisfies the need of employees for individual
coaching and training.

source: www.sklls.de
Grownup
Collegia—by promoting gamified learning in a fun way, Collegia creates an innovative environment for knowledge sharing within the organization. It helps employees increase their knowledge with use of quizzes, while learning cards allow them to manage their learning process on their own, which boosts motivation. The platform relies on user-generated content, so every specialist can add something to your organization's knowledge base.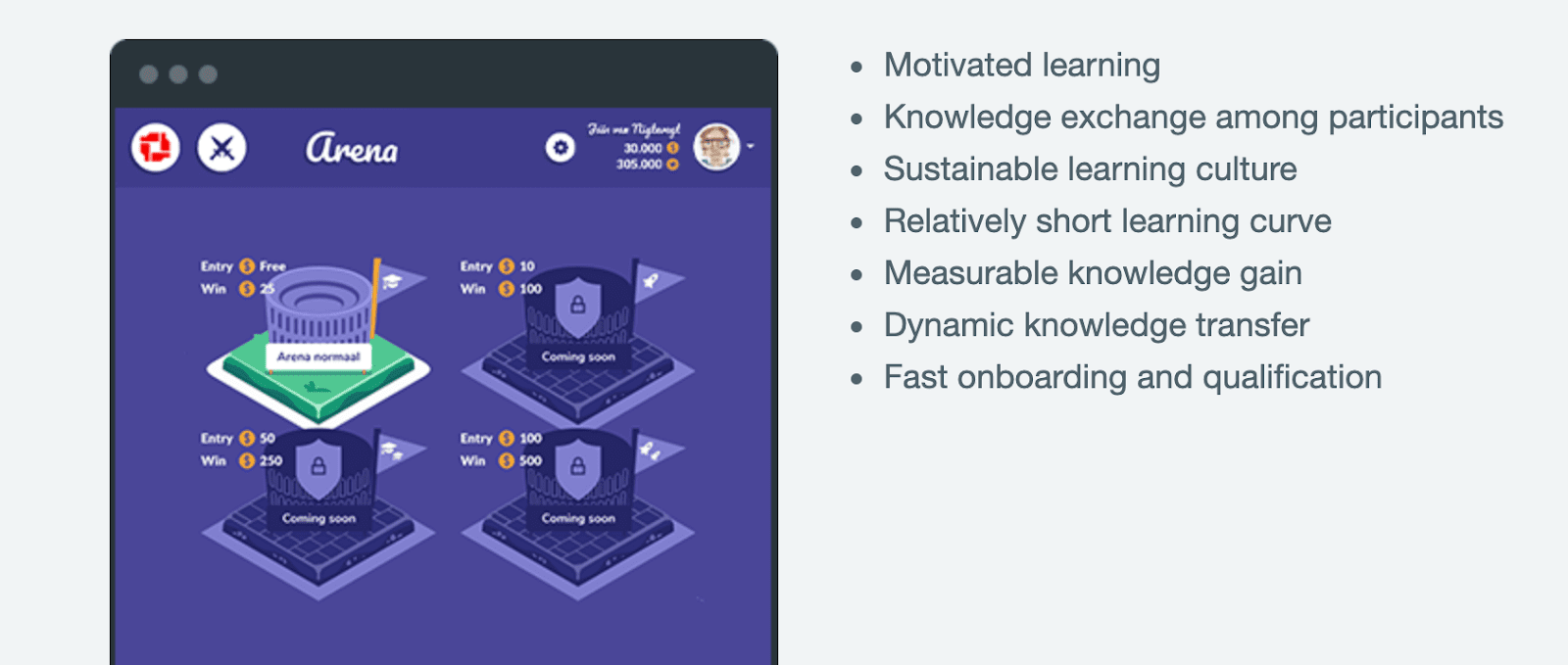 source: www.viadesk.de/collegia
Key benefits for you: Collegia improves employee motivation to learn and develop in a fun way and facilitates the flow of knowledge between employees, who are given the opportunity to share what they know and contribute their own content to the app.
Transformation & Consulting
Startup
Orgabrain—a knowledge and learning management tool that revolutionizes the way knowledge is shared within an organization by digitizing the process and collecting all the knowledge of the organization in one place. Multiple peer-to-peer knowledge discussions can be simultaneously conducted within the platform, enabling the employees to learn from one another. It combines e-learning management, classroom training, and webinar management.
Main benefit for you: Orgabrain collects and digitizing knowledge in one place, enabling focused and intentional knowledge sharing within the organization, encouraging employees to learn from one another and develop professionally.
Grownup
LinkedIn—very few platforms have proven as disruptive to their fields as LinkedIn has been to the field of Human Resources; since its launch, it has managed to become an essential part of almost every HR professional's toolkit. Apart from talent acquisition, it is a powerful employer branding tool that helps publicize and promote company culture, expand your professional network, and discover the latest industry news (and the who's who of the business world).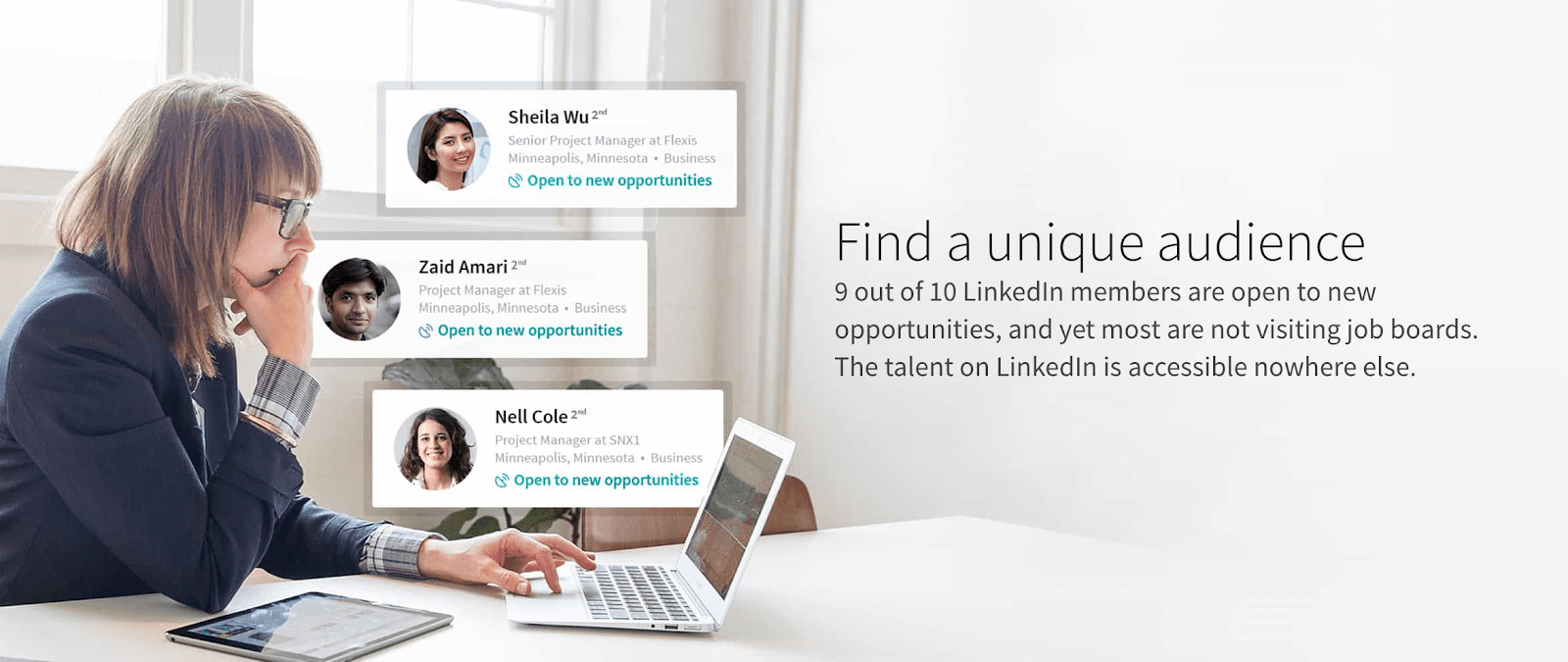 source: business.linkedin.com
Key benefits for you: LinkedIn is a truly social network, where you can easily browse through candidate profiles, see their experience and skills corroborated by other professionals' testimonials, and contact them in a straightforward, less formal way. For a candidate, it's a very powerful tool for building a personal brand, polishing skills with LinkedIn Learning, and reaching out to prospective employers.
As you can see, the market is full of valuable, innovative tech tools that can benefit your organization in myriad ways, from attracting top talent to increasing employee retention, motivation, and productivity. If you're looking for more amazing HR tech tools, read our ultimate list of 75+ best HR Tech tools on the market.