25 billion pounds of textile are generated every year in the United States alone, and about 15% of that is donated or recycled. The rise of sustainable fashion's popularity is well based on the concern of textile waste and environmental impact and laying its massive growth on tech support and solutions.
Table of contents:
What is sustainable fashion?

How is technology changing the sustainable fashion industry?
It doesn't come as a surprise that in the last decade (and especially since last year), online marketplaces have become the way to consume, buy and sell. Sales in marketplaces accounted for 62% of global web sales in 2020.
Technology changes how we shop. With the introduction of social media apps, augmented reality and retail shops, online selling is an opportunity to expand the market's possibilities. Brands and shops are adapting to this new experience, and reach a new wave of consumers.
This massive opportunity is also being taken advantage of by sustainable fashion.
What is sustainable fashion?
Sustainable fashion refers to the production of clothes, accessories, and make-up in an environment-friendly way. Its goal is to protect the ecosystem, considerably reduce pollution, encourage practices of recycling, repurposing and less consumption, and responsible use of natural resources. The produced items are softer to the touch but stronger and more durable; their high quality ensures that the items won't be treated as disposable. All of these features are part of the slow fashion model.
Examples of sustainable practices in fashion can be the use of biodegradable fabrics, recycled materials, repurposed garments, local production, buying second-hand, or eco packaging. For fashion to be sustainable, these practices have to be included at all stages of production: from design and manufacture to packaging and distribution. Implementing these practices becomes easier with the help of technological innovations.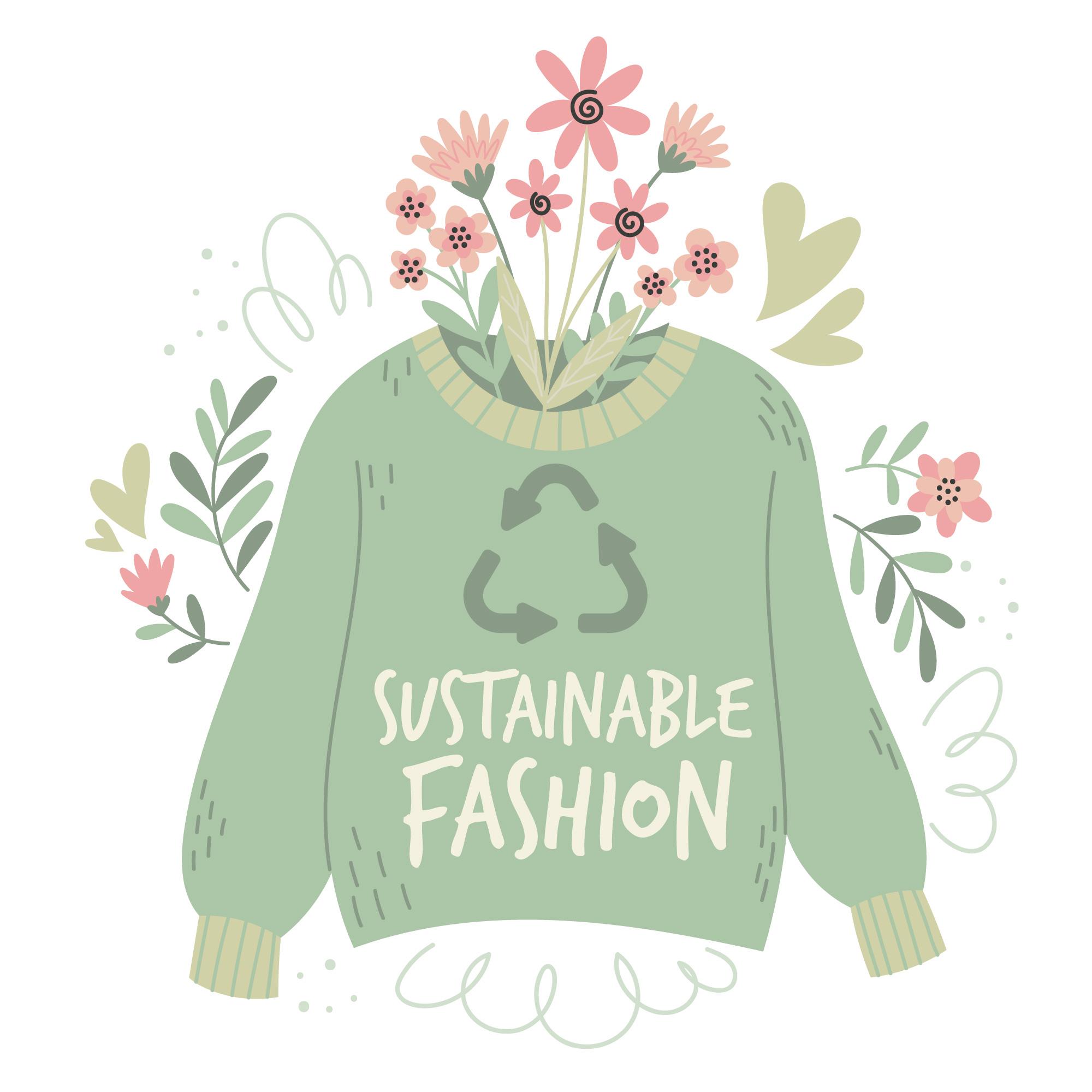 Source: Freepik
Why should we care about sustainable fashion?
Global Fashion Agenda predicts that clothing consumption will rise 63% by 2030. Ellen MacArthur Foundation's report shows that we wear our items 40% less than 10 years ago and 26% of clothing in the UK is disposed of because the owner does not like it anymore.
The 'fast fashion' business model is encouraging over-consumption and generating excessive waste, much of which is not made from single-fiber materials and cannot be recycled. These garments are usually treated as disposable, producing excessive waste. More than $500 billion of value is lost every year due to clothing underutilization and the lack of recycling, according to the Ellen MacArthur Foundation.
According to BBC Earth, 100 billion items of clothing are produced globally, using thousands of different chemicals and 3 out of 5 items end up in landfills in only 1 year. In the States, textile landfill waste was over 11 million tons in 2008. Fashion is one of the world's most polluting industries, it accounts for around 4 - 8% of humanity's carbon emissions, according to the World Resources Institute, placing it in the top 5 polluting industries - although the percentage of pollution hasn't been fully agreed on and confirmed across different foundations' reports and analysis.
Consumers' increasing awareness and concern affect their purchasing decisions. New outlets and social media help bring light to sustainable fashion and spread information about the variety of choices. There is a growth in the demand for more sustainable and ethical features for fashion items, in fact, the Pulse of the Fashion Industry report shows that one-third of respondents have switched clothing brands, due to their responsible practices.
What is the difference between sustainable and ethical fashion?
The main difference between these two is that sustainable fashion focuses on the environment and the ecological impact of its production, the attention here lies on the quality of products, its origin, whether it was recycled, reused or created from a natural source. Ethical fashion, a social altruist, is human-centered and aims to protect workers at every step of the production, giving them a fair wage, decent hours of work, and respecting their labor and human rights, all to give them a higher quality of life.
While sustainable fashion doesn't center as much on the workers, it has the people's health and wellbeing in mind due to the improvement of their environment. They both aim to have a positive impact on the world, each focusing on a specific stream.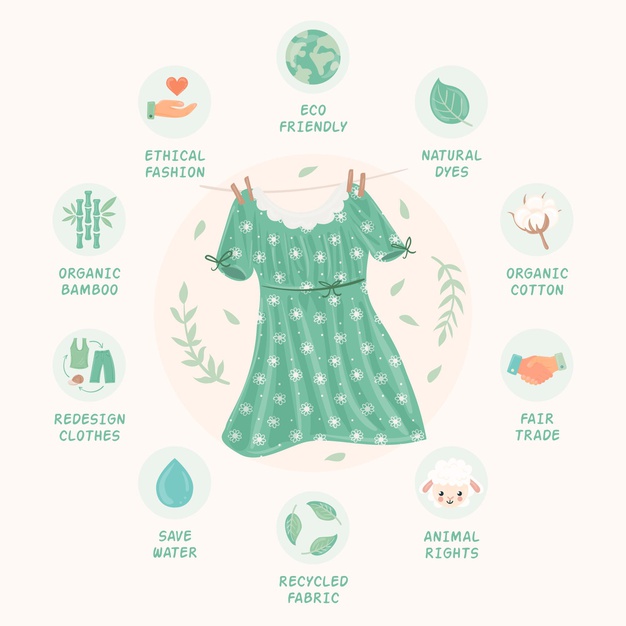 Source: Freepik
How is technology changing the sustainable fashion industry?
Platforms are not only spreading awareness about sustainability, and making it a healthy trend, but it also opens possibilities to sellers and buyers. It creates a circular business model with a positive impact on the environment, encourages habits of recycling, reusing and repurposing, and promotes a slow fashion lifestyle, less consumerism, and more conscious purchasing.
Scaling fashion sustainability depends largely on technological and business model innovations. The industry needs to invest in transformation. This largely depends on leadership, eco-purpose, industry cooperation, and also on regulators and consumers. Implementing new technologies and process upgrades will raise profitability as well as environmental and social performance, according to the Global Fashion Agenda.
In fact, in the latest Pulse of the Fashion Industry report, it's mentioned that embracing the opportunities in digitalization is key to accelerate the efforts to transition to sustainable practices. "Companies must push harder, with more focused and coordinated efforts, to overcome technological and economic limitations that hinder progress."
What are the benefits of technology for sustainable fashion businesses?
COVID-19 has played a big role in the way we sell and buy. Technology has opened the opportunity to make this jump, and quickly shift to the new buyers' needs. Tech solutions are what transform the fashion industry, helping sustainability by making it:
Accessible - depending on the marketplace, purchasing and selling are available practically to anyone. Regardless of where they are located, anyone with an internet connection can buy or sell items within a few working days. You don't have to walk to several stores in order to find the vintage coat you've been dying to have. Simply by typing, you'll be able to get
We care about making sustainable fashion and beauty choices more accessible and understandable
- Zalando
Easier - digitalization makes things simple. The good old "one click away" phase. If you are a seller, then you can quickly upload a picture, add a description and set a price. If you're a buyer, by simply typing "red dress" you'll get a wide catalog of options. The simplification of steps, with a wider range of possibilities, makes the whole circular model process easier.
An online platform can suggest "These are some pics of the original shoes and a description." In just be 20 seconds, your item is up on the platform. Once millions of consumers are connected, the app can find and identify the person for which your item would be the perfect addition to their wardrobe. The reselling process will be done in a second, and the end of ownership will be big scale.
- Miriam Lobis, McKinsey & Company
Faster - taking a picture, uploading it with a price tag and a description, having several catalogs in one app, speedy delivery systems… basically, saves you time and effort, which encourages people to use it. Both sellers and buyers don't have to leave their homes to make a transaction, and depending on the delivery methods the platform offers, they might not even need to leave their homes to send or return an item.
Cheaper (in the long run) - There are different ways to see this. If you're buying or selling pre-loved items, then you'll be saving (and even making) money. No doubt there. But if we go a step further, from a business perspective, we know that tech solutions and their implementation can be a financial barrier at the beginning, however, this is an investment rather than an expense, bringing a higher income later on. If you're buying sustainable and high-quality fashion, the price tag can be somewhat higher than a fast-fashion t-shirt, but its durability will allow you to use it for a much longer time.
Roughly 55% of all levers that are in our hands to reduce emissions are actually saving money for the industry. They will, over the long term, not always be negative [...] but will save money. They will still require up-front investments, but they are positive in terms of payback.
- Karl-Hendrik, McKinsey & Company
Tech solutions for sustainable fashion and clothing brands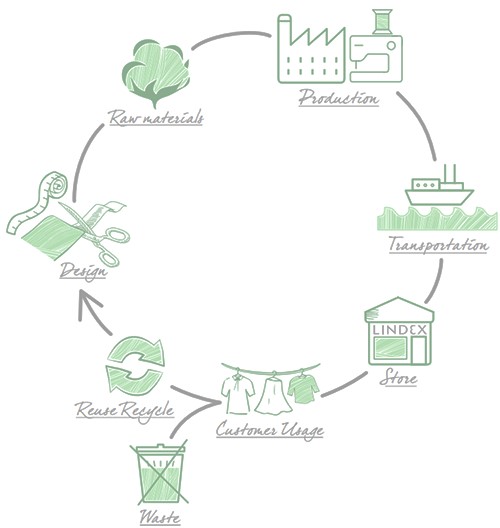 Source: Bibalex
Marketplaces, technological advances and business innovation, platforms to promote your brand, experts' advice, and even funding to scale your business. Today, we are witnesses of a sustainable tech revolution, making its way into the fashion industry as a must-be. And with that, we see an amazing wave of tech solutions supporting sustainable fashion.
Whether you are a fashion designer, the owner of your own sustainable clothing brand, a thrift shop and second-hand seller (or buyer), or you just have an idea to start a sustainable business, these are some of the awesome tech solutions that will inspire you:
Sustainable Fashion Marketplaces
Vinted
Vinted is a second-hand fashion community of more than 37 million members across Europe and the United States, where you can give your pre-loved fashion a second life, while making money from items you no longer use.
Vinted was born from the idea of 2 people to help declutter a closet. Since then, more than 500 people are currently working in the company to show people how great second-hand clothes can be, and bring the physical "thrift shops" idea into a platform open to anyone looking to make money out of their unused items, or to find rare items they cannot get from shops.
Buyers and sellers can be sure their transaction is safe, thanks to Vinted's accepted payment methods and return policy, and to Vinted Balance, which is where all of the sellers' earnings are sent and safely stored, regardless of the buyer's payment method. Best of all, sellers don't have to pay fees for their transactions, and all the process is easily done through their mobile application.
Poshmark
Poshmark is a social marketplace to buy and sell new and secondhand styles for women, men, kids, pets, homes, and more. Every user from the community, also known as a posher, can create their own virtual closet and upload images of the items they wish to sell.
One of Poshmark's big selling points is the streamlined process. Listing an item takes only a picture, a description and a price. And the shipping is a big step-up, which doesn't require any stamps. Poshmark provides the seller with a pre-paid, pre-addressed label ready to be put on the box, and dropped off at a USPS mailbox or even picked up for free from their home, thanks to Poshmark's service: Ship Quick with PoshPost
Poshmark also describes it as an opportunity to shop a friend's closet and follow the style of people you adore, with 70 million registered users across the U.S., Canada & Australia, and more than 200 million items for sale, there's an estimate of 1 sale per second in the U.S.
They also organize virtual shopping parties called Posh Parties with a wide variety of themes and brands. You can buy and sell at these virtual events happening in the app; you can browse, buy, and list together with friends too.
Depop
Depop is the fashion marketplace app focused on transforming fashion, by making it less wasteful. Here, people can come to discover unique items in a global community of buyers and sellers.
At Depop, you can shop for big brands or discover independent brands and the creators behind them. On the other side, it also allows you to sell only a few items or "build your empire", with the pro-tips and help you'll get from their educational resources and mentorship opportunities to help entrepreneurs, creatives or small businesses to grow their businesses sustainably.
Depop wants to make fashion more sustainable by keeping clothes that already exist, passing from person to person and lasting as long as possible. This way, the demand for new clothes will decrease and therefore it's production. By doing so, Depop preserves the environment by shaping a new fashion system.
Vestiaire Collective
Vestiaire Collective is a market with the mission to transform the fashion industry for a more sustainable future, and to fight fashion waste by giving a second life to the luxury clothes we no longer wear, and by empowering their community of Fashion Activists to make a change.
Vestiaire Collective has encouraged consumers to consider reselling their unused luxury closet pieces, as a smart and sustainable approach to fashion. What makes Vestiaire Collective unique, is the curated catalog offering items expertly checked for quality and authenticity.
The community is composed of over 7 million fashion savvy members and 25,000 new items are submitted every week, allowing buyers to search over 3,500 coveted pieces a day, from 50 different countries across Europe, the United States, Asia, and Australia.
There's also a reward for responsible shoppers. This Fashion Activist badge is awarded to members who practice fashion circularity and use, by both buying and selling.
This online fashion platform has also raised its valuation to $1.7 billion by September 2021, due to a fundraising joined by investors such as SoftBank.
Asos Marketplace
Asos Marketplace allows up-and-coming independent brands and vintage boutiques from around the world to sell their goods. Launched in 2010 with just 20 sellers, they've become the leading online platform for vintage, pre-loved and independent designs.
Marketplace's unique product range puts together offers and brands like vintage Tommy Hilfiger and Champion alongside international boutiques' new designs, or artisanal hand-made jewelry.
Among the benefits, buyers can expect: the Asos Guarantee, which refunds money in case the item doesn't arrive, authenticity, thanks to their zero-tolerance policy towards counterfeit goods, and their animal welfare policy, which supports the ongoing research, development, and implementation of animal welfare standards and transparency in the leather supply chain.
Zalando
Zalando introduced a Sustainability Flag in 2016 to highlight products with a sustainability benefit, such as organic cotton or recycled materials. It's possible to find a section dedicated to pre-loved clothing. Zalando also created a store called Zircle, dedicated to pre-owned garments and it's only available in certain countries.
It's possible to find sustainable fashion and beauty items highlighted across the store or to use the "Sustainability" filter for easier searching. As many Zalando buyers know, their free shipping and free 100-day return policy are some of the great conveniences of this marketplace.
In addition, the store's packaging target is to become more sustainable by aiming to completely eliminate single-use plastics in their materials by 2023, the same year it's expected to generate 25% of its Gross Merchandise Volume with more sustainable products. Zalando organizes regular sustainability campaigns and works with the brands to bring out more sustainable products onsite.
Among the sustainable clothing brands Zalando partners up with, there are Cras, Veja, Zign, DECHASE, NU-IN, Ecoalf, Flamingos' Life, Anna Field, Even&Odd, Yourturn, and more.
Zalando takes this strategy as a very important matter. In fact, they've issued a Sustainability Progress 2020 Report and continuously publish strategy updates and news for their sustainability projects, such as a reforestation project, and sustainable delivery options. They've accelerated their efforts, thanks to an increase in customer demand for sustainable products.
HURR
HURR is a platform for fashion rental that encourages you to save money and help the world by reducing pollution that the traditional "buy, use, dispose of" form of fashion has created. This solution allows you to rent or to lend your own clothes.
To continue their sustainable practices at every step of their rental services, HURR collaborates with RePack - a reusable packaging provider, and Oxwash - a green and sustainable dry cleaner. HURR is also a member of Ecologi, a group that helps to reduce the carbon footprint of each of their employees and offsetting any business travel with monetary donations to eco-projects.
In their platform, you can calculate the savings of renting a garment as opposed to buying. For example, renting a dress that would normally cost you 150 pounds new, is saving the equivalent CO2e of 2 cut-down trees or 367 miles in a car.
The Fifth Collection
The Fifth Collection is an online platform that curates and authenticates vintage and preloved fashion to promote the availability of high-value clothes and sustainable living to its customers. Their selling point and award-winning services are based on an individual collection and careful inspection of each item available to purchase on their website.
Fashion for good
Fashion for good is an innovative platform for sustainable solutions, that scales technologies and business models with the potential to transform the fashion industry. It connects people working on sustainable fashion innovation with brands, retailers, and funders. Innovations challenge them to rethink the production process. For them, change is not doing "less bad" but doing "more good" — therefore, is about creating systems and technologies that actively benefit and close a regenerative loop of old clothes being turned into new and ultimately, eliminating waste.
In their platform, you can find amazing sustainable solution companies, such as Phabic, that offer bioplastic and biodegradable packaging methods, obtained from food and sea waste. Another example is Bear Fiber - a developer of a novel biotechnological cottonisation process platform for fiber production with hemp, that uses less water and energy.
Among their main points of focus are: raw materials, processing, end-of-use, waste management, retail & use, and more. Fashion for good's Innovation Program consists of 3 stages that accommodate to the business's maturity:
Accelerator - funding and guiding startups to grow.
Scaling Programme - bespoke support and expertise to innovations which passed the proof-of-concept phase.
Good Fashion Fund - financing at scale, to shift to more sustainable methods.
They also take it a step forward with tech, by allowing visitors to book a virtual tour and explore their sustainable fashion museum all from the comfort of their own home. At the time being, there are 3 tours available, one of them being for kids.
Tech Innovations
Evrnu
Evrnu is a textile innovations company creating a circular ecosystem. Their technology, called NuCycl, creates engineered fibers with high performance and environmental advantages, made from discarded clothing. NuCycl reduces fibers to their basic chemical components and builds them back up with less impact
Thanks to their regenerative, recoverable and bio textile technology, Evrnu uses existing natural resources, those being discarded textiles. This makes the global textile industry grow and unlock its full potential, by achieving the elimination of waste, a lower carbon footprint and substantial water saving. They influence textile producers, apparel brands, retailers and consumers.
A camera helps them in sorting, the first step of recycling . After grading and shredding, the fabric is dissolved and turned into pulp, it then becomes a thick paper and is shipped to fiber producers. Evrnu has partnered up with brands like Adidas, Levi's, Stella McCartney, Target, and more.
Renewcell
Renewcell is a technological solution that closes the loop of textile production, making it a circular system. Its success relies on its advantage to recycling cotton and viscose on a large scale, to a satisfactory quality.
Renewcell's recycling technology dissolves used cotton and other fibers to transform them into a new raw material called Circulose®, which is a biodegradable pulp. Customers can use it to make high-quality viscose or lyocell textile fibers.
How can fashion businesses be more sustainable?
Fashion and businesses can become more sustainable by adding special practices and changing their resources to pick more environmentally-friendly options. Although sustainability cannot happen overnight and we won't be giving you a whole new business plan, these are some of the steps, ideas, and practices curated from sustainable companies; some are easy and some require more tech and investment:
Partner with sustainable suppliers. Many companies require the materials and services of other "outside" companies. Selecting suppliers that have sustainable production will kickstart or increase your efforts to become more eco-friendly.
Packaging options. This is probably the most popular and easiest option to adopt, especially since corrugated boxes are among

frequently recycled products

. Packaging is necessary, no doubt about that, but it can also be an important and easy-to-adopt sustainable practice.
Encouraging sustainable consumer behavior. Sustainability can be one of your strongest selling points, not only to use your marketing efforts to entice people to buy your products but also to show them how selecting your company will help others and the environment. Teach them how to be sustainable and how to apply these choices into their general consuming behavior. You can also go a step further by encouraging them to recycle or reuse the packaging of their purchase.
Circular fashion system: make sure your business's "timeline" enters a circular cycle. This new textile economy is built by designing, producing, selling and gathering textile products at scale, which result from reuse and recycling. Later on, these products will be gathered and reused again, after consumer usage - making the system circular.
Sustainable fashion means being considerate of our planet and the people in it. There's a wide number of topics including ethical working conditions, environmental impact, and animal welfare. Being part of this transition aligns us with the principles of a circular economy that restores and regenerates, providing benefits for businesses, society, and the environment.