Here at Monterail, we pay close attention to our clients and have always wanted to provide them with special treatment. Yet, we didn't understand how to embrace the subject. If I were to explain how we used to think about this "special treatment" a few years back—well, we basically didn't consider any form of automation. We wanted to be humane, not robotic. This is just how it was when we were a relatively small team and we felt that our approach makes us a unique partner. Makes us stand out.
Then, about a year ago, we were proven wrong (at least partially). We realized that our CRM does not only have to work as a database for our contacts and that it will not make our sales/marketing a soulless machine if we use its other features. Turns out all those filters, notifications, and workflows do not make this software a monster.
Thus, we married sales automation to our human face approach and in this article, I want to tell you more about:
Our road to establishing our Business Development team
Why human perspective still matters the most to us
Who is an Account Manager according to Monterail
BD Team 1.0 = Founders
In our early days, Szymon and Bartosz—Monterail's founders—used to be our all-in-two guides and executors of essential stages in sales and marketing. From carrying out research and networking through sales outreach, negotiations and finally sustaining relationships with existing clients. They were a two-men-army and by the time we had 35 people on board (compared to 87 today) it was sufficient.
BD Team 2.0 = Szymon + Project Managers
In the course of time, Monterail has grown considerably—mainly in the number of projects and team members. To give you a better picture, 2 years ago we handled 8-10 projects simultaneously, compared to 25+ projects today.
By this time, I joined the company as a project manager. With my experience as an English teacher and a client management specialist, I felt excited about being the right hand for our clients and a support for our production team.
At the same time a decision has been made to delegate some of Szymon's sales/account management tasks to projects managers. It made perfect sense by then:
PMs already knew how to talk to clients and took part in estimation process.
They had to handle projects they sold, so they were careful with their promises.
They could practice their communication skills in a quite different angle than usually.
They could showcase our previous case studies as they were managing them and knew all the ins and outs.
That was a good support to our "human face" approach.
And then there it was: HubSpot—our dear CRM which turned out to need more love than we expected at first. Sales was the PMs' part time job and they had no time to get too much into the complicated software. Their minds were occupied with many other things. So we did use it, but definitely not the full potential of it.
We were proud of our approach, but we couldn't answer multiple mind-boggling questions: Why one month was much better than the other in sales? Is there any pattern for our won projects? How can we enhance our sales experience?
We didn't know that.
We needed a team that's ready to fully handle it, organize, analyze and maintain the highest quality and usability. Ultimately, the lack of pre-sales and after-sales full-time team became a real blocker for further company's development. Despite having a certain tried and tested workflow it was time for a change.
BD Team 3.0 = Marketing + Sales + Account Management
At the beginning of 2017, we finally established a marketing team with Karolina and Marta on board. They were the first people in Monterail's history dedicated to marketing activities.
We started gaining more inbound leads in a more predictable way. We were hiring many new developers and our PMs got too busy with… well… PM-ing to handle sales. I was doing good in this second role though, and I started to move apart from my primary occupation. The idea of switching my role strictly to client's in-company representative appeared more appealing than ever based on the recent changes.
On the other hand, it also highlighted the founders' long unspoken idea and a need for creating a Business Development team. That's when the BD team was beginning to take shape and I finally changed my job title to Key Account Manager.
Now we're six people doing full-time what we know best.
Introducing Metrics and Sales Automation
There was no longer place for excuses. We needed to face HubSpot and dive deep if we wanted to become a fully-fledged team. The data was always there waiting for us to pick up and since we finally had dedicated people for that, we could take a step back and start codifying our processes and optimising them.
We started measuring ROI of our outbound and inbound activities. Measuring response time and lead quality. Identifying where our sales funnels leak and understanding what's in our clients' minds like never before. And we all know that there's still so much to explore.
The bottom line was that using HubSpot on daily basis and analysing the data it collects did not mean not putting our clients first but rather enhancing their experience with us by offering tailored-fit solutions based on educated decisions rather than gut feeling.
Why Human Perspective Matters The Most
People look for the cultural fit with who they do business with and I always make sure to remember that. While 67% of the buyer's journey is now done digitally, human interaction with company representatives is critical for progress toward a sale.
I use our CRM to make the most out of it. I use historical data to forecast what our potential clients may want to know. I can answer their questions before they ask. I get reminded to follow up on a deal. I also know exactly which documents and pages on our website, that are crucial for the buyer's journey, I should send them.
Not surprisingly, metrics and automation facilitate my job and rather than excluding the human approach they actually enhance it and help me turn our clients into evangelists. Short projects into 10-year-long partnership:
Last year we recorded 49% YoY revenue growth and 75% increase in Annual Contract Value and we already know that this year will be even better.
That would never happen though if we didn't pay so much attention to our relations with partners and clients. We always organise at least one face-to-face meeting with them during our collaboration, no matter the distance. Our doors are always open for them and it's my and the team's job to make them feel comfortable here. (90% of all potential clients who visit our office start working with us. That's not an accident.) We prepare custom workshops according to their needs. This is what the special treatment means to us now.
So fortunately, machines will not cut me off the job market (I actually need a new person on board!) as Monterail needs an advocate among our clients and our clients need an advocate in Monterail—and that won't change.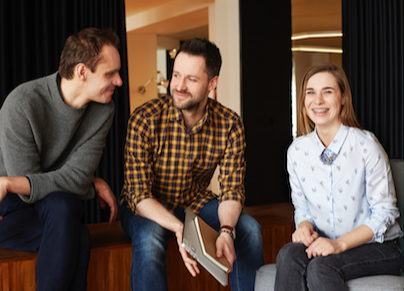 Szymon, me, and Tania—our awesome PMs!
What's in It For Me?
I won't lie—being Key Account Manager is the most challenging and demanding job in my entire life. This is a great responsibility, but also a chance to learn a lot. And I mean A LOT.
Working with so many smart people from business analysis, development, design, marketing, and other departments opens my eyes to many perspectives. I also get real insights into the client's problems, visions and multi-faceted plans spanning over various fields and timelines.
That's extremely fulfilling.
If you feel you are the right person to join me and enhance our Business Development team, check out our Careers section and apply!