Every year brings its share of new industry conferences. So, in order to cut down the sheer number of events to something more manageable, we sat down with the whole Monterail design team to identify the ones we think are worth paying a visit to in 2022. And the visit could be, in many cases, a virtual one as lots of conferences moved online and became more accessible than ever.
Narrowing the list, we focused on events happening across all of Europe. In terms of themes or topics, while we focused primarily on UX and design, our final list also includes a handful of prominent and more general IT-oriented conferences. So make yourself some coffee, crack open your notebook and a map, and start planning your conference agenda for this year.
The list is sorted chronologically, so we will begin with those events that are right around the corner and proceed to events scheduled to begin almost a year from now, in November of 2022. Enjoy the read!
March
March, 2–7 | Online
Interaction 22 is one of the largest events dedicated to design and its consequences. The 2021's edition was about the design in perilous times of pandemic and this edition will revolve around lessons learned. How to stay human-centered in design? How to redesign systems to be equitable and inclusive? These are the questions in the agenda to be answered both during conference talks and 22 workshops.
March 28-29 | Online
How to create a culture of change and how can design impact this change? This is the subject that the organizers instructed their 2022 speakers to focus on and ponder on. If you're interested in two days filled with superb content from 15+ speakers, hands-on workshops, new knowledge and new insights, consider attending. Although the event will be held online, the organizers try to bring people together by organizing roundtables, chat rooms, live QA sessions and workshops.
April
April 11-22 | Online
This user experience and usability conference will gather professionals from the world's leading companies to share their experiences—confirmed keynote speakers represent companies such as Google, Netflix, BP.
You will be able to access keynote sessions, speeches, interviews, masterclasses and much more on the Virtual Platform. What's unique about this event is a chance to enter the UX Metaverse, where "you'll find take-aways from previous conferences, learn UX best practices, meet with UX experts and more by connecting with your PC, mobile or VR glasses."
May
May 5-7 | Barcelona, Spain
OFFF is a community open to all those eager to learn, participate, and get inspired du three-day journey of conferences, workshops, activities, and performances. OFFF is known for being a little more 'artsy' design conference. Or should I say event? Probably, in this instance. If you're more interested in the nitty-gritty digital product design, you could probably pass up on OFFF this year. Still, it's a widely esteemed event, great for people who prefer the more traditional face of art/design.
May 10–11 | Tel Aviv, Israel
Learn from and get inspired by the world's most influential speakers, designers, and creative minds at the UX Salon 2022. UX Salon is a group dedicated to the professional practice and theoretical mastery of the art of user experience design. It's two days of networking and great talks from design professionals and industry leaders. Great speakers (Google, Waze, Fundbox, Smashing Magazine, Dropbox), great location, decently priced tickets. What's not to love?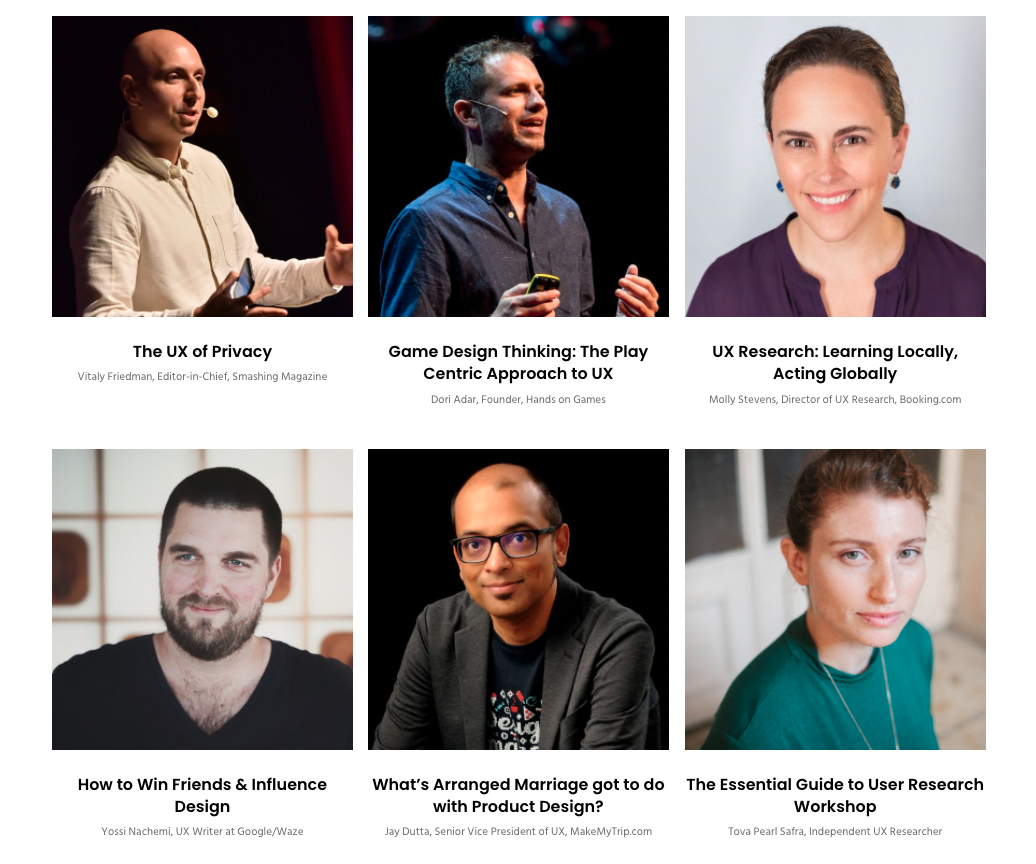 Impressive list of speakers during UX Salon, Source:

UX Salon
May 13 | Stockholm, Sweden
From Business to Buttons (FBTB) is Scandinavia's premier user experience and service design conference, held every year in Stockholm, Sweden. It's the meeting place for everyone who wants inspiration and hands-on advice on how to generate business value by creating great experiences. What about the speakers? Allie Vogel (Senior Product Design Lead, Microsoft), Kat Zhou (Product Designer at Spotify), Andy Bud (Founder of Clearleft and Design Leadership advocate), Leyla Acaroglu (Sustainability & Circular Economy Expert ).
The roster suggests a meeting of UX-focused writers and methodological rockstars. If one-day conferences are your jam, definitely consider attending this one.
May 19–20, 2020 | Online + Krakow, Poland
ACE! is the largest regional conference of its kind in Central Europe, attracting people from all over the region. ACE! 2022 combines two tracks: Agile Software Development and Product Design & Management. This one is 100% Agile, so if you're looking to gain some knowledge on product management or Scrum stuff, this one might be a good choice. Although it's in Poland, the line-up is looking very promising and international and you can join online! Tickers are reasonably priced (€300) and Krakow itself is a beautiful city, with really delicious food, with traditional cuisine spots.
May 20-21 | Kyiv, Ukraine
KRUPA is the main conference about design of the digital products in Europe. During 2022's edition you can expect two days filled with talks from 22 speakers presenting real business cases. The theme will revolve around design in five industries: Web, Fintech, Healthcare&Sport, Delivery and Edtech. KRUPA is a unique chance to have a chat over coffee with your industry peers–more than 3000 participants from 20+ countries are expected to show up.
The overview of KRUPA's 2022 edition, Source: KRUPA
May 24-27 | Lisbon, Portugal
It's the largest UX conference in Europe–held in the traditional, onsite way. Expect 4 full days of intensive workshops and inspirational talks that you can immediately carry over into your daily work. The agenda has not been revealed yet but the speaker lists includes some industry-recognized leaders ready to share with you new ideas and techniques.
You'll see the topic after choosing the speaker's icon.
May 30-June 3 | Online + Berlin, Germany
webinale is a conference for product owners, Web designers, and frontend coders. It combines user experience with code and offers a variety of topics that are important for digital professionals nowadays. webinale is a kind of a huge event, with four or even more specific tracks. All of these tracks, however, have one thing in common—all circle back to digital in one way or another: there's a UX path, a Web design & frontend development path, an online marketing path, plus nearly a thousand of presentations/talks/workshops.
May, 30-31 and June 1, | Online + Breda, the Netherlands
It's the sixth annual UX Research conference of this type and the 2022 Spring edition will be focused on "Growth in UX Research". The range of topics will cover personal career growth, growing the UX research field and growth of the community.
This year the organizers decided on a hybrid format. The in-person event will take place in the Netherlands while broadcasting the conference live as well. The list of speakers is still under making so stay tuned for more information.
June
June 16–17 | Amsterdam, the Netherlands
This edition of TheNextWeb will be include even more speakers, more workshops, more networking, more businesses, and more attendees than ever. At least that's the promise of the organizers. You'll be able to meet international tech executives, venture capitalists, policymakers, authors, startups, and scale-ups, during two days of business and exchanging of knowledge.
June 13-15 | Amsterdam, the Netherlands
UX STRAT brings together design leaders, strategists, user researchers, design-focused data scientists, product managers, and experienced design professionals from many corners of the globe for presentations and workshops about the latest trends at the intersection of business strategy, user experience, product design, and service design.A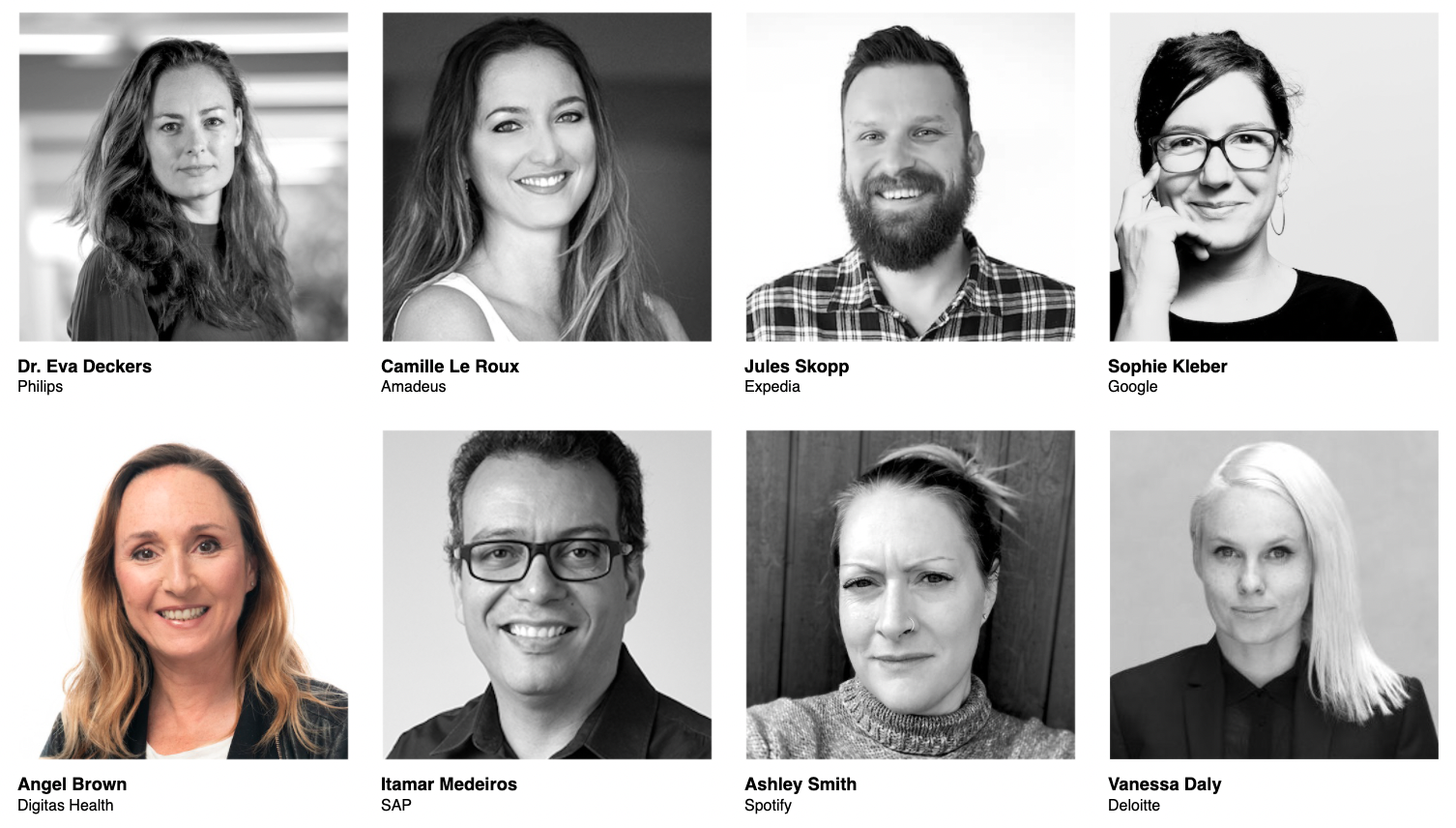 A sneak peek of the speakers, Source: UX Strat
September
Date to be confirmed | Online
ProductCamp Online is a 3-day digital event for product people: Product Managers, UX Designers, Researchers and Growth Hackers.
In 2021 edition, the Barcamp Day was free. You could choose from over 50 talks from Digital Product, UX & Research professionals such as Zalando, Free Now, OLX, Booking.com, Oracle, Accenture.
The conference line up consisted of inspirational talks and practical case studies run by world-class product leaders such as Laura Klein, Marty Cagan and other great speakers from companies like Atlassian, BMW and Flixbus. We're waiting to see what's upcoming in 2022!
September 28–29 | Online + Copenhagen, Denmark
It's more than just a conference, so prepare for the full Copenhagen experience alongside 1,000 designers from all over the world! It's like OFFF, but a little more expensive, and in Copenhagen.
October
October 12-14 | Dublin, Ireland
A conference that bridges the gap between UX, UI, Dev and Product. It offers the latest case studies from more than 50 speakers, 8 workshops and gathers 2,000 attendees each year. The list of speakers in previous years was rich in some well-knows personas from Reddit, Spotify, MasterCard, Ebay or Twitter. Keep your eye on the agenda for 2022!
Date to be confirmed | Graz, Austria
The World Usability Congress is the premier international user experience design conference. Usually, over the course of two days, conference presentations and talks provide practical skills to immediately implement in your work, inspire your future efforts, grow your knowledge, and show you how others tackled problems just like the ones you're currently dealing with. This one is as "IT" and scholarly as it gets. So If you're a fan of these more academically-oriented conferences, this one is right up your alley. We're hoping the 2022 edition will soon be announced.