As the appetite for software development services continues to grow all around the world, finding top developers becomes more and more difficult.
In order to locate their best matches, HR departments have considerably extended their candidate searches, often reaching far outside the immediate vicinity of their headquarters. The People Team at Monterail introduced incentives in the recruitment process as well. We revamped the existing offer for candidates and added a relocation package to our "HR stack".
Those who decide on moving to another city (or country) in pursuit of their dream job are offered the relocation package. In the article below, we will outline what such a package entails, and show how it helped our newly relocated team members step with confidence and peace of mind into their new positions.
What is a relocation package?
The relocation package is support for employees who have to move in order to be able to perform their duties in the company offices. Relocation packages include funds for reasonable expenses as well as comprehensive assistance in whatever matter the transferee shall require.
Naturally, at Monterail, we offer the possibility of remote work to our employees as a part of the "remote first" approach, but we're aware that working remotely does not suit everyone. Some people simply prefer changing cities (or countries) of residence to fully embrace their new adventure. And we're here to make to happen.
What's inside the Monterail relocation package?
Monterail's relocation process is designed to help transferees acclimate to the new situation. Depending on the needs of a particular person, we will provide any necessary help and adjust the relocation package accordingly—from providing help with finding accommodations, to assistance in dealing with public administration if you feel the language barrier or specific legal complexities may be an unnecessary hassle.
Currently, Monterail can help you in the following areas:
Administrative assistance
Legal assistance
Language support
Financial support, aka. "the relocation package"
When relocating new hires to Poland from abroad, we help them find proper accommodations, assist them in obtaining PESEL numbers and place their children in schooling or childcare facilities if needed.
I have lived and worked in 4 different countries over the past 6 years, so I know how difficult it can be to start a new job abroad. That is why a good relocation package was very high on my list while choosing between different job offers. Monterail helped me tremendously to make my transition to Wroclaw smooth and fast.

Denys Bulkashvili

NodeJS Developer


at Monterail
Monterail retains the services of an external company that helps transferees with securing visas and/or residence permits, whichever is required in a given situation. The company's costs, as well as the costs of the permits, are covered by Monterail.
I always wanted to relocate in Europe. Poland is a very good choice because of the great IT community and special visa program for IT staff. Monterail helped me on each step of relocation, which made it an easy and fast process.

David Abulashvili

NodeJS Developer


at Monterail
As a part of our administrative support effort, we help transferees understand the Polish legal system, advise them on the choices they have, and help them avoid scams. Legal assistance also includes support with understanding their employment contract and employment options.
Monterail can cover the costs of Polish language lessons in the workplace to help hires from abroad communicate outside the office and make their everyday life easier. We understand you may be burdened with additional costs related to travel or moving your possessions. To remediate this, we can add a bonus to your salary to reimburse you for the expenses.
Monterail helps transferees with everything we possibly can, whether it's through active assistance or by giving advice

Magdalena Skwarnik-Świątkowska

HR and Payroll Specialist
at Monterail
I would give the relocation package a 10/10 note. Magda helped me tremendously with with finding an apartment — she was taking photos of the flat and sending them to me. She also prepared a bilingual contract and handled all legal matters like registering the address, the PESEL etc. It was invaluable! - says one of Monterailians
At Monterail, the relocation package is a benefit offered to anyone who has to move to Wrocław to work with the team in our office. Regardless of whether you're moving from abroad or another Polish city, we will assist you with the relocation in any way we can.
Monterail helped me from the very beginning. They answered all my questions and put me in contact with a company that helped me with the documents and gave me all necessary legal advice.
So, let's recap the relocation procedure in Monterail:
Following your successful recruitment, a member of our People Team will reach out to discuss employment options,
After accepting the offer, you will be able to commence the relocation procedure,
The next step will include the necessary administrative paperwork—obtaining a visa and required residence permits,
Prior to your transfer, we will issue you with a copy of our Relocation Handbook. Following your arrival, we will provide you with all the help you need with matters formal and informal—including finding your bearings in the country and the culture.

What's a Relocation Handbook?
Monterail's Relocation Handbook was compiled by the People Team to help relocate new hires and guide them through the process of settling in the country to make their life just a little bit easier.
The Handbook includes tips on where to look for an apartment in Wrocław and how to best find your way around the city and the country. Apart from more general information, the Handbook also includes links to useful Facebook groups that might interest you, lease contract tips (what to expect and what to avoid when signing an apartment lease), rent ranges, and a list of recommended places for lunch or a night out.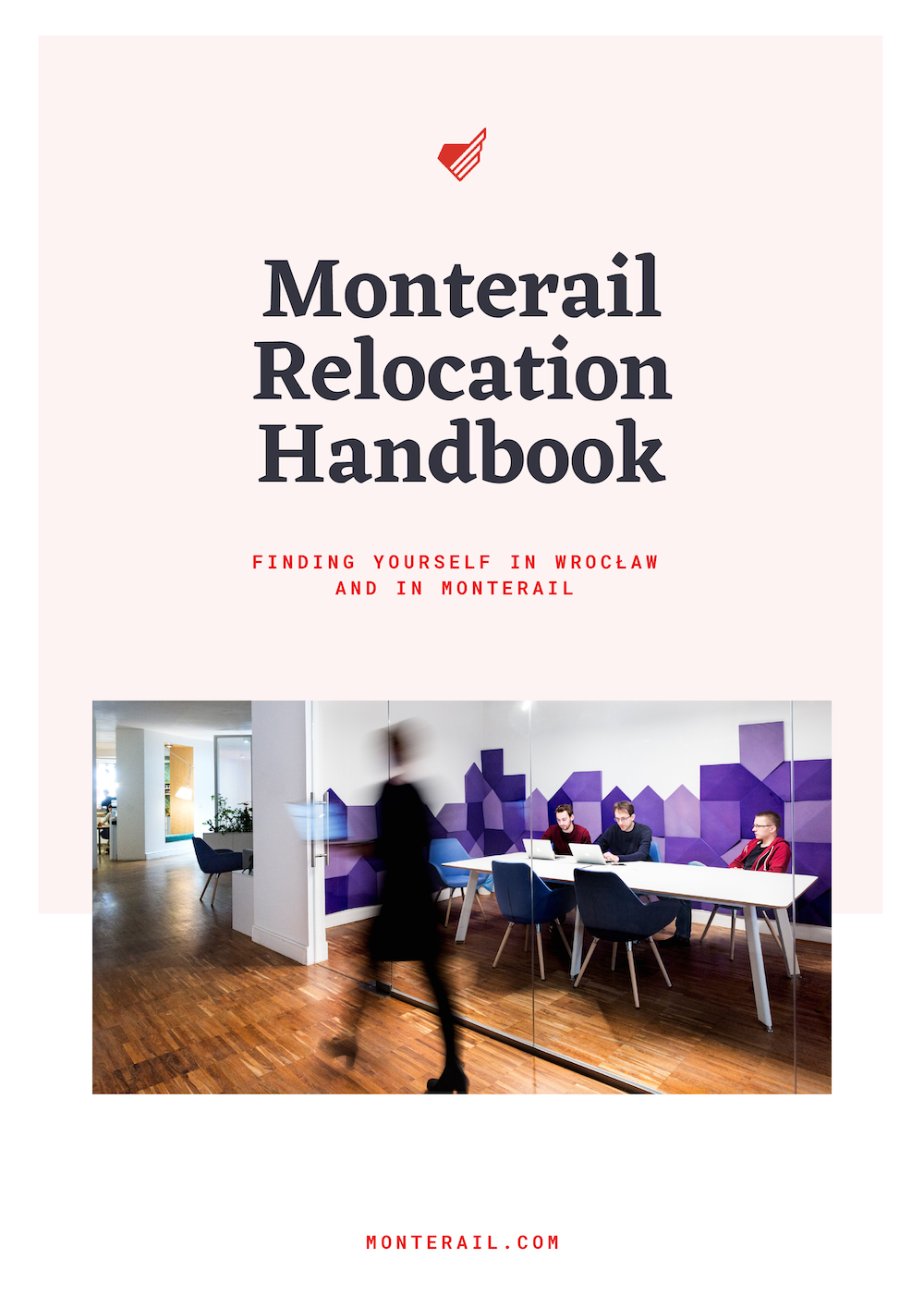 Monterail's Relocation Handbook also includes information about the company culture and informal events organized by or within the company, to help you feel welcome and supported in your new surroundings.
I'd recommend moving here to anyone thinking about relocation. Wrocław is a beautiful city and the relocation process was quite easy, and everybody at Monterail was very helpful. It felt like they took care of everything so I didn't have to do much.
Diversity & Inclusion in the workplace
The Relocation Package is one of our activities towards flexibility in recruitment but also in supporting the Diversity & Inclusion approach which is our strategic pillar for 2020 (and beyond!). Broadening our search this way enables us to probe a much wider talent pool. And working with talent from abroad broadens our employees' horizons and teaches them valuable lessons in collaboration and teamwork transcending cultural borders. It seems like everybody benefits from this solution.