What usually comes to mind when you hear "worldwide medical technology leader"? The US, the UK, maybe Germany? Surprisingly, the position is occupied by neither of those—it's Switzerland that's currently the undisputed leader of the life sciences industry, a feat which has earned Switzerland the moniker of "Health Valley", particularly popular in the French-speaking parts of the country.
What drove Switzerland's worldwide success? Below, I'll be outlining some of the reasons behind its spectacular accomplishments, explaining why both the place and the industry are particularly worthy of your attention, and sharing some of the more impressive outcomes of the sector's activity.
Reasons for Sector Success
Switzerland outstrips both Germany and the UK in the number of people employed in the medical technology sector. Companies located in the most important medtech clusters in Basel, the Lake Geneva region, the St. Gallen–Lake Constance area, and arolifeund Bern, are issued around 1,200 patents every year. On average, these firms invest 13% of their turnover in R&D and sell 90% of their products abroad, accounting for more than 5% of Swiss exports.
Let's look at some figures:
over 1,400 companies (2022) —one of the greatest concentration of medtech firms in Europe,
67,500 employees (2022)—10% of all people active in the field in Europe work in Switzerland,
CHF 20.8B revenues in 2021,
2.2% of GDP spent on medtech—one of the highest results across the globe.
Let's stop for a moment to dive a little deeper into what drove these really impressive numbers. And there's no better way than asking at the source. Patrick Dummler, the managing director for Medtech Switzerland, reveals how the country became a medical technology pioneer:
"It wasn't a conscious shift. It just sort of happened, Our machining and mechanical engineering skills are driven by innovation, and this has laid the foundation for our reputation for quality highly engineered technologies."
For such an unplanned move, it turned out surprisingly well. But I also managed to identify a couple of solid arguments that would explain the Swiss medtech boom:
Strong academia—universities in Switzerland support their students by organizing initiatives that help them push the envelope, research- and engineering-wise, in a number of fields, including nanotechnology, virtual reality, and other cutting-edge tech. Moreover, Zurich's higher education institutions are home to world-class pharmacy, biotechnology, and medical engineering courses,
Swiss propensity for precision—the industry has its roots in watchmaking, engineering, and other attention-to-detail industries. Medtech requires similar technology and skill sets for its products,
Specialized labor pool—Switzerland has a highly skilled workforce, equipped with professional know-how acquired in related fields, whose members willingly share knowledge across sectors,
Investment in R&D—Swiss medtech manufacturers (and suppliers), depending on their size and age, spend up to 30% of their turnover on R&D, while the global average is a mere 6,7%,
Financing—Switzerland spends a fortune, per capita, on its healthcare system, making it an attractive sales market for medical equipment manufacturers. Additionally, investors show much interest in medtech startups,
Swiss Medtech —a professional association gathering more than 300 members from all over Switzerland and abroad which aims to maintain international competitiveness and strengthen the domestic market through promotional efforts, technology transfer, training programs, and support for innovative companies,
Health Tech Cluster—supports start-up companies in the development of their business ideas by offering a novel program connecting start-ups with relevant partners,
Recognizing talent—during the annual Swiss Med Tech Day, the jury presents the most outstanding achievement in medical technology unveiled or showcased at the event with a CHF 50,000 prize.
Industry support—several regional and national organizations and institutions provide support for the industry by creating networking opportunities and know-how exchanges, such as SIX Swiss Exchange or Osec.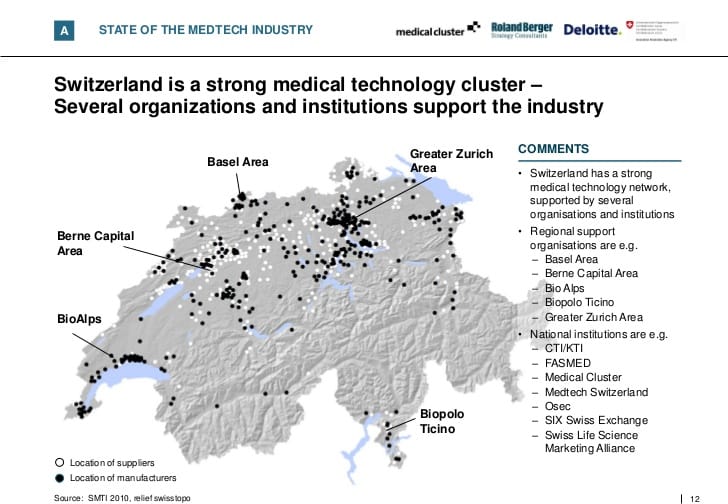 Source: The Swiss Medical Technology Industry Report – "MedTech at the Crossroads"
State of the Health Valley
Over the years, Switzerland has time and again reasserted itself as the expert in the medical technology sector and made its mark with pioneering work in a number of other trailblazing fields such as artificial intelligence. The digital transformation that has been reshaping the healthcare industry will make ever greater use of AI in the future. Only last year, IBM deployed its Watson supercomputer to help quickly and precisely diagnose rare illnesses by scanning the patients' medical histories, gathering detailed information through a surveys, and then converting the data into digital form.
In light of this digital transformation, mobile health, fusing technology in a novel, innovative manner, seems particularly interesting (or we're just biased on the subject). Did you know that roughly 30,000 mHealth apps are downloaded every day? They help patients, doctors and lifestyle app users on daily basis by making diagnosis, analysis, and treatment easier.
Here are two brilliant examples that illustrate the level of Swiss innovation in the medtech field. Both these products were nominated for the 2018 Swiss Medtech Award and both have the potential to change lives:
Ava—a wristband-based fertility tracker that monitors eight distinct physiological parameters at night. Connected to a comprehensive app, it offers extensive data support, invaluable insights, and tailored advice to women trying for a pregnancy,
IBDoc—a smartphone-based rapid test for people suffering from chronic intestinal diseases, allowing users to examine relevant samples at home and adjust the therapy accordingly. A special app converts the smartphone camera into a reader, guides through the user through the whole process, and delivers information regarding intestinal inflammation within 15 minutes.
These two offer a small glimpse of the sprawling Swiss medtech market. But as a meaningful software provider, we couldn't support the development of the mHealth sector more. We're looking forward to see what the future will bring for the Medtech Valley.
Building a meaningful product?
Improve your users life by solving their burning health problems in a modern, better way. And do it with our developers and designers who know their craft.