It was hard to go back to our day-to-day reality after those incredible couple of days at VueConf. The whole thing felt curiously like closing a chapter, and a very long one at that. Putting everything in place took us nearly seven months and now was over, just like that. Leaving us just a little bit nostalgic.
With this piece, we'd like to do two things—explain to you what the main idea is behind the conference and give you a recap of VueConf itself (with some cool pics in there, too) in case you missed it or wanted to run down memory lane real quick. You can also check our awesome video, if you're more of the visual kind.
Why did we organize VueConf?
The remarkable truth is that you don't have to be an enterprise-level organization to have a savvy and sophisticated staff who want to do much more than just write great code day in and day out. That's our case.
We've been using Vue.js at Monterail for just over a year when we finally decided to organize a conference dedicated wholly to this particular framework. The whole story starts with Damian Dulisz, a frontend developer on our staff, who tirelessly evangelized the framework to his fellow developers. He stumbled across Vue as he was looking for a reasonable alternative to the already slightly outdated Angular and its comprehensive documentation, cutting edge, and flexible API and architecture quickly won him over—and the Monterail dev staff quickly followed in his footsteps.
Soon thereafter, we released multi-select and the first issue of the vue-newsletter. A couple of months later, we hosted a Q&A session at a local Meet.js event with Evan You, the creator of Vue himself. Well, you may ask, what was the reason for such a comprehensive embrace of Vue at Monterail? We'll let Damian explain: "Vue gave me the perfect opportunity to do something I've always dreamed of—to start giving back to the community." Our most recent community-related Vue project was a library for validations called vuelidate, created by Damian and Paweł Grabarz, another one of our developers.
It's no secret—we knew that organizing a conference of such importance and magnitude to the Vue community in a city like Wrocław would definitely be a challenge. We were also fairly certain, however, that we would be able to convince Evan that choosing such a unique location was the right choice. Despite some initial misgivings, Evan finally conceded the point. To quote Evan himself, "Damian convinced me with his enthusiasm."
VueConf 2017 highlights
If you're into building Web interfaces, you probably came across Vue somewhere in your work. You may have found someone comparing it to other technologies on Medium or a dev blog. If, based on that, you arrived at the conclusion that Vue.js is still in its primary phase of growth, you couldn't have been more wrong.
And if you need proof, you should have been at VueConf last week, along with over 300 developers from all over the globe who came to Wrocław to listen to superstars of the Vue community, such as Evan You, Sarah Drasner, and Sean Larkin. Seventeen speakers gave sixteen talks, totaling over eight intense hours of invaluable knowledge.
Workshops
The actual start of VueConf took place on June 21 with and eight-hour-long workshop run by Evan You, Sarah Drasner, and Blake Newman. In not-so-shocking-news: tickets for workshops with Evan sold out within a month going on sale.
Vue Community
When we set out to organize VueConf, one of our main goals was to bring the community together and actually meet in one place. That is why the conference part of the event was preceded by two non-official "beforeparties" held in local must-see bars and restaurants in Wrocław.
From my personal perspective, I truly loved the atmosphere at the conference. Having an opportunity to grab a beer with some of the attendees before we started really helped cement the friendly ambience of the event, as people now had the chance to meet in person instead of spending the first parts of the conference staring at each other awkwardly during coffee breaks and lunch. It really felt like we were a community rather than just a random assortment of people.
We made sure that the venue we picked for VueConf (the New Horizons Cinema) was located in the very heart of Wrocław, so we'd have a number of cool places to check out within arm's reach. The official afterparty after the first day of the conference was held in Korba Kuchnia, located 200 meters from the NHC.
The afterparty was another excellent opportunity to catch some face time with our speakers, something that wasn't easy during the conference.
The conference part of VueConf
Day 1
We opened the conference with a welcome speech by Monterail co-founder, Bartosz Pietrzak, who was joined on stage by Damian Dulisz and Evan You. They explained the main idea behind the event, spoke a bit about its origins, and acknowledged everyone involved in the organization of VueConf and its sponsors—Codeship, NativeScript, and Monaca.
After a brief intro, Evan You—who also served as master of ceremonies—delivered the keynote, State of Vue, sharing some amazing insights about Vue with the audience, including its very beginnings. He mentioned that Vue got some real recognition thanks to Hacker News and a tweet from Taylor Otwell (Laravel creator). Evan's announcement that Vue.js is currently the second most popular JavaScript project on GitHub, with over 57k stars, was met with thunderous applause. Amazing stuff.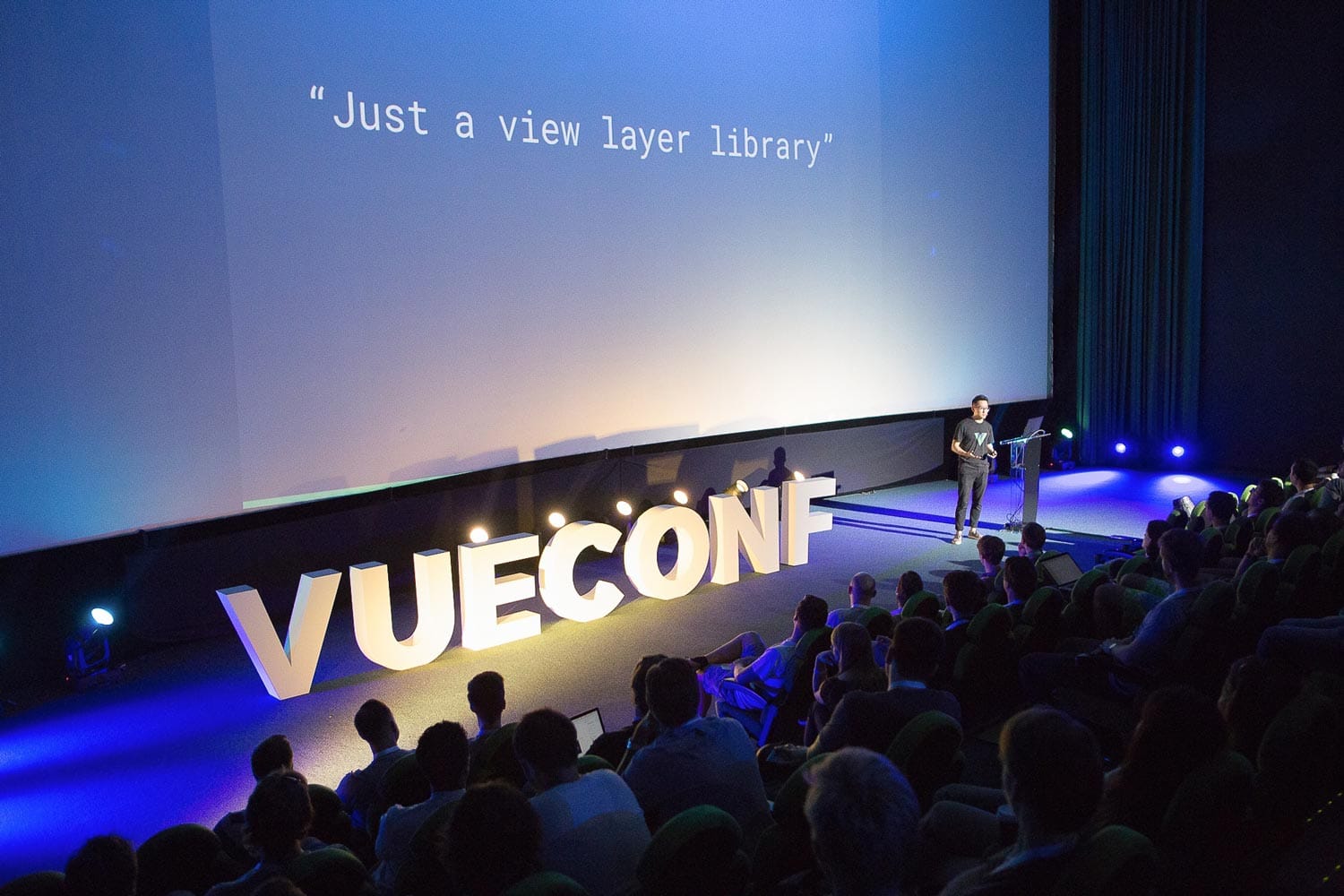 Later in his keynote, he discussed the growing Vue ecosystem, and acknowledged the community, commending Vue users for their engagement and support.
If you want to find out more about Vue, sign up here to receive an 'early bird' notice and be the first to get access to the "State of Vue" report we're currently working on.
The agenda for the first day included 7 more talks from Chris Fritz, Alex & Sebastien Chopin, Callum Macrae, Pine Wu, Sean Larkin, Paweł Grabarz, and Filipa Lacerda.
The first day concluded with a discussion panel featuring Evan You, Sarah Drasner, Sean Larkin, and Pine Wu, who answered questions that received the most upvotes from the audience. That session was lively, however, many good questions remained unanswered. We'll definitely keep them in store for next year, though.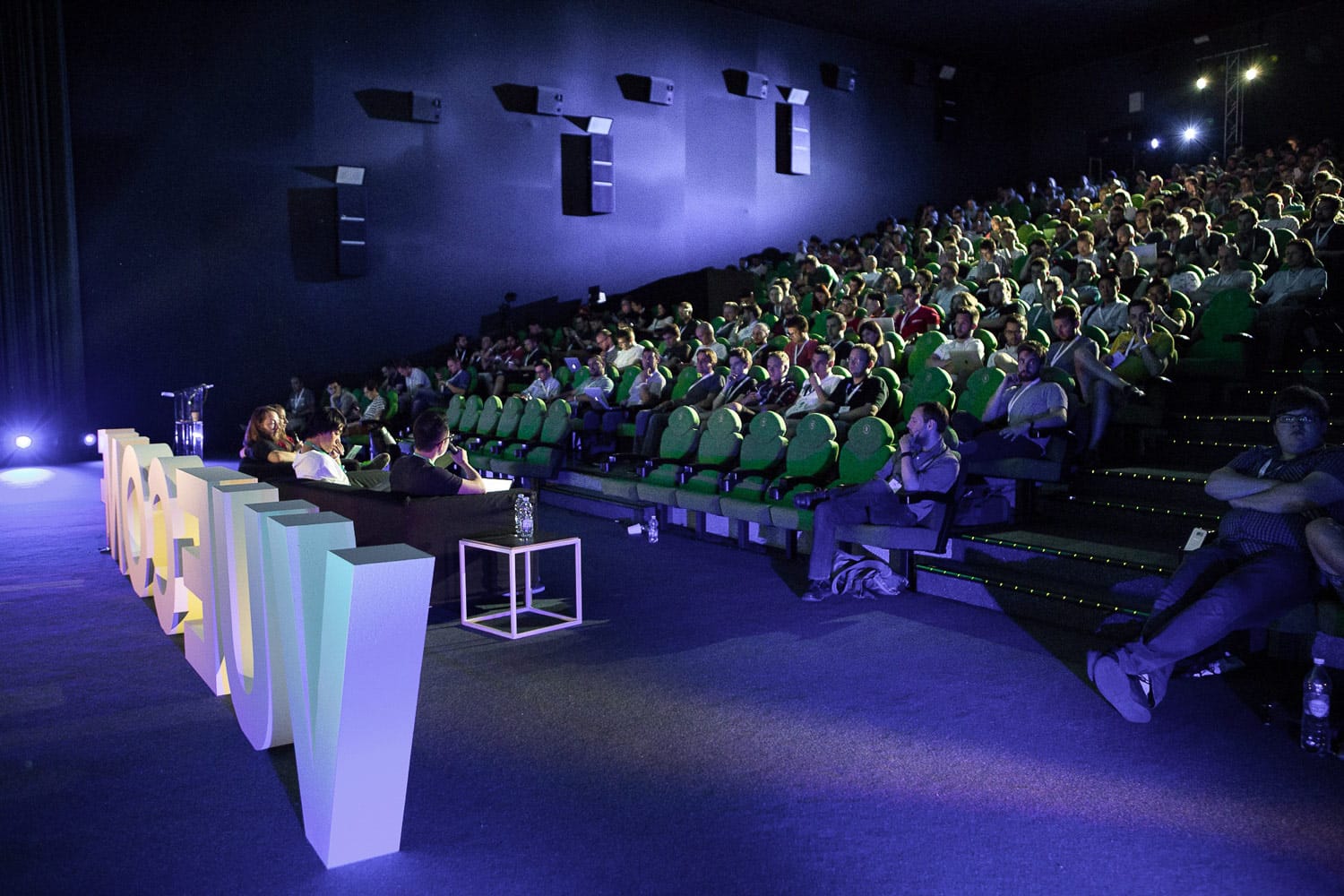 All the talks from Day 1 will be available on the VueConf YouTube channel next week.
Day 2
The second day opened with a talk from Eduardo San Martin Morote on making apps real-time with Firebase and Vue. Although the afterparty continued into the small hours of the morning, the venue was full and (nearly) everyone was ready to hear more.
The agenda for the second day of the conference included 8 talks in total, from speakers like Masahiro Tanaka, Eric Baer, Guillaume Chau, Jacob Lee, Blake Newman, Roman Kuba, and Sarah Drasner. Their talks will be available on YouTube soon.
Both days passed really quickly and it was really hard to say goodbye to everyone. After the closing address and many, many selfies (including Evan's selfie of other speakers taking a selfie), the attendees and speakers who still had some time before their flights banded together and held another afterparty to spend some time together and discuss all the events that transpired over the past two days.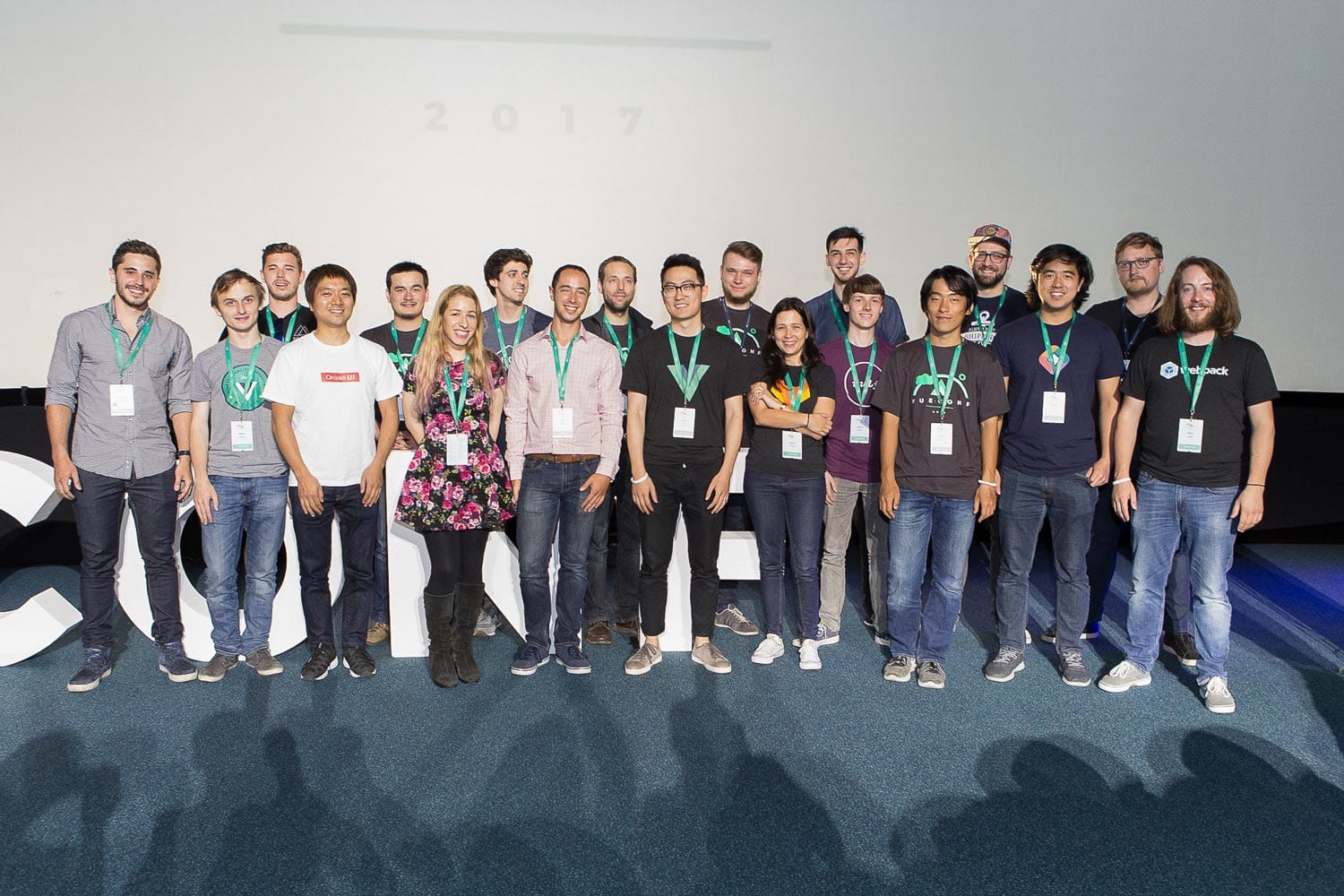 Other VueConf 2017 perks
Monterale/VueConf beer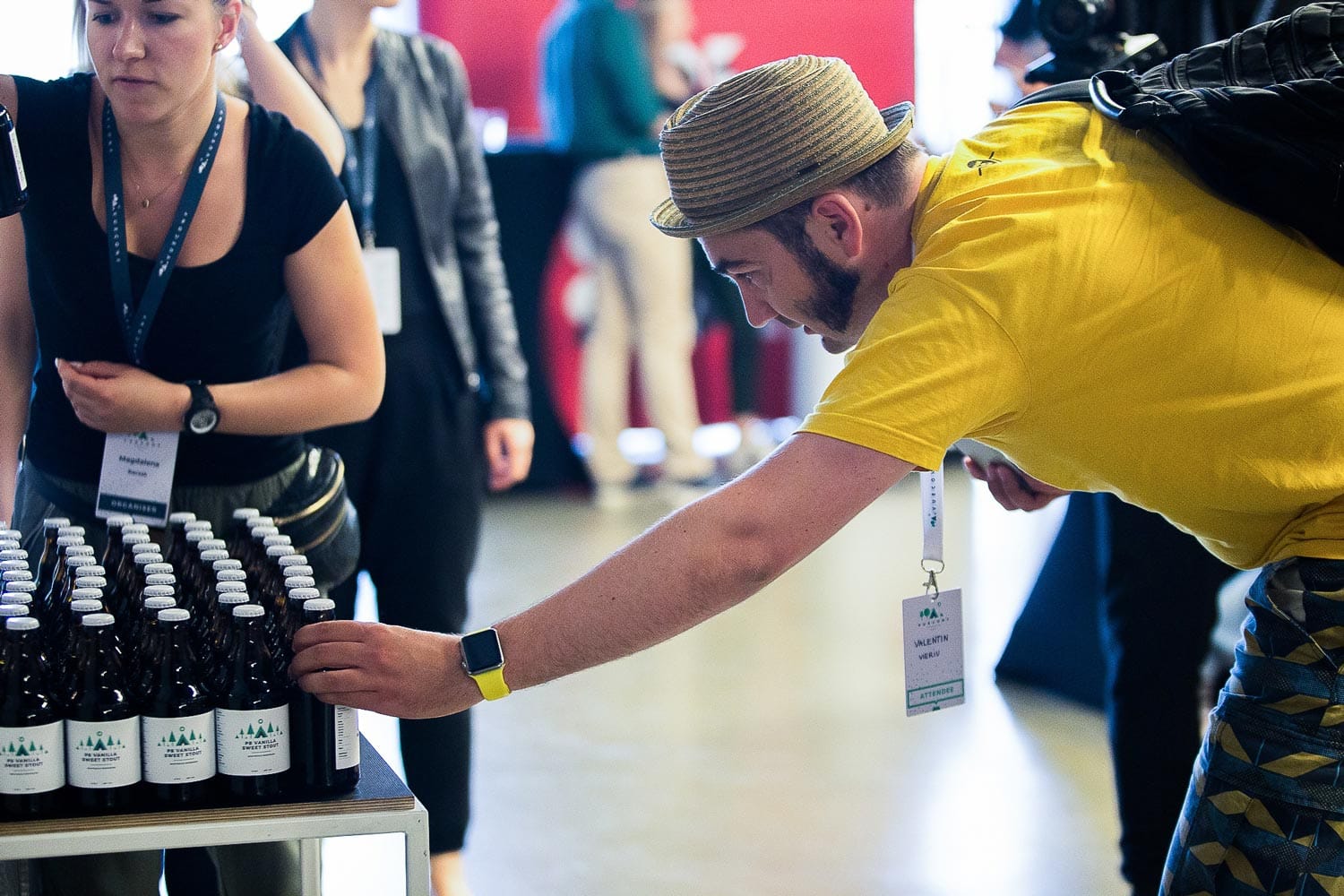 Gaming Zone at the conference venue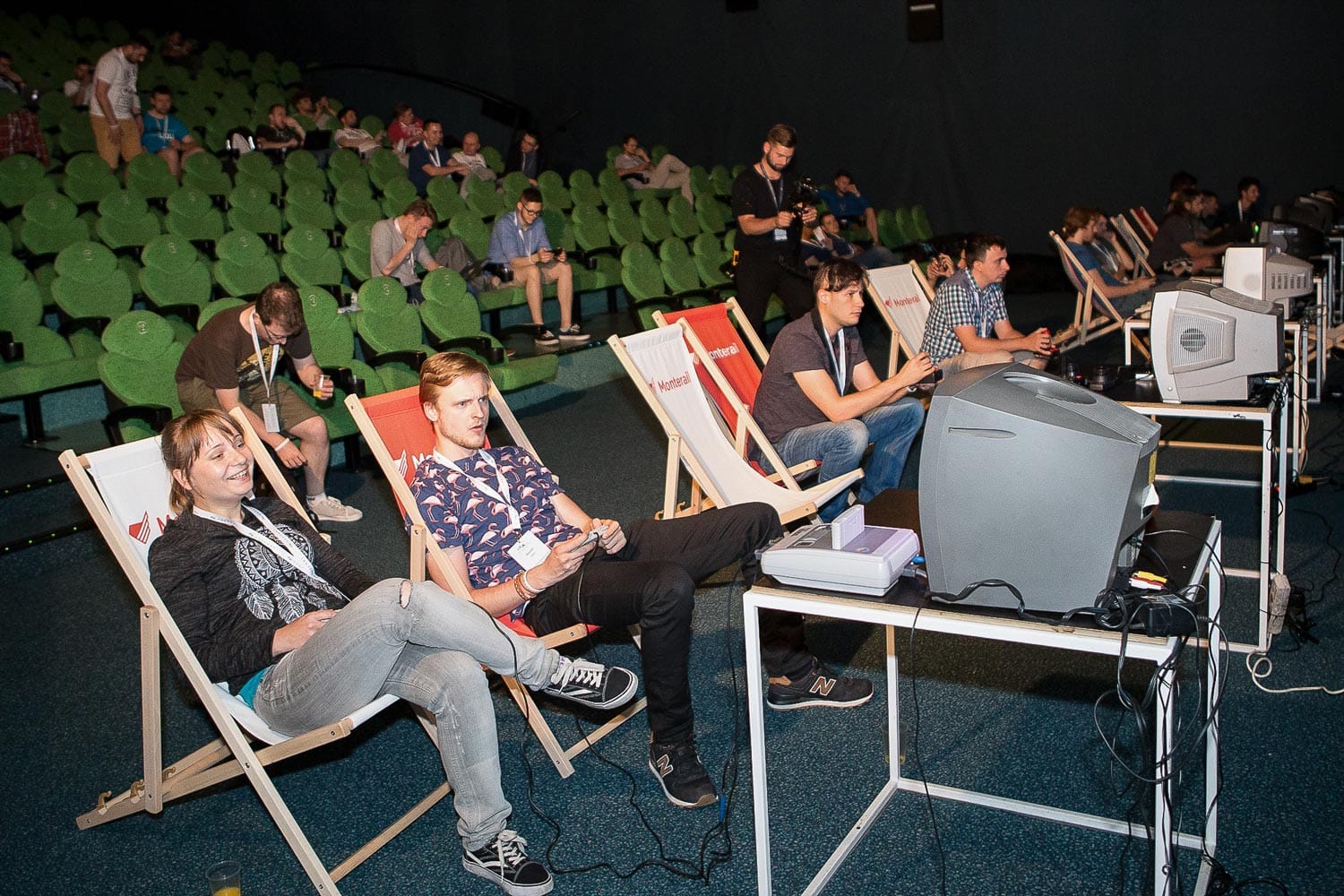 Amazing animations by Sarah Drasner
Post-conference beach party
The lazy "F" letter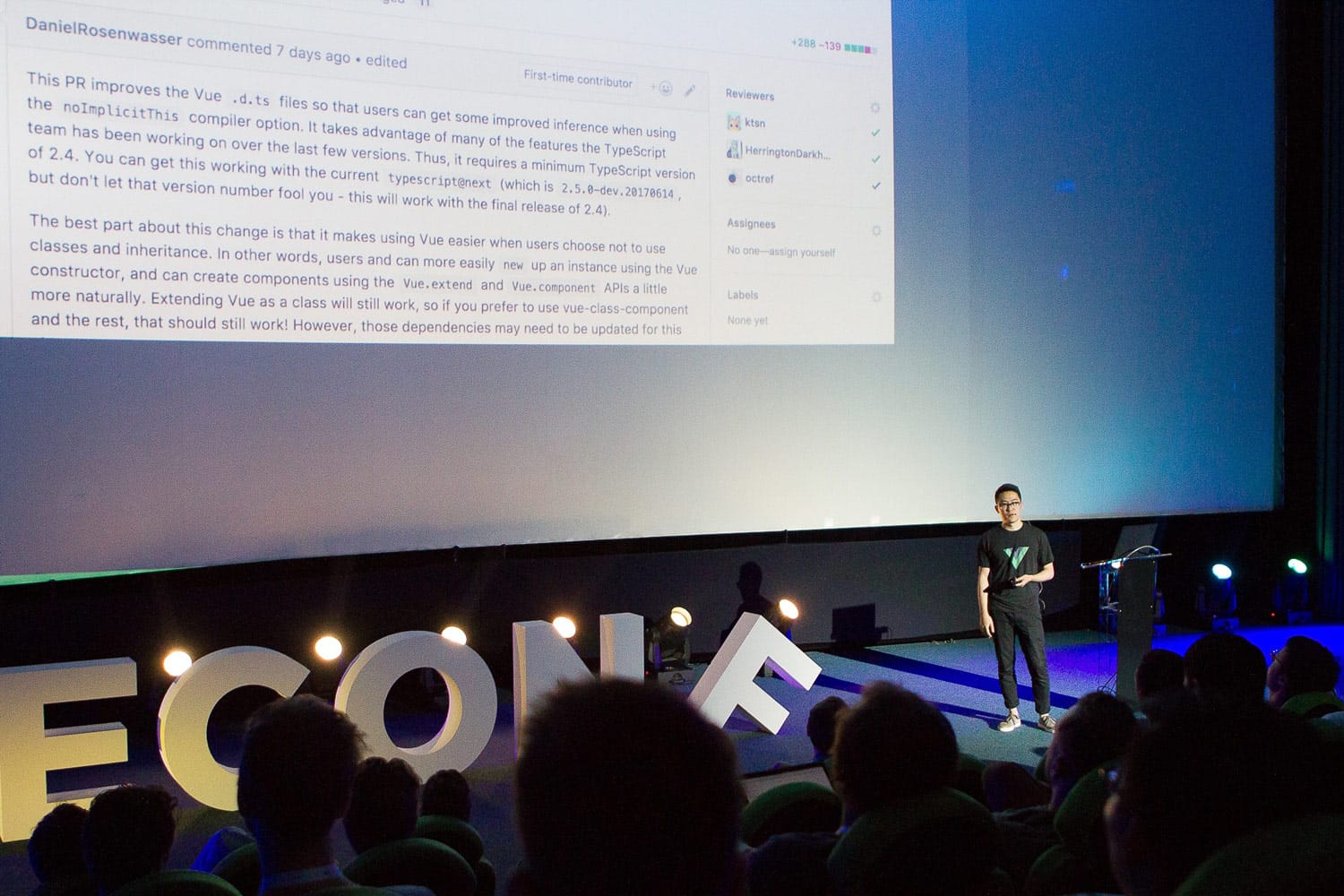 VueConf socks
10 lightning talks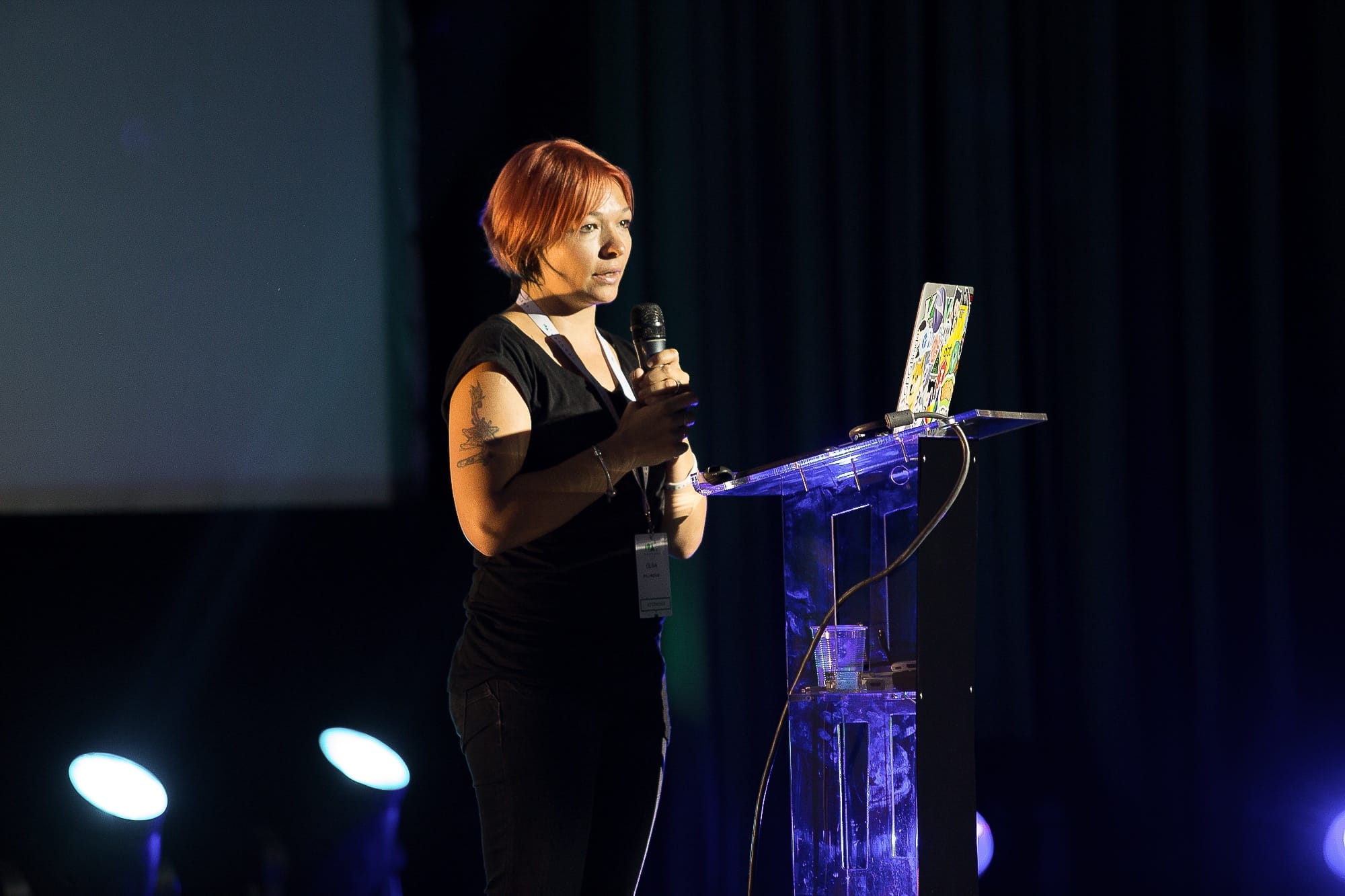 2 beforeparties and 2 afterparties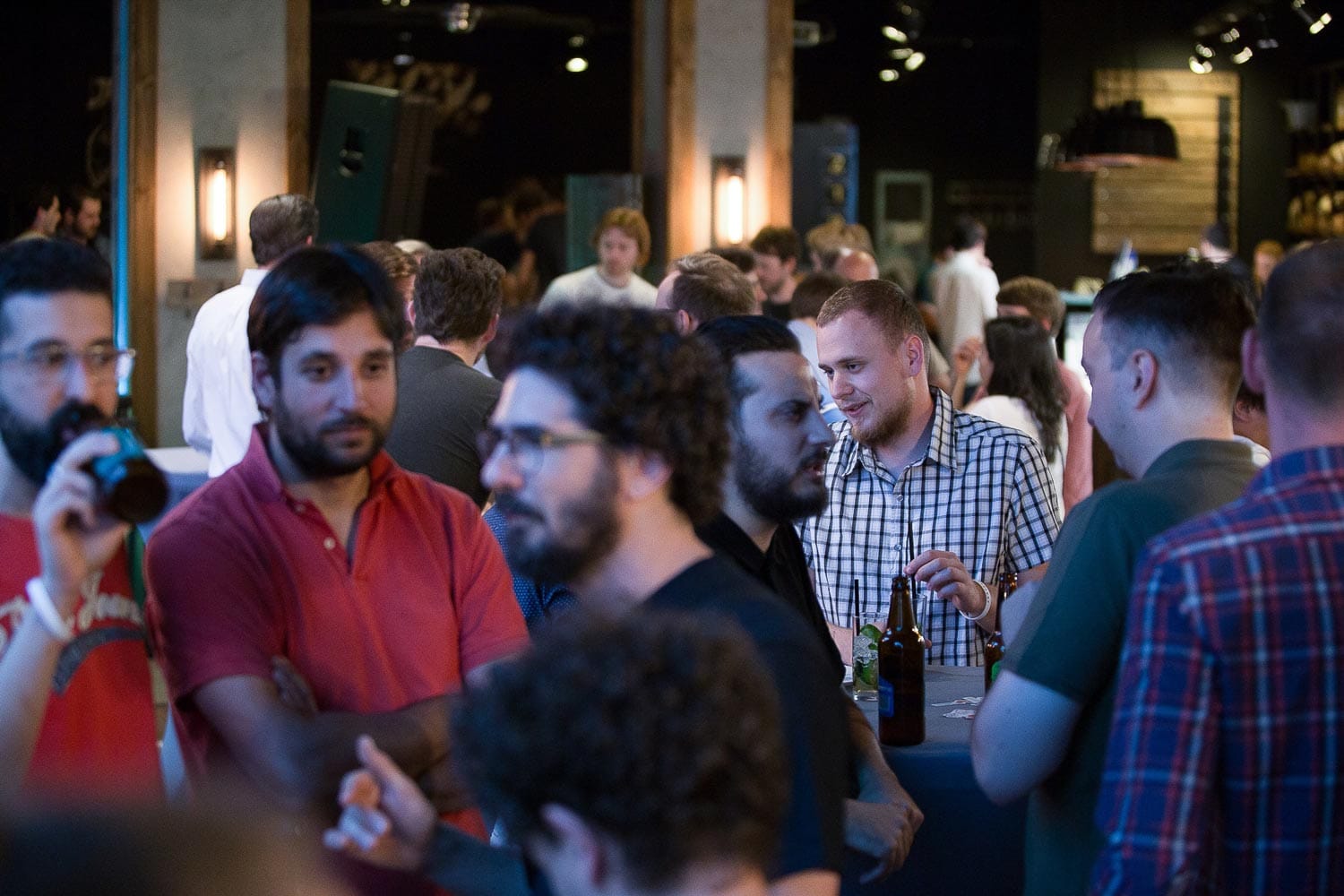 The State of Vue.js Report
As another milestone in our mission to evangelize developers and businesses on Vue.js, our team crafted State of Vue.js—a comprehensive report created for everyone interested in making educated decisions about their technology stack. I wholeheartedly invite you to read it!
Is Vue.js the pick for your next app?
Work with the Monterail team—unquestionably the best Vue experts on the market. We've delivered over 15 Vue projects, authored open source libraries, organized the first VueConf, and authored State of Vue.js report. Let's take your app from ok to exceptional.