In many organizations, HR is viewed as a cost center rather than a strategic part of the business, contributing to its poor reputation. Although this perspective has been changing recently, it still holds true for a surprisingly large number of people. To become strategically vital, HR needs to align itself better with the business and become more data-driven. Our longtime clients at Cooleaf have found a way to make HR software not only beneficial but also a crucial aspect of almost every company.
Cooleaf is a US-based mobile and Web technology platform that helps customers achieve better business results through a data-driven approach to employer branding and employee engagement. By implementing the "Leading Behaviors" methodology into their product, they managed to give company leaders a tool to track critical engagement and people-related analytics.
Right now, this award-winning app serves businesses of all sizes that seek to authentically motivate, inspire, and appreciate employees. Since 2013, it has garnered praise and recognition from companies like Citi, Rubicon or WestRock. But the road to success has been bumpy.
Since beginning their relationship with Monterail in 2011, Cooleaf pivoted their business idea three times: going from a B2C health and wellness program to organizing micro-events boosting engagement, until finally settling on selling white-labeled recognition and rewards software for corporate clients. See why they embraced pivoting as their strategy and what they do to boost their presence in the HR tech area.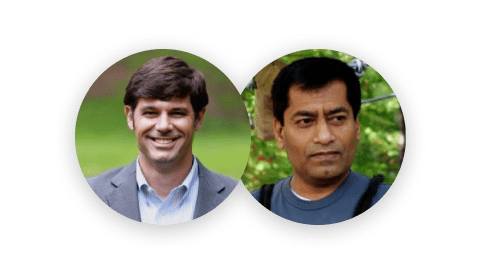 John Duisberg and Sarwar Bhuiyan, Co-Founders at Cooleaf
John Duisberg: All of us, Sarwar Bhuiyan, Prem Bathia, and I, we all have a healthcare technology background. We used to build software and we've always had this entrepreneurial bug. In 2009, we already had some successes implementing new products and each of us was thinking about our own product. But it was just talking, nothing more has ever actually happened. Until Sarwar brought three of us together in one place. As we all had the same mindset, this meeting massively helped us move things forward.
However, we were all working full-time jobs at the time, so we took it easy—chipping in some dollars for a prototype, having weekly calls, and shaping the idea. After some time, we reached a moment where we decided to make this scary jump into launching a start-up.
But since then, we totally pivoted within Cooleaf—we basically built three different products with the help of Monterail.
JS: Exactly, you've been our client since 2011, but you came in with a much different product than what you have now. How did your vision evolve?
Sarwar: In 2011, we launched our first product, a health and wellness solution. We experimented with the B2C concept similar to the iTunes model, where you could buy songs one by one. This Cooleaf was a platform where people could buy single entries for classes at local fitness centers, gyms, and other facilities, without having to buy a membership. We built a network of more than 1,000 providers who became our partners and we worked on the revenue-sharing model.
The idea seemed fine—it was a health promotion tool on the one hand, and a way to visit luxurious places that otherwise would be unaffordable on the other. The problem with it was marketing—not many people knew about us, which resulted in a low revenue stream.
John: Exactly, as a bootstrap start-up with no marketing, we couldn't compete with huge discount providers like Groupon, so this idea had to be reshaped. Luckily, we had a working product and the whole network, so we were thinking about how to combine it in a new, efficient way.
JS: So what was the first pivot?
Sarwar: It was around 2014. We were trying to expand the concept onto enterprises by transforming our existing product into a B2B group-oriented solution. We noticed that most companies prefer to offer their employees swimming classes for 20 people, for example, rather than individual classes.
John: So what we did was we went to these employers and suggested that instead of offering a voucher to one place, they could have access to hundreds of places through our platform. But that still wasn't financially stable in terms of transaction value. As we started working more with employers, they turned to us and said: "Hey, I want to create this group class for our people. Can you offer us this?" So we would bring this live cooking activity or rock climbing. Employees literally loved it because it was free and tailored to their interests. We were leveraging the network we had.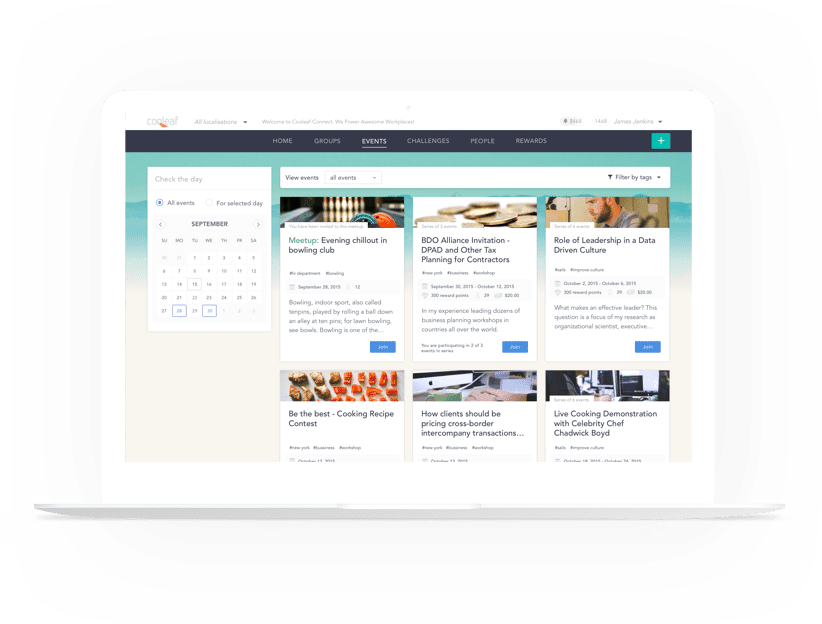 Dashboard of the Cooleaf web platform
JS: So why did you abandon this idea as well?
John: We got more traction, but it wasn't a very scalable model. We became micro-event planners. Although this tailored wellness program was loved by HR and employees alike, it wasn't much appreciated by CFOs, as they couldn't see direct results on employee performance or wellbeing. And we couldn't prove there was a link either.
So we started listening more closely to our customers. They told us what they're willing to pay for and we were humble enough to listen to them. As a result, we decided we needed to change the value proposition. The HR people told us that when they were hiring someone, they were seeing significant interest in organizational culture and community-building factors from the candidates, rather than in the benefits themselves. So our thinking went that the solution we should be offering should focus on increasing engagement and retaining talent more than reducing healthcare costs.
JS: Cooleaf is now an employee engagement, recognition, and rewards platform. What prompted that shift and why the pivot toward employee recognition?
John: We looked at how we could translate our experience from the healthcare industry onto another product, and we noticed that all these companies spend money on wellness programs because they want to reduce overall company expenditures on e.g health insurance. However, we found out that the adoption and participation in those programs were very low. We never participated in them either. There was a visible gap between what people really want and what companies offer them. So we thought we could fill it. We wanted to make people active and eager to participate in the initiatives.
So we created this white-label software platform that could be an employer's branded engagement platform, where they could consolidate recognition, wellness, learning, and development in one place. We gained some traction and raised another round of funding. The rewards side of our business was almost an afterthought, but it eventually made people come back and stick to our platform. Why? When you get $50 more into your paycheck, you might not even notice it, but getting a physical $50 card suddenly makes it a very valuable bonus.
All of it made for a good product that was appreciated in the industry—the first version of our mobile app (built by Monterail in only 6 weeks!) was named the best B2B app at the Atlanta Mobile Awards 2016.
Dashboard of the Cooleaf mobile platform
JS: What is the most challenging thing about selling to corporate clients?
John: Everything you can imagine is challenging. Conceptually, everyone agrees with our software, but when it comes to profitability, decision-makers in companies want to know whether it is directly revenue-generating. And it didn't directly cut costs. Well, it did, but in the long term, by improving retention and satisfaction. So we fell into this nice-to-have zone of tools. It was never a priority. When pitching Cooleaf to enterprises, there was a constant battle: "How to become a must-have? How to shift from being a vitamin to a painkiller for enterprises?"
JS: What's your strategy for dealing with that?
John: Our strategy is to continue to pivot and evolve. As we found that this recognition factor made people come back, we decided to expand it from HR culture-related activities to all areas by introducing the Leading Behaviors methodology.
JS: What does this 'Leading Behaviors' approach entail?
John: The idea here is that defining the activities and behaviors that employees can increase engagement in now on the frontend will drive the desired outcomes on the backend. To give you an example: if you have a sales team, you want to increase revenue at the end of the quarter and you probably know what things people should be doing right now to achieve that—those are leading behaviors. It's the focus of our employee incentive and recognition strategy, which helps business leaders achieve their real-life goals.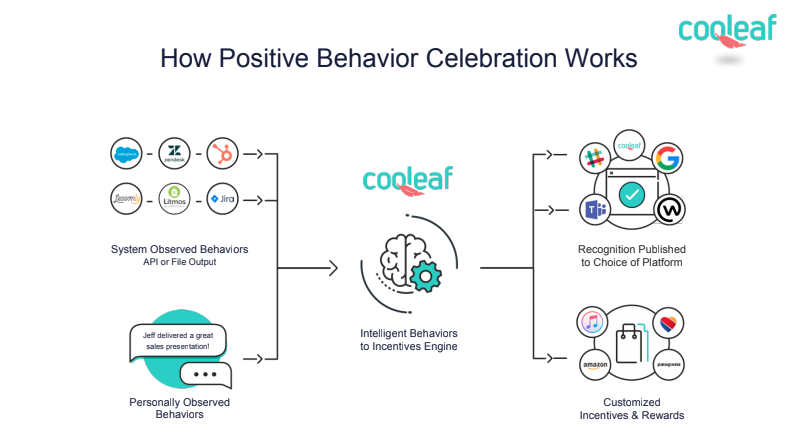 Illustration of the Leading Behaviors flow, Source: Cooleaf
We've had one client with us for four years already, and they saved $2.3M in turnover, so the ROI here is significant. But they didn't only implement our platform—they also implemented a strategy that helps execute it.
For Cooleaf, this strategy is revolutionary business-wise. With leading indicators, we're making ROI more tangible and easier for people to justify the investment. We're no longer dependent on an HR person to fight for the budget—we "speak" directly to the CFO or a Head of sales.
JS: After so many transformations, I'm wondering what's the state of Cooleaf now and what are your plans for the future?
John: We're small but mighty. Five employees in the US and around five folks from Monterail in our team. There are a couple of things going on right now:
Integration and the system of records. We believe that's the future in terms of the incentives and recognition industry. There are many large players out there with outdated HR tech stacks. We see a lot of disruption happening in terms of integrating into existing systems.
We also see big players in the space, who are looking at Cooleaf as a way to provide a solution to their customers. So it's an interesting angle right now about how you approach these channel partners and the strategy around that. We see a lot of potential growth there.
Sarwar: We are constantly bringing the business data and letting people do what they do today, but to enhance recognition and highlight the achievements. We're thinking about 6-7 integrations with apps like Zapier connecting hundreds of apps.
JS: What does the American HR tech market look like?
John: There's a big shift for HR leaders to become integrated into the business. There's this enormous amount of untapped opportunity to accelerate the potential of the people and employees. Instead of HR being the isolated department processing administrative matters, leaders now think about how they can work directly with business unit leaders to maximize engagement. That's where I see these two worlds coming together. The business leaders and HR leaders in terms of common solutions and cooperation.
JS: What advice would you give to similar start-ups?
John: Look at the existing big must-haves that HR people already have to do, e.g payroll, benefits packages in the US. The reality is that employee experience from that is just horrible. The last place where people want to go is the benefits dashboard. So my advice would be to answer the question: "Can you provide a solution that improves an experience within these existing must-have flows?" It's much easier to sell this and this message than convince someone to do something. Create innovation instead of changing people's entire behavior patterns.
Sarwar: HR is probably never going to be a priority for most companies, so you need to be sure that your product is useful, necessary, and proves your value.