In today's world, organizations collect and use all sorts of data. And data fuels and sits at the heart of much of modern HR tools. While everyone is more or less aware of that fact, questions continue to abound about the proper approach to data and its impact on business decisions. Interestingly enough, data combined with technology can actually bring about change in areas strictly related to Emotional Intelligence, like Employee Engagement. And the impact of the latter on business should never be ignored.
Check all of our HR Tech Expert interviews from this series:
Do you that know NPS measures customer satisfaction? Peakon works like that, but measures the satisfaction of your employees instead. This SaaS platform focused around Employee Net Promoter Score, measures real-time data to provide companies with insights on team performance. With the use of fourteen different psychological drivers of employee engagement, they're able to isolate the key drivers that impact employee engagement within a specific company.
In the opening article of the HR Tech Expert series, I'm talking to Julian Tesche, Business Development Manager for the DACH region at Peakon and one of our panelists at the Berlin HR tech event.

Julian Tesche

Business Development Manager for the DACH region
at Peakon
Julian shared with me great pieces of advice on how to enhance employee engagement using data, a continuous feedback approach, and excellent employee experience drivers. You'll find out why Employee Engagement should become a key focus area in your business and how to foster it. Curious what it means to be data-inspired? Read on.
Why Employee Enagagement?
Joanna Staromiejska: We're living in an era of AI-based solutions and while Peakon also uses AI, it does so to measure Emotional Intelligence-related parameters. Why do you consider Employee Engagement so important to companies?


Julian Tesche: If you're an HR professional or HR Manager, you've probably come across your share of employee burnouts. And if I'm guessing right, you didn't always know the reason behind it, or what it meant for the employee. It's a problem because without a reason you're not really able to find aid and prevent similar things from happening in the future. I see some corporations trying to encourage a better work-life balance, but things like the sabbatical that you introduced or unlimited holidays are still quite rare, despite the fact that they're quite effective at preventing employee burnout.
Burnout very often leads to quitting, and, according to a Kununu research report, as many as 12 out of 16 reasons for quitting are rooted in EQ-related shortages. These numbers clearly tell us that fostering Employee Engagement is also a business-smart move. In the Deloitte report I recently read, nearly 80% of the polled executives rated employee experience as important, but only 22% reported their companies were excellent at building a differentiated employee experience. Why do I mention this? Because when you have a great employee experience, it kind of generates great employee engagement.
The US has already invested millions of dollars in increasing the commitment of its workforce, and the number now shows an upward trend. Also in Europe, and Germany specifically, there is a lot of interest in the matter, at least, if not actions. It's a really large market going through another wave of digital transformation. People are constantly looking for new systems to revolutionize team performance or engagement.
JS: What fosters employee engagement the most?


JT: Employee Engagement is enhanced by getting the cultural piece right, having a great mission and vision, and living them on a daily basis. Achieving a satisfactory level of engagement produces more innovation and lowers employee churn, so it essentially cuts the running costs of the business. We see more and more mental health issues in the workplace, with most of them stemming from the fast-paced business environments that we tend to operate in. So we need to concentrate on employee experience to set the right direction and enable people to work in peaceful conditions. Furthermore, fostering an open and safe team culture, as well as setting clear goals, also have a pronouncedly positive effect on team performance.
JS: What do you consider the biggest challenges in measuring and improving employee engagement? Any pointers on how to tackle them?


JT: Oftentimes, managers have an inadequate understanding of what employee engagement really is. The important truth is that it's not an isolated factor, it's not all about tangible elements like perks, free lunches, regular evaluations, etc. Engagement goes hand in hand with a healthy workplace culture, with motivation, leadership, and a strong sense of purpose. Motivation starts with your direct superior, direct team lead. Mentors can have a significant impact on employee engagement.
Continuous measurement helps with handling employee engagement topics. Because engagement fluctuates all the time, it's influenced by challenges at home, private issues, and the inability to work remotely, for example, having a leader under a lot of pressure, miscommunication with a new team member—and all of these are just off the top of my head. Understanding these ups and downs in engagement is possible with simple surveys, doing one-on-one meetings with your leader, and promoting a continuous feedback approach—simply collecting data.
Data-Driven or Data-Inspired?
JS: What's the impact of data on building modern HR tech startups?


JT: The whole HR digital transformation is based around it. But, on the other hand, many companies are afraid that focusing on data will make them lose that human touch, that crunching numbers will replace conversations. Our goal, then, should be take the fear out of it. The truth is we need data because it's often less biased and more clear than our gut feelings. Data can help us make the right decisions and we should let data inspire us. However, note that it's important not just to collect data, but to make sure it has a distinct purpose. Why do you collect it? What do you need it for? What should the outcome be? Having clear assumptions allows start-ups to grow and base their business idea on data. Otherwise, you won't get the insights you need for the outcomes you want.
Businesses need to get this part right to succeed in the long term.
JS: Modern companies are now able to harvest various insights and all sorts of data from a variety of sources. How to get the most out of the collected information?


JT: The first thing is to measure what you want to measure regularly. As employee engagement can change significantly within mere days or weeks, annual check-ins seem simply too far apart to spot risk with any degree of precision. It's important to see the trends and react when it's necessary, rather than six months later when it's simply too late. This way, some smaller issues can be easily smoothed over before they grow into something big enough to manifest in the workplace.
The frequency of measuring employee engagement really depends on the rhythm, on how you use the feedback, and the generation you work with. If you have millennials, they're used to giving and receiving feedback. They use Facebook or Snapchat, where they like or dislike hundreds of things daily. This continuous feedback is so embedded in how they see communication that they expect it in the workplace as well. More traditional companies should start with monthly or quarterly official feedback, to mirror the pace of their culture. You shouldn't force a company to use a specific cycle.
Secondly, the process should be exactly the same every time, otherwise spotting any trends and making predictions might be difficult. A structured data set will allow you to draft clear hypotheses for testing.
But the golden rule, I would say, is that leaders should use data to make better decisions and not the other way round. I really like the term "data-inspired," which we came up with at the discussion panel in Berlin—what it boils down to is "Rather than make data-driven decisions, let data, along with your gut feeling, inspire your decisions."
JS: How do we foster or encourage adopting the continuous feedback approach in the workplace?


JT: It really depends on the leader and their mindset. If the company has done it for ages, new hires will eventually get accustomed to it. If they think they don't need to adapt, that's always a misconception. We need to have this mindset, we need to reflect the change and improve things. That's when feedbacking comes into play. We will always have different people, different cultures in the workplace, so you need to be really mindful and just observe to see what works well and how small changes influence your business.
I think receiving feedback is a gift. It should be mainly positive, or constructive rather, so that people are encouraged to learn from it. If someone can learn even one thing from a piece of feedback, give it. Praise in public, correct in private. Organize one-on-one meetings. Ask how you can solve the problem together instead of giving strict orders to solve it.
JS: How does measuring employee engagement differ at various stages of the employee journey? Could you give me examples of what data to collect?


JT: It's super important to measure employee engagement from the very beginning. There are so many insights you can glean on various stages of the employee journey, like how good the onboarding was, where do you rank in terms of performance and proactivity, etc. Proactivity correlates strongly with employee engagement, so it's one of the key things that strengthens employee engagement in the beginning.
Going further, the possibility of growth becomes crucial to long-term employees. By measuring employee engagement on different stages of their journey, you can spot room for improvement and work specifically on that.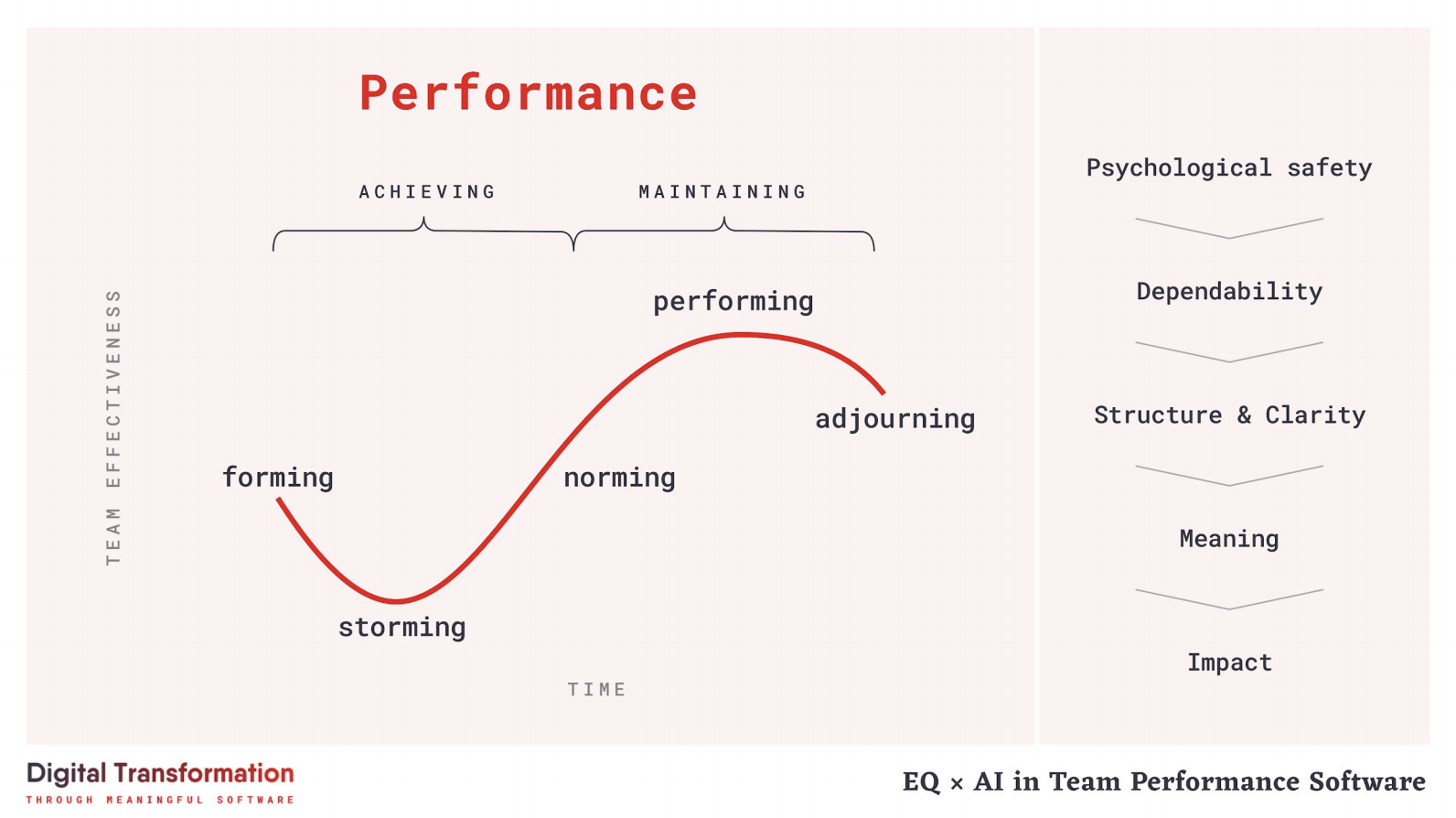 The curve of performance during an employee journey, Source:Monterail Slideshare
Introducing Data-Inspired Approach
JS: I get the feeling that recent changes in data privacy legislation put some uncertainty into data-related issues. How do you handle data management and trust with the data you collect?


JT: The number one rule is transparency. Communicate how you use the data and why. It's not a big deal unless it's hidden. And the second rule is anonymity. Show at what point the data is aggregated, how you use it, and how it helps individual employees and the company as a whole. Communicate it to the employees and you will see people more encouraged to get involved.
JS: What's the biggest challenge when working with data and implementing a data-based product?


JT: I think it's the adaptation part. Not everyone is used to data. Analysts or Project Managers have it easy, but when it comes to HR, it's not always that easy to pick up and use. Sales and customer success are similar. It's always scary when you want to introduce some changes and begin shifting toward digitization. Change always means some kind of resistance. You need to prepare for it well, and prepare everyone.
Leading not only through knowledge, but also through empathy and compassion will make the shift easier. Find people who are good contributors to the company, given their performance, but also look for people capable of facilitating change, basing your choice on their leadership skills. These assessments are crucial for business success.
JS: What do you think is the future of work?


JT: There are theories that AI is so intelligent that we won't even need hypotheses to test soon, because AI will be coming up with not just answers, but questions as well. In the short term, hopefully, we can get to a state where we achieve a more wholesome work-life balance and are very productive by using our time wisely. There's so much pressure to offer flexible holidays, remote work possibilities, to give employees more time for themselves. There's so much information we digest so we need time to relax. I hope data will enable us to make more free time for things that matter and reduce hours that are unnecessarily spent at work.
I still see workplaces where people just sit around aimlessly, their work done, feeling that they have to be there just because they don't want to be perceived as slacking off. I hope we can change that a little with data. What we will hopefully change toward is appreciating people who work less but are very productive, instead of those who spend long hours in the office and take six coffee breaks throughout their workday.
The future is not remote offices, if only because when you have this culture piece of the puzzle right, people will want to come to the office and bond, to collaborate and socialize. Work has always been a big part of our life and that will never change.