Finding synergy between humans and technology is one of the biggest challenges lying ahead for organizations. There will always be a lot of new areas to automate and exciting shiny tech tools to implement.
Check all of our HR Tech Expert interviews from this series:
So, how do we decide what direction to take and how do we make changes that actually add value to a company? Answering these questions is a hard nut to crack for HR Managers.
When it comes to decision-making, expert insights should always serve as benchmarks to follow.
Phillippa Penfold is one of those people who knows the ins and outs of HR Tech.
She is the CEO and Co-founder of People Collider, a company that trains HR about new technologies so they can create the future workplace. With over 20 years of experience in the field, her mission is to help HR understand technology and make good use of it. And she does it extremely well.

Philippa Penfold

Founder and CEO
of People Collider
Philippa has spent the last 10 years in Asia working across various industries, from start-ups to MNCs.
She has broad experience in formulating HR strategies and supporting the implementation of new HR practices and technology. She recently launched a survey analyzing "The State of HR and Tech in APAC."
Visiting Singapore, I couldn't miss the opportunity to meet her face to face to discuss the most common issues emerging at the intersection of technology and HR, and explore potential solutions to some problems that HR specialists are facing. Let's take a closer look at how HR uses technology and dive into Philippa's insights.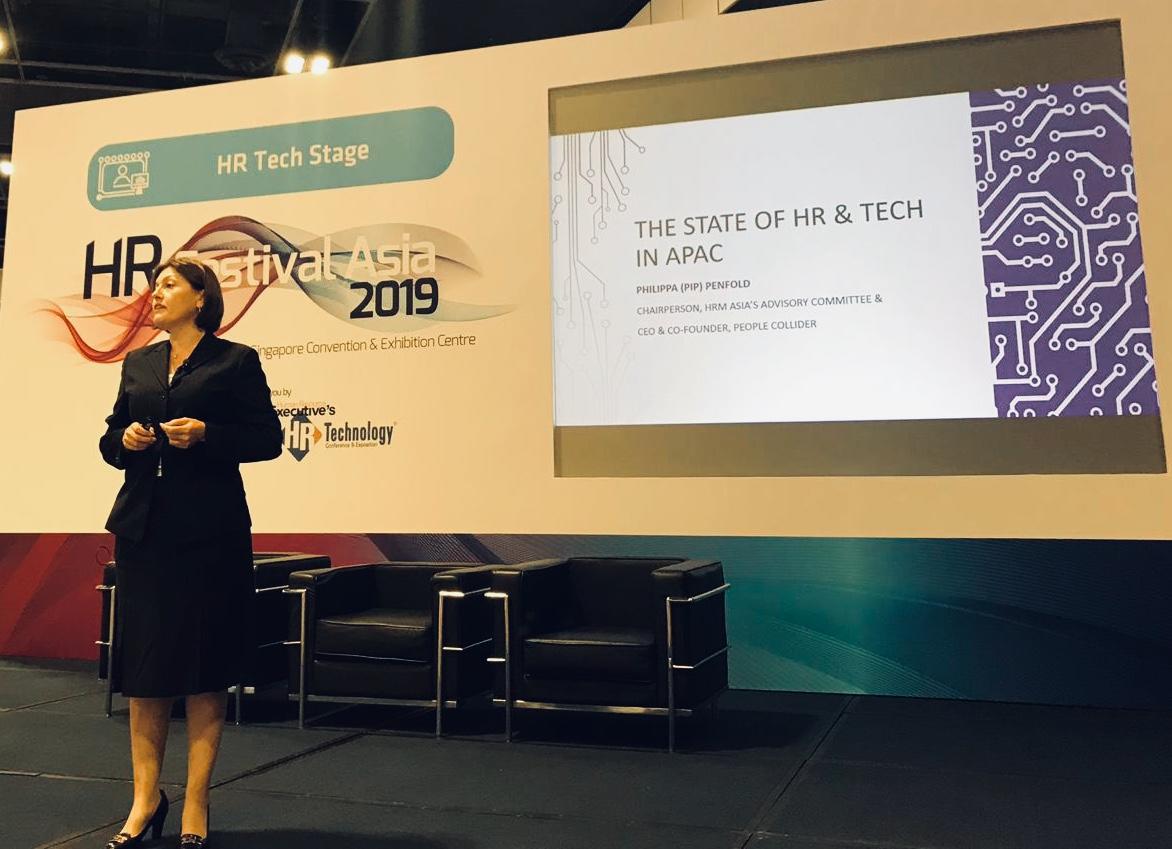 Philippa Penfold at HR Festival Asia in 2019.
HR Tech - Plans vs. Reality
Szymon Boniecki: How do you see the relationship between HR tech and HR in practice? Are they two parallel universes?
Philippa Penfold: What we're experiencing today is lack of common understanding between HR professionals and HR tech vendors. We've got tech tools but they often don't solve real problems for HR, while paradoxically, we're in real need of tech tools that help solve HR-related organization problems. HR generally has a poor understanding of what technology can do and how it can help solve the problems that HR is grappling with today, particularly with newer technologies such as Artificial Intelligence (AI) and Robotic Process Automation (RPA). What follows is a lack of useful innovation in HR Tech, as very few HR Tech founders have a background in and understanding of HR.
Many HR tech innovations I see highlight the potential of the technology, more than the HR-related challenges for business today. How HR interprets the business strategy and supports it through the people strategy is different from how HR tech vendors see the application of the technology to HR, or to the business through HR.
SB: What are some of the biggest challenges in the world of HR and Technology right now?
PP: Many HR Managers say they want to digitalize their function but what they actually do is digitize; they take systems and apply them to processes that operate in much the same way they were undertaken before.
Any adaptation is more often of the process to the system, rather than adjusting the system to fit the desired process. It may help boost efficiency, but it rarely increases the ability to create additional value. I believe that overcoming the common misunderstanding that efficiency and value can be achieved through the same system is important for HR. Similarly, changing systems to fit target processes and prioritizing systems that enable value creation are also some of the biggest shifts HR needs when it comes to choosing HR Tech.
Focusing merely on improving efficiency doesn't give the business a competitive edge anymore. Winning in the marketplace today relies more on the ability to create unique value for customers than on the efficient use of resources. More often than not, HR primarily looks at tech from an efficiency point of view.
The reason the focus on efficiency is not enough anymore is that automation, business models, technology, and employee expectations are now very different from what they used to be. And it's ever-evolving. The question that HR should ask today is: "What can we automate that would enable us to create more value, not only improve efficiency?"
Efficiency is necessary but not sufficient for business success nowadays, yet HR rarely moves beyond efficiency when considering technology—and that's a problem. There are, of course, some benefits to automation—we "take the human out" of many tasks that can be easily automated, giving humans the opportunity to undertake more complex, creative tasks. That said, we are not good at knowing, and insisting, on leaving the human in where we should; we tend to automate what we can rather than what we should from the human perspective.
HR has trouble with shifting focus from efficiency to strategic goals and using tech to achieve those goals. Nowadays, if you look at the tech tools adopted by HR, most of them serve to boost efficiency—it's so rooted in our perspective.
Taking your established processes and automating them for efficiency is no longer enough—it doesn't tap into the potential of how technology can truly reinforce culture, boost productivity and create value. Many businesses also struggle to choose the right technology suited to today and the future. For example, if you need to recruit a lot of people in a short time, then you would use a different tool from the one you would choose to improve your leadership strength, grow headcount by five percent in the next five years or change the skill set of existing employees. It is quite challenging to think ahead and create a scalable technology ecosystem.
SB: What's the difference between what HR and what employees perceive as the biggest issue that could be solved by implementing HR tech?
PP: That's a good question, there is often a difference between the two. For example, if you ask HR about the common issues that arise during onboarding they will usually point out problems related to getting signed documentation returned to HR, arranging the new joiners' desk, and creating their IT profiles. By comparison, employees will cite onboarding problems such as:
How should I act in this company's culture?
Who should I turn to when I face a work-related issue?
Who are the people important for me to get to know to perform my job?
What is the key information I need to do my job well?
Focussing on HR problems can blind HR to the problems of employees. What worries me is that HR almost never chooses technology that solves the problems of employees, we tend to choose tech tools that solve problems in our function instead.
Employees Perspective on HR Tech
SB: We know the HR perspective, but what are the most common problems encountered by the employees?
PP: Solving employee problems that are related to time management, knowledge sharing, effective collaboration and personal relationships has a positive impact on employee productivity and business results.
I think if HR used those problems as a starting point for selecting technology, more impactful solutions can arise with the application of technology. For example, with the technology available today, HR can improve the matching of individuals to teams on multiple dimensions increasing team effectiveness and outcomes. With the increasing reliance on cross-functional teams, the right HR Tech tools can add significant value and benefit both the employees and the businesses.
We should move from one-size-fits-all, standardized, and efficiency-based technology solutions to a value-creation, individual employee relationship model. We could do it, if we utilized the right technology properly.
SB: So, do you think commonly-used HR tools are so focused on efficiency that they don't solve the productivity problem, which is natural because even KPIs are efficiency-based?
PP: Yes, exactly. I'm hearing more often about the so-called "shadow HR"—people who don't come from the HR department but are dedicated to solving talent and productivity challenges. Many of the challenges are related to establishing and managing effective teams and individuals. There are software options that can help but it's not usually considered HR Technology. There are some great project management, research management and collaborative technological tools, which solve those business problems, but they are rarely recognized as HR tech tools.
While the HR efficiency-focused mindset is challenging to shift, it's compounded by a lack of knowledge and understanding about the technology. There is a growing interest in the topic, and forward-thinking HR professionals are making the effort to learn about technology, particularly new technologies.
The Future of HR Tech
SB: Don't you think that now that we've automated everything and traditional HR is becoming obsolete we should make HR start solving productivity problems?
PP: We haven't quite automated everything, though it's true that many HR processes have been automated. The automation is primarily focused on HR processes that previously required humans to perform mundane tasks in the hope of achieving workflow efficiency. According to the 2019 State of HR & Technology in APAC survey, workflow improvements are the main influencing factor for HR when buying new HR technology. There hasn't been as much focus on HR tech tools that enable employees to be more productive and increase the value they can create, as they have been overshadowed by tools solving the problems of HR functional efficiency.
I do think it's important that more HR shift their attention to people and productivity challenges, and how they can help people and the business transform digitally, not only transform the traditional HR function. All three levels are important for successful transformation; people, functions and business model.
There is also a very important and often overlooked aspect, and that's the transformation of HR professionals themselves. Through the transformation of HR professionals, the transformation of the HR function will be much easier and more effective, in much the same way that the digital transformation of business is achieved through the transformation of the employees and their digital capability. To try to transform our function without first transforming ourselves seems nuts to me.
SB: What needs to change to make sure we're getting the technology we need?
One of the problems in the business world is that many technological tools (including the ones we use in HR) were devised primarily by technologists. In fact, the problem that technology is only built by only a very small sub-section of the workforce, without the input of people who understand people in the technology creation process, has even been acknowledged by Rachel Thomas (of fast.ai) in one of her Ted Talks.
People who understand the human condition are not often involved in the technology creation process, and they should be. While I don't think that it's solely the responsibility of HR, we do need people-oriented specialists to be involved if we are to have technology designed for our needs.
However, HR needs to be more knowledgeable and capable in regards to technology, so they can get involved in the creative process, rather than only being unschooled buyers and end-users of finished products. There have been cases in which HR has very effectively co-developed tools with HR Tech companies, and there are a growing number of firms building tech tools to order for HR. Such initiatives can produce the technology we need, but only when people from HR can participate in the process.
My fear is that our future, filled with new technologies such as Artificial Intelligence, will be built by technologists alone. While I respect their work, I don't think they should create tools without the contribution of people who understand the human condition. I must add, I don't believe technologists want to do it alone, I come across many in the HR Tech industry who are trying their best to get HR involved. It's up to HR whether or not we are involved or not. I really hope we choose to step in, and soon.
SB: How should we treat technology then? What would your advice be on aligning HR with strategy?
PP: The choice of suitable HR tech tools is a challenge. How a department or company chooses to prioritize technology and allocate budget are crucial decisions. Too often implementing technology is seen as the endgame, rather than a way to achieve a business objective. To serve its function well, technology should be treated as an enabler of change rather than the end itself.
The common use of some HR technological tools makes me question whether companies are prioritizing the right challenges, and going beyond improving efficiency as a goal. I know many people include control and data management in business cases for such systems, and while I respect the importance of those goals I believe they still represent limited usefulness and value of such systems. Yet, the majority of budgets are spent on single large systems, many of which can only solve a few challenges, leaving many challenges unaddressed. I believe HR should choose solutions that help solve specific goals, be they for the function, the employee or the business. The point is, the system will be different depending on that strategic purpose because one system cannot solve them all. We need to be comfortable accepting multiple systems and consider budget allocation accordingly.
HR should start selecting software that enables the company to realize its strategy; not tools solely for the HR department itself.
It seems like there's a lot to improve on both sides, the HR practitioners and HR tech vendors. We all need to learn and listen to each other's needs. There is great potential in the synergy between HR, technology and business. In a world filled with new technologies and challenges to solve in the future workplace, I'm excited about the HR tech revolution!
If you want to learn some more about how HR tech can benefit your business, have a look at the articles we published with help from HR Tech experts: