Human Resources is all about people.
HR software is there to support both employers and employees in making their lives easier in the professional environment. From searching for the best talents to managing their salaries and benefits, to building their personalized career paths, HR software simplifies each element of running a business.
Let's look at some of the multitude of HR tools and apps that HR managers, high-level executives, and company owners have at their disposal today.
For the purposes of this post, I divided HR tools into groups that roughly correspond to the different stages of the employee journey — from talent sourcing, recruitment, and job boards, to employee engagement and payroll. Here we go!
Talent acquisition and candidate sourcing
These tools help recruiters find the right people for the jobs — from simple job boards to more intricate platforms that match candidates to open positions and help employers market their brands more efficiently.
A popular platform allowing companies and organizations to find freelance professionals in many different fields, and allowing freelancers to find jobs. It evolved from a simple job board to a powerful platform that matches candidates to job requirements, analyzing recruiters' needs, and providing invoicing and payment options.
It is used by giants such as Microsoft, GE, and Airbnb.
Source: Upwork.
A European tech-focused talent sourcing platform that helps hire Software Developers, DevOps Engineers and Engineering Leaders— and helps people find jobs in IT. All job candidates are pre-verified through a code challenge and a call with Honeypot's Talent Management team, and are offered free career support and guidance through a talent rep.
Source: Honeypot.
This platform connects 60 million gig and hourly workers with hiring businesses across the U.S. It lets businesses screen, interview, hire, and onboard temporary employees — all in one place.
Source: Jobble
A top worldwide job offer platform available in over 60 countries with 250M unique monthly visitors. Apart from job postings, it allows candidates to create resumes and apply for jobs. It also engages in career guidance and provides certification opportunities.
Source: Indeed
A candidate sourcing tool for developers and software development companies, who want to find a perfect match in terms of IT job and talent search.
It helps developers to visualize their dream job based on preferences such as: used technologies, the desired breakdown of time over tasks, and working conditions that are important to them.
Source: Workshape.io
Want to know more? Download our free HR Tech ebook.
Applicant Tracking Systems
Known as ATS among HR professionals, they are essentially talent sourcing software used by HR, recruiters, and hiring managers to find job candidates and track them throughout the hiring process.
They're like CRM platforms (customer relationship management) but specifically for recruitment purposes. Here are some great examples.
It uses built-in candidate sourcing capabilities, helping recruiters not only manage their applicants but also find the ones who match the skills and location of a job — from AI-powered search and advertising to job postings to 200+ job sites. It makes remote interviewing seamless and we use it at Monterail to recruit our awesome team members.
Source: Workable
It's an intuitive and easy-to-use HR tool with a relatively low subscription cost. It's a great fit for smaller businesses and startups as it scales along with the company. It connects with many other HR tools and includes employer branding capabilities, candidate sourcing and tracking, and collaborative tools for hiring managers.
With the vision of democratizing the use of recruitment software, Manatal's cloud-based platform allows you to simplify your hiring process from sourcing to onboarding, and land you the best candidates by leveraging its advanced features such as AI-based candidate recommendations and social media recruitment. The software also allows you to efficiently track and manage clients through its complete set of recruitment CRM tools. Manatal, the all-in-one recruitment software solution for agencies and corporate HR.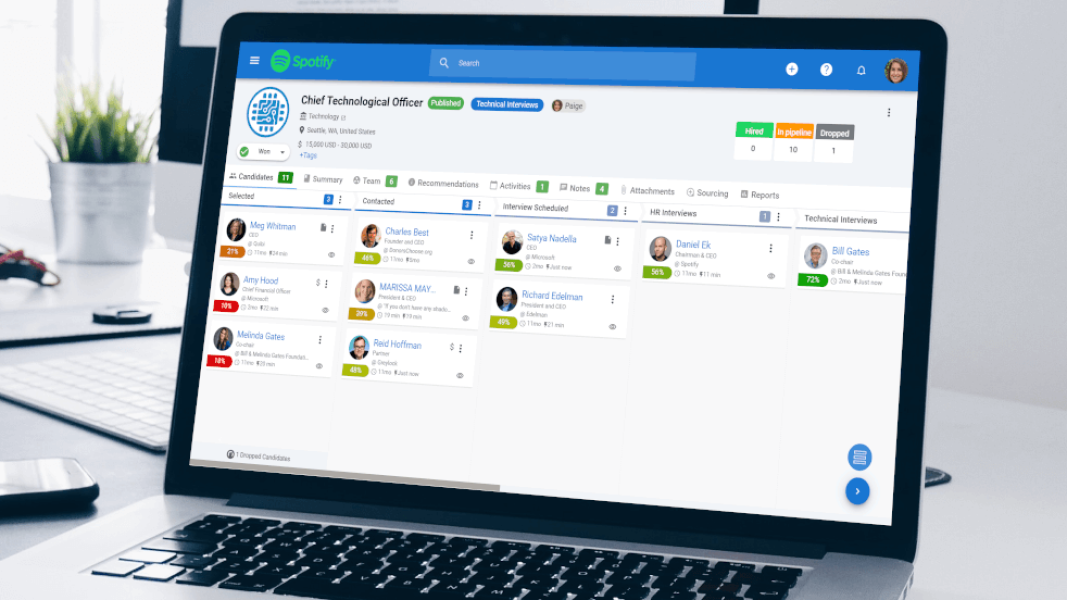 It's an ATS focusing on building diverse teams, trusted by over 3000 companies. It's known for metric-based recruiting, helping management predict the hiring needs and deliver talent insights based on data.
Source: Lever
Applicant testing and assessment software
These platforms help choose the best candidates during the recruitment process, allowing recruiters to create assignments, cognitive ability tests, and job knowledge tests.
This applicant testing platform works in two ways. First, it helps create coding and technical assessments for recruiters to help them test prospective developers and software engineers. On the other hand, it helps candidates practice and prepare for testing and interviews. It also offers a tool for conducting live or remote technical interviews.

Source: HackerRank
Another screening and online interview platform aimed at IT professionals. It features a test wizard, manual code test creation tools, tasks in SQL, DevOps, code review, and more.
Adaface is a skill assessment platform that enables companies to identify qualified developers by automatically assessing code written by applicants via a built-in code editor.
Source: Adaface
It uses bias-free algorithms to create gamified neuroscience tests aimed at matching candidates to the right jobs. Existing employees play neuroscience games that help discover traits and trends. The data is then used to create bias-free algorithms and candidate tests. Rejected candidates can be automatically matched to other opportunities across other clients using the solution.
With remote teamwork on the rise, video interviews are sometimes the only chance recruiters and candidates get to see each other. Apart from well known apps like Skype, there are solutions strictly dedicated to recruiting new employees.
Zoom is a powerful all-round tool for video conferencing. It's not only a great choice for interviewing candidates, but also webinars, virtual conferences and other types of meetings.
Source: Zoom.us
HireVue allows companies to perform game-based and technical pre-hire assessments and interview analyses. Through incorporating organizational psychology and AI-driven predictive analysis, it aims to reduce bias in the hiring process.
Apart from its video interviewing software, it also provides other standalone recruitment solutions like structured digital interviews, skill testing, or automated reference checking, along with a complete recruitment suite.
It offers pre-recorded and live video interviews, candidate tracking, collaborative tools for hiring managers, and candidate performance analytics. It eliminates the hassle and time spent on scheduling interviews.
Onboarding and offboarding software
So you found the right candidate who went through the recruitment process and got hired. Now is the time to onboard them. There are more and more platforms that make this process easier and help automate it.
It's an experience-driven onboarding platform focused on increasing engagement and excitement of new hires. It helps HR managers personalize the onboarding experience for employees.
Source: Enboarder
An onboarding platform focused on creating a great employee experience, simplifying paperwork, and letting HR managers prepare customizable pre-boarding packages.
Source: BambooHR
An employee onboarding platform combining human resources best practices with technology that enforces company culture to help new starters on their onboarding journey. They can engage with employees and get on-the-job training before they even start, while recruiters can collect feedback on the recruitment process.
Source: Talmundo
It integrates with multiple ATS platforms to sync new hires' data and automatically start the onboarding process. The tool includes features like assigning legally binding documents and allows for creating workflows with triggered emails that eliminate manual checklists and data duplication.
Employee referral software
On the competitive candidate market, candidate referrals are priceless. Referral programs can improve employee retention and ensure high-quality candidates that are fit for the job. That's why many companies create comprehensive programs to encourage and reward good referrals. No wonder there are platforms that can help automate the process.
This tool lets you leverage your employees' social capital by inviting them to refer perfect candidates for your open positions.
A dedicated referral platform that helps match talent with open positions based on your employees' connections on social networks they connect to the platform, instantly refer them and track the results of the hiring process — and reward the most engaged employees.
Source: Teamable
Productivity and time management
There are a number of platforms dedicated to managing attendance, time, and productivity tracking. Let's look at some of them.
A comprehensive HR platform that allows for time tracking, but also includes features like expense and recruitment management tools. Its timesheet interface is simple and intuitive, with approval flows and reporting capabilities.
A simple time tracking and reporting tool that enables you to keep an eye on time spent on different tasks and projects. Moreover, it makes tracking expenses, invoicing, and reporting really quick and easy.
Source: Harvest
A cloud-based attendance and time tracking software for teams. It includes a Slack bot to record time spent in the app and power-ups like activity tracking, permissions, and roles for team members, or facial recognition to verify employee attendance.
A distraction-free productivity tool for employees that helps you work remotely with a work partner in selected times through video sessions – and eliminate procrastination.
This tool lets you keep track of everyone's workload, task status, and time off. It also enables team members to assign tasks to one another and track their progress.
Source: Float
This tool is meant for designing and improving processes, tasks and procedures, helping companies turn chaos into a structured workflow. It's a great tool if you need to improve processes and operations in your organization and make everything run smoothly. It's trusted by companies such as Nestle and Oracle.
Source: Tallyfy
Employee engagement
Luckily, there are apps for that that help not only see how your employees perform, but also help you motivate them to perform better.
An employee talent recognition and rewards platform that helps drive business growth and performance management. A platform rewards and recognizes employee behaviors that are aligned to their actual business goals. Actions such as achieving a milestone metric by the Sales Manager, is recognized by Cooleaf app due to integration with Salesforce and SalesLoft. This results in greater motivation of employees (P.S. See Cooleaf case study to find out how we built this app).
Source: Cooleaf
They boast to be the world's leading platform for measuring and improving employee engagement. It focuses on turning employee data into insights for managers, offers advanced talent segmentation capabilities and real-time dashboards, and includes tools that foster conversations in teams helping include employees in the engagement process.
Source: Peakon
It's an employee wellness tool that promotes health and fitness among employees by facilitating rewards for physical activity and educating about mental and emotional health.
It's a great tool for promoting work-life balance and increasing your employees' well-being.
An employee experience platform including mobile-first, two-way communication tools like targeted broadcasts and direct messaging, feedback polls and surveys, chat, recognition badges, and more.
This tool lets you engage your team with surveys, goal tracking, performance reviews, and team feedback tools, among other features. If you're looking to improve performance management, check if Trackstar is the right tool for you.
A platform designed to create virtual co-working spaces with integrated video conferencing, Slack chat integration, and one-click video calling. It's used by companies like Uber, Tesco, and Shopify, bringing their remote teams together. A bonus — it now facilitates Slack integration.
Source: PukkaTeam
Talent management software
Talent management systems (also known as TMS platforms) are integrated HR tools covering the four pillars of talent management — recruitment, performance management, learning and development, and compensation management, providing companies with strategic help when it comes to human capital.
It's Monterail's tool of choice. It provides clock-in/clock-out solutions including iBeacons, QR codes, mobile apps, Slack integration, and leave management system with absence calendars and approval flows, with multinational day-off support.
Source: Calamari
An HR, payroll, and benefits platform that promises to help build a better workplace. The features include day-to-day HR management tools, time tracking, onboarding and performance review, customizable reports, and more.
Source: Namely
A self-service, web-based solution for HR personnel, managers, recruiters, and employees — providing them with real-time mobile access to information wherever they are. The platform is scalable and helps to optimize the onboarding process, talent management, and HR processes like benefits administration, and learning and development.
Payroll
An online accounting software for small businesses and organizations. It works across many devices and includes invoicing tools, expenses, inventories, purchase orders, and hundreds of third-party app integrations.
Enova365 is a comprehensive ERP platform that's compliant with the latest legislation.
It's used by over 14,500 organizations who entrusted it with their payroll, accounting, and documentation.
Source: Enova 365
A payroll software package supporting weekly, fortnightly, and monthly payroll. The interface was designed to keep straightforward payroll simple, and simplify it when it gets more complicated. It features automatic enrolment, real-time information, and employee self-service. All the data is stored in the cloud. It's also GDPR compliant.
Benefits
It allows organizations to create perk and reward programs for their members. The Zestful card looks like a debit card, but can only be used for the products and services you set for it — like health or fitness plans for example.
Source: Zestful
A fun and intuitive recognition program which provides employees with a monthly allowance to give small bonuses to their colleagues to recognize their contributions. Its' user-friendly interface makes all bonuses transparent and gives you prompts of the most popular reasons for recognition.
Source: Bonusly
This award-winning platform is centered around employee recognition and incentives. It motivates team members to stay engaged and makes it easier for the management to notice their efforts.
Communication
An amazing communication tool that enables your employees to chat, organize video meetings, and create various topic channels. It's used by 750 000 companies worldwide proving that it is one of the best communication tools out there.
It's Monterail's communication tool of choice and it helps us stay connected while working remotely.
Source: Slack
Guild is an invitation-only, secure communication tool for professional groups, communities and networks. It is a multi-platform, safe, encrypted space to collaborate with colleagues on professional projects.

Source: Guild
Read the whole story about how we built this app.
Holistic HR Tools:
This tool helps reduce time spent on administrative tasks. Its mission is to "battle paperwork and never ending, complicated Excel charts" - sounds amazing, right?
With one tool you can easily manage areas such as: applicant sourcing, attendance tracking, payroll, employee document management and team feedback.
Personio helps you digitize all of the major HR processes and save a lot of time and money.
Source: Personio
Leapsome is a holistic, time-saving people enablement software that helps you build a feedback and learning culture, improve employee performance and engagement. Its features such as: employee surveys, goal setting/OKRs, real-time feedback, 360° performance reviews and personalized learning, make it a really helpful and people-oriented tool.
Leapsome is used and praised by companies such as Mercedez-Benz and FlixBus.
Holistic HR software for small and mid-sized businesses including features such as: talent and performance management, payroll, benefits, engagement and employee wellbeing.
It also includes time tracking, new hire onboarding sync, reporting, and benefits management. If you're looking for a great all-round HR tool, definitely check out Zenefits.
Source: Zenefits
HR Cloud

improves employee experience and gives HR teams a new advantage over past approaches by automating manual processes. Onboarding new hires is now much quicker. It also helps drive communication, collaboration, and engagement to new levels.
It's a complex tool that gives you the opportunity to manage employee on- and offboarding, time-tracking, absence and shift management, payroll, recruiting and more! It's definitely worth checking out if you're looking for an all-round tool to manage many HR processes in one place.
A platform that enables you to manage all your employee data and operations: onboarding, offboarding, benefits, payroll -- all in one place.
Source: Rippling
Conclusion
There are tons of other HR tools and platforms – from simple ones to complex HR processes and talent management machines. Many companies also decide to build their own HR tech software for their specific needs – or outsource their development to experienced IT teams.
Interested in developing your own HR app? Send us a message and we will get back to you.
And if you know a tool that you would add to this list, let us know in the comments!