The COVID-19 pandemic has redefined many businesses and how they conduct operations. This change often calls for a complete overhaul of business processes so companies can stay on the market.
The restaurant industry is no different — to remain operational and cater to customers with a safety-first mindset, restaurants have turned to technology. To find out what we can expect, we'll explore in this article how the pandemic is reshaping the restaurant industry.
Impact of COVID-19 on restaurant sales
When the COVID-19 crisis spread across the globe, the restaurant industry was among the most affected ones. Practically overnight, restaurants were ordered to shut down to decrease the risk of virus transmission.
To mitigate the severity of financial losses, many restaurants had to shift and adapt to meet customers' new needs. As a result, restaurants adopted delivery- or pickup-only models, which allowed them to operate during the strictest of lockdowns.
And even though the industry is faring way below last year's revenue benchmark for the same period, we can see a visible increase in sales.
The industry is recovering, albeit slowly.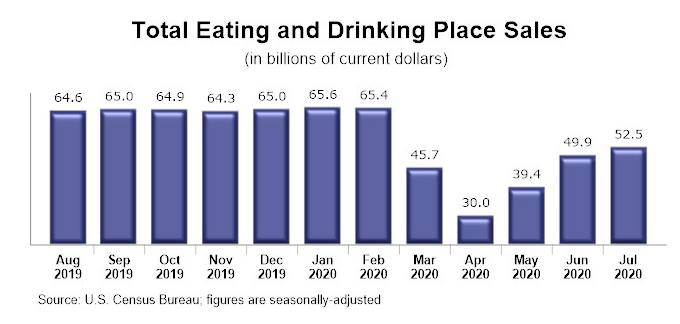 Sales for the restaurant industry are growing despite a severe drop mid-year. Source: National Restaurant Association
It's clear that to survive, restaurant owners have to innovate across all customer-facing operations, be it takeout, dine-in, or delivery. So what solutions can the restaurant industry embrace to increase sales in a fluctuating environment where restrictions can shatter dine-in revenues?
Looking to adjust your business to new customer behaviors?
Our experts will use their knowledge and skills to advise and create the best scenario for you. Be it a new mobile app, an improved service accessibility, customer retention and engagement, or more features — we'll make sure you're prepared.
Technology lets restaurants thrive
One way restaurants can remain operational is by turning to technology. Technology can both support a safe and contactless food delivery as well as provide comprehensive management capabilities that increase sales.
Delivery apps
When crises of the coronavirus' proportions hit, it's critical to act fast to retain the ability to serve customers. Delivery apps such as Grubhub, Uber Eats, DoorDash, Delivery Hero, Swiggy, Foodpanda, Zomato, or Postmates help affected restaurants increase their reach by opening their doors to huge customer databases.
In fact, delivery apps have observed tremendous growth. In June, DoorDash was valued at $16 billion, claiming 45% of market share in third-party delivery orders.
The downside of partnerships with delivery apps are commission fees that can decrease profit margin. Even though many delivery apps have expressed their support for independent and local restaurants by either temporarily suspending fees or decreasing them, several restaurant owners report the partnerships are still being a financial burden. This might suggest that relying on delivery apps solely is not a sustainable approach for restaurants.
Direct delivery app development
A solution for restaurants looking to make a larger profit without relying on third-party delivery apps might be companies offering direct app development for restaurants.
By building their own apps, restaurants can create a food delivery service and increase customer experience. There are many options for doing so, from hiring a company with extensive web and mobile development knowledge, who build dedicated delivery apps, aiming to support restaurants by decreasing their reliance on the big players on the food delivery market.
Since customers express interest in supporting local restaurants, transitioning to direct food ordering might help restaurants make a higher profit.
Integration of delivery channels on Point of Sale (POS) systems
Integrated solutions that streamline and organize data from multiple third-party delivery services and directly feed it to point-of-sale systems will help restaurants better manage and analyze their delivery orders.
Deliverect provides restaurants with automatic integration of delivery channels across a variety of POS solutions. Instead of manually inputting delivery orders into point-of-sale systems, Deliverect automatically inputs the order into the system.
Deliverect integrates with third-party POS systems. Source: Deliverect
With integrated POS systems, restaurants can aggregate and analyze their revenue sources and data. Leveraging data from multiple third-party delivery services is critical to gain valuable insight and optimize turnover.
Dine-In Contactless Services
Restaurants must adhere to strict guidelines on reopening business during the pandemic. In this sector, we can expect a rise in the use of platforms for improving dine-in management and experiences.
For example, virtual waitlists or reservation platforms can help restaurant owners better manage restaurant space with limited capacity (often to 25-50 percent) and increase turnover per table. Reservation platforms can also help decrease crowding and guest wait-time. For example, when a table is ready, guests can receive a notification instead of having to stand in line.
To further improve guest experience and safety, restaurants can use digital menus, where viewing and ordering food happens in a mobile app. Payment, too, can be done within the app. Touching shared objects is cited as the most feared activity inside restaurants, with 38% of respondents admitting to feeling so, according to a 2020 report by Datassential.
Drive-thru optimization with AI
Drive-thru restaurants are also a welcoming innovation. To reduce wait-time and lines, drive-thru restaurants turn to AI and voice recognition. Companies such as 5thru or ValyantAI deliver systems that use automatic payment processing, license plate recognition, and conversational AI to improve order-taking.
The system recognizes customers as they pull up, allowing restaurant owners to build customer profiles and make more accurate upsell suggestions based on past orders. With saved payment information, the customer only picks up the food, without having to go through the process of card payment (and, for example, keep physical contact to a minimum).
These systems can also be used to introduce voice-ordering directly from the customer's car to increase efficiency and throughput.
Mobile apps to improve guest experiences
The use of mobile applications will help restaurants improve guest experiences through customer data analytics. With every order, the offer can be tailored to better match individual customer needs — e.g., habits, allergies, preferences. This is an opportunity for restaurants to foster and strengthen relationships with their guests.
Loyalty programs included in mobile apps can motivate guests to return and redeem their coupons, in fact, 23% of owners increased their loyalty program's budget in response to COVID-19. Customization and tailor-made offers will help guests feel more valued. Mobile apps can also be used to send personalized messages describing daily safety precautions the restaurant takes to keep guests and staff healthy and safe.
Dine-in pivoting supported by tech
Fine-dining restaurants struggled with the transition to takeout and delivery operations due to the very nature of how they serve their customers. But reimagining business was necessary to upkeep operations even for fine-dining restaurants.
Canlis, a 70-year-old historic restaurant in Seattle, temporarily reinvented its offer in response to the COVID-19 restrictions. Partnering with Tock, a reservation system provider, Canlis found a way not only to continue operations but also to support the community, employees, and food suppliers.
Urged by Canlis, Tock redeveloped its traditional reservation system to include a delivery and takeout feature that streamlines the process of food delivery for restaurants.

Tock integrates with a restaurant's website for a seamless implementation with little changes. Source: Tock
Robotic and drone-based delivery
In the most extreme scenario of another complete lockdown, we can see an expedited adoption of drone and robot delivery services. Even without the lockdown, the robotization of the food-delivery process is likely the future. Autonomous robots are already being used for local deliveries of food and groceries, for example, at University of Wisconsin-Madison.
In Ireland, Manna, a company that builds custom drones, uses drones to deliver medicine and groceries. Initially, Manna partnered with Just Eat on a joint food delivery project, which was postponed, ironically, due to COVID-19.
Autonomous deliveries reduce delivery times and eliminate human contact from the process. They can also be used to ship critical supplies where road-based delivery isn't possible.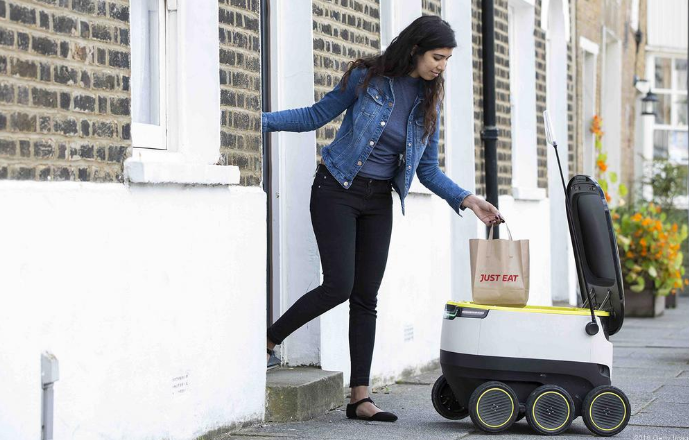 Robots delivering food might soon become common. Source: Starship Technologies
The restaurant industry relies on tech to survive
Even though forecasts for the restaurant industry seem rather gloom, the respite coming from the adoption of technology might, at least partially, alleviate the pushback the coronavirus has on the food sector.
Smart food delivery services will aid restaurants in keeping up sales even when dining in becomes hindered due to lockdowns. Digitized dine-in experiences that increase guest safety and business turnover might become necessary to navigate the pandemic and serve customers.
Whichever solution it is, technology emerges as a critical ingredient for the industry, allowing restaurants to successfully pivot and adopt new business models that let them operate.
Since we are still to learn how the crisis ultimately shapes our future expectations regarding food consumption, securing a solid operational infrastructure might be crucial for many in the restaurant industry.