While MedTech was on the rise even before the Covid-19 pandemic, in 2020 we experienced a soaring increase in the number of healthcare, wellness, and medical applications aimed not only at regular users (patients) but also at medical professionals, lab technicians, prescription providers, and many other roles within this sector.

The healthcare app development surge continues strong in late 2022, with the market expected to grow 11.8% from 2022 to 2030 (Compound Annual Growth Rate) and increase its value to USD 105.9 billion by 2030.
In this guide, I will explore the recent trends in the healthcare industry, the difference between healthcare and medical application, the key features if you want to build a successful product in 2023, and the healthcare app development process.
Let's dive in.
Here's what you'll read about:
What is Healthcare App Development (And What It Isn't)
Healthcare app development is a broad term that describes the process of developing mobile and/or web applications that users can use to improve their physical and mental health. In addition, healthcare apps can also be used by medical professionals to track and monitor their patients' condition and provide suggestions based on the data collected through the apps.
What healthcare app development isn't, it's definitely not medical app development and it doesn't have to go through the same audit and follow exactly the same regulations, although there are specific standards for healthcare software development to comply with - more on that later.
What is the Difference Between Healthcare App and Medical App
Healthcare and medical apps may appear similar on the surface, but there are substantial differences between these two types of applications.
Healthcare applications
Healthcare apps are usually targeted at people who want to improve their well-being and learn more about their daily habits and small ways to adjust them. These apps need to be HIPAA-compliant which means that they follow the regulations as stated in the Health Insurance Portability and Accountability Act of 1996 that protect patients' sensitive data from being shared without their consent and knowledge. In general, the advice that healthcare apps contain is largely unofficial and based mostly on the user data collected in the application.
Please note that both Google Play and App Store have specific requirements for healthcare applications, so if you want to distribute your product, make sure that you have privacy and data protection policies in place before you'll submit your tool to be listed. For more information check Google's and Apple's guidelines:
App Store - Health and Health Research
Medical applications
Medical applications (also called mhealth apps) - on the other hand - are targeted toward healthcare professionals and used largely by them. They support the medical staff in their day-to-day tasks such as diagnosing and monitoring patients, making decisions on the type of treatment, and chronic disease management. The mhealth apps undergo a more rigid screening process and need to be compliant with the Food and Drug Administration (the US) and Medical Device Directive regulations (the EU). Inadequate or missing compliance means risking that your application will not be allowed to be used and sold in these regions. If you need more information about the requirements and the approval process, visit:
Food and Drug Administration - Device Software Functions Including Mobile Medical Applications
Guide on Medical Device Regulation and App Certification
Some examples of medical applications include:
Apps for medical professionals
Electronic Health Record (EHR) systems
Remote Patient Monitoring (RPM)
Hospital Management System (HMS)
Healthcare CRM software
Medical diagnosis software
Digital prescription applications
Healthcare billing software
Clinical trial management tools
Medical reference applications
Professional networking applications

Healthcare App Market - Overview
The healthcare application market was growing at a regular pace before 2020, but as mentioned, it has skyrocketed ever since the Covid-19 pandemic started - I'll dive deeper into the topic in the section below. Here's a quick overview of the key statistics and the current state of the healthcare app development sector:
How Has Covid Reshaped Healthcare App Market and Healthcare in General
According to the 2022 Accenture report on healthcare software adoption in the US, before the Covid-19 pandemic had started, the rate for introducing and popularizing new healthcare and medical apps and telemedicine, in general, was moving at a steady yet stalled pace. The pandemic has changed everything when it comes to how people perceive telemedicine to their willingness to use software for medical services. The data also shows that the number of healthcare application downloads increased by 60% in 2020 alone.
As stated in the 2021 McKinsey report on telemedicine, 40% of the surveyed public in the US stated that they would be using telemedicine going forward, and between 40 - 60% were interested in using a broader set of e-health solutions, such as low-cost digital-first health plan or an online appointment tool ('digital front door').
It seems that the pandemic boosted the interest in the benefits of telemedicine and monitoring your health in general. While a series of lockdowns was imposed in multiple countries globally, consulting your doctor online, registering for medical services, or having your prescriptions filled remotely seemed like a sensible option and necessity in most cases.
What Healthcare App Trends You Should Look Out For in 2023
Big Data and AI
All in all, healthcare as an industry collects a lot of data over extended periods of time, so it doesn't come as a surprise that the data can be used in multiple ways, including for Predictive Analytics of patients' health and wellness. This technology is already being used in personalized healthcare, but in 2023 we'll see it expanding even further and used for treatment simulations, risk estimations, and large-scale geo-mapping that will help track and contain future epidemics of highly-transmittable diseases.
When it comes to Artificial Intelligence, it has and still is changing what healthcare is and how it operates at an unprecedented scale. It's widely used in diagnostics supporting medical professionals as they carry out examinations and prepare treatment plans for their patients. AI market size in the healthcare industry is expected to grow to USD 45.2 billion by 2026.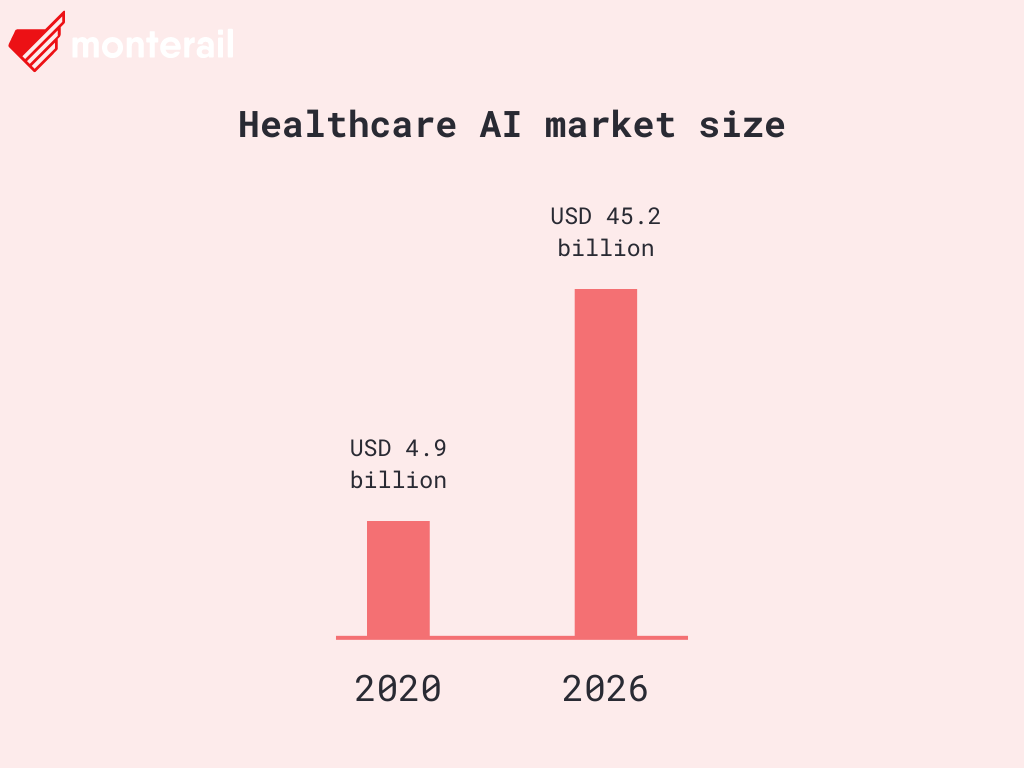 VR/AR
Augmented and virtual reality are already widely used in the healthcare industry in medical professional training and remote surgeries. One of the devices that enabled this type of usage is HoloLens, a now-discontinued Microsoft mixed-reality headset that can be used for off-site medical consultations and training simulations.
The potential for using these technologies is far more extensive - they were tested for supporting patients' mental well-being as they go through challenging procedures or extended treatment. It can also be used in other areas of patient care such as rehabilitation and diagnostics.
Blockchain
While blockchain may not be broadly used in the healthcare industry just yet, it can be one of the most promising trends in this sector in the next few years and play a vital role in dealing with its most pressing issues such as data interoperability and data efficiency.
A blockchain network can be used to store and share patients' data between medical facilities, including hospitals and emergency care units. Furthermore, the technology can be employed for managing data in clinical trials where data will be protected by nodes and processed only if they would agree to do so.
One of the most important aspects for one of our clients is the speed at which prescriptions need to be filled and delivered to a patient. This also meant that we had to design UX and backend architecture that would allow for instant feedback and an extremely fast information flow. The medtech trend they want to follow next year is - and it may come as a surprise - in-person consultations with the patients that will be conducted online where people who need prescriptions will be able to contact real pharmacists and order medicines directly from them. It seems like after the Covid-19 pandemic everyone wants a personalized and more human experience rather than an online questionnaire or a chatbot.

Anna Rakowiecka

Senior Project Manager
at Monterail
Personalization (Patient-Generated Health Data)
Wearables and applications that collect your healthcare data and then prepare personalized fitness or wellness plans with you were popular before 2020, but the Covid-19 lockdowns which caused fitness facilities to close for months in multiple countries worldwide were one of the reasons since that year we've seen an almost unbelievable surge in usage of fitness/wellness apps.
It's estimated that by 2024, the market for healthcare and wellness wearable devices will reach 440 million units as more and more people are comfortable with tracking their vital signs and other metrics using a smartwatch or other electronic equipment. This will mean that the need for personalized healthcare and wellness offering will be even larger in the next few years.
Healthcare App Types
Apps for patients
Telemedicine software
Appointment booking tools
Wellbeing and healthcare tracking, including reproductive health
Mental health support software
Fitness applications
Preventive medicine apps
Chronic conditions management apps
Healthcare App Development Process - Step by Step
If you're looking for general guidelines for building a robust mobile application, check our comprehensive 101: Building a Mobile App: The Step-By-Step Guide for 2022.
Just to recap, in this section we are focusing on healthcare apps or those used by the general public. The process of developing medical applications is not the same.
Step 1: Identify a problem and find your niche
Healthcare and wellness apps are nothing new: step-counters, calorie intake journals, and virtual coaches have been with us for years now, with numbers of strong products competing for the spot at the podium. Since market saturation is a disadvantage for newcomers, before creating your app you should carefully consider your niche.
Think about:
The key purpose and the problem that you want to focus on solving (e.g. self-reporting or tracking, emergency help, communication, training)
App category (diet, fitness, lifestyle, chronic illness, mental health)
User type (patient, caregiver, healthcare worker, medical provider, student, mixed)
Learn everything you can about other apps that occupy the same or similar niche and make sure that your app does something that the competition doesn't, or at least that it does something much better than others.
Good example: Klue is an eHealth startup that created AI technology that works with Apple Watch to detect and track eating and drinking gestures. Gathered data is then used to discover and work on one's consumption habits. Klue occupies a tiny niche: it's a movement-tracking app for patients with specific devices who want to eat more consciously. But recently they expanded to a completely new niche by introducing another simple feature – mealtime insulin intake reminders for Type 1 Diabetes patients.
Step 2: Define and explore your target audience
Determining whom your customers are and researching your target customers' underserved needs are the first two steps of achieving product-market fit, as described in The Lean Product Playbook. It will help you understand what market your app is in and what your users want.
Researching your target audience will also help in identifying early adopters. Your first customers will be crucial to the further development of your app. If you get them to trust you, they will provide helpful feedback as well as bring new people to your app.
From local laws and cultural backgrounds to common device screen resolutions, a proper understanding of users' needs can determine your healthcare app's future. That was the case with Merck DORA, a medical app we developed that helps in the fight against diabetes in Africa.
Our research showed that 90% of DORA visitors use mobile devices, with 60% of them using Opera Mini browser. To make this app successful, we had to make sure it works well with unstable or slow Internet connection, while maintaining brand identity, visual appeal, and making the app available in multiple languages, including Swahili and Amharic.
Read the complete case study here:
Step 3: Ensure industry compliance
For the list of standards and regulations that you should follow, review this section of our healthcare app development guide.
Step 4: Build an MVP
An MVP (Minimum Viable Product) can be a powerful tool that will help you test the feasibility of your initial concept and gather insights for building a final version of your application. Focus on the core functionalities first and make sure that your beta product provides real value to medical professionals and patients who make up your beta testing group.
If you want to know how to develop a compelling MVP, visit our MVP guide with comments from our Product Design team:
Minimum Viable Product: What Is It and Why Do You Need One?
Step 5: Collect feedback from medical professionals and patients
Analyzing users' in-app behavior presents clues about the popularity and ease of use of specific functionalities, and you will get the best information from health professionals and patients. Upon those insights, you can make better-informed decisions about subsequent in-app improvements. That way you can eliminate features that users don't care about and focus on what's important for them. This knowledge is also irreplaceable when it comes to creating better sales funnels.
Step 6: Distribute the app
Although after working with the beta testers, you may already have a few initial users. Now it's time to expand your audience. Launch your product in Apple and Google Play stores.
Note on healthcare apps for medical professionals:
If you're focusing solely on healthcare professionals, contact medical institutions/vendors.
Please note that this route may include entering official council/government tenders aimed at evaluating your application before it's introduced on an organizational level. It may be a lengthy and complex process but if the app is compliant with all necessary regulations and you want to make your mark in the medical sector, it will all be worth it.
Industry Standards and Compliance to Consider Before You'll Start Building
Before you'll start building a healthcare application, make sure that what you've planned is compliant with the industry regulations and what's important to you, as these are different depending on which country/region you operate in and want to expand your services to.
Please note that medical applications are far more regulated and following the standards listed below will not be enough.
Industry regulations in different countries/regions
The US
HIPAA - all healthcare apps released in the US need to follow the rules of this standard aimed at protecting the data and privacy of patients introduced in 1996.
HiTECH - this regulation focuses on the security of EHR systems and back in 2013, its rules were included in the HIPAA Final Omnibus law which means that if your app is HIPPA-compliant, then it's also HiTECH-compliant.
CCPA - this standard is analogous to GDPR in the EU and once again, it's focused on ensuring the security and protection of patients' data.
NIST - considered a must-have for cybersecurity purposes, NIST is a framework built around the goal of protecting patients' data and privacy. It includes several technologies, tools, and standards.
ADA - also known as the Americans with Disabilities Act, was developed to ensure the protection of people with disabilities living in the US and that companies follow the accessibility regulations.
Canada
PIPEDA - it's a Canadian equivalent of the EU's GDPR and any application launched in Canada needs to comply with the rules aimed at protecting users' (patients') data and privacy.
The EU
GDPR - one of the most well-known and widely-used data protection regulations that applies both to companies that collect data and those that store and process users' data.
The UK
Data Protection Act (DPA) - aimed at regulating how personal data is processed, stored, and managed, DPA was put in place in 2018 and is - in fact - the implementation of the EU's GDPR.
Web Content Accessibility Guidelines (WCAG)
Make sure that the solution that you're building is as accessible as possible for people who fall out of the able-bodied spectrum, with the accessibility level matched to fit your target audience's needs.
You can find more information about the current guidelines and the work-in-progress accessibility regulations here: WCAG 2 - Overview.
3 Healthcare App Development Strategies That Will Help You Succeed
Businesses around the world undergo digital transformation virtually every day. In 2023, investing in process automation, company culture change, and innovative digital product development seems necessary. The rising popularity of medical and health apps presents a unique opportunity for businesses to engage with their clients in a completely new way, build more meaningful relationships, and learn customers' needs firsthand while increasing safety and convenience for them.
Here are three effective strategies you should consider when building healthcare software.
Find ways to build trust
Trust is important in any business, but when it comes to healthcare there's nothing more valuable. When building a medical app, you need to convince users that they can trust you with their health, so the stakes are high. Luckily, there are several ways for you to build that connection with your customers. Here's how to do it right:
Begin with taking care of proper security measures. People understandably feel a certain degree of unease about their medical data being stored somewhere on the Internet. Around the globe, privacy regulations were introduced to address that issue.
The next step you need to take is committing to open, transparent, and informational communication, especially when it comes to cost details and security guarantees. This will help users feel more confident in their decisions.
Another way to build trust, especially relevant to medical apps, is to offer real value for users for free. A fitting example of that is

Headspace: Meditation & Sleep

. The app contains a wide selection of guided meditations, inspirational stories, workout routines, and music created or selected by recognizable experts, and some of them are free. That way every user can try the app for themselves before making the purchase.
Have great customer support
Although everyone wants to develop an intuitive user experience, even the best-designed apps can require additional assistance. Tutorials, FAQs section, and a helpful chatbot could solve a part of users' issues, at least a few will have to be handled by real-human customer support. Their professionalism is instrumental in building trust – people who go out of their way to ask you a question or send feedback are also customers attracted to your product. Gain their trust to build long-lasting relationships.
Use personalization
With an ever-increasing amount of health apps on the market, users are expecting more than generic interactions, irrelevant content, and ill-timed notifications. Today, personalization can be crucial to winning over and keeping users. There are many ways to personalize the app experience, from simple touches like addressing the user by their name to creating unique offers tailored for specific locations or demographics.
One app that uses personalization in a simple, yet ingenious way is dminder – a comprehensive Vitamin D tracking app. It uses GPS in the user's device to calculate when the insolation benefits are the greatest and sends personalized push notifications, unique to each user.
To personalize an app, you need to collect user data first. Knowing things such as the age, gender, interests, profession, and location of your users, as well as their device types and when they are using the app, will improve user retention and their overall experience if you use that knowledge right.
Our Experience - Case Studies
Here's a list of the healthcare application projects we worked on in the last few years:
Key Takeaway
The healthcare application market is a competitive one. To succeed, a company must have a strong concept of a unique product or feature and an idea of how to make it contemporary, trustworthy, and useful. That's when expert help can be beneficial. Learn how Monterail approaches healthcare app development and build your digital product with us.